I'm back my friends. At least sorta! I'm still quite sick but I can think again and I can open my eyes again. Conjunctivitis is gone, which was the worst part. Let's celebrate health and Easter with an egg filled Smoked Salmon Asparagus Quiche, shall we? I figured, many of you have probably blown out eggs to decorate egg shells only and are now left with tons and tons of egg whites and yolks. This is the most delicious recipe you can make with all those, promise ;)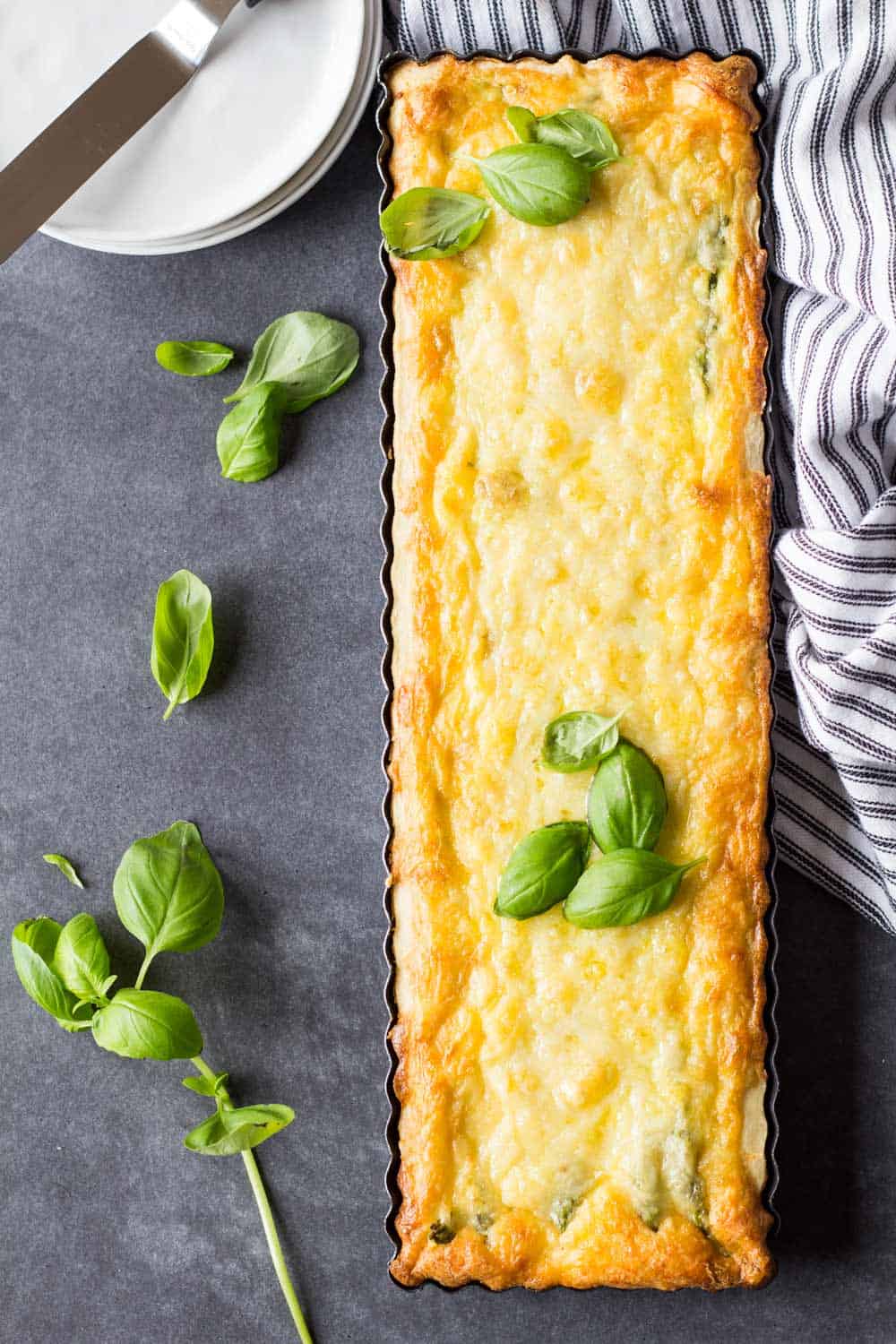 Start by making this amazing 15-Minute Puff Pastry from Dessert for Two. I've made it a million times because it's soooo easy and quick to make. The only thing you have to remember is that it needs at least 1 hour chilling in the fridge, so start in time or do what I usually do, prepare the puff pastry the night before and let it chill overnight.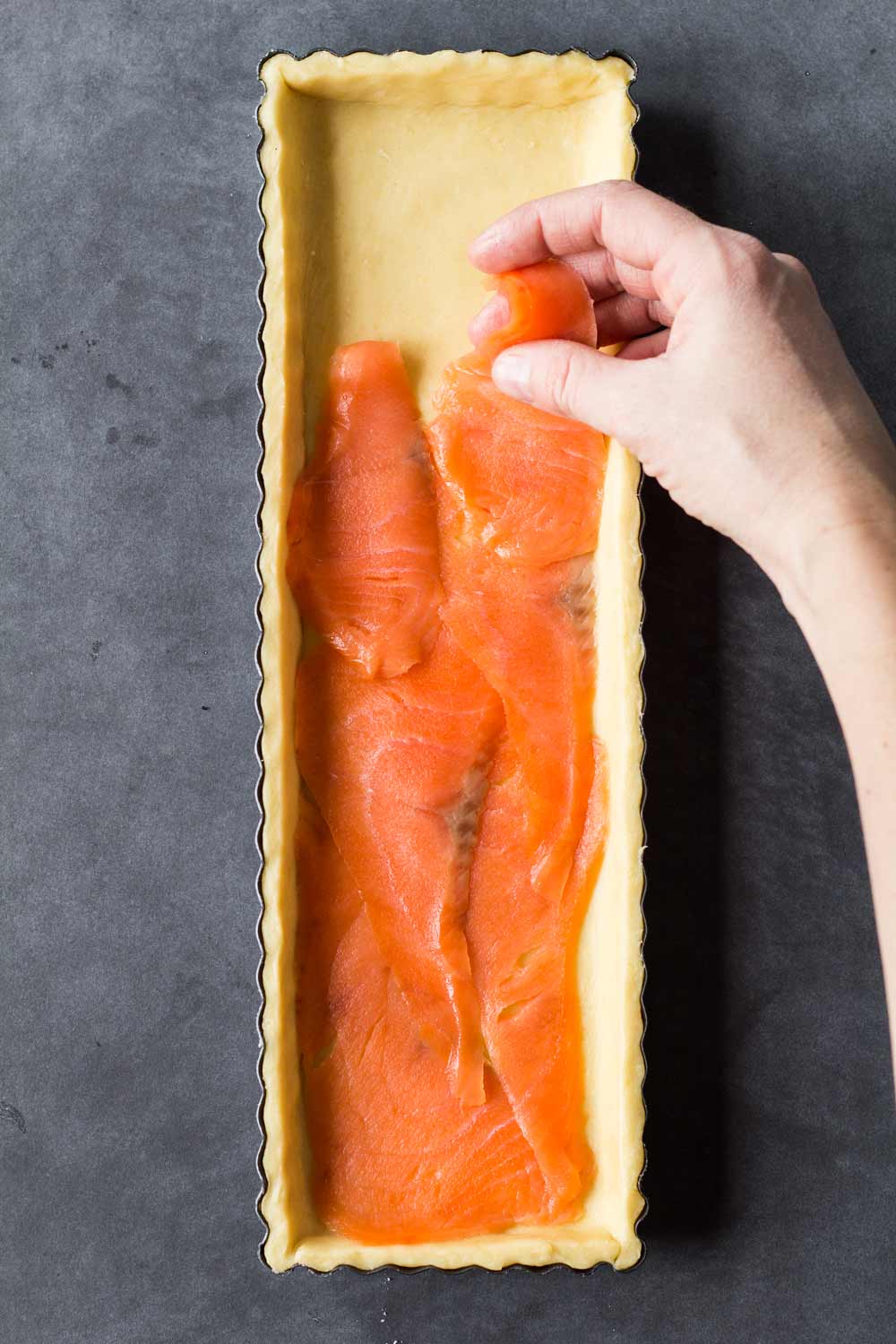 Roll out the dough, place it in the tart pan and then cut off the overlapping edges with a sharp knife to get an even and straight border. Lay out the bottom with delicious smoked salmon and then place asparagus spears in one layer on top of it like this: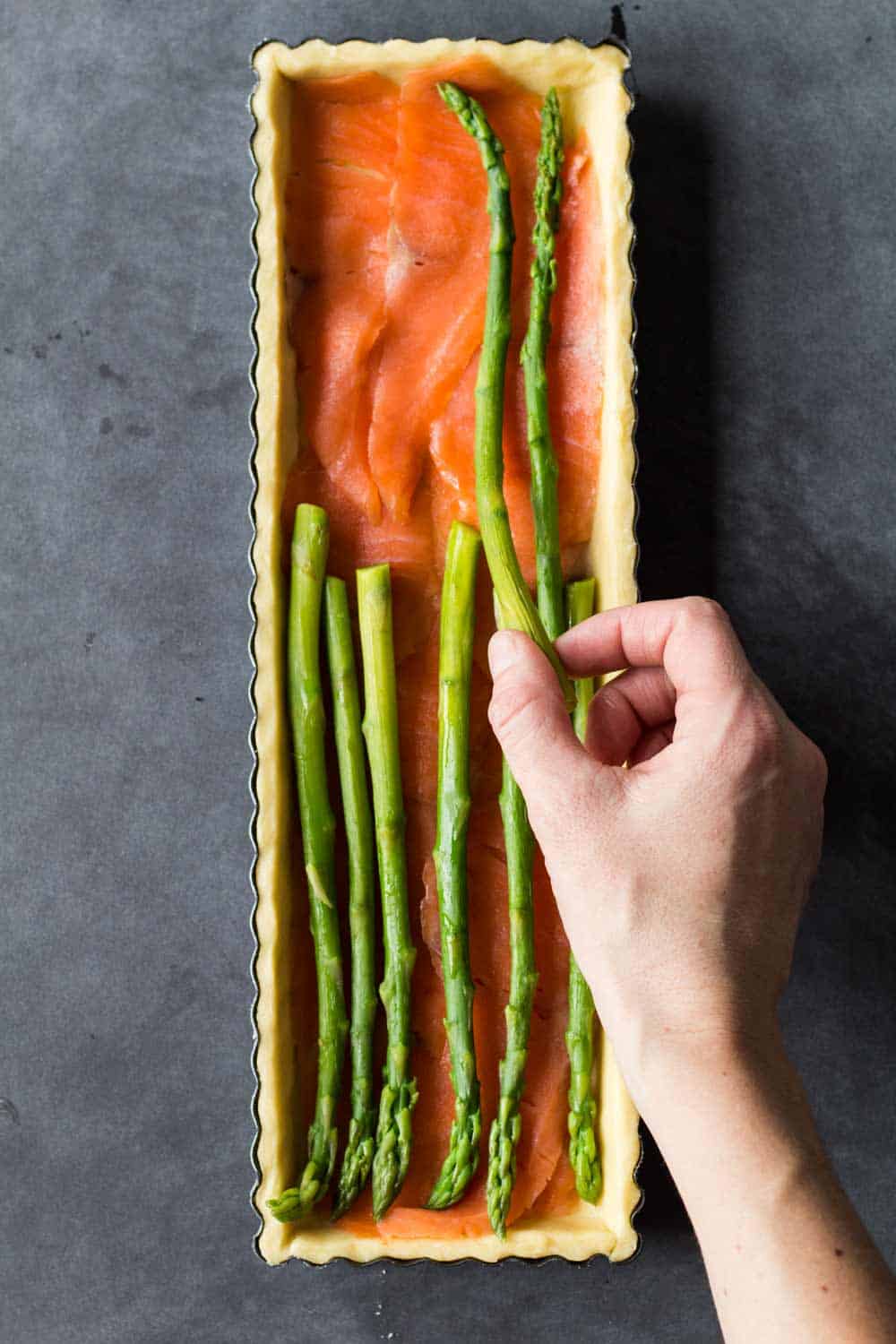 To make sure the spears are cooked to perfection and thus easy to cut through once the quiche if cooked I boiled them for a couple of minutes in a pan. I also generally cut off the bottoms because they can be quite tough. If you don't want to waste too much asparagus you could also simply peel the ends.
Pour a mix of eggs, cream, sautéd shallot, salt and pepper over all of it being careful to not overfill. Depending on the size of your tart pan and the size of the eggs you might not be able to pour in the whole liquid.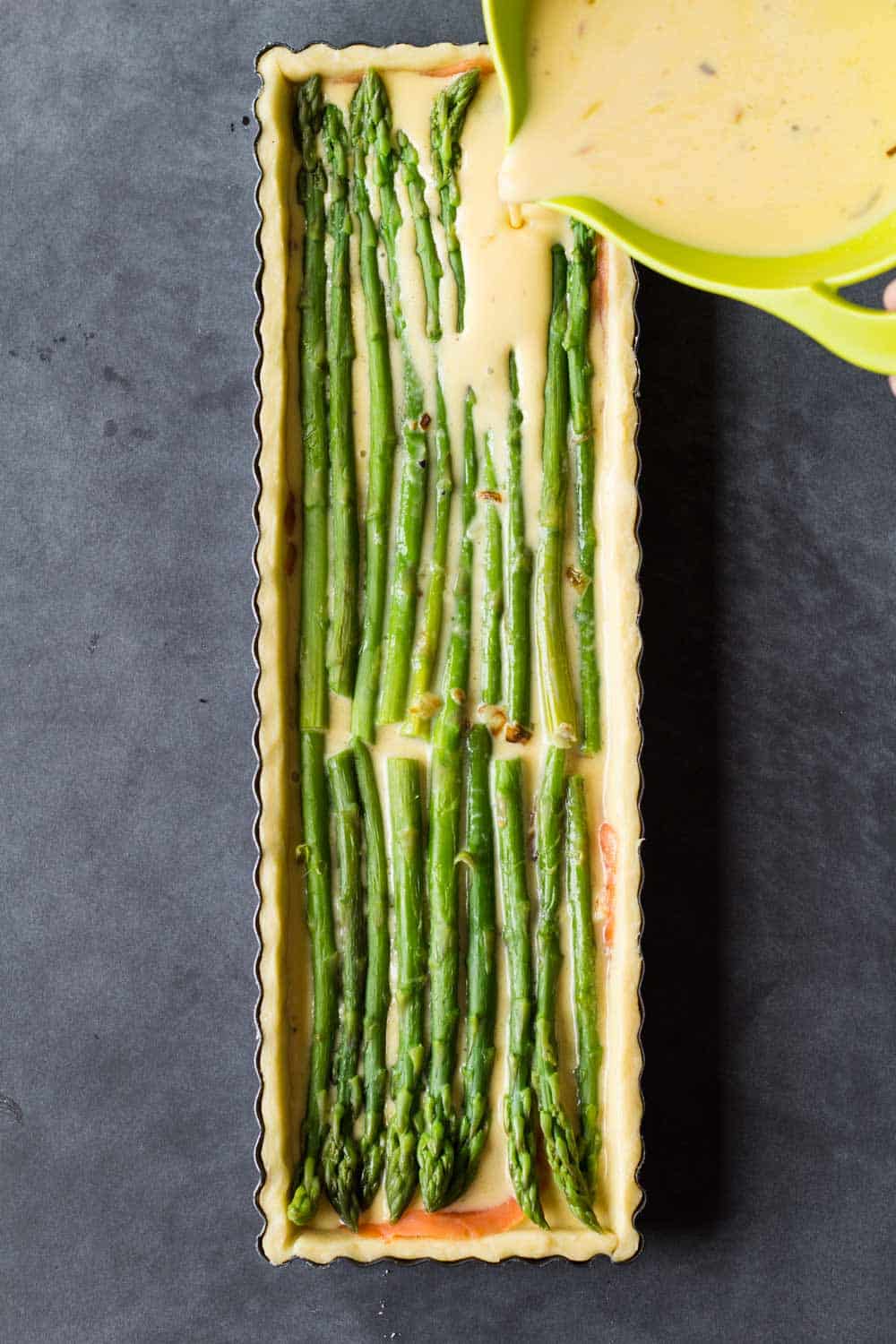 Cover with your favorite melty Cheese. I used Gruyere because I love it's strong and salty flavor in quiches. Make sure you cover all evenly and that no cheese stripes hang over the quiche because they'll just drip down the pan onto the bottom of your oven. To avoid spillage and a big mess in the oven you may want to place a cookie sheet on a rack below the middle one where you'll be placing the quiche. That way you can simply wash the cookie sheet after instead of heaving to scrub the oven <—my least favorite part of kitchen cleaning.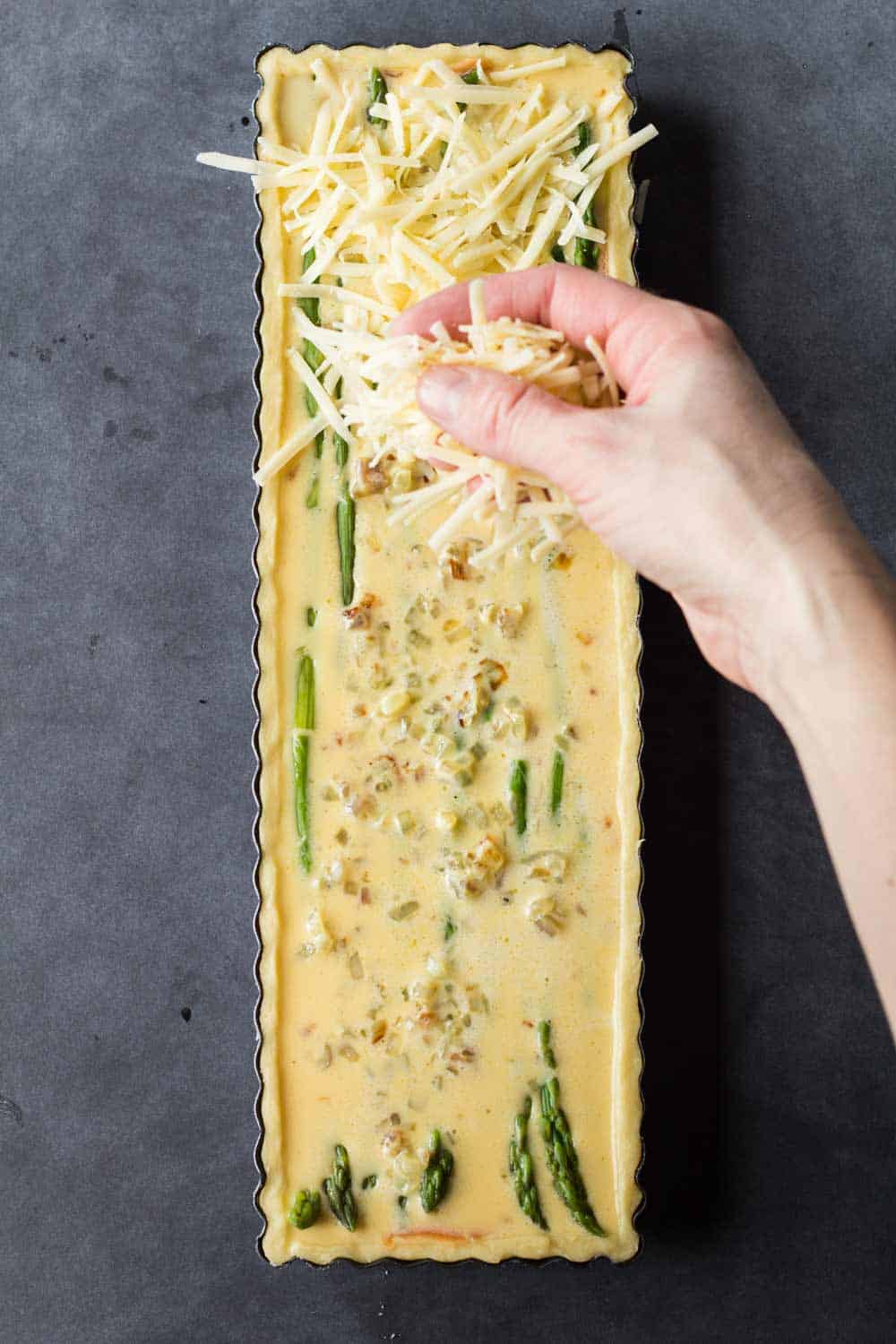 If you've been following along here for a while you might have noticed that I LOVE quiches. I've made a Flourless Vegan Vegetable Quiche, a Vegan Leek Quiche but never a regular quiche made with an egg filling so here you go, the recipe for a delicious Smoked Salmon Asparagus Quiche perfect for your Easter weekend :D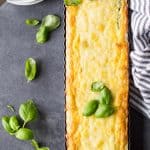 Smoked Salmon Asparagus Quiche
A Smoked Salmon Asparagus Quiche sure to make you fall in love with quiches once and for all. A healthy delicious lunch or dinner full of protein and flavor
Ingredients
1

puff pastry

(preferably homemade all butter)

100

g

smoked salmon

20

spears

green asparagus

1

shallot

3

eggs

1

cup

35% cream

pepper

150

g

Gruyere cheese
Instructions
Preheat oven to 350 F (180C).

Bring about a litre of water to the boil in a big pan.

Roll out puff pastry and lay out in rectangular, square or round separable tart pan.

Add a layer or smoked salmon to the bottom.

Wash asparagus and generously cut off bottoms. Add to boiling water in pan and cook for approximately 5 minutes. Drain and let cool on a plate until you can touch them.

Lay out spears in one layer on top of smoked salmon.

Heat the same pan you used to boil the asparagus over medium heat.

Peel and finely chop shallot.

Add a splash of olive oil to pan and add chopped shallot. Sauté until translucent. Remove from heat and let cook down completely.

In a small bowl whisk together eggs and cream, then add cold chopped shallot (to avoid eggs from cooking). Salt and pepper to taste (approx. 1/2 tsp salt because salmon is already salty, and 10 turns to pepper mill).

Pour liquid over salmon and asparagus.

Grate Gruyere cheese and sprinkle on top of quiche making sure to cover borders.

Put in hot oven for 20 minutes.

Tip: To avoid cheese from dripping onto bottom of oven where it's difficult to clean, place a cookie sheet on another oven rack below the middle one to catch whatever drips from pan.
Nutrition Facts
Smoked Salmon Asparagus Quiche
Amount Per Serving
Calories 519
Calories from Fat 369
% Daily Value*
Total Fat 41g 63%
Cholesterol 167mg 56%
Sodium 363mg 15%
Potassium 155mg 4%
Total Carbohydrates 20g 7%
Protein 17g 34%
* Percent Daily Values are based on a 2000 calorie diet.
Happy Easter and Bon Appetit!
P.S. If you're still looking for a quick and easy but mess-free way of Decorating Easter Eggs, check out THIS post!
Get all recipes straight into your inbox!