Today, I've got Skirt Steak with Basil Cream and Grilled Tomatoes on the menu for you!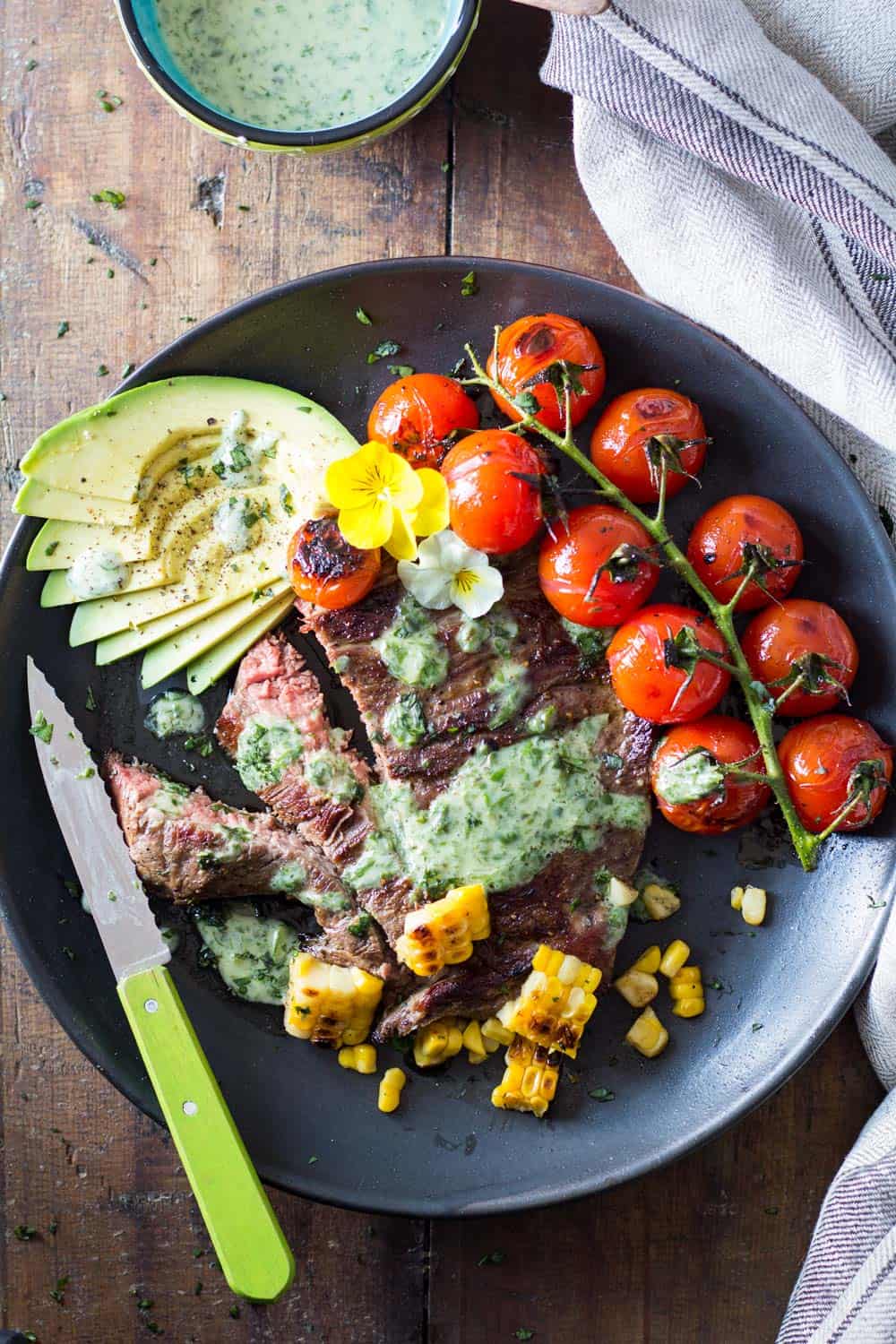 My man and I have been so caught up in work lately we haven't sat down to have a meal together in what seems like an eternity. Sometimes, life kind of gets in the way of things that are actually quite important. He has been working late hours, I have been working late hours, we only met in the mornings when the kids fight over daddy's attention. It was time for a date night dinner to be able to just sit down together and chat and catch up on each others life really.
Isn't it weird to think one can live together but not get the chance to sit down and chat? I get to chat a lot with friends at the park when the kids are playing. They are entertained playing with each other in the sand box and we can sit on the bench and talk, with quite a few interruptions of course, but kids are old enough now to let us finish a sentence at least without interrupting.
When daddy is home, that's a totally different story. They fight for his attention and I really don't want to get in their way. Last night we agreed he'd come home early from work, I would NOT work on the blog and we would just have dinner together to talk about life. What better dinner than a skirt steak with a fresh basil cream and extraordinarily sweet grilled tomatoes? It was so good we had to stop talking for a while to just enjoy the meal.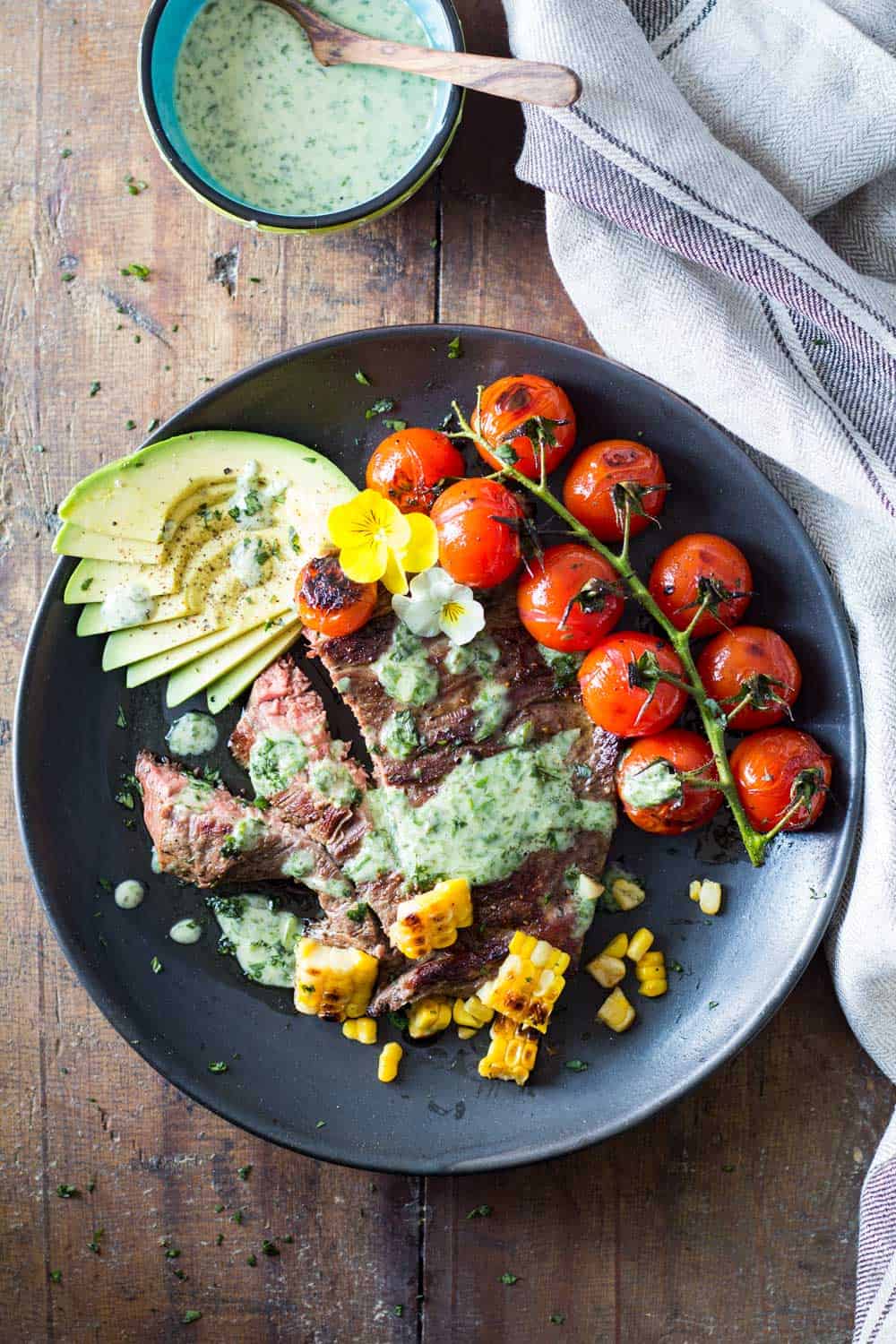 What was unexpectedly delicious were the grilled tomatoes. I mean, I knew the meat was going to be delicious. Avocado is avocado, the most amazing fruit of all times I'd say but the tomatoes I honestly didn't expect to taste THAT amazing.
I wanted something fresh and juicy but not cold as a side for the steak and figured if I grill the tomatoes for just a minute they would warm up but not get all mushy and gross. It's more than that. They became super super sweet and delicious. You put them in your mouth tasting the grilling juices, bite on them and they pop in your mouth like a water balloon releasing the sweetest liquid ever. And I MEAN ever!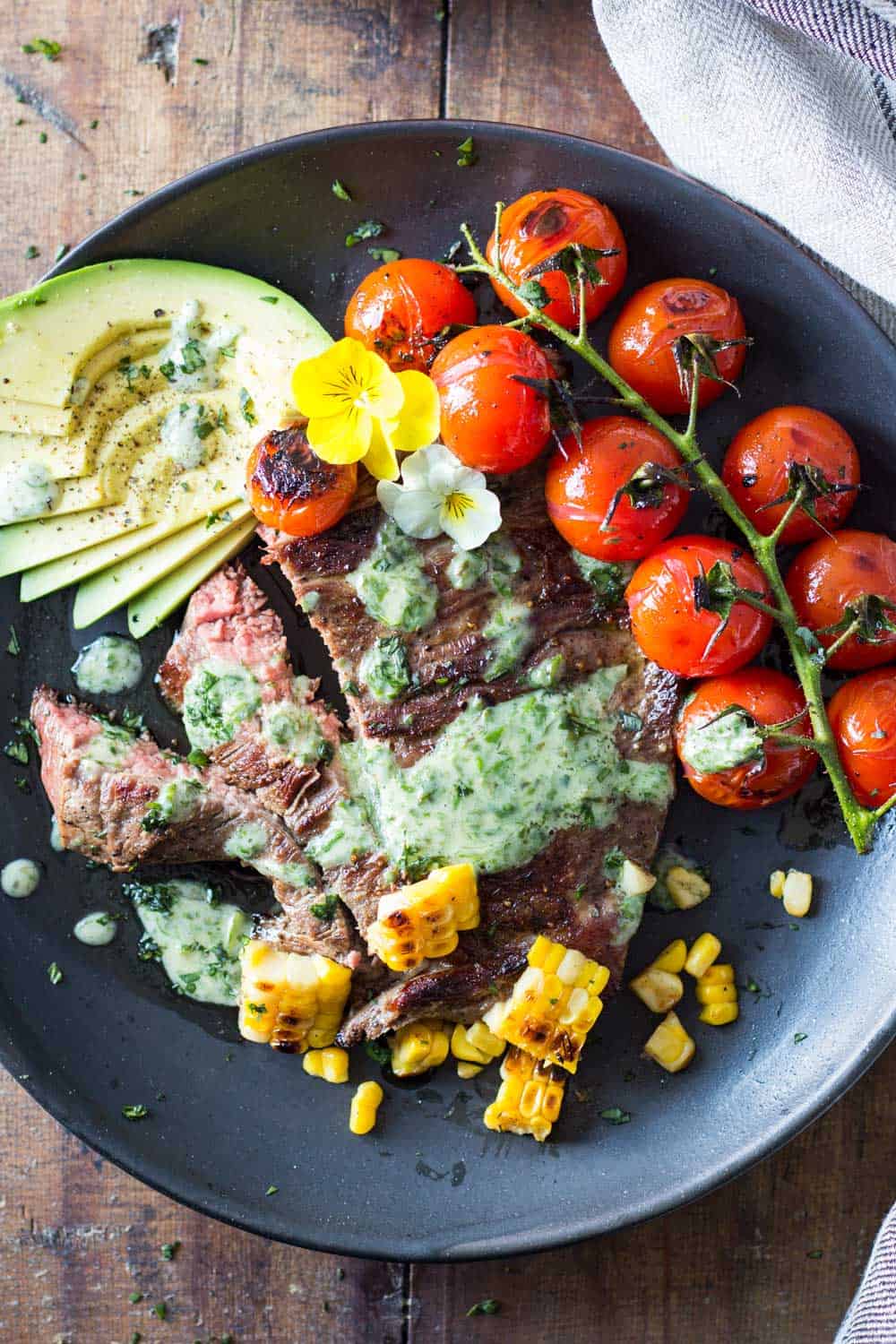 I hope you like this combination of ingredients as much as we did, give it a try and let me know in the comments below ;)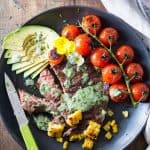 Skirt Steak with Basil Cream and Grilled Tomatoes
Print Recipe
Pin Recipe
Ingredients
1

lbs

skirt steak

-

(450g, room temperature!)

10-12

cherry tomatoes on the vine

1

large

ripe avocado

1

cob

cooked corn

-

(optional)

1

cup

basil leaves

2

Tbsp

creme fraiche

1/4

cup

olive oil

1/2

Tbsp

lime juice

salt

pepper
Instructions
Add basil, creme fraiche, olive oil, lime juice and salt to a food processor or blender and blend until nice and smooth.

Heat the grill or a cast iron skillet over medium high heat until it starts smoking.

Generously salt and pepper steak on both sides (make sure the stake is not cold, take it out of the fridge for at least one hour before grilling).

Wash and dry tomatoes.

Add a tiny bit of avocado oil (or other high smoke point fat) to pan only if using, no need to oil the grill and carefully add the steak. Grill for 4-5 minutes on one side and 2-3 minutes on the other depending on thickness and desired doneness (in my case I ended up with a medium after 5 and 3 minutes, just like I like it).

Once meat is done, remove from grill/pan and let rest on a cutting board

without cutting into it

!

If cooking on the stovetop with a pan, while steak is grilling in pan cut the corn kernels off the cooked ear and peel and slice the avocado. If grilling, no need to remove corn kernels.

Arrange avocado on plate.

Add another tiny splash of oil into the pan only if using and put corn and tomatoes into pan. Or place whole corn and tomatoes on grill for 1 minute max on two sides and place on plate.

Put basil cream on top of everything and enjoy!
Nutrition
Calories:
789
kcal
|
Carbohydrates:
13
g
|
Protein:
52
g
|
Fat:
61
g
|
Saturated Fat:
14
g
|
Cholesterol:
149
mg
|
Sodium:
177
mg
|
Potassium:
1370
mg
|
Fiber:
8
g
|
Sugar:
3
g
|
Vitamin A:
1270
IU
|
Vitamin C:
32.8
mg
|
Calcium:
69
mg
|
Iron:
5.7
mg
What's your clean eating vibe?
Take this fun QUIZZ and find out in 10 seconds!