Roasted chickpea salad is a vegetarian's dream meal! This salad recipe makes a fantastic main or side dish, and the protein and fiber will leave you feeling full and satisfied.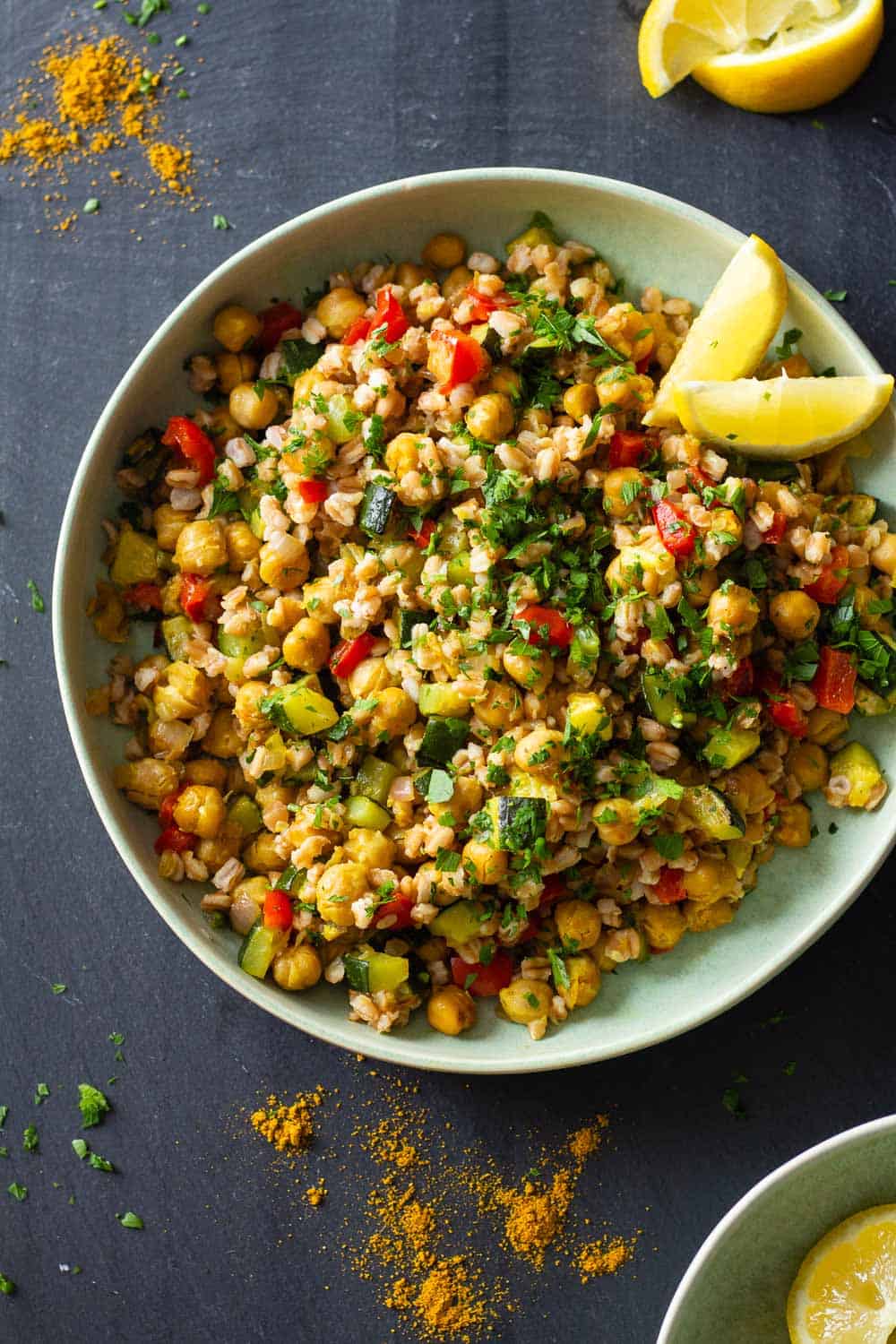 Why are chickpeas so healthy?
Chickpeas are a legume, like lentils and beans. They are a great source of plant-based protein. They are also high in fiber, keeping your digestion balanced. This dish will leave you feeling sated for hours, helping you to curb snacking and reach your weight loss goals.
Chickpeas, often called garbanzo beans, are very common in Mediterranean dishes, and have been popular there for centuries. They are labeled a "superfood", and for good reason.
Chickpeas have high doses of vitamins and minerals. One serving of chickpeas has all of the following nutrients:.
Iron
Phosphate
Calcium
Magnesium
Manganese
Zinc
Vitamin K
Potassium
Vitamin C
Vitamin B-6
Selenium
This combination of elements in a roasted chickpea salad supports bone and heart health. Chickpeas can even help you maintain a normal blood pressure and discourage the growth of tumors.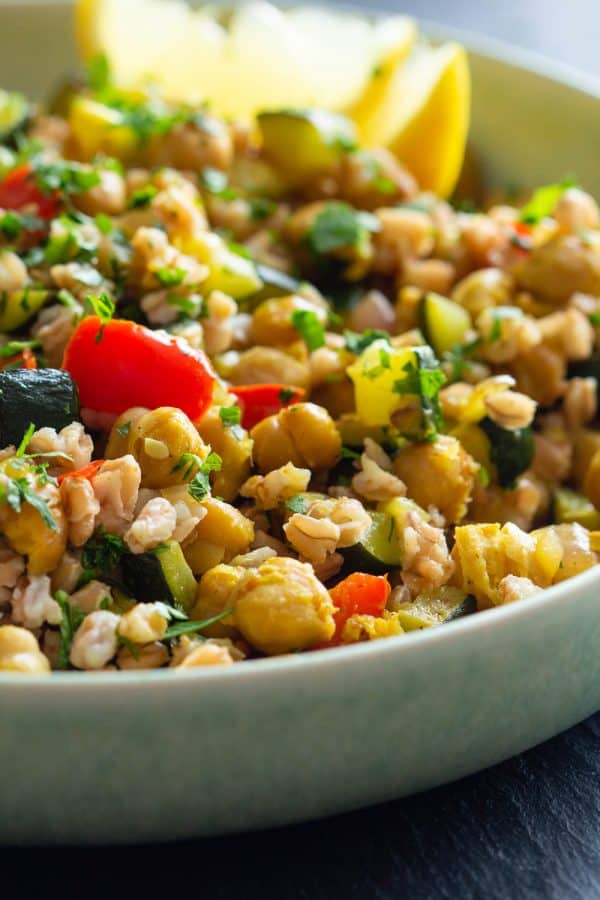 Can I make roasted chickpeas using canned chickpeas?
Using canned chickpeas is a great way to eliminate one of steps in making this roasted chickpea salad recipe. However, due to the liquid they are packed in, canned chickpeas can be high in sodium. Be sure to read the label to know what you are getting.
I like to use dried chickpeas, which must be partially cooked before they can be roasted. It is a simple process but it takes time. While it takes longer, dry chickpeas are a pantry staple here. They keep for months and I cook them while I'm busy with other things. To cook dry chickpeas:
Rinse the dried beans to remove any dirt or debris, then place them in a large stock pot on the stove.
Add enough cold water to completely cover the chickpeas by at least an inch. Then, boil them for up to two hours.
If you choose to use canned chickpeas instead, you can skip all of the steps below. Just scroll down to see the recipe to learn how to roast chickpeas for the roasted chickpea salad.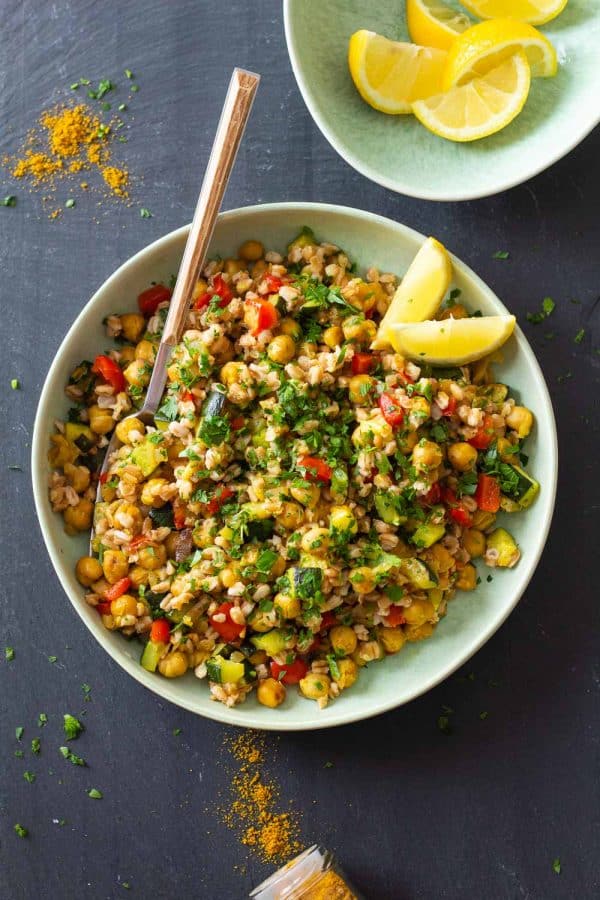 Roasted Chickpea Salad Ingredient Notes
You may notice a few unusual ingredients in this recipe. While they are not common pantry staples, let me tell you why I use and love them.
Farro
This grain is protein-rich and a good source of fiber. People have been cooking with farro for at least 20,000 years. It has a slightly nutty flavor and is a bit chewier than brown rice. Nutritionally, it's very similar to quinoa.
Farro can be prepared on the stove top, in an Instant Pot, in a slow cooker, or in the oven. In my post, How to Cook Farro, I explain all the ways to cook farro. Use the information to determine how you would like to prepare it for this recipe.
Ras El Hanout
Ras El Hanout is a spice blend from North Africa. In Arabic, the name means "head of the shop," indicating that it contains the very best products a spice shop has to offer.
Each chef, family or store will have its own blend of Ras El Hanout. However, it typically contains a dozen or more spices including cardamon, cumin, nutmeg and ginger. Depending on the region, local flavors are often incorporated into the blend.
Speciality spice shops will carry this ingredient or you can easily order it online.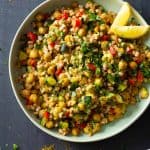 Roasted Chickpea Salad
Roasted chickpea salad is a vegetarian's dream meal! This salad recipe makes a fantastic main or side dish, and the protein and fiber will leave you feeling full and satisfied.
Print Recipe
Pin Recipe
Ingredients
1

cup

farro

2

cup

cooked chickpeas

sea salt

1

Tbsp

ras el hanout

1/2

red onion

2

zucchinis

2

red bell peppers

1

lemon

olive oil

parsley

-

for garnish
Instructions
Peel and finely chop red onion. Wash and dice zucchini. Wash, deseed, and dice red bell pepper.

Add vegetables and chickpeas to a large baking sheet, drizzle olive oil over it, season with sea salt and ras al hanout and then mix everything with your hands to make sure all spices and oil are well distributed. Then spread out to make sure everything is in one even layer.

Add veggies and chickpeas to the oven for approximately 30 minutes.

In the meantime, wash and spin dry some parsley and finely chop.

Once chickpeas and vegetables are roasted, remove from the oven and transfer to a salad bowl, add cooked farro and fresh lemon juice, mix well together and serve.

Serve with chopped parsley on top and enjoy!
Nutrition
Calories:
300
kcal
|
Carbohydrates:
61
g
|
Protein:
11
g
|
Fat:
3
g
|
Saturated Fat:
1
g
|
Sodium:
244
mg
|
Potassium:
712
mg
|
Fiber:
15
g
|
Sugar:
7
g
|
Vitamin A:
2080
IU
|
Vitamin C:
108.8
mg
|
Calcium:
93
mg
|
Iron:
3.5
mg
What's your clean eating vibe?
Take this fun QUIZZ and find out in 10 seconds!