Have you already decided what you want to make for dinner today? I've got a recipe for an Easy Grilled Chicken Burger for you that will make your day! 25-ish minutes from start to finish and I'm including pan preheating time here. You want to kiss me? Wait until you try these burgers!!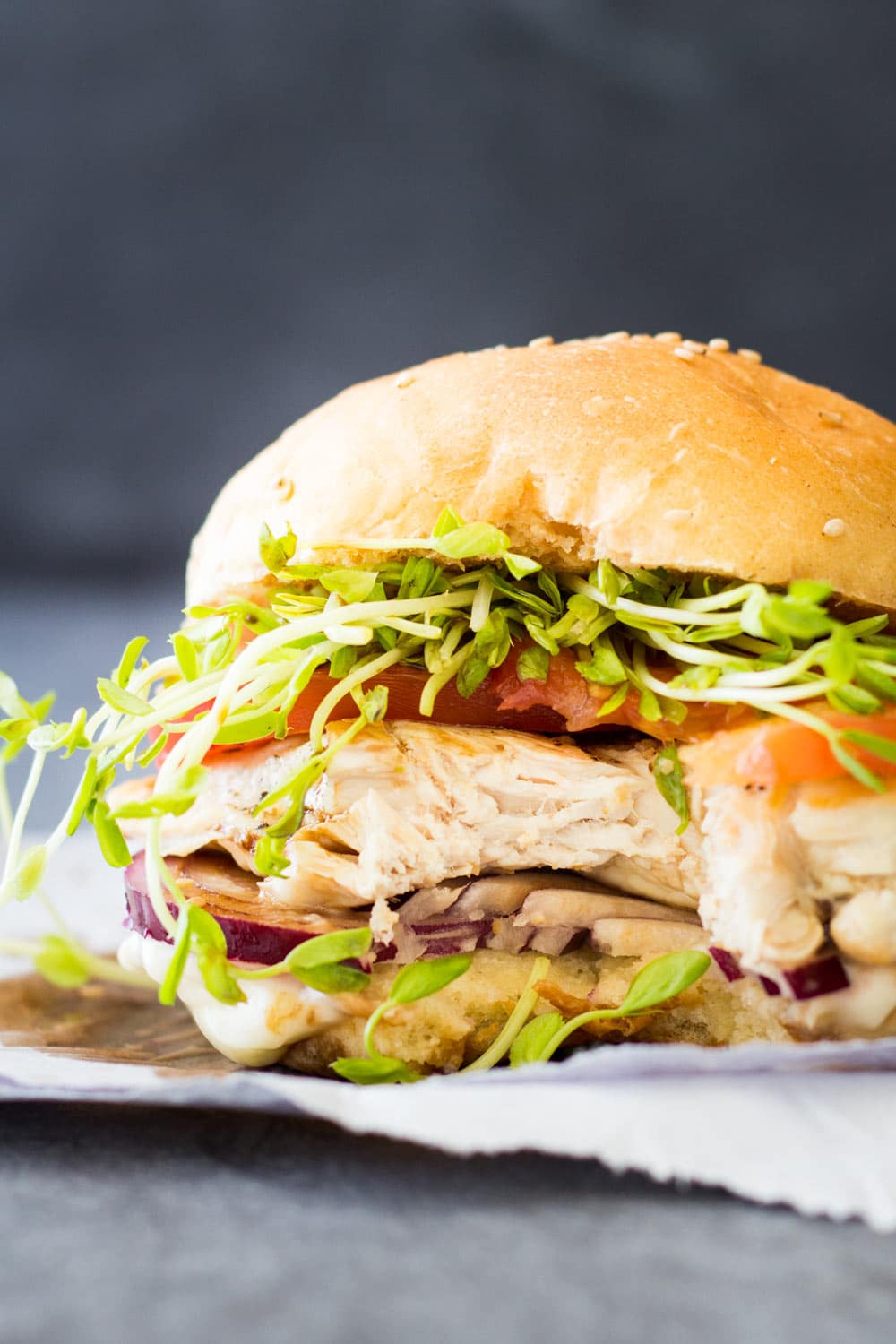 If you have outdoor space and a grill, lucky you! You can make the chicken breasts on the grill and they will turn out amazing. Unfortunately, I don't have a balcony or patio and thus obviously no grill. I do what I consider is the closest to grilling: cast iron pan searing + steaming. I promise you, grilled chicken without a grill has never been easier.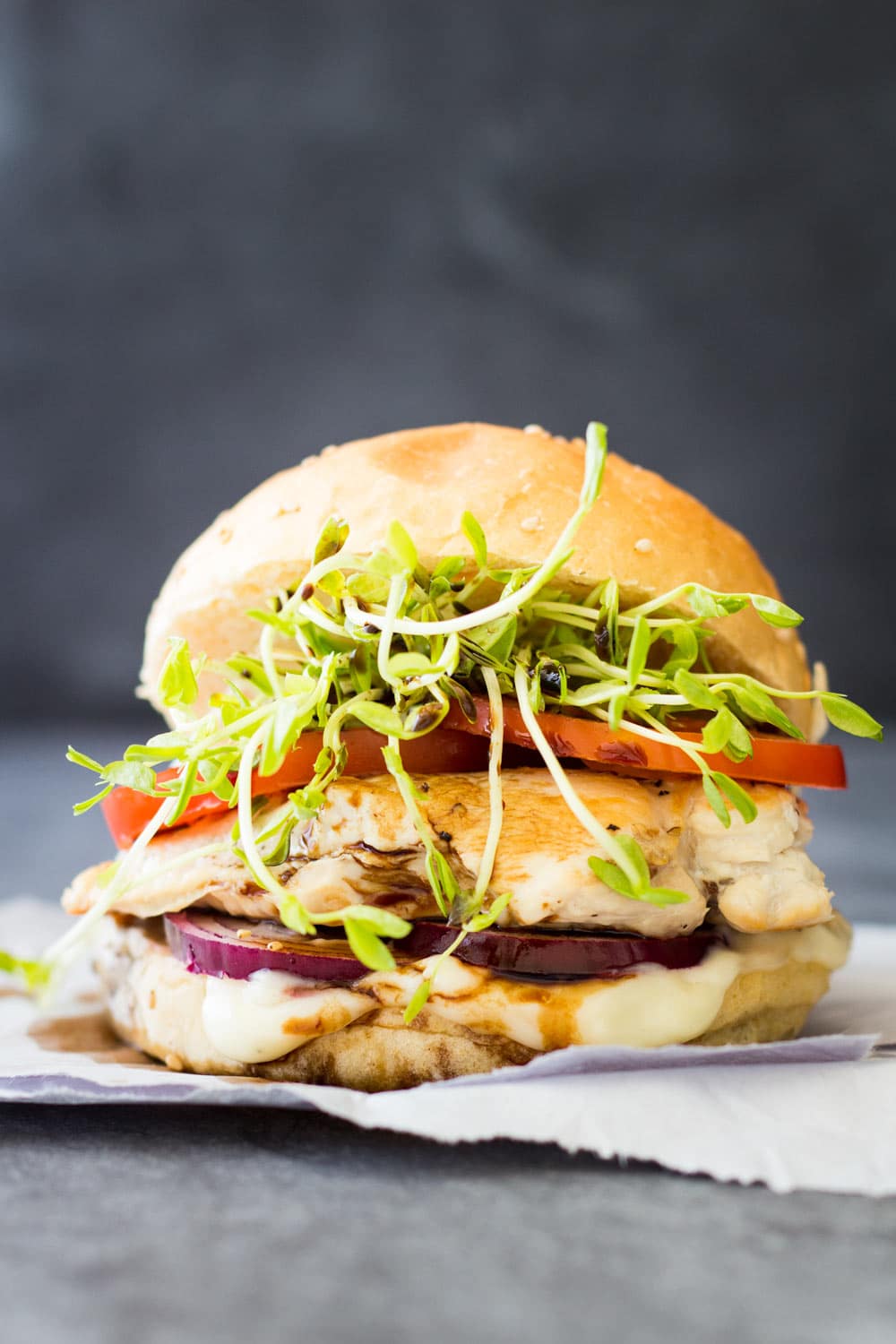 Key points for a tender and juicy chicken breast
What you have to do is basically preheat your cast iron pan (for which you have a tight sitting lid) over medium heat until it's really, really hot. I'm talking "smoking" hot. If you don't have a lid for your cast iron pan use another pan you have a tight-sitting lid for. Not the end of the world.
Generously salt and pepper the chicken breasts. Add a tiny tablespoon of oil into pan, swirl around, add chicken breasts and sear for 1-2 minutes per side. Then put on lid, reduce heat to low and set a timer for 8-10 minutes, depending on chicken's thickness. The ones in the video for example took 10 minutes. Once the timer went off you remove the pan from the heat completely without lifting the lid (NO PEAKING!!) and let it steam for the same amount of minutes again (<– make sure you set a timer again). So in total your chicken will be in that pan for 18-24 minutes depending on its thickness.
While the chicken is cooking you have more than enough time to prepare the mayonnaise, wash and slice the onion and tomato and wash your microgreens. The reason you should set a timer for the chicken is because you'll be busy making mayo and stuff and it's easy to forget the chicken. If you forget the chicken it'll become dry instead of juicy and ending up with a dry grilled chicken burger would be SO SAD!
The best and easiest 2-minute homemade mayonnaise
What would a grilled chicken burger be without mayonnaise? Boring and incomplete. So here is how to make the best and easiest homemade mayonnaise in about 2 minutes.
Add an egg, mustard, lemon juice, salt and pepper to a blender. Turn on to low and then slowly pour in a flavorless oil in one string. I do not recommend olive oil or any other strong flavored oil for this. The mayo ends up pretty bitter with olive oil. Use a flavorless oil such as avocado oil (<- my favorite). The oil string that you pour into the running blender should not be too thick or the mayo will curdle. Aim for spaghetti noodle thickness. A steady stream is important, until the blender can't handle any more oil and won't incorporate the oil anymore. Stop, the blender and mix in the last drops the blender couldn't handle anymore with a spatula. Do NOT turn on the blender to high to incorporate. The mayo will curdle.
Best toppings for an Easy Grilled Chicken Burger
You can add whatever you want to your grilled chicken burger of course but I find sliced fresh tomatoes and crunchy microgreens give a the best contrast in consistency and temperature and freshness. I absolutely love this combination.
Red onions are a lot milder than white and thus absolutely perfect for burgers if you like onions on your burgers.
Something else that works really really great is fresh coriander a.k.a. cilantro instead of micro greens.
If you loved this burger, I am absolutely certain you will also love this Salmond Burger with Herb Mayonnaise :) Check it  out yum yum yum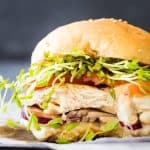 Easy Grilled Chicken Burger
Recipe for a simple and Easy Grilled Chicken Burger made with chicken breast, tomato, microgreens, red onions and delicious 2-minute homemade mayonnaise!
Print Recipe
Ingredients
2

burger buns

2

small

chicken breasts

1

small

red onion

1

large

tomato

1

hand full

microgreens

-

(I used daikon radish)

1

egg

1

Tbsp

dijon mustard

1

Tbsp

lemon or lime juice

abundant flavorless vegetable oil

-

(I used avocado oil my favorite)

Salt

Pepper

balsamic vinegar

-

(optional)
Instructions
Preheat cast iron pan or heavy bottomed stainless steel pan (which has a tight-sitting lid) over medium heat until smoking hot.

Generously salt and pepper chicken breasts.

Add a few drops of oil or butter or ghee into pan, swirl around and add chicken breasts. Sear for 1-2 minutes per side.

Put on lid, reduce heat to low and set alarm for 10 minutes.

In the meantime prepare mayonnaise: add eggs, mustard, lemon juice, salt (about 1/2 tsp) and pepper to blender and then use the lid without the middle part to cover. Start the blender on low so the ingredients don't spray out. Blend the ingredients together for about 10 seconds, then slowly pour in oil. It is important to ALWAYS do this slowly, from start to finish, never more than a spaghetti-thick string of oil AND, it has to be constant: don't stop pouring until the mayonnaise is ready. If you pour in more than a thin string you risk the mayonnaise to curdle. If this happens you will have to start all over, so be patient and maintain a steady hand. Once the blender can't continue blending because the mayonnaise has become too thick, stop the oil pouring, your mayonnaise is ready. (<-- all of this takes less than 2 minutes).

Once alarm goes off, remove pan from heat leaving the lid on all the time (NO PEAKING!) and set an alarm for another 10 minutes.

During those second 10 minutes, peel and slice onion, wash and slice tomato and wash and dry microgreens.

Toast buns if desired, spread some mayo on bottom and top, place onion, chicken breasts, some tomato slices and microgreens on top.

Finish by pouring a little bit of balsamic vinegar on top of everything if desired and top with top part of burger bun.

Give it a BIG BITE!
Nutrition
Calories:
547
kcal
|
Carbohydrates:
30
g
|
Protein:
29
g
|
Fat:
34
g
|
Saturated Fat:
4
g
|
Cholesterol:
72
mg
|
Sodium:
352
mg
|
Potassium:
768
mg
|
Fiber:
2
g
|
Sugar:
7
g
|
Vitamin A:
790
IU
|
Vitamin C:
18.5
mg
|
Calcium:
102
mg
|
Iron:
2.3
mg
What's your clean eating vibe?
Take this fun QUIZZ and find out in 10 seconds!