This delicious Crustless Spinach Quiche uses thinly sliced sweet potatoes instead of puff pastry as a base. The filling with eggs, spinach, and ricotta makes it extra creamy and flavorful. A must-have for your vegetarian recipes collection.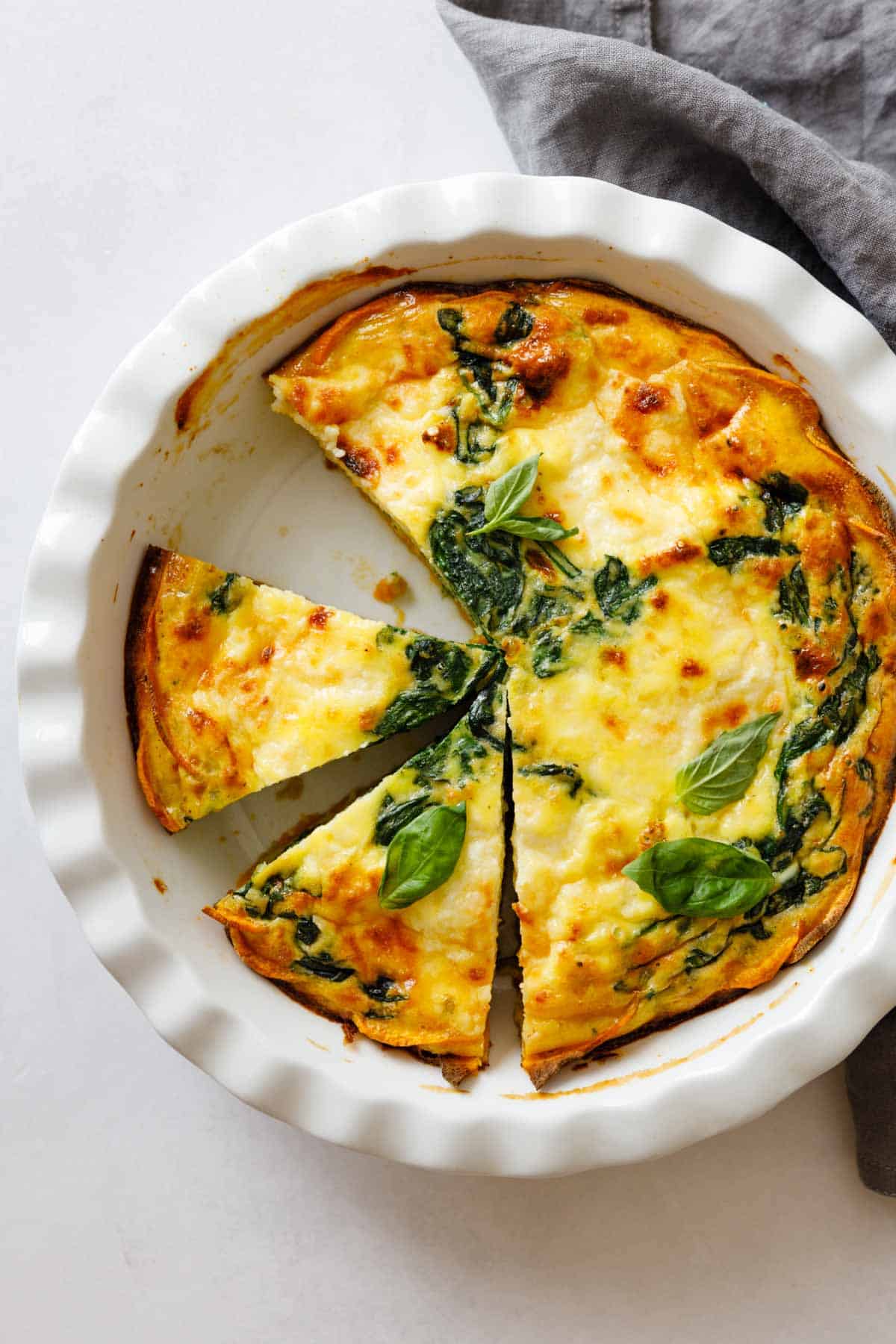 Quiche is great for breakfast, brunch, lunch, or dinner. It's so incredibly versatile. The best part though is that you can prepare it ahead of time and then simply eat cold or slightly reheat.
I love a good quiche with crust, like this Smoked Salmon Asparagus Quiche, it definitely is on the heavier side though. In the warmer months I love a lighter crustless spinach quiche with a fresh side salad.
Ingredients and Substitutions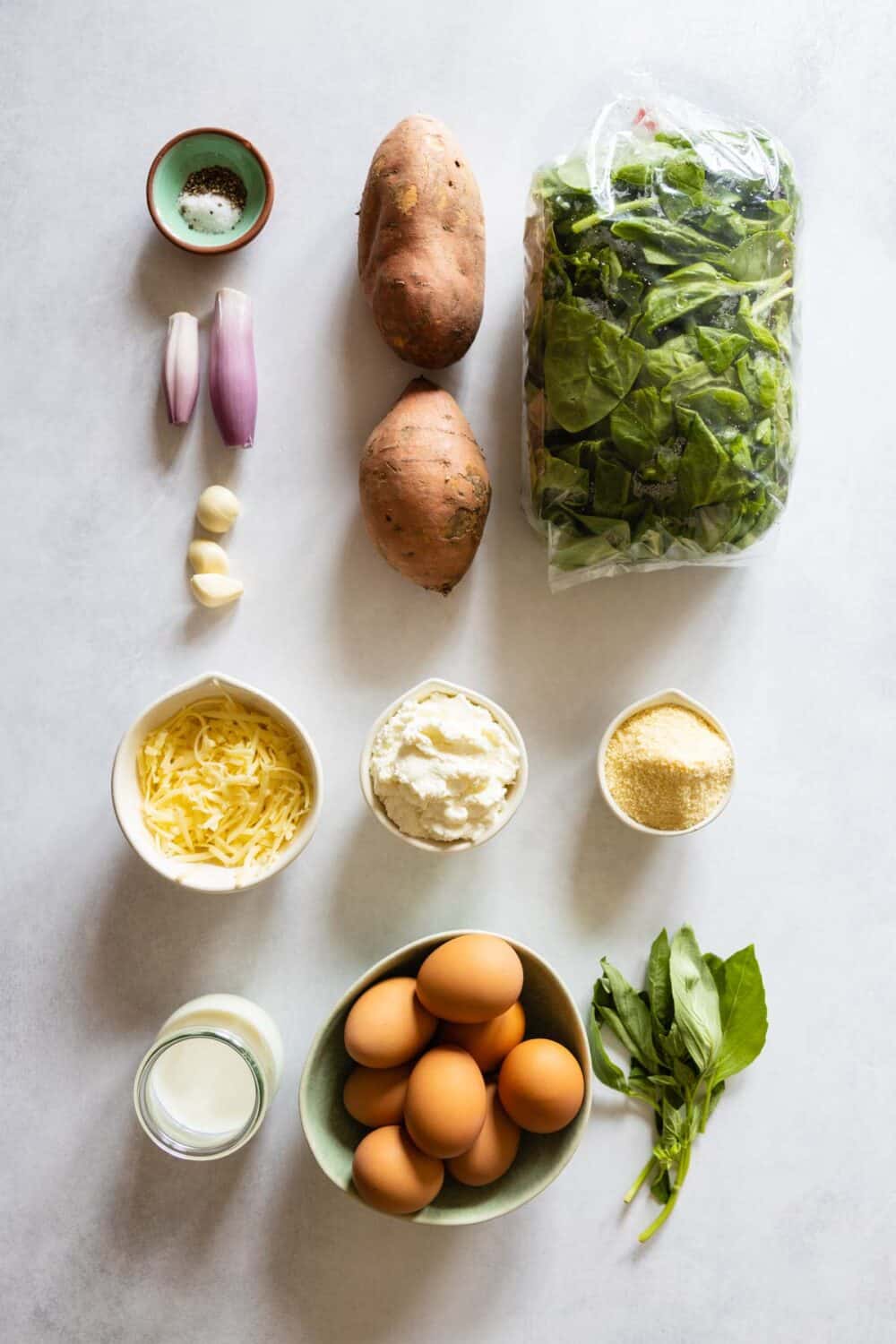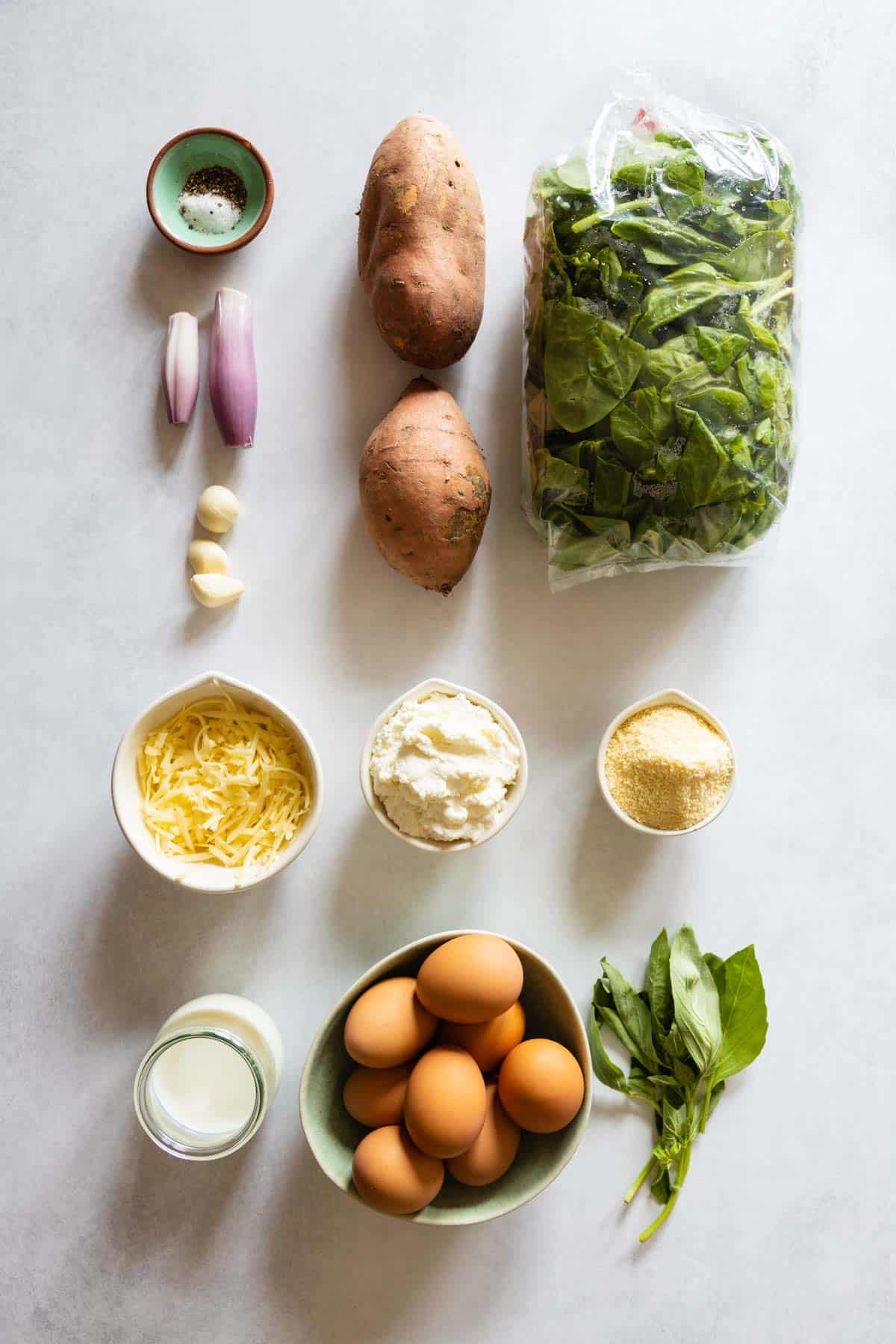 Sweet Potato — instead of puff pasty we are using sweet potato as a crust for this quiche. Sweet potato gives it a super sweet and soft base that blends incredibly well with spinach, eggs, and the three cheeses. Red Potatoes or any other waxy potato good for potato salad works perfectly as well. If you want to make it 100% crustless maybe try my Vegetable Frittata instead.
Shallots & Garlic — any good quiche has some sort of onion and garlic in it. I know it's a little annoying having to brown them and getting a pan dirty but trust me, it's so worth it and makes all the difference. You can use any onion really but shallots are nice and mild and not overpowering.
Spinach — I recommend baby spinach because it cooks so fast but regular spinach, or chard, or even kale work fantastic in this crustless quiche recipe, too. Just make sure you cook them with the shallots a little longer than the baby spinach.
Cheese — this recipe calls for 3 different cheeses: Parmesan, Cheddar, and Ricotta. The combination of the 3 is incredible! You can replace the Cheddar with any other cheese that melts well (Swiss, Gruyere, Gouda, etc). I don't recommend replacing the Parmesan or Ricotta though they are an absolute must. You won't regret going to the store just for those ingredients.
Eggs — well any quiche needs eggs there is no replacement for eggs. Some vegan quiches use chickpea flour or tofu but that's a whole new recipe so don't try to make this recipe eggless. Instead, try this vegan quiche that has been developed to be vegan in the first place.
Milk — the milk is needed to make the egg mix extra creamy. Don't skip it! Any milk works. 1%, 2%, Whole Milk.
Basil — this is optional and purely decorative but it's also delicious!
How To Make Crustless Spinach Quiche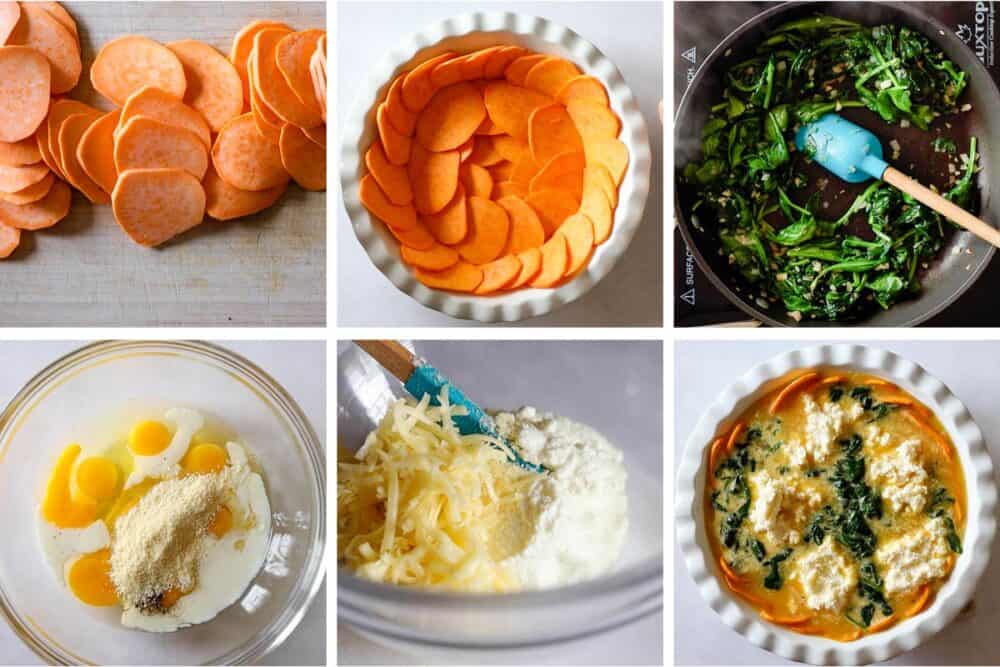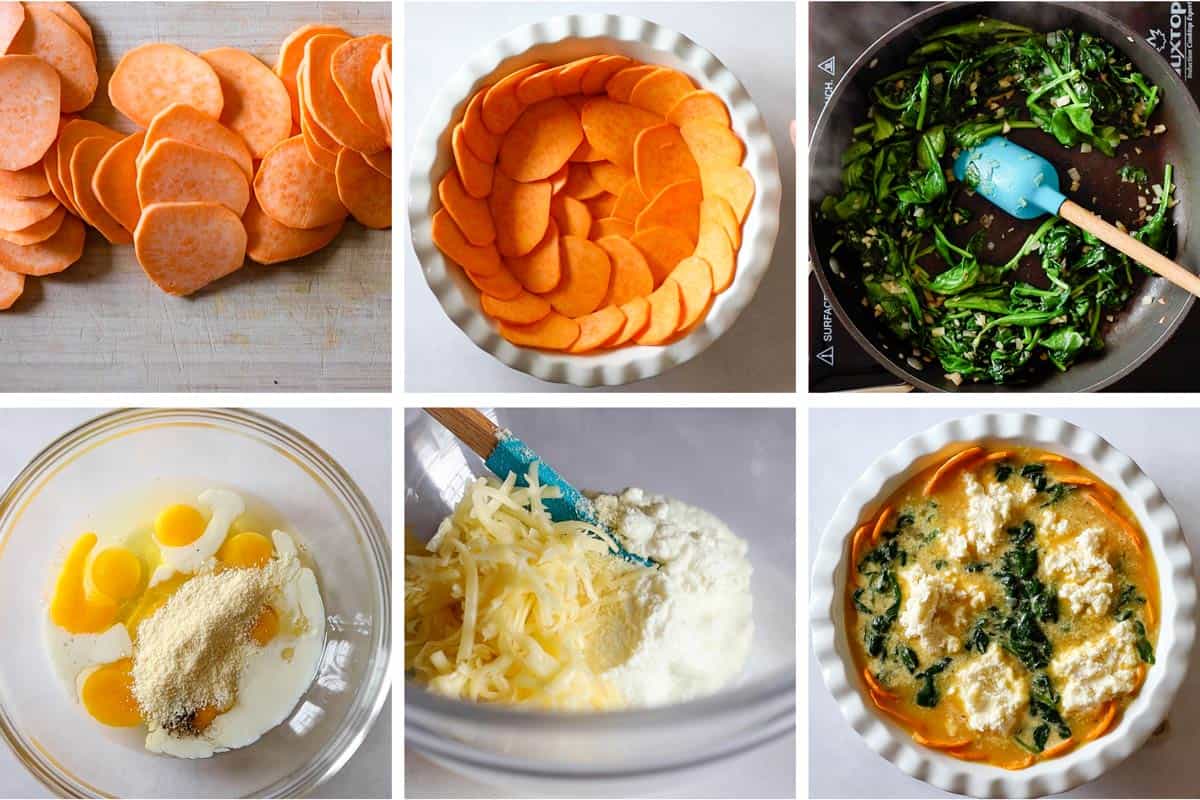 Slice Sweet Potato — peel and thinly slice two sweet potatoes. You can use a sharp knife or a mandoline. A mandoline will give you much better results and evenly thick slices. You need your slices to be only 2-3mm in thickness or else they won't cook through in the required time in the oven. Take a handful of slices and cut off at one end to get a flat end. You will need this for the sides (see video). Then add them to a bowl and drizzle with some avocado oil. Use your hands to work in the oil.
Prebake "crust" — line the bottom and sides of a 9″ pie dish with your sliced sweet potato. Use the round slices for the bottom and the ones with the cut-off edge for the sides. Make sure they all overlap. Then place the sweet potato into the 350F preheated oven for 15 minutes.
Brown shallots & garlic — I know this step is annoying but trust me, it makes all the difference. Preheat a large pan over medium-low heat and while it's preheating, finely chop the shallots and garlic. Add a drizzle of avocado oil to the hot pan and then brown the chopped shallots and garlic in it for just about a minute. Then add the spinach and sauté for a few seconds until it wilts and then immediately remove from the heat. You need the spinach mixture to be cold in a few minutes. To speed up that process you can transfer it to a cold plate and spread it out.
Make filling — whisk 8 eggs, sea salt and pepper, milk and half of the grated Parmesan cheese together until well combined and then add the cooled spinach mix. Do NOT add hot spinach to your eggs or else they'll start cooking in the bowl instead of in the oven.
Make ricotta mix — this is what makes this crustless spinach quiche recipe extra special, little dollops of ricotta goodness. Mix ricotta, the remaining grated Parmesan cheese, and grated cheddar in a bowl until well combined. This only takes like 30 seconds.
Assemble — carefully pour the egg filling into the prebaked sweet potato crust making sure the sweet potato slices stay in place. Use a spatula to press them back to the bottom or sides if necessary. Then add dollops of the ricotta mix in an uneven pattern all over the place. Then place back in the oven for another 40-45 minutes or until the eggs are set.
Bonus — turn on the broiler for a minute or two at the end to make the top nice and brown.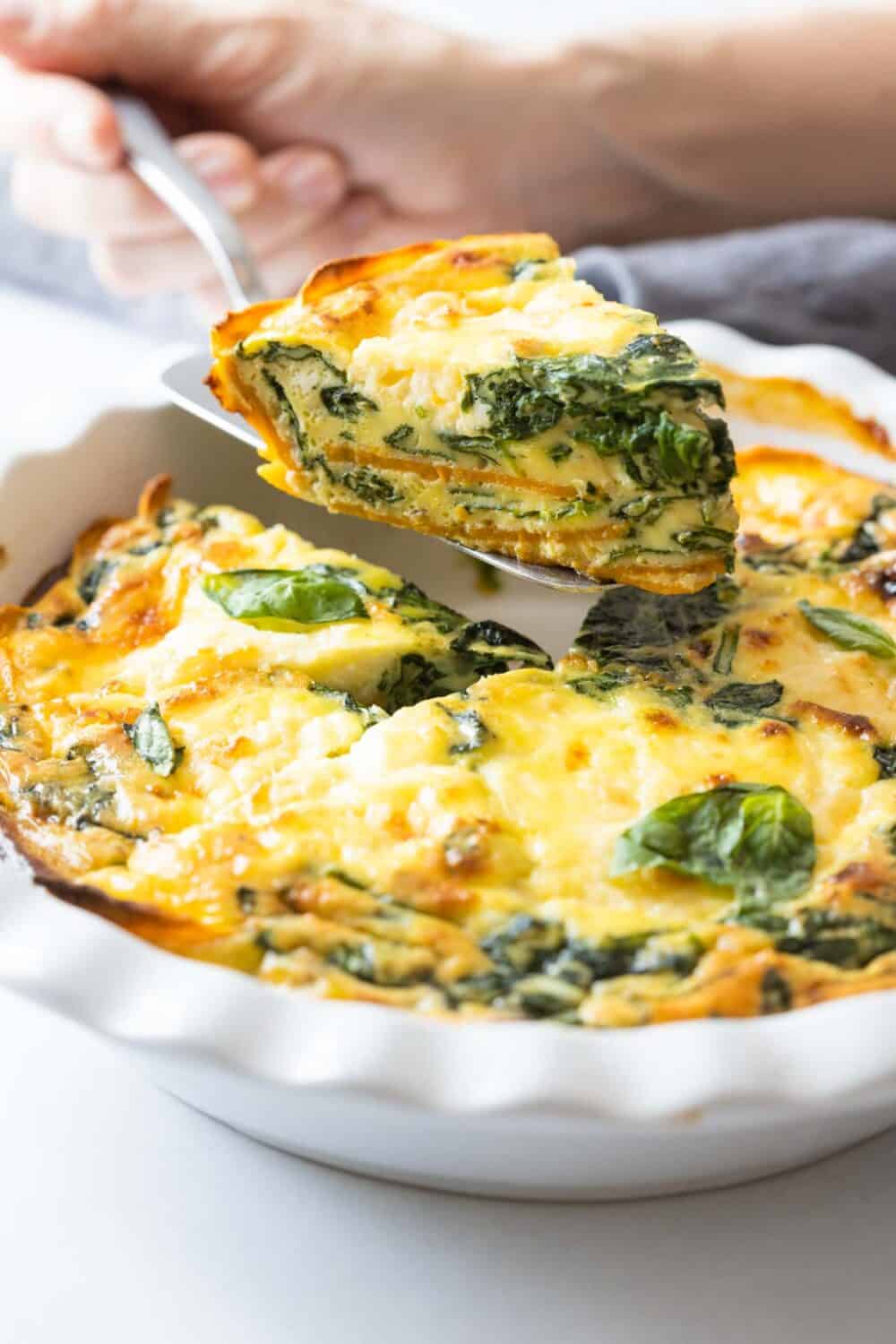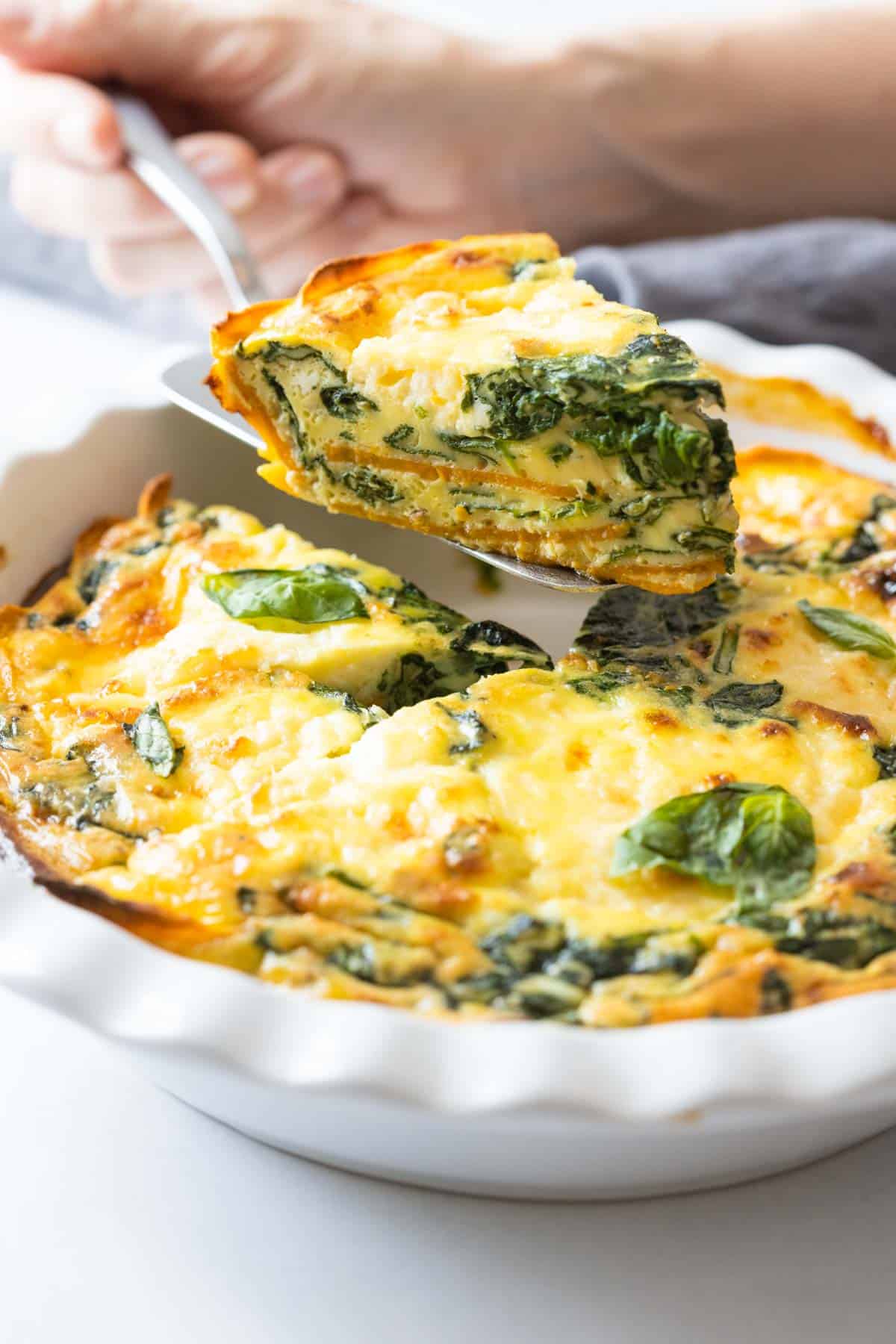 Frequently Asked Questions
Why is my crustless quiche watery?
Eggs set once they reached 140F-150F. So if your quiche is still watery you need to cook it a little longer. If your spinach had too much water you will have to overcook the eggs while waiting for the water to evaporate. If your spinach has a lot of water make sure you press it out before adding to the eggs.
What is the secret to a fluffy quiche?
Don't use only eggs. Make sure you add a little milk or cream and never forget some cheese as well. Else it will taste very "eggy".
Do you bake quiche covered or uncovered?
Always uncovered. You don't want steam trapped under a cover and steam the eggs. You want them to bake and water evaporating in the process.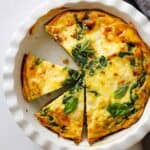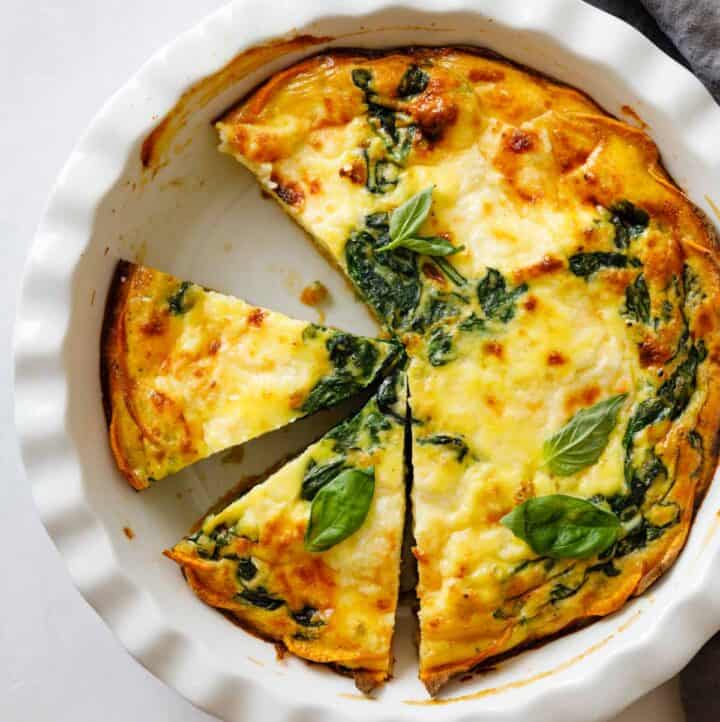 Crustless Spinach Quiche
This delicious Crustless Spinach Quiche with ricotta uses thinly sliced sweet potatoes instead of puff pastry as a base.
Print Recipe
Pin Recipe
Ingredients
2

sweet potatoes

1

Tbsp

avocado oil

2

shallots

3

cloves garlic

5

oz

baby spinach

8

eggs

1/2

cup

milk

6

Tbsp

grated parmesan cheese

sea salt

pepper

1/3

cup

ricotta cheese

1/2

cup

grated cheddar cheese

basil
Instructions
Peel and thinly slice sweet potatoes (preferably with a mandoline). Cut off the end of a handful of slices to get a flat edge. Add slices to a bowl, drizzle with avocado oil and work oil into the slices with your hands.

Line a 9" pie dish with the sweet potato slices. The round slices for the bottom and the slices with the flat edge for the sides. Ensure they all overlap. Then prebake for 15 minutes. Set a timer!

In the meantime, finely chop shallots and galric and then brown them in a large pan over medium low heat in a little avocado oil. Once brown, add spinach and sauté for about 30 seconds or until wilted. Remove from the heat and let cool completely.

Add eggs, half of the grated Parmesan, milk, and sea salt and pepper to taste to a large bowl and whisk until well combined. Then add cooled spinach mixture and use a spatula to mix in. Do NOT add hot spinach, it has to be cold enough to not start cooking the eggs.

In a separate bowl mix ricotta, cheddar cheese and remaining grated Parmesan.

Carefully pour egg filling into prebaked sweet potato crust and then add dollops of the ricotta mixture in an uneven pattern all over.

Bake the quiche for 40-45 minutes or until the eggs are set.

Turn on the broiler the last minute or two for a nice brown top. Garnish with basil if desired.
Nutrition
Calories:
211
kcal
|
Carbohydrates:
16
g
|
Protein:
12
g
|
Fat:
11
g
|
Saturated Fat:
5
g
|
Trans Fat:
1
g
|
Cholesterol:
180
mg
|
Sodium:
223
mg
|
Potassium:
437
mg
|
Fiber:
2
g
|
Sugar:
4
g
|
Vitamin A:
10932
IU
|
Vitamin C:
7
mg
|
Calcium:
190
mg
|
Iron:
2
mg
What's your clean eating vibe?
Take this fun QUIZZ and find out in 10 seconds!