The most delicious way to eat sweet potatoes is by baking them. Learn how to bake different shapes and sizes of sweet potatoes to get them perfectly tender every time!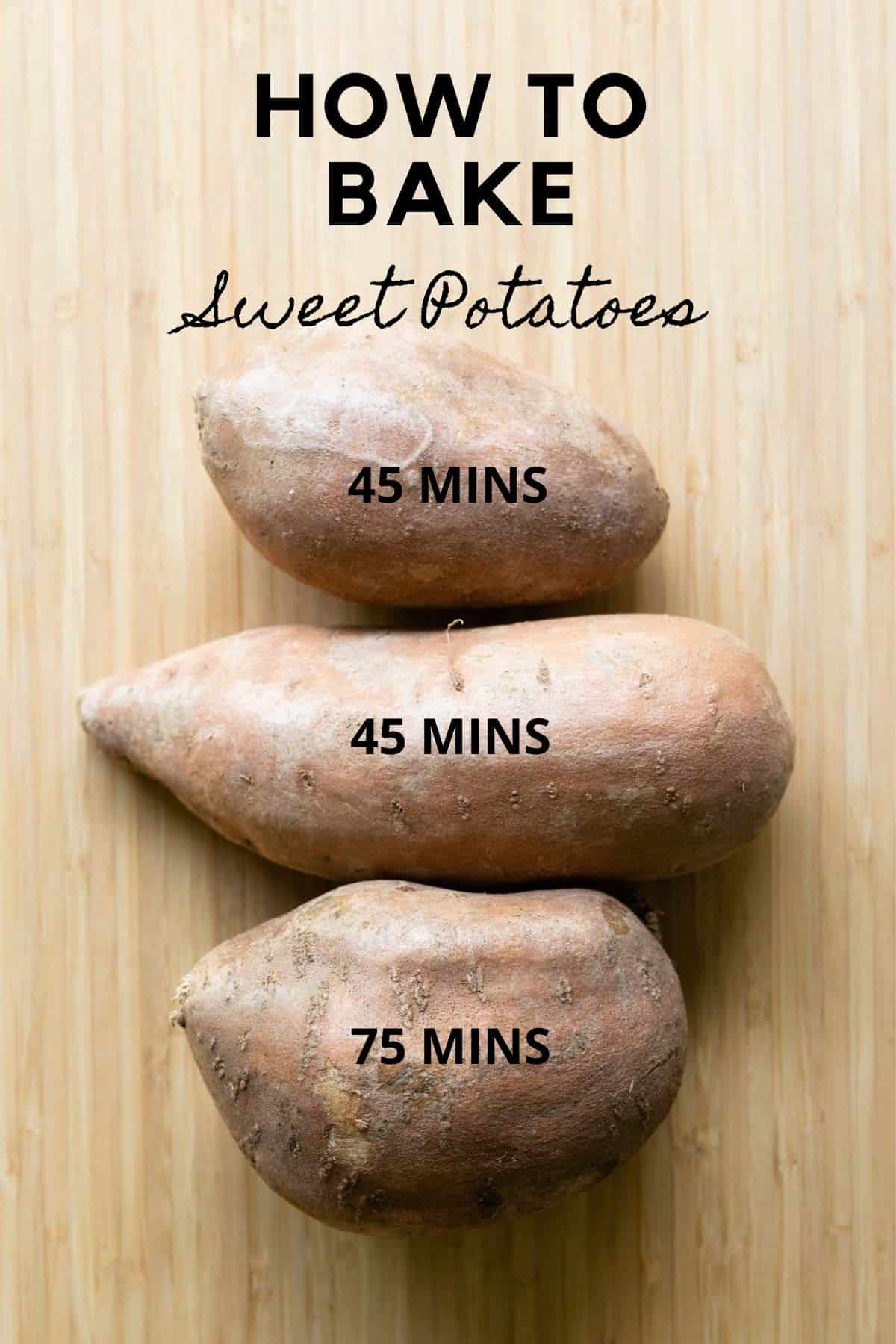 If you have been around Green Healthy Cooking for a while you all know about my love for sweet potatoes. Roasted Sweet Potato Salad, Quinoa Stuffed Sweet Potatoes and Sweet Potato Breakfast Casserole are just a few of my favorite sweet potato recipes.
Sweet potatoes are the ultimate root vegetable packed with nutrients. Eat them by themselves, serve them as a side dish or use them for meal prepping, you've got endless uses!
How to Measure Sweet Potatoes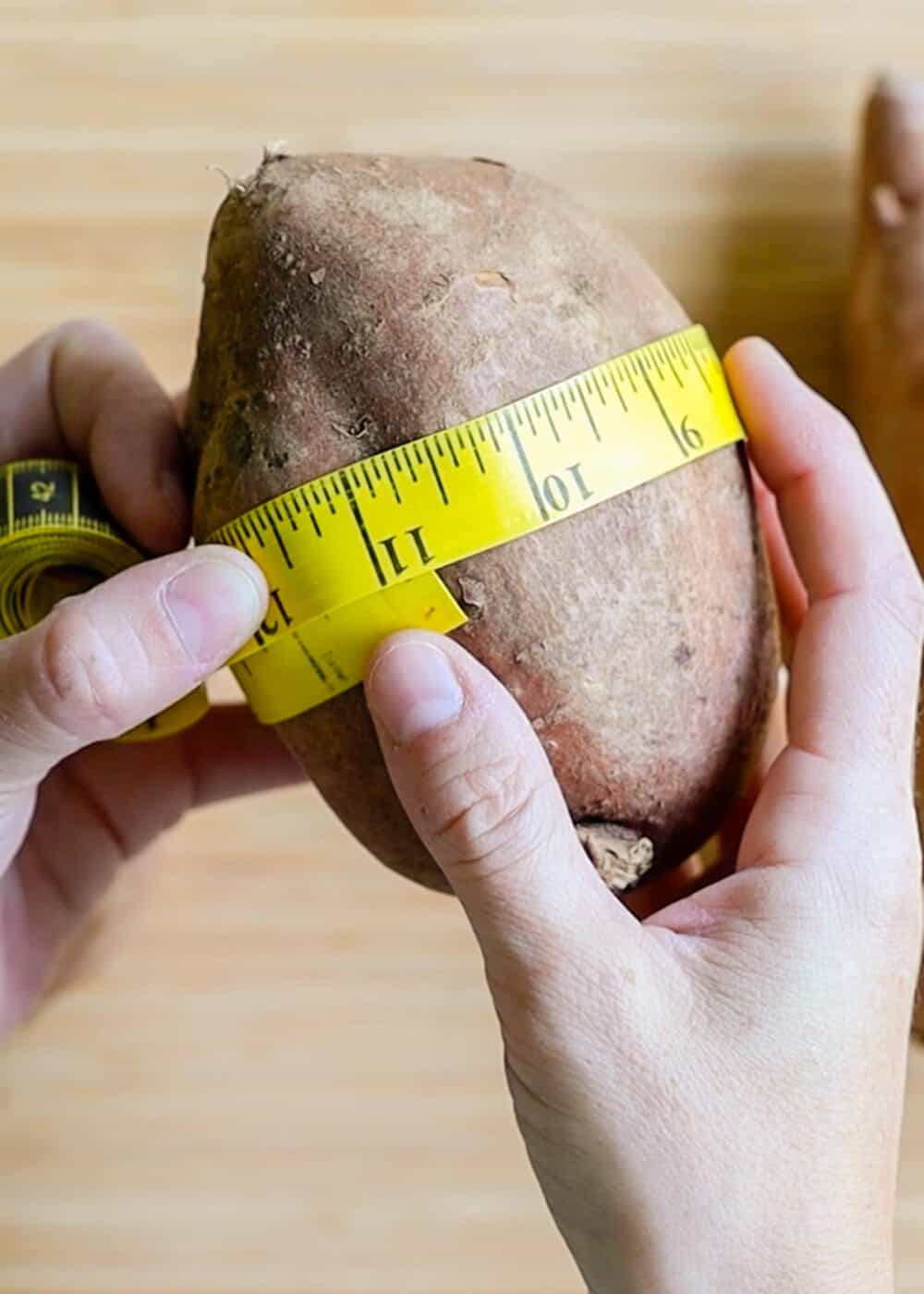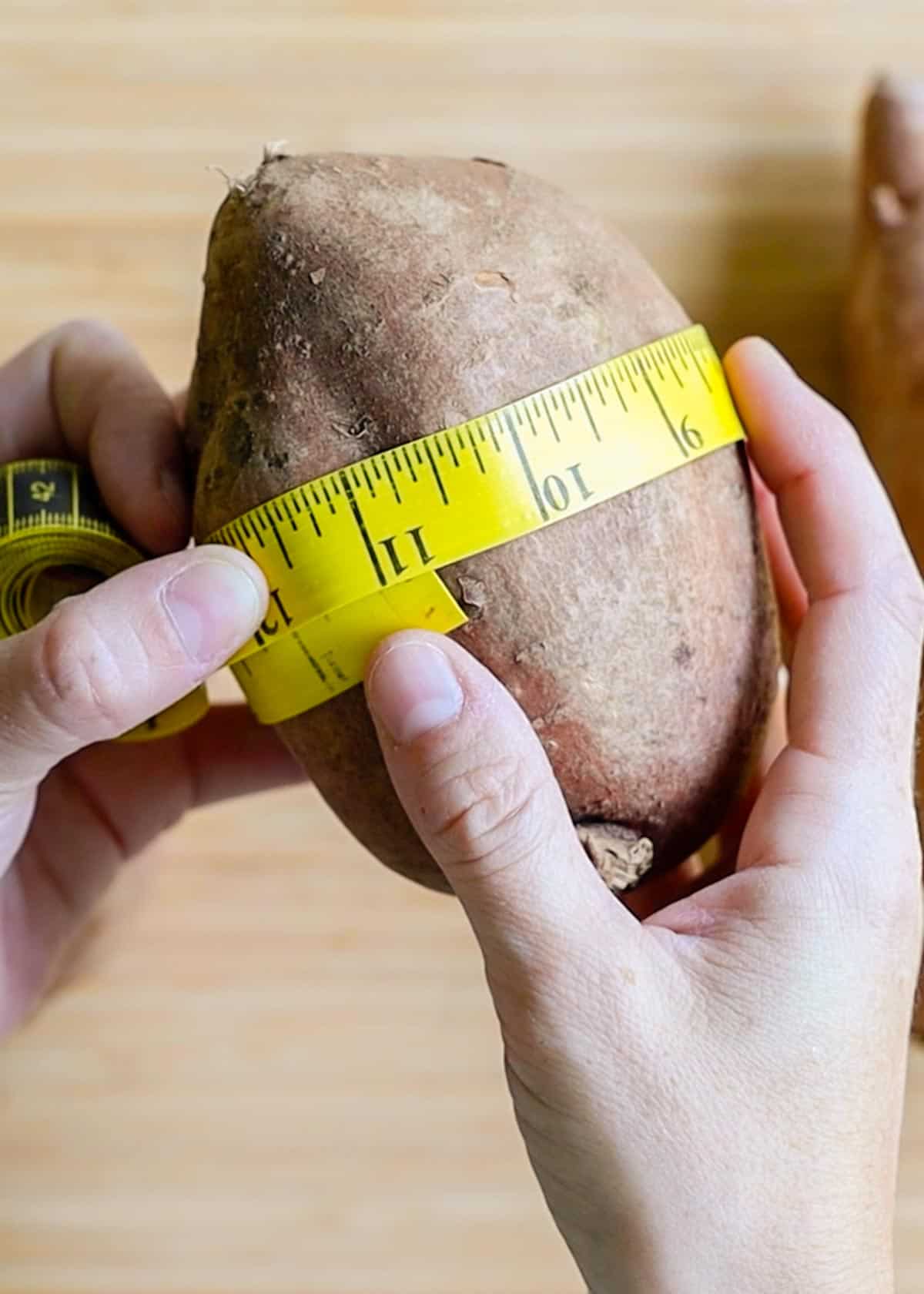 Let's talk about sizes and shapes to determine which sweet potatoes are best for what. Some are long and thick, others rounder with a thick circumference, some are skinny and others are just small.
I swear I'm talking about nothing but sweet potatoes!
Before you start, preheat your oven to 400F. Wash and scrub the sweet potato under cold running water with a brush or sponge, then grab your measuring tape and measure the rounder part. Follow this table to bake your sweet potatoes right every time:
9″ circumference = 45 min
10″ circumference = 60 min
11″ circumference = 75 min
To bake a sweet potato as a whole, choose a small to medium-sized one with a circumference of 9″ or less so it doesn't take a long time to bake. Poke holes into the sweet potato with a fork all over to let the steam out then place it on a baking sheet. Bake it for 45-50 minutes. For a bigger sweet potato increase the time as per the table above.
I lI love cutting it open like a regular baked potato and serving it simply with a bit of salted butter or sour cream and fresh herbs like parsley or chives. The best sweet and savory winter breakfast if you ask me!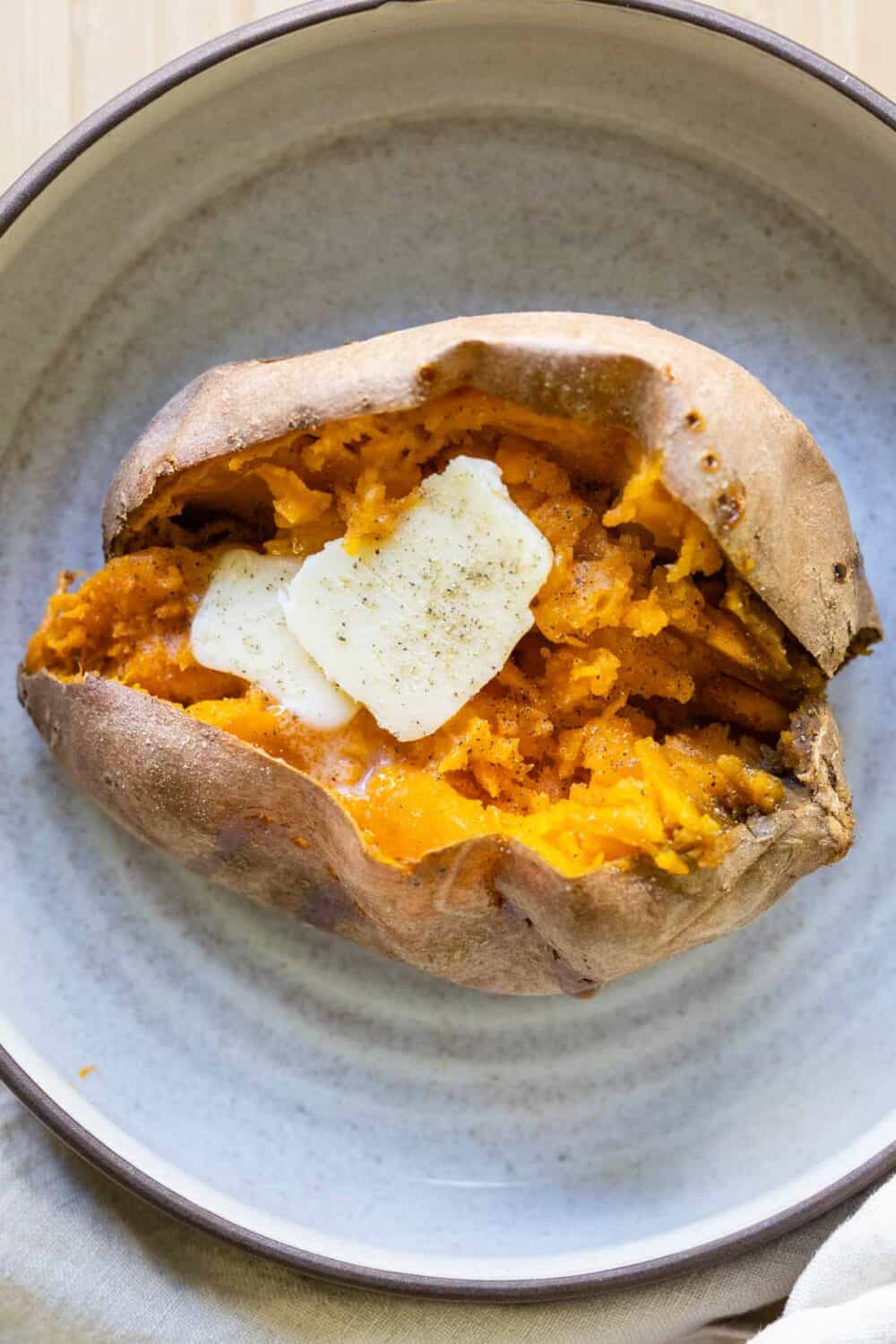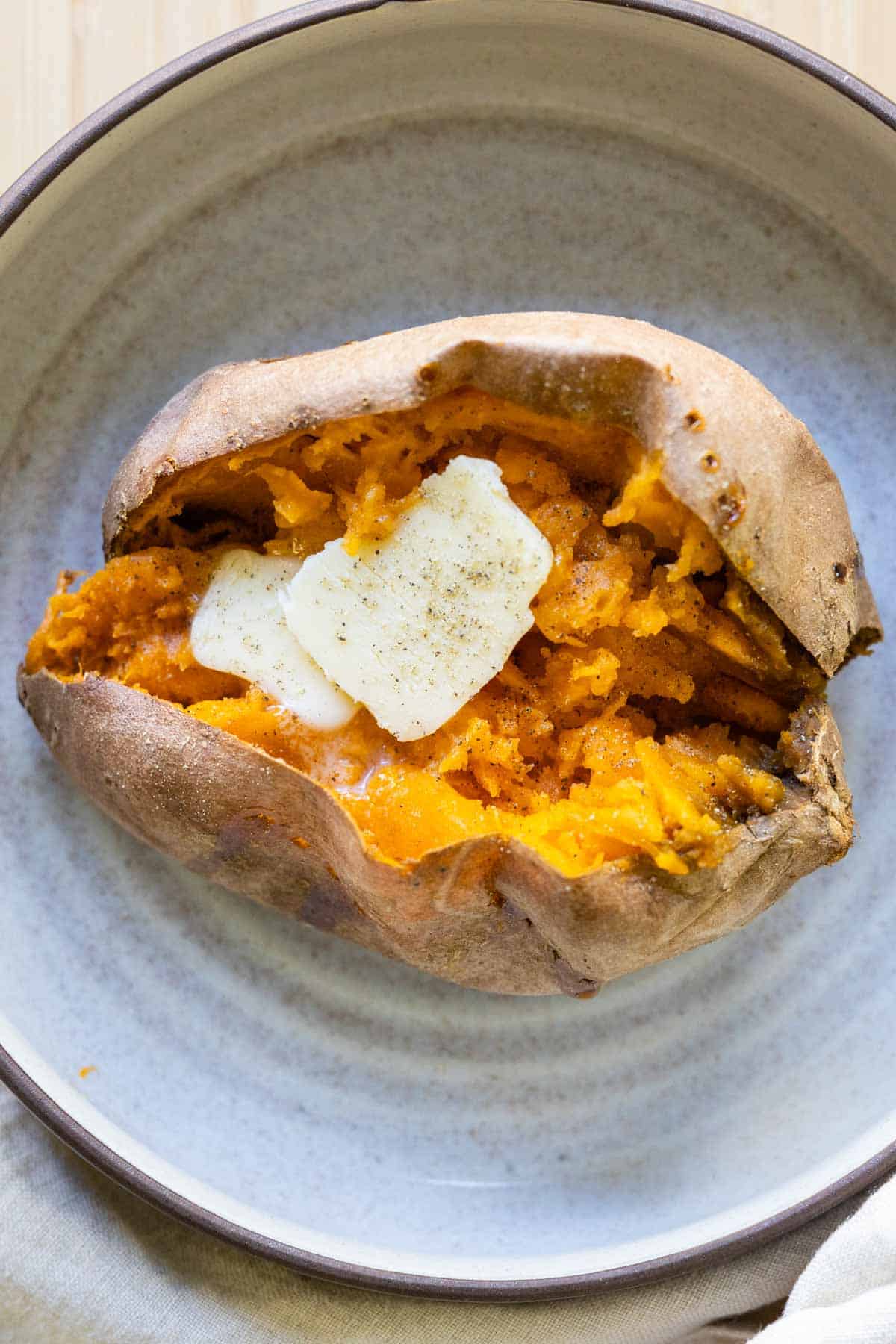 How to Cut Sweet Potatoes
If you're pressed for time, cut your sweet potato into smaller pieces. The long and skinny sweet potatoes are perfect for cutting into rounds, for example. This is my favorite way to bake them by the way.
For sweet potato wedges and cubes, the thick and round sweet potatoes are best.
Either way you choose, you can peel the sweet potato or leave the skin on. It doesn't make a difference when you bake it.
For wedges, cut about a 1.5″ piece off the sweet potato lengthwise and then cut it into wedges. And for cubes, slice a 3/4″ piece off then cut it into strips, and then cube it.
How to Bake Cut-Up Sweet Potatoes
Sweet potatoes are notorious for sticking to the baking sheet, so let me tell you about a little trick that will prevent that from happening. Place your empty baking sheet dry into your preheating oven and preheat it. A hot baking sheet is automatically non-stick!
Add your rounds, wedges or cubes of sweet potato to a bowl and drizzle with a little avocado oil then work in the oil with your hands to ensure they are evenly coated. Add some salt to season if desired. The reason you need oil once you cut the sweet potato open is that it dries out in the oven and you risk it burning.
Make sure you use vegetable oil with a high smoke point, such as avocado oil and not olive oil which burns at 400F in the oven.
When you're oven finishes pre-heating, your baking sheet will be ready too. Take it out of the oven and place it on a heat-proof surface so you can arrange your cut-up sweet potato on it. Be careful, it will be hot! Arrange the sweet potato without overcrowding the sheet, otherwise, the steam will get trapped and the sweet potatoes won't roast.
Put the sheet back into the oven and roast the sweet potato for 20 minutes on one side, then flip the pieces and return to the oven for another 15-20 minutes.
The baked sweet potatoes will be cooked through but firm. If you like them softer, leave them for 20 minutes on each side. And if you preferred them a bit burnt, I recommend placing them under the broiler 3-5 minutes at the end.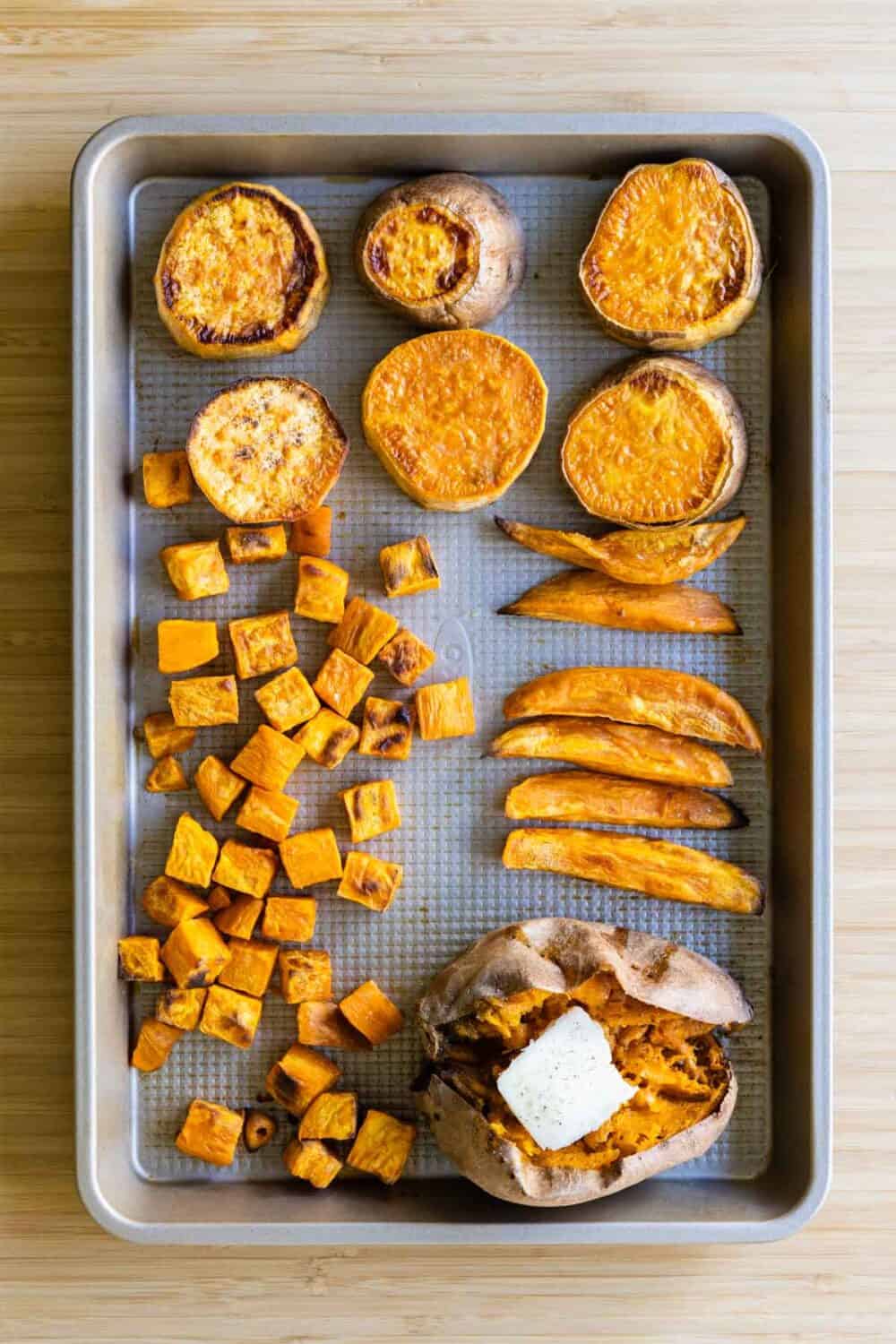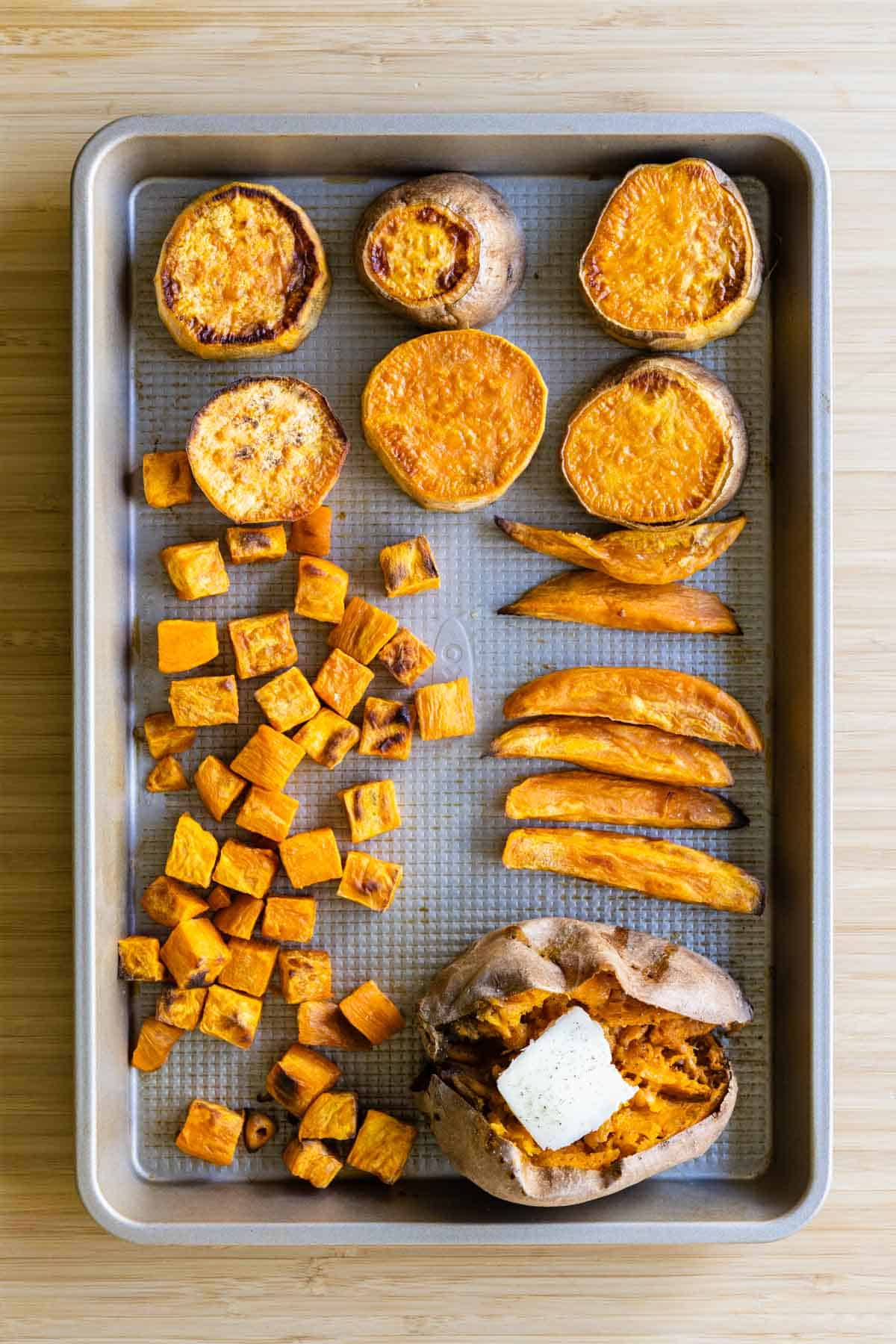 Can sweet potatoes be cooked in the Instant Pot? Absolutely! This recipe is the perfect guide to cook them soft and creamy every time.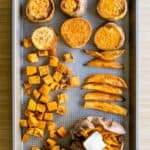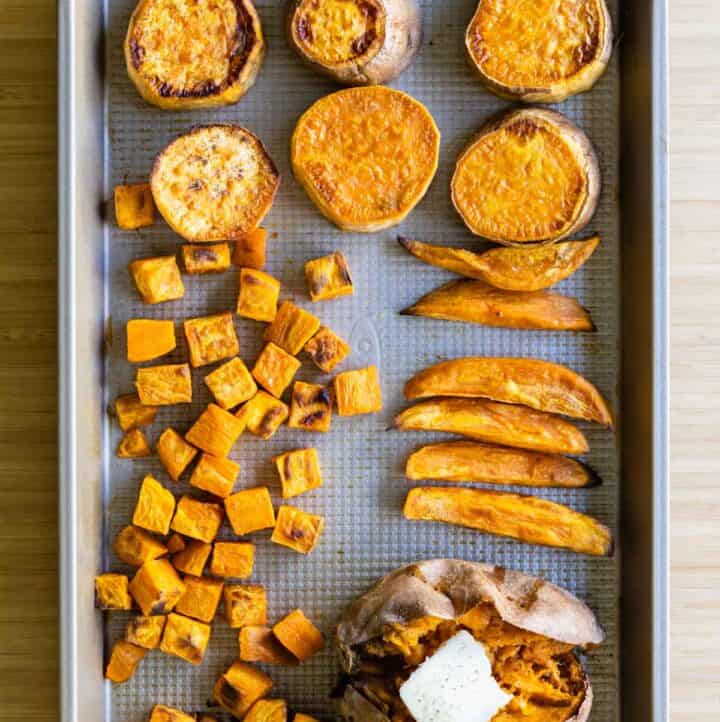 How To Bake Sweet Potatoes
The most delicious way to eat sweet potatoes. Learn how to bake different shapes and sizes of sweet potatoes to get them perfectly tender every time!
Print Recipe
Pin Recipe
Instructions
Preheat your oven to 400F.

If you want to bake your sweet potatoes as a whole, wash them well, then poke them with a fork all over and place them on a baking sheet.

Measure their circumference and then bake for:

9" circumference = 45 min10" circumference = 60 min11" circumference = 75 min

If you want to bake them cut up, wash them and then either peel or not and cut them into whatever shape you like (rounds, wedges, cubes) and make sure they are no thicker than 1" so they bake quickly.

Preheat your baking sheet to make it non-stick and lightly oil your cut-up sweet potato in a bowl. Then place the cut-up sweet potato on the hot baking sheet leaving space between each piece. If you crowd your baking sheet steam builds and the sweet potato doesn't roast properly.

Bake 15-20 minutes on one side, then flip and bake another 15-20 minutes on the other depending on how firm or soft you want your sweet potato to be.

Put under the broiler for 2-5 minutes if you like your sweet potato a bit burnt.
Nutrition
Calories:
194
kcal
|
Carbohydrates:
45
g
|
Protein:
4
g
|
Fat:
1
g
|
Saturated Fat:
1
g
|
Polyunsaturated Fat:
1
g
|
Sodium:
124
mg
|
Potassium:
762
mg
|
Fiber:
7
g
|
Sugar:
9
g
|
Vitamin A:
32063
IU
|
Vitamin C:
5
mg
|
Calcium:
68
mg
|
Iron:
1
mg
What's your clean eating vibe?
Take this fun QUIZZ and find out in 10 seconds!