Be my Valentines Healthy Spelt Oat Cookies, will you? I just now realized how UNromantic the name of those cookies is but how else am I supposed to call them without deceiving their nature? They are healthy and they are made of spelt flour and oats and well, they are cookies. Considering I've always been a pretty unromantic person, I guess, it's ok to give them an unromantic name, right? I mean you could make them and just call them Love Cookies or Heart Cookies or something along the lines for the person you are making them for because I bet the person receiving them won't care much about the ingredients and more about your lovely face and the pretty form of the cookie at first :) He or she will put them in their mouth and THEN care about the ingredients and ask you for a detailed recipe because oh my, they are uhhhhhhmazing! Love.at.first.taste!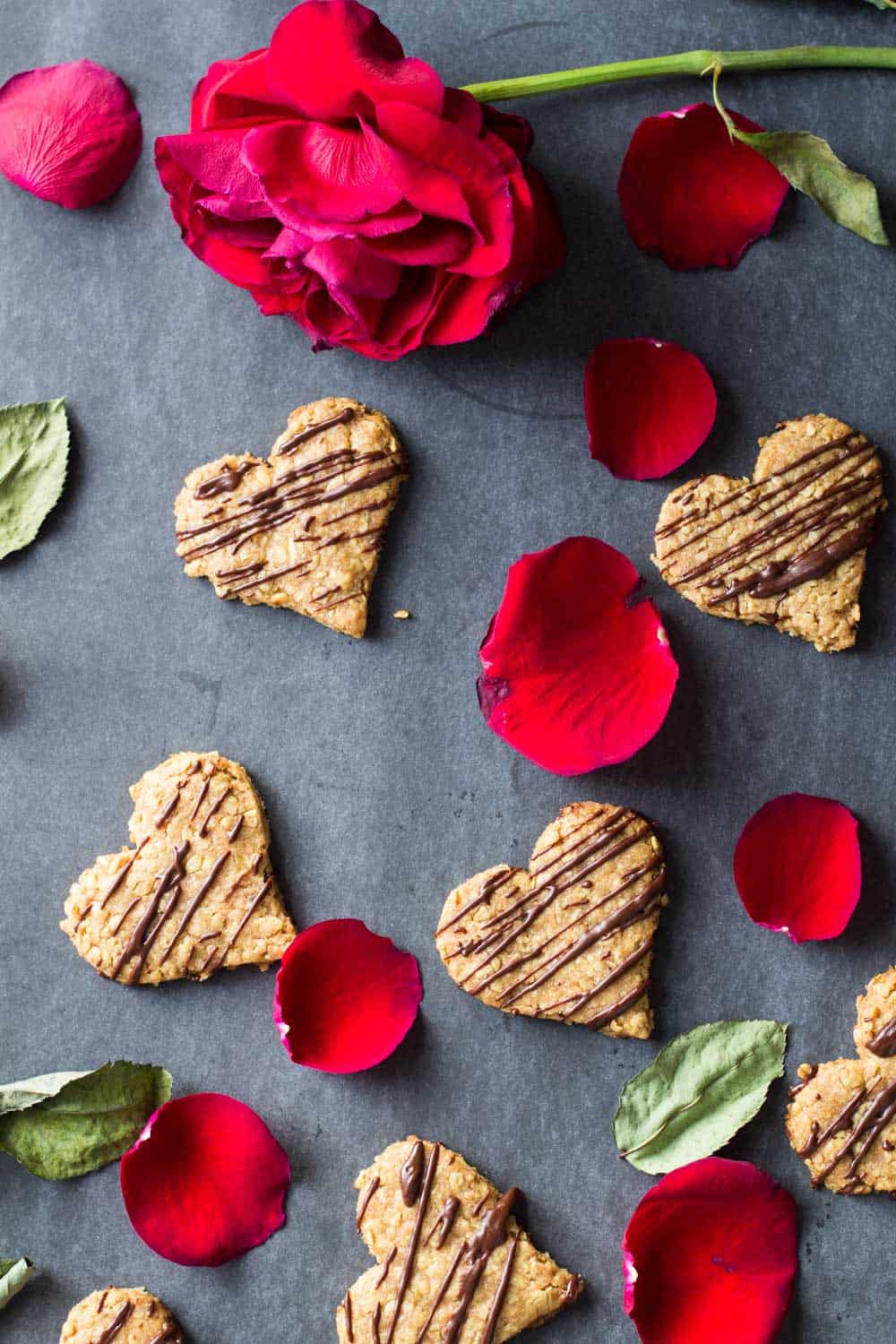 Healthy I had to make them because, well, this is Green Healthy Cooking. We eat healthy on Valentine's Day, on Halloween, on Thanksgiving, on Christmas, New Year's Eve, all Birthday parties, all days always. Why? Because it taste SO MUCH BETTER!!! The Healthy Spelt Oat Cookies will convince you once again, that refined sugar in cookies is totally and completely overrated. They taste divine, divine, divine times 3.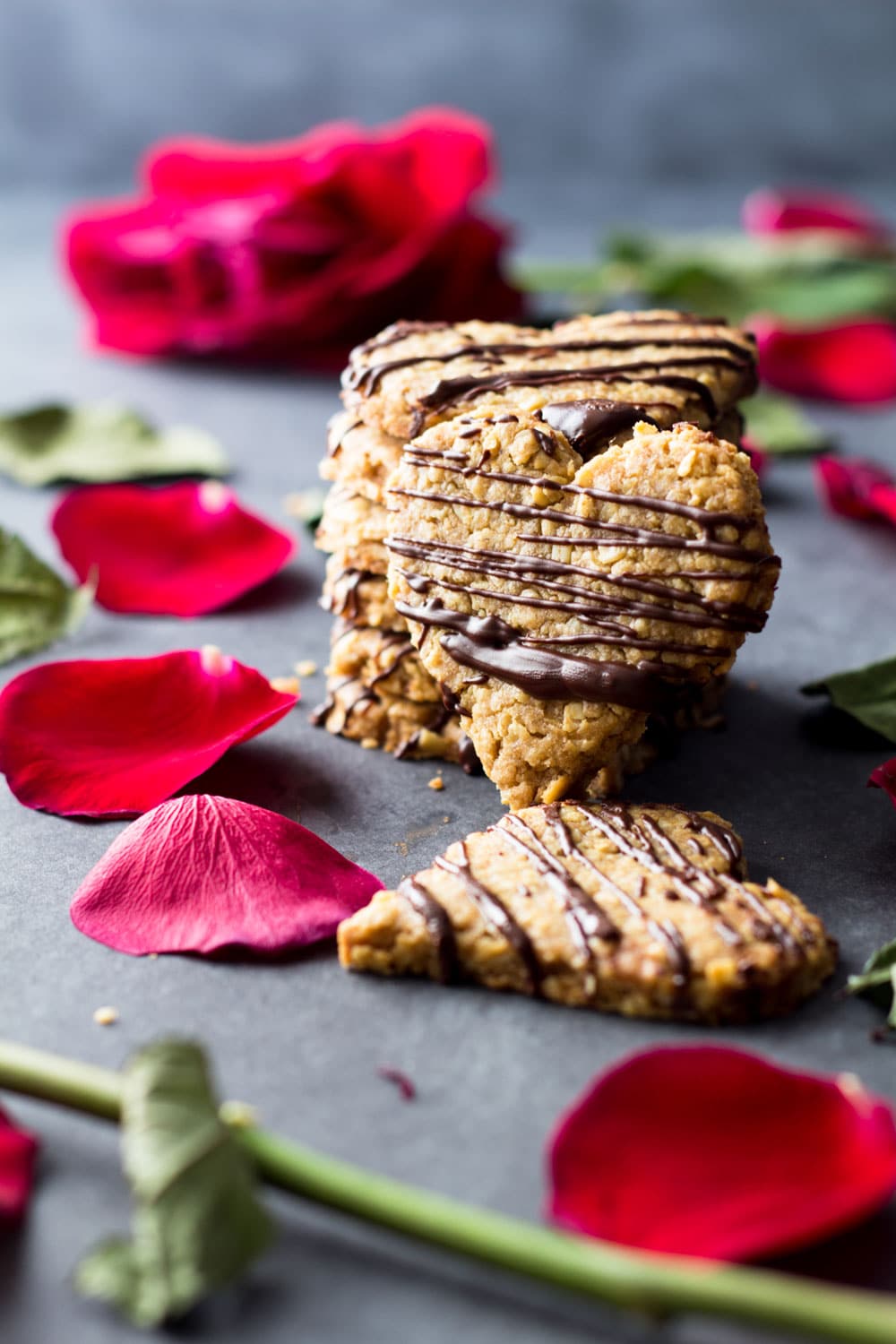 I hope you can get your hands on piloncillo because it has a very distinct flavor. It tastes almost like caramel. They usually sell it in Latin American stores in cone form or small cylinders or sometimes even granulated. Coconut sugar will also do the trick  though in case you don't have a Latin American store anywhere close to where you live. The consistency of the butter and sugar should resemble the one shown in the video. It shouldn't be too liquid or too creamy. I didn't know how exactly to explain the consistency had to be so I filmed it real quick to be able to show you.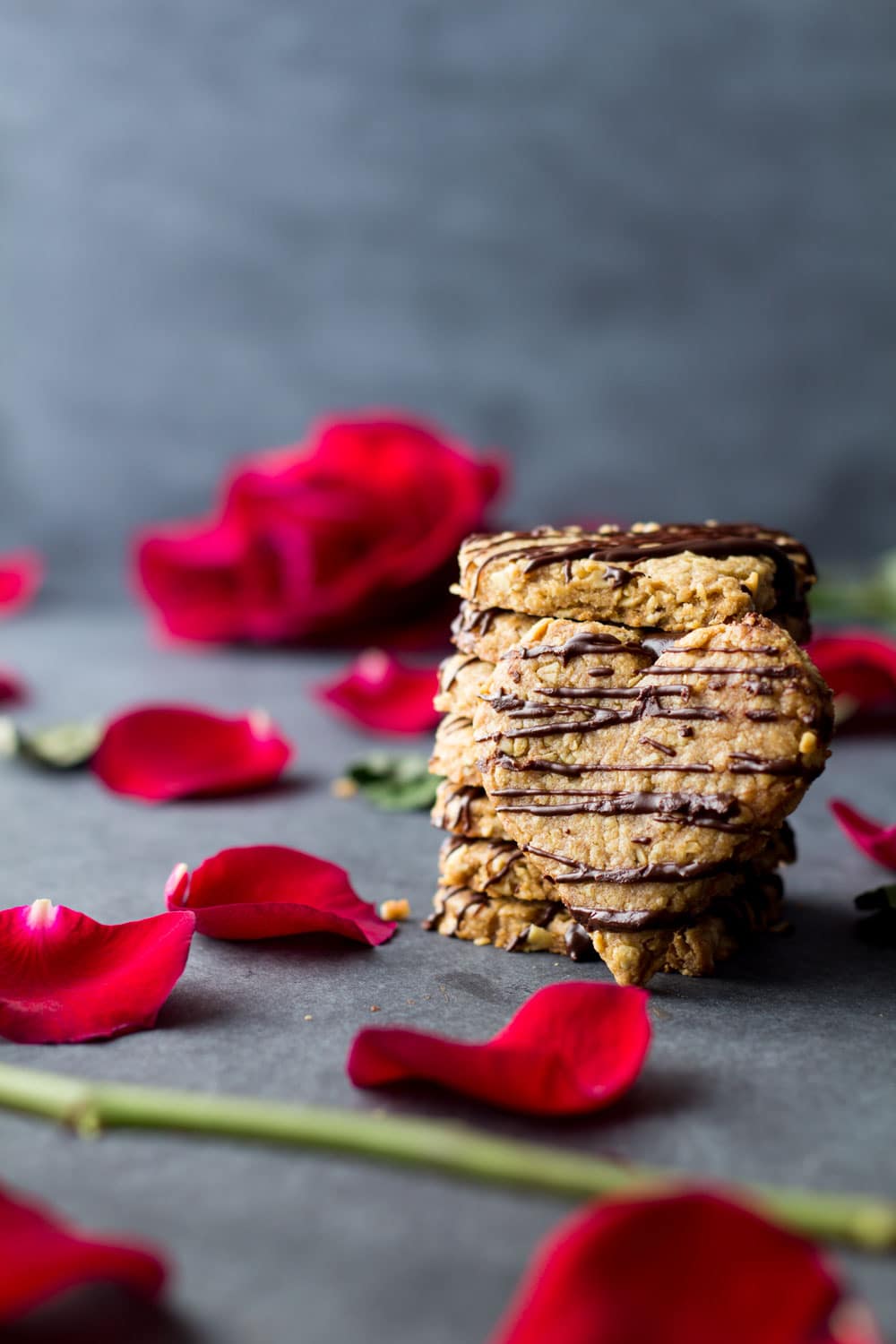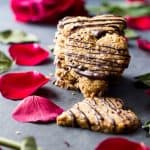 Healthy Spelt Oat Cookies
Print Recipe
Ingredients
1

stick butter

-

(115g)

1/2

cup

piloncillo/panela/raspadura

-

(125g, raw cane sugar if you can't find it use coconut sugar)

1/2

tsp

baking powder

1

cup

spelt flour

-

(150g)

1 1/4

cups

quick cooking rolled oats

-

(150g, not instant! If you can't find quick cooking use old fashioned)

milk chocolate chips

-

(optional)
Instructions
In a small saucepan melt piloncillo with 1 Tbsp water over low heat stirring often. Once melted, add butter and melt while whisking.

Once butter is completely melted and incorporated remove from heat and keep whisking for a couple of minute to cool down a bit (see video for how the consistency should be)

In a large bowl whisk together spelt flour, baking powder and oats, then add butter/sugar mix and combine well.

Place dough in glass container with airtight lid or wrap in clingfilm and place in the fridge for 10-15 minutes.

Preheat oven to 300F (150°C).

On a pastry mat or parchment paper taped to the work surface, roll out dough to about 1/4 inch (0.5cm) and cut out desired shape (I used one of

these

heart shaped cutters).

Place cut out cookies on a non stick or parchment paper lined baking sheet leaving at least 1 finger distance between each of them.

Bake for 10-12 minutes.

Let cool down completely to prevent from braking when removing from baking sheet.

If desired, melt some chocolate and spread on cookies as shown on photos.
What's your clean eating vibe?
Take this fun QUIZZ and find out in 10 seconds!