Deliciously fluffy white coconut rice conveniently cooked in the Instant Pot. It is ever so slightly sweet and hence the best side dish for any Asian-inspired or Latino-inspired main dish. I've also tried it with just a fried egg on top and it's amazing!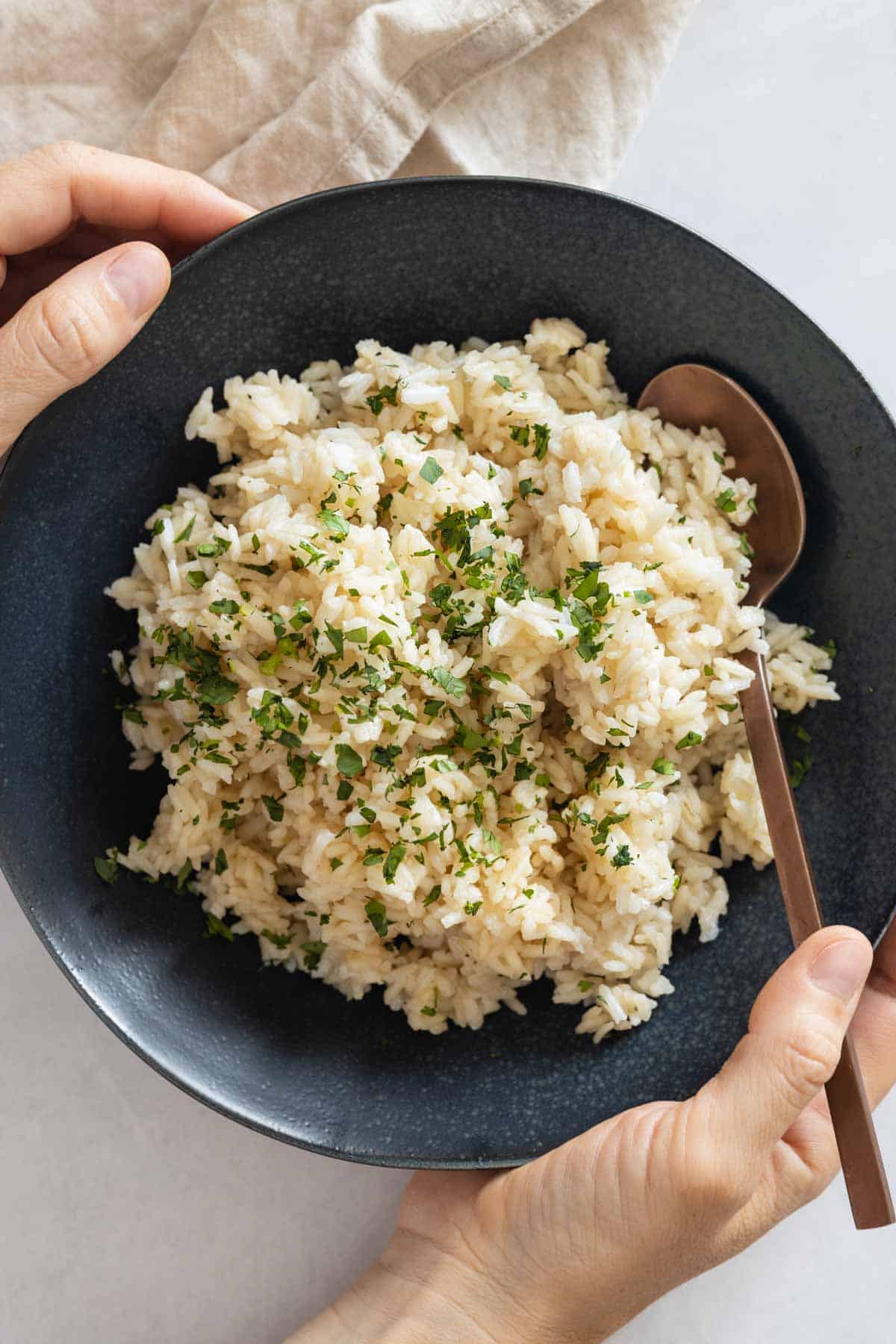 If you've been around for a while you know I ALWAYS cook rice in the Instant Pot. It so incredibly easy and totally hands off. No more rice water boiling over, no more half cooked half raw rice, no more burnt rice at the bottom and raw rice at the top. In the Instant Pot you get perfect rice every time.
So then I figured why not add a little extra flavor and make Instant Pot coconut rice not just plain old white rice and guess what….perfect every time!
Ingredients and Substitutions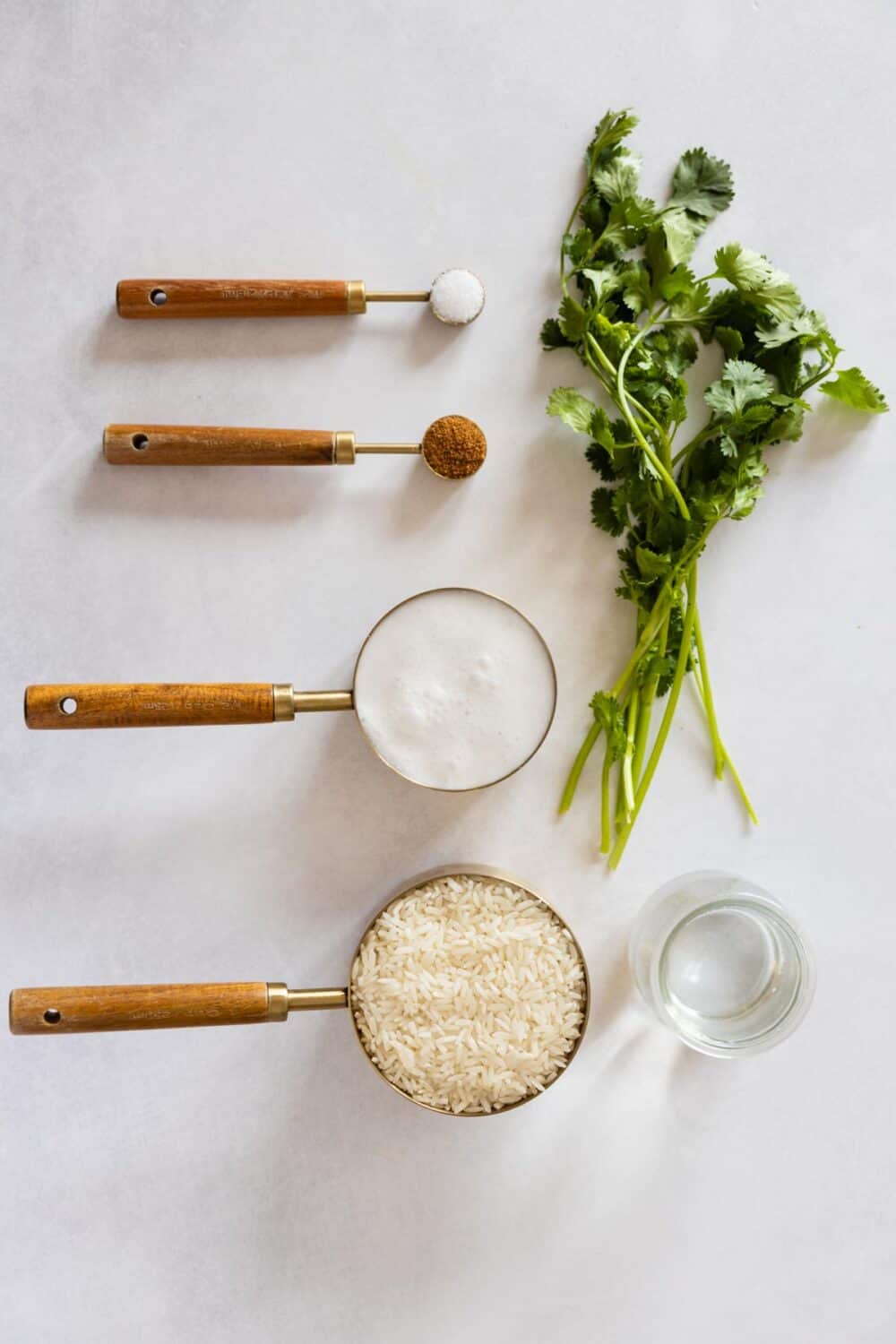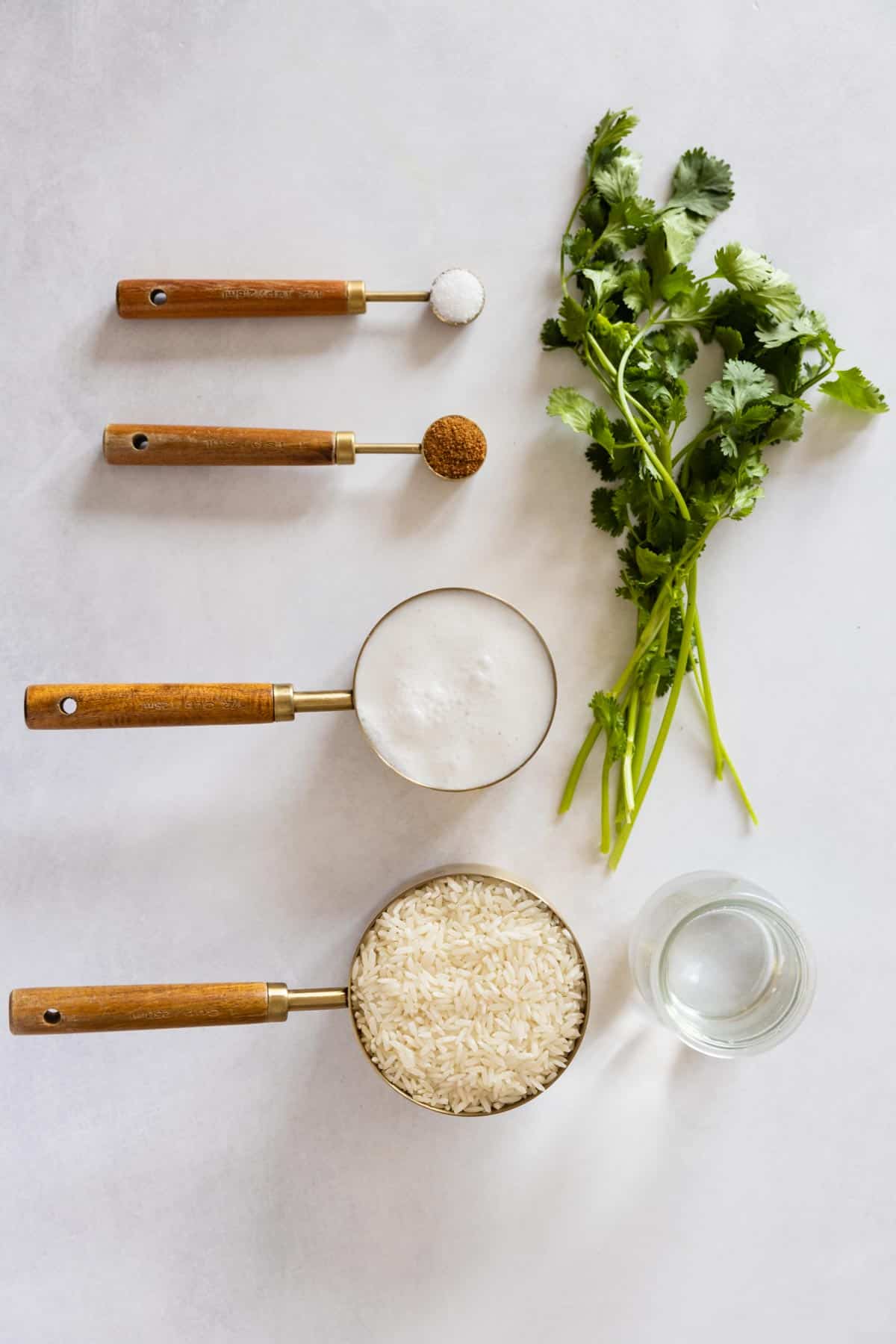 White rice — any white rice works. Jasmine, Basmati, long grain, short grain. I don't recommend brown rice or any other type of rice to make coconut rice because first of all they are pretty flavorful in themselves so the coconut flavor does not shine and second, they take up to 10- times longer to cook and the coconut milk may trigger the Instant Pot's burn warning.
Coconut milk — I recommend canned light coconut milk. It has all the benefits of strong coconut flavor but is lower in calories and less thick so watered down a bit you can avoid the burn warning with the short Instant Pot cooking time for white rice. Alternatively, you could use the coconut milk from a carton without watering down but I find it isn't as strong in flavor as the combo of water and canned light coconut milk.
Water — Do not use exclusively canned coconut milk as your liquid, you will have to water it down because it's too thick and the rice won't cook through properly. You also risk triggering the burn warning if you use thick canned coconut milk alone.
Coconut sugar — any sugar works in this really but coconut sugar and brown sugar are my favorite. Just a teaspoon is enough to give the rice its extra umpf. If you are trying to avoid sugar simply leave it out. The rice will still be delicious.
Salt — I always like adding salt to my rice but this is optional. I always add 1/2 teaspoon per cup of rice but adjust to your liking.
Cilantro — it looks pretty and it tastes great on coconut rice but it's 100% optional and more decorative than anything else. If you don't like cilantro use chopped-up basil. That's the best replacement in this case.
How To Make Instant Pot Coconut Rice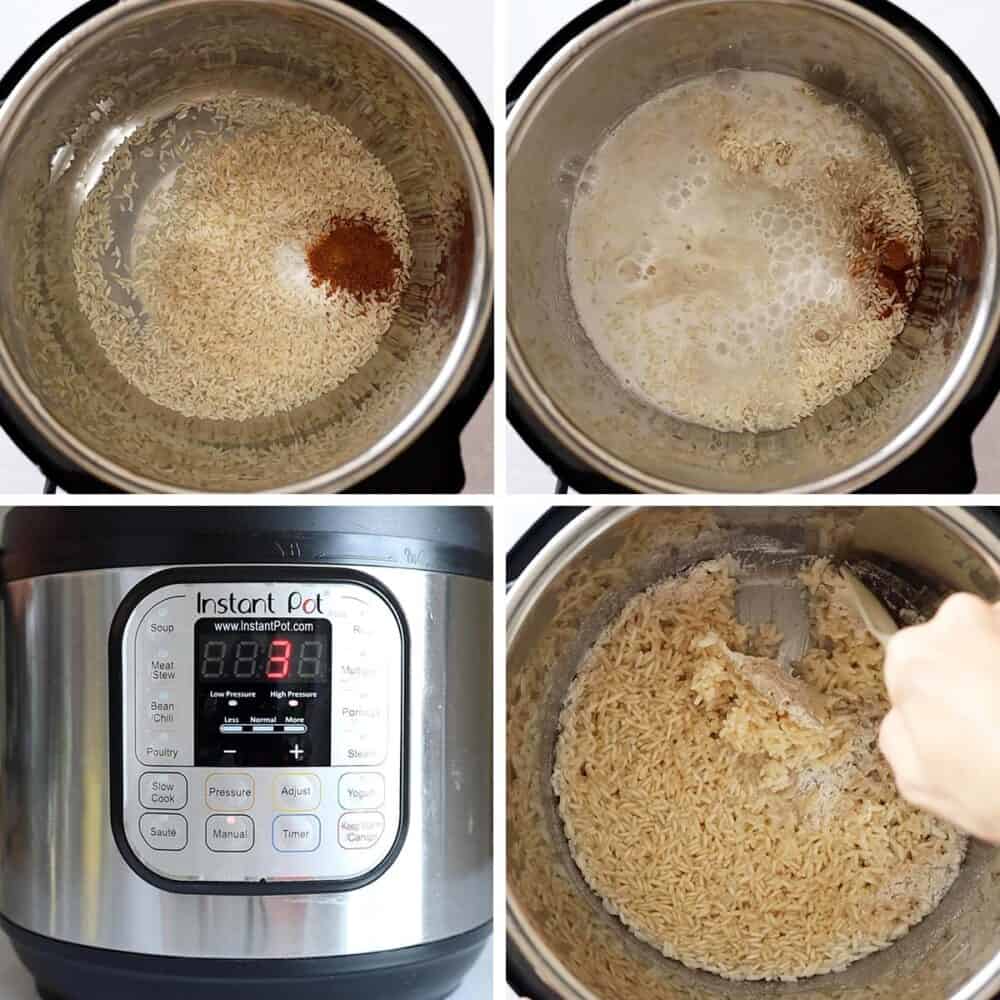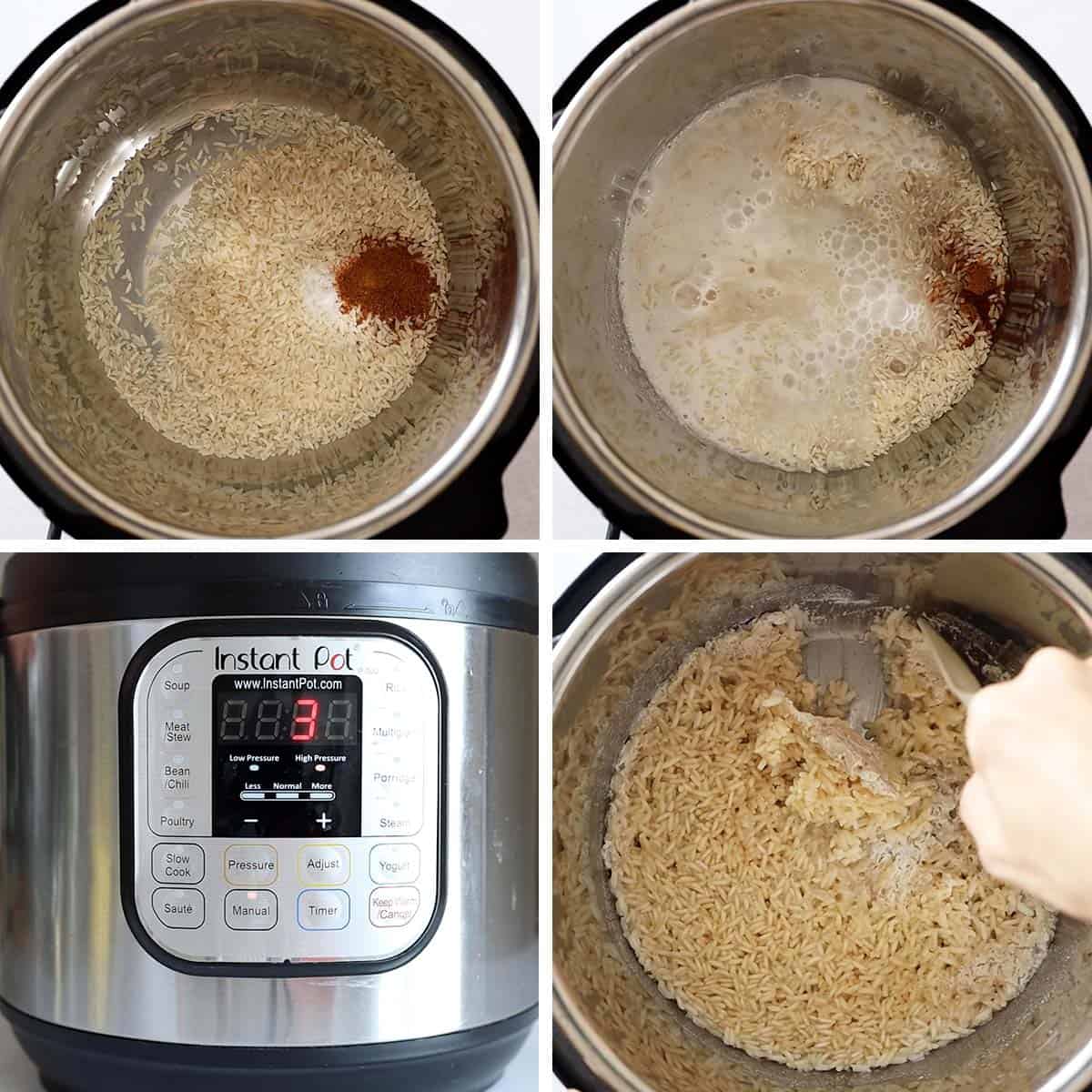 Add Rice — add the rice (rinsed or unrised, whichever way you prefer, both works). Then add coconut sugar and sea salt. The 6-quart only requires 1 cup to get to pressure but in the 8-quart you will have to cook a minimum of 2 cups rice to get it to pressure.
Add Coconut Milk — add coconut milk and water and stir well to combine everything. Make sure all rice grains are submerged in the liquid or else they won't cook.
Set Instant Pot — put on the lid and turn the valve to the sealing position, then set the Instant Pot to 3 minutes on high pressure. After that wait for full natural pressure release. That means, don't tough the sealing valve, don't do anything, just wait for the safety pin to drop on its own. This takes anywhere from 15-18 minutes when only cooking 1 cups of rice.
Fluff — once the safety pin dropped it's safe to open the pot, fluff the rice and immediately remove it all from the pot. Fluff it with a spoon then serve it in a serving plate or put it in a storage container. Don't just serve on your plate and leave the rest in there for after dinner, it will stick to the pot and will be hard to scrape off.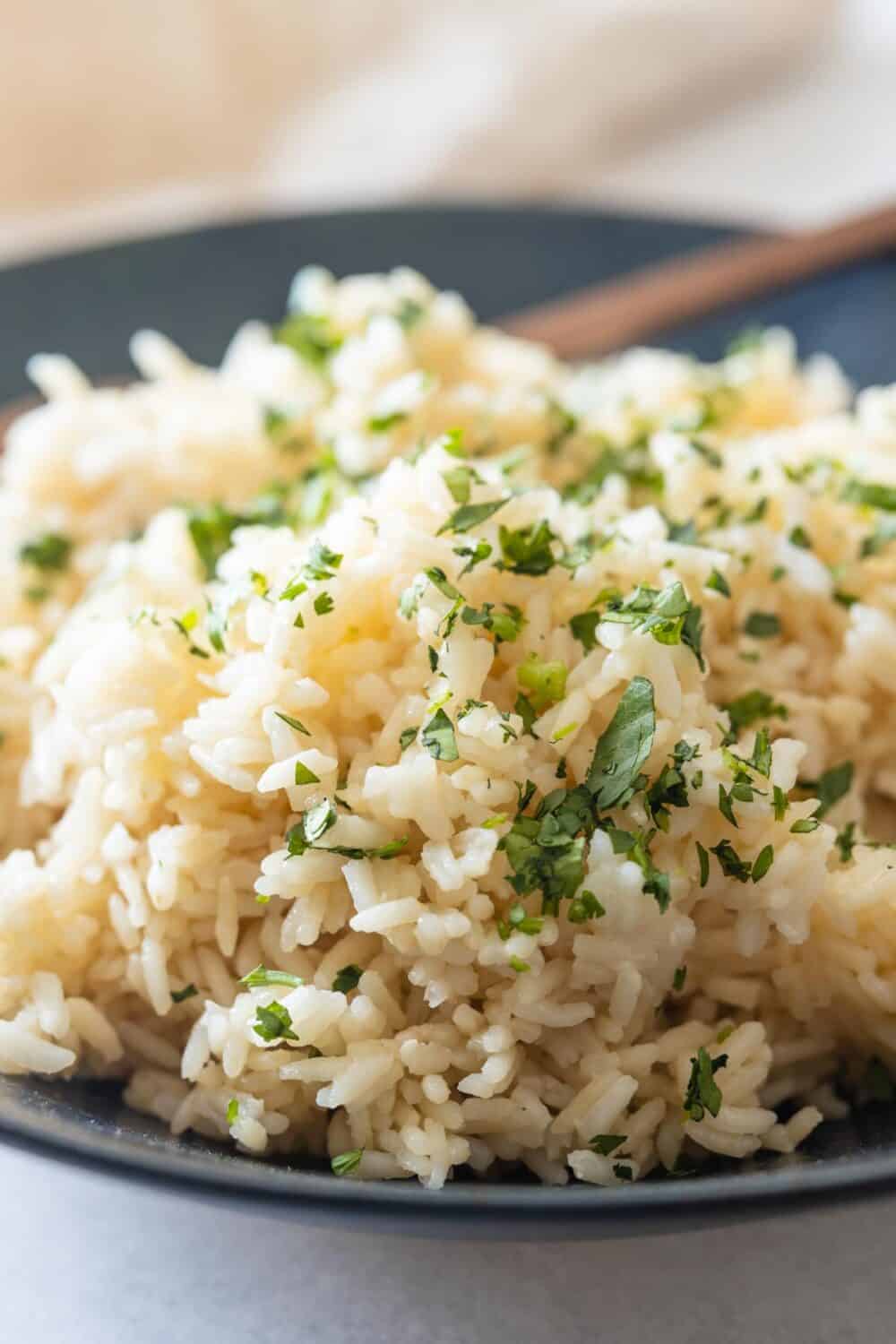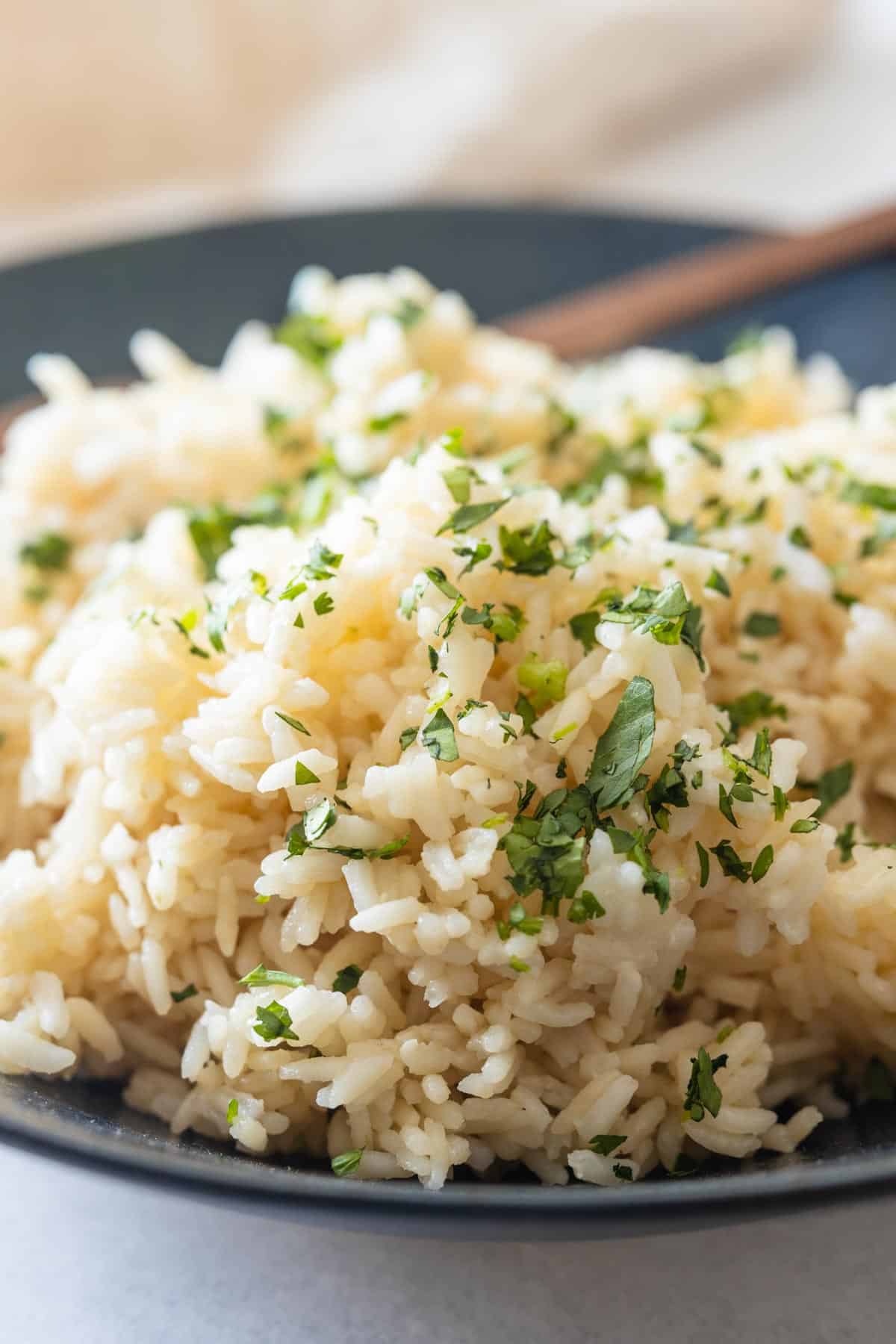 How To Make Coconut Rice on The Stove
To make coconut rice on the stove in stead of the Instant Pot I recommend choosing a pot or sauce pan with a small circumference (about 6 inches) that has a very tight-fitting lid.
Add rice, salt, sugar, coconut milk, water (1/4 cup extra water per cup of rice to account for evaporation) and stir. So if you're cooking 1 cup of rice add 1/2 cup coconut milk and 3/4 cups water. If you are cooking 2 cups rice add 1 cup coconut milk and 1.5 cups water.
Put on the stove and turn on to high and leave uncovered and constantly watching the rice. As soon as some bubbles form immediately reduce the heat to low and cover the rice with the lid and cook for 15-20 minutes or until all liquid was absorbed. Do not stir or mix the rice while it's cooking.
To check if all liquid was absorbed you can stick the back of a spoon into the rice all the way to the bottom to see if there is still liquid at the bottom. If there is immediately cover the pot again so not too much of it evaporates.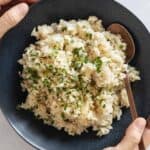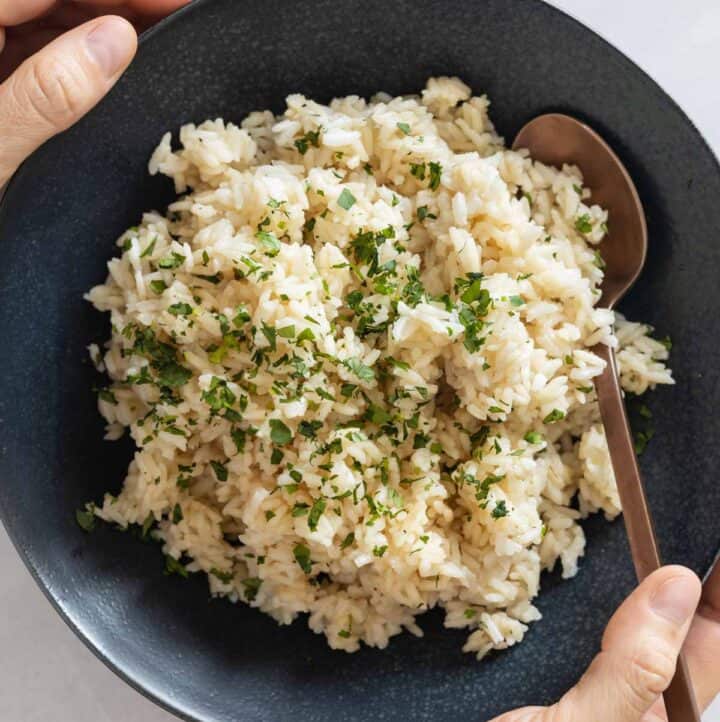 Instant Pot Coconut Rice
Deliciously fluffy white coconut rice conveniently cooked in the Instant Pot. It is ever so slightly sweet and hence the best side dish for any Asian-inspired or Latino-inspired main dish.
Print Recipe
Pin Recipe
Ingredients
1

cup

white rice

-

Jasmin/Basmati/Long Grain/Short Grain

1

tsp

coconut sugar

-

or brown sugar

1/2

tsp

salt

1/2

cup

canned light coconut milk

1/2

cup

water

cilantro

-

for garnish
Instructions
Add all ingredients to the Instant Pot and stir to combine. Ensure all rice grains are submerged in liquid.

Seal the Instant Pot and set to 3 minutes on high pressure. Then let pressure release naturally.

Fluff and serve the rice and sprinkle with freshly chopped cilantro.
Nutrition
Calories:
193
kcal
|
Carbohydrates:
39
g
|
Protein:
3
g
|
Fat:
2
g
|
Saturated Fat:
2
g
|
Polyunsaturated Fat:
1
g
|
Monounsaturated Fat:
1
g
|
Sodium:
317
mg
|
Potassium:
53
mg
|
Fiber:
1
g
|
Sugar:
1
g
|
Calcium:
14
mg
|
Iron:
1
mg
What's your clean eating vibe?
Take this fun QUIZZ and find out in 10 seconds!