Seco de Carne is a typical Peruvian dish but many other countries in South and Central America have adopted their own versions. It's a cilantro beef stew with a deep flavor. Many chefs in Peru use lamb to make "Seco de Cordero" but goat, beef, chicken, or even seafood are often used with the delicious cilantro sauce.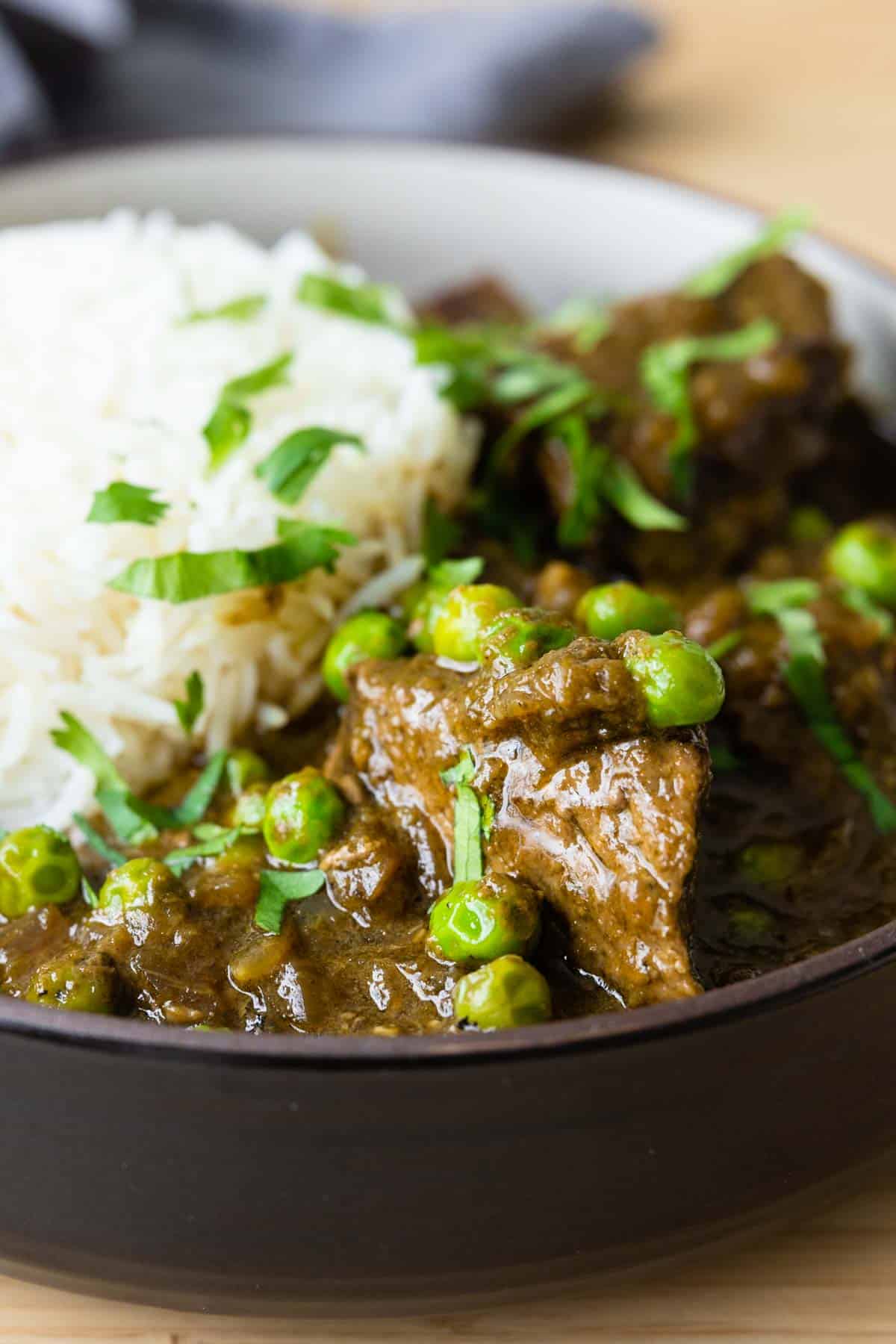 This dish is very easy to prepare, but it does require time and patience, especially with very tough cuts of meat. If you want a fall-apart tender cilantro beef stew you need to give it time. Low and slow should be your motto here for the best result. If you are short on time, better try this Instant Pot Beef Stew instead. It's very very similar.
If you don't like cilantro I do not recommend replacing it with another herb in this recipe. It's the heart of the recipe really and is used in large quantities. Instead of replacing the most essential ingredient better make a different beef stew such as my German Goulash, or my Beef and Barley Soup.
"Seco" means dry in Spanish and makes little sense in this recipe because the beef stew is anything and everything but "dry". It's essentially used to describe how you slowly "cook down" the stewing sauce until it's "dry", meaning thick and not liquid anymore.
Ingredients & Substitutions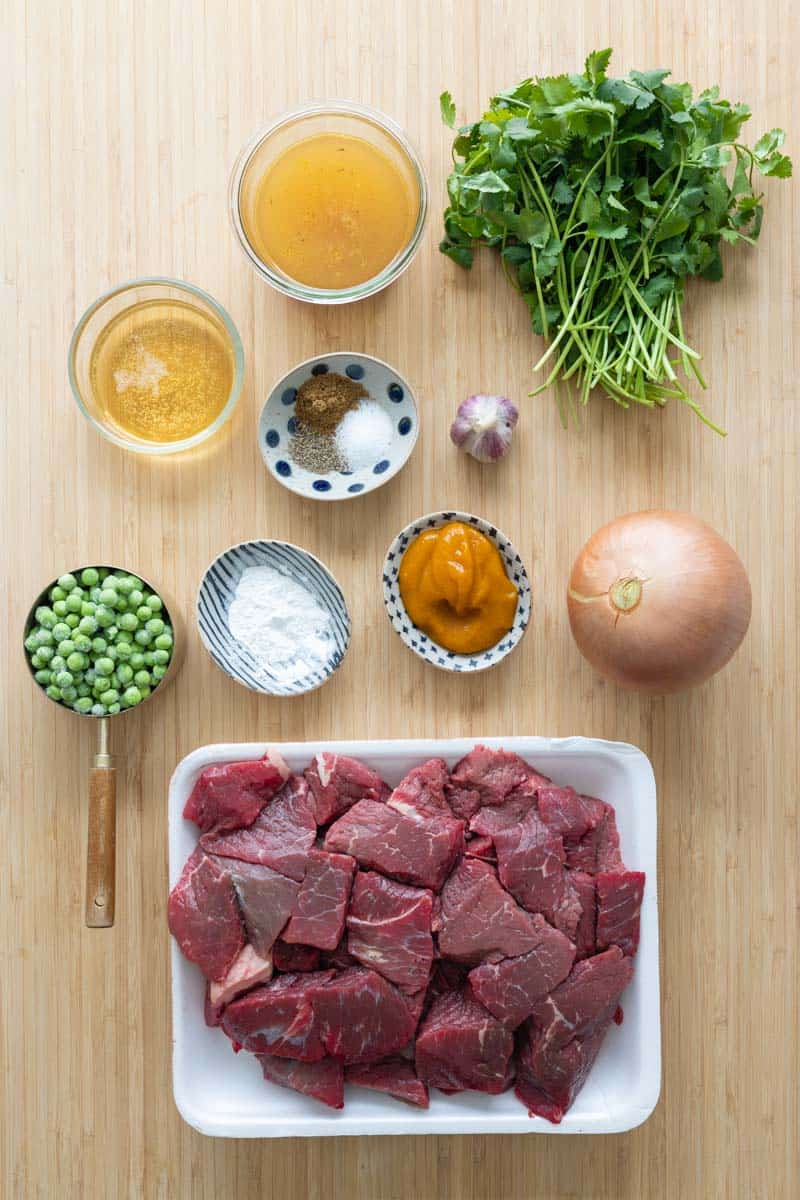 Beef – make sure you are using stewing beef. They are tough cuts with preferably lots of marbling. Cartilage and a bit of fat to ensure they become fall-apart tender. If you use the wrong cut you end up with unchewable meat with leathery consistency. My favorite cut for stews is chuck roast. Any package labeled "stewing beef" will also work though. It might just need some extra slow cooking time.
Onion and garlic – the irreplaceable flavor makers. Don't use dried. Use fresh. It's a must.
Cilantro – in many recipes calling for a little cilantro it's easy to replace it with parsley when used raw or basil when used cooked, however in this recipe I do not recommend replacing it. It's the heart and main ingredient of a Seco de Carne. If you don't like cilantro make a different stew as suggested above.
Aji Amarillo Paste – it is a typical Peruvian chili pepper and has a very distinct flavor. You can find it in Hispanic grocery stores all over the world or online. If you really can't get your hands on it you can use either sambal olek or just a teaspoon or two of chili powder.
Cooking liquid – you will need a liquid to cook the beef in and to blend the cilantro with. Simple water works of course but beef broth lends a lot more flavor. You can use exclusively beef broth or you can deepen the flavor with a bit of beer. This may sound weird if you've never cooked with beef before but trust me on this one. It's incredible in this recipe. Just like adding red one to a French or Italian sauce or stew, adding beer to a Peruvian cilantro beef stew is pretty much essential.
Peas – frozen peas are super sweet and complement the fall-apart tender beef like nothing else. You can however also add other vegetables to the stew if you like. Potatoes, carrots, and celery are great additions. Add them about 30 minutes into the cooking time.
Spices – just sea salt, pepper, and cumin are enough because the cilantro already gives plenty of flavor.
Slurry – a slurry isn't absolutely necessary. The stewing liquid thickens on its own quite a bit but if you like it more creamy and less liquid you can add a cornstarch or potato starch slurry.
What Is The Secret To Good Beef Stew?
To brown beef or any meat really you want to start with the meat not being too cold. Take it out of the fridge for at least 30 minutes before it hits the pan. The colder the meat the more water it releases when it hits the hot pan and it dries out. For juicy beef, it's important to sear it when it's not too cold.
Don't overcrowd the pan or steam will get trapped at the bottom and start boiling the beef in its own juices instead of searing it. This will also dry it out a lot.
Make sure all pieces of beef are submerged in stewing liquid or else they will steam instead of slow-cook. Seco de Carne needs the beef to absorb tons and tons of that delicious cilantro sauce.
Why Is My Beef Stew Tough?
Cook on low for a long time. You cannot accelerate the cooking process by cranking up the heat. All that will happen is that the beef boils and becomes so dry and tough that you cannot chew it anymore. Low and slow is the secret to any good beef stew.
Different cuts need different amounts of cooking time but in 99% of the cases if you followed all the tips above to a T and the beef is still tough it's because it still needs extra time.
What To Serve Seco De Carne With?
Let the Seco de Carne shine and serve it over simple white rice. Basmati is best in this case. The fastest and easiest way to make rice is in the Instant Pot. Most Peruvian recipes are served with rice actually.
One thing that does elevate the whole dish is Salsa Criolla. A Peruvian red onion salsa that goes incredibly well with Seco De Carne or any other Peruvian stew.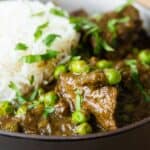 Seco De Carne
Seco de Carne is a typical Peruvian dish but many other countries in South and Central America have adopted their own versions. A cilantro beef stew with deep flavor.
Print Recipe
Pin Recipe
Ingredients
1.5

lbs

stewing beef

1

onion

3

cloves garlic

1-3

Tbsp

ají amarillo paste

1

bunch cilantro

1

cup

beef broth

1/2

cup

beer

1

cup

frozen green peas

1

Tbsp

corn starch (optional)

1

tsp

cumin

sea salt

pepper
Instructions
Peel and finely chop onion and garlic and set aside.

Blend beef broth and cilantro with an immersion blender or in a regular blender until no more chunks of cilantro can be seen and you end up with smooth bright green liquid. Set aside.

Preheat a large heavy-bottomed stewing pot over medium heat and once hot add a drizzle of oil and sear beef in batches. Do not overcrowd the pan. Sear the beef in at the very least 4 batches for 1-2 minutes per side. Set aside in a bowl.

Add chopped onion and garlic to the pan and use a wooden spoon to scrape off the burnt bits and pieces. Use a splash of water if necessary to deglaze.

Once the onion is lightly brown, add the ají amarillo paste and sauté for about 1 minute.

Add seared beef back into the pot and season with sea salt, pepper, and cumin and then pour cilantro broth as well as beer over the beef and give it a good stir.

Make sure all beef is submerged in the stewing liquid and reduce heat to low and cover with a lid. Let simmer for 1-2 hours or until tender.

Add frozen peas and cook for 5-10 minutes in the stew uncovered and remove a few tablespoons of stewing liquid to make a slurry with cornstarch if desired, then add the slurry and mix well.
Nutrition
Calories:
208
kcal
|
Carbohydrates:
9
g
|
Protein:
28
g
|
Fat:
6
g
|
Saturated Fat:
2
g
|
Polyunsaturated Fat:
0.3
g
|
Monounsaturated Fat:
2
g
|
Cholesterol:
70
mg
|
Sodium:
141
mg
|
Potassium:
581
mg
|
Fiber:
2
g
|
Sugar:
2
g
|
Vitamin A:
217
IU
|
Vitamin C:
12
mg
|
Calcium:
39
mg
|
Iron:
3
mg
What's your clean eating vibe?
Take this fun QUIZZ and find out in 10 seconds!