A 5-Minute Basil Pistachio Pesto made with 5 simple ingredients. Make pasta night a whole new experience with this vibrant and healthy green pesto recipe.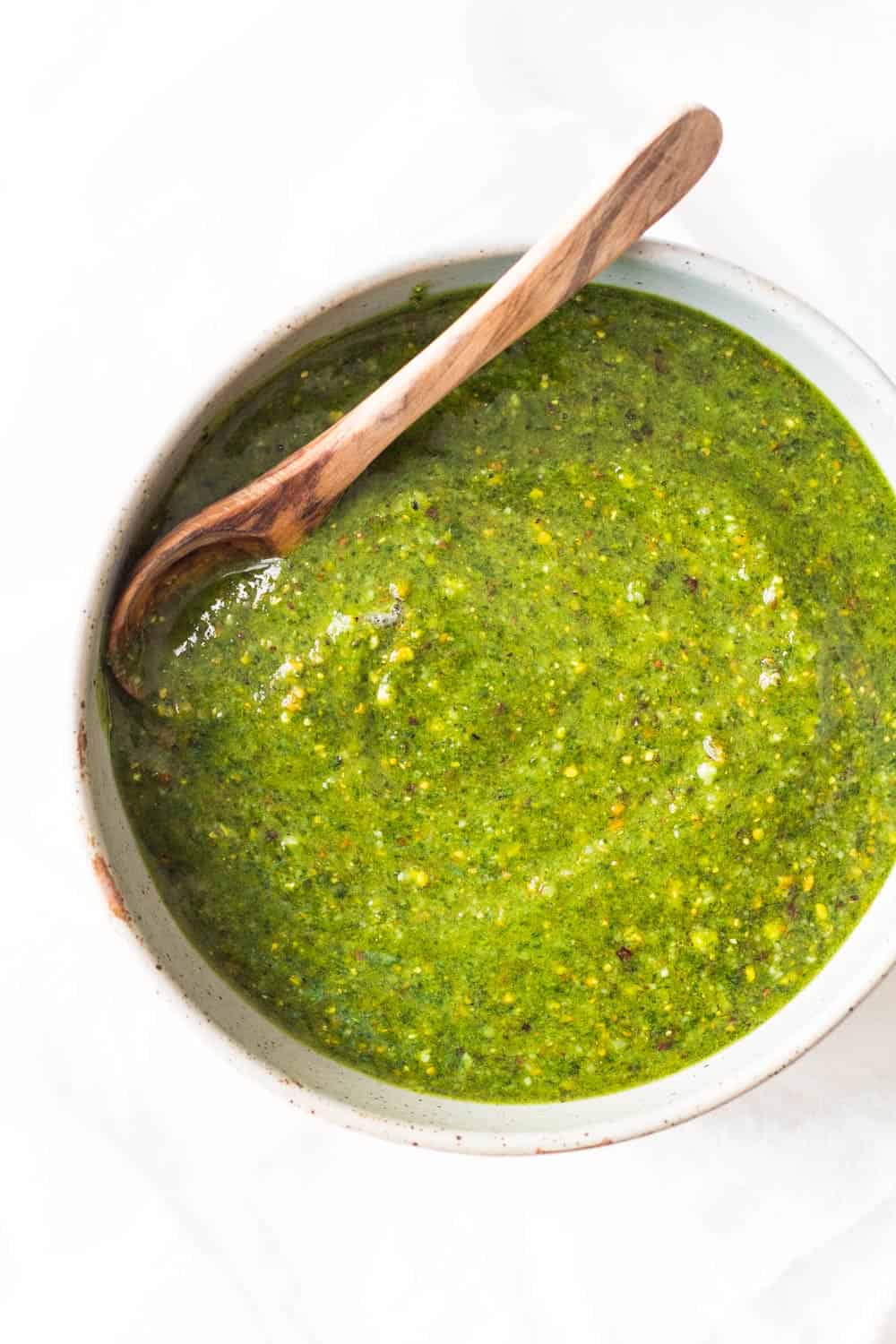 Today I have something super duper extra special for you: A 5-Minute Basil Pistachio Pesto a.k.a. magical green sauce that tastes as if little fairies had been at work in the kitchen and put some pixie dust in it to make it irresistible.
It is i-r-r-e-s-i-s-t-a-b-l-y good! Remember the Ground Pork Lettuce Wraps where I said they were most likely going to be on 1st spot in the top 10 of 2016's recipes roundup at the end of the year?
Well, those lettuce wraps just got serious competition. We'll see what the rest of the year brings. One thing is sure as of today though, this recipe will also be in the top 10. I KNOW it!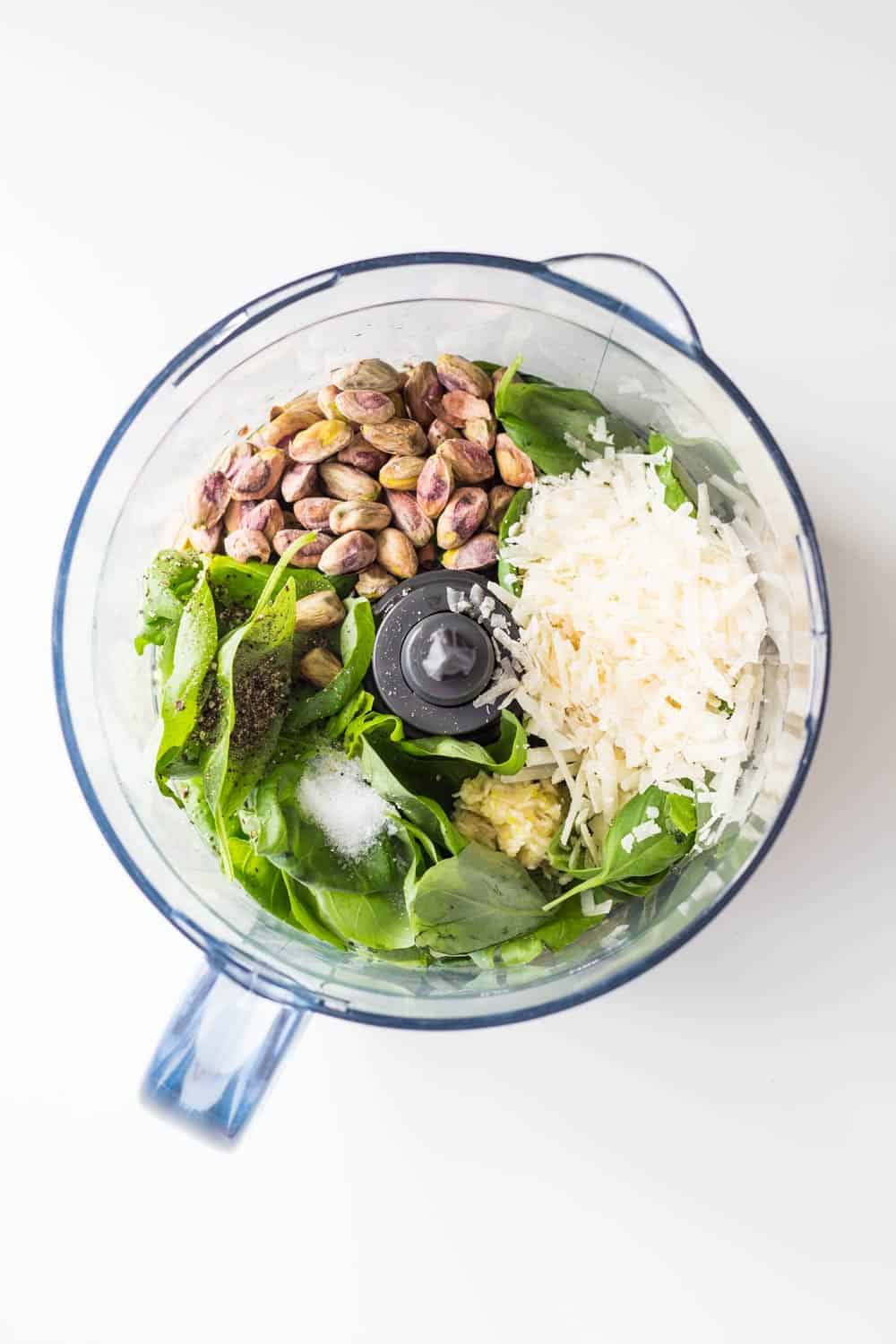 What's all the fuss about this 5-Minutes Basil Pistachio Pesto?
It takes

FIVE MINUTES

to make. Five, fünf, cinco, cinq, cinque minutes! Of course you need to prepare something else to smother that pesto in but let's just assume for now that you already have something in your fridge, ok?
It has basil in it and besides its extraordinary smell and delicious taste, the health benefits of basil are too many to write down in this blog post. How about that for a food? Please, if you have the time, read

this article

to find out what an amazing super food this herb is.
Pistachios are the best tasting nuts on the planet…hands down! And in addition, they are not only high in protein and potassium but also have a high amount of Vitamin B6 which is needed for the production of red blood cells, to metabolize carbohydrates, and to keep your brain and nervous system healthy.
It is pesto! Who doesn't love pesto? If you write "I don't" in the comments I will have to put you on my "friend who is completely insane and has no idea what good food is"-list. Yes, I have a list like that, no kidding ;P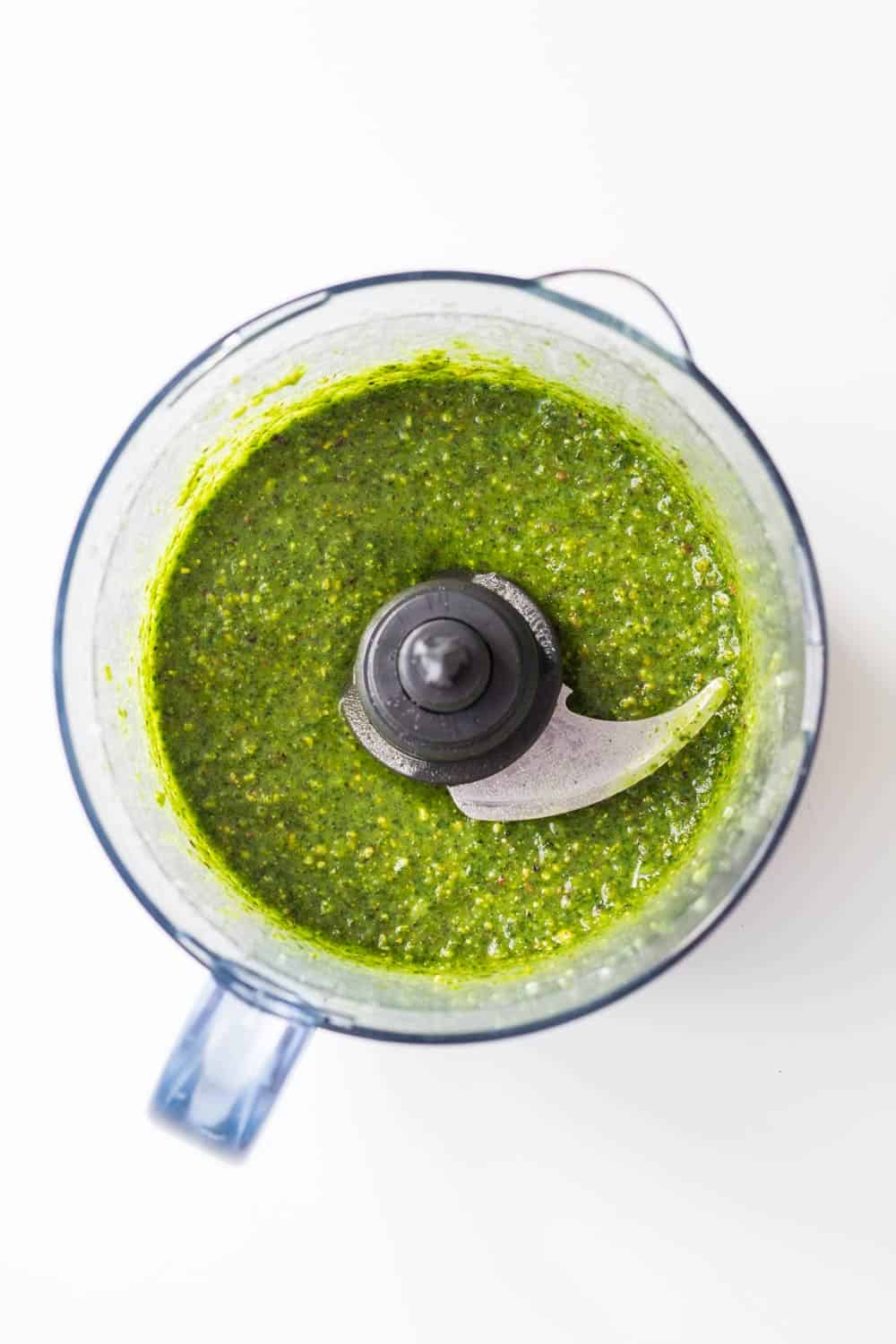 What to put Pistachio Pesto in or on
You might think to yourself "Pistachio Pesto Pasta" of course, Lorena, duh! However, pesto can be used in soooo many more creative ways.
Pasta isn't the only thing worthy of being smothered in pesto ;)
Have you ever tried replacing butter in your sandwich and using pesto instead? Sooo good!
How about as a sauce on tacos or tuna wraps? Totally delicious way to use Pistachio Pesto! Pinky finger promise!
I've even used it as dip for raw veggies and it's been a hit at home and with guests. You should totally give it a try!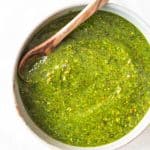 5-Minute Basil Pistachio Pesto
A 5-Minute Basil Pistachio Pesto made with 5 simple ingredients. Make pasta night a whole new experience with this vibrant and healthy green pesto recipe.
Print Recipe
Ingredients
2

cups

basil leaves

1/2

cup

freshly grated parmesan cheese

1/2

cup

extra virgin olive oil

1/3

cup

shelled pistachios

1

clove

garlic

-

(crushed)

salt

pepper
Instructions
Put all ingredients into a food processor and process first on low and then increase speed up until high and process on high for at least 3 minutes.

Season to taste with salt and pepper.

Serve!
Nutrition
Calories:
354
kcal
|
Carbohydrates:
4
g
|
Protein:
7
g
|
Fat:
35
g
|
Saturated Fat:
6
g
|
Cholesterol:
11
mg
|
Sodium:
192
mg
|
Potassium:
154
mg
|
Fiber:
1
g
|
Vitamin A:
770
IU
|
Vitamin C:
2.7
mg
|
Calcium:
171
mg
|
Iron:
1.1
mg
What's your clean eating vibe?
Take this fun QUIZZ and find out in 10 seconds!