Tourtière is a French Canadian Meat Pie that tastes better than anything you have tried in your life! Crunchy and juicy at the same time. My recipe differs a little from the original because I HAD to add a vegetable of course.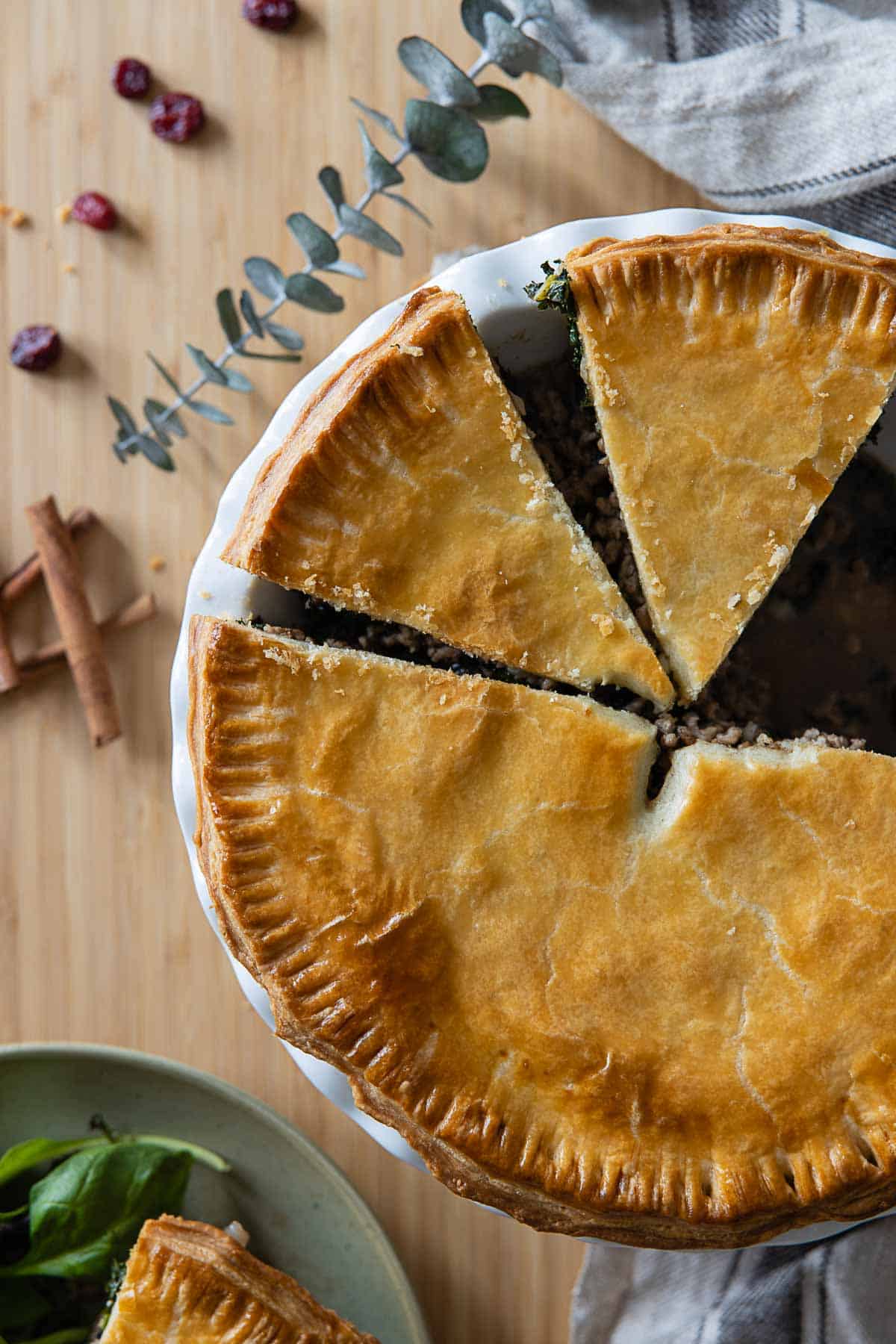 The ingredients for the crust
This meat pie is double crusted. Meaning it has a crust all around it, not just on top, and for that we prepare a "rough puff" from scratch. You can use store-bought puff pastry but I highly recommend making it yourself as the quality of ingredients makes a world of a difference.
Store-bought puff pastry tends to be made with cheap palm oil instead of high-quality butter and will never taste as delicious as homemade. Besides, it takes only 15 minutes of actual work to make it.
It's called "rough" puff because we are making a "quick" puff pastry and all you need is
unbleached all-purpose flour
salted butter
ice cold water
The ingredients for the crust cannot be replaced by anything else. Making a rough puff is like making a science experiment in chemistry class. You have to follow the directions exactly and you have to use the amounts exactly or else……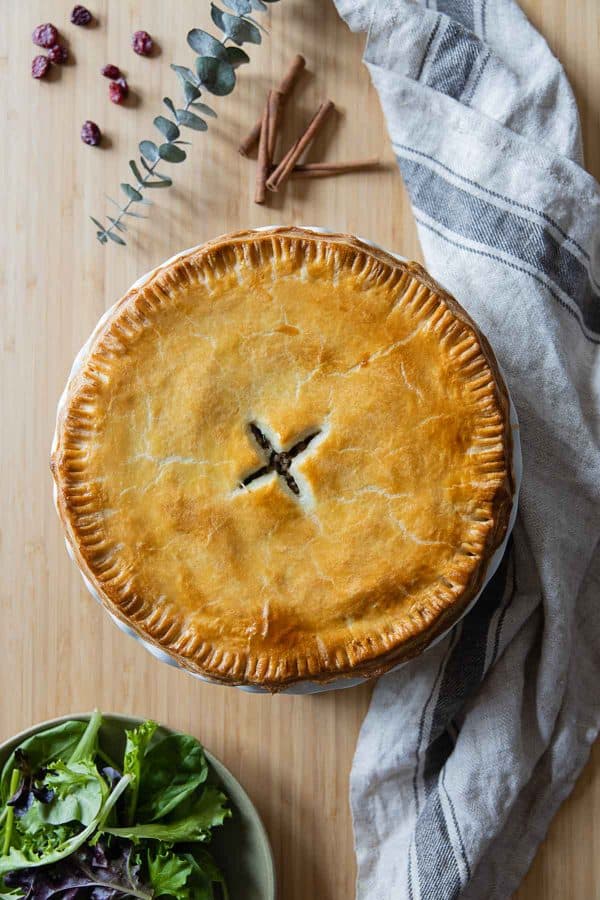 The ingredients for the meat pie filling
This is where we can get creative if we want to.
Ground pork – the original Tourtière recipe is made with ground pork but you can basically use any kind of ground meat. Beef, turkey, a mix of all. It all works.
Onion & garlic – onion and garlic are the "base flavor makers". I never recommend leaving them out but you do you.
Spices – cinnamon, sea salt, and pepper are a must. All-spice is a nice add on. From there onwards you can get creative.
Beef broth – you can also use vegetable or chicken if you don't have beef on hand. The important part is that it's cold before you add the corn starch or else the corn starch will get all gummy.
Corn Starch – you can also use potato starch or worst case tapioca starch. Corn starch or potato starch are the best for "binding" liquid. If you omit the tablespoon starch you risk your filling to be too liquid and the crust getting soggy at the bottom.
Kale – any dark leafy green works. Use spinach or chard instead if you prefer.
Cranberries – raisins or chopped-up dates or even apricots work, too. The combo of the bitter kale with the sweet and sour cranberries is my favorite though.
The traditional tourtiére doesn't have kale or cranberries but I find it gives the meat pie an extra special and delicious flavor.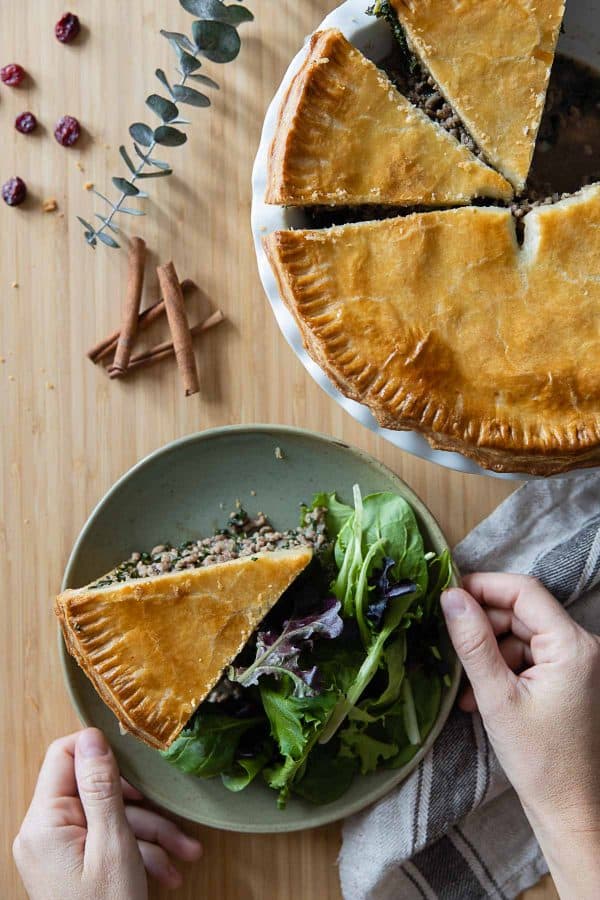 Frequently Asked Questions
What is the difference between Tourtière and a regular meat pie?
Tourtière is originally from Quebec and while every family has its own unique recipe, they all follow a similar formula. It's double-crusted, meaning crust all over, and it is generally made with ground pork and what I call "fall spices". The regular meat pie tends to have only crust at the top and is made with beef. Also, it's not from any specific region but rather from all different kinds of countries.
Are meat pies healthy?
If made from scratch with high-quality ingredients they are healthy "in my book". Not the healthiest most nutritionally balanced meal you'll ever eat of course. However, a perfectly healthy meal for a special occasion like Thanksgiving or Christmas.
What should I serve this meat pie with?
I recommend making a simple green salad for it as to not steal the Tourtière's show. You can make a fancy salad for it, too though of course.
If you prefer something other than salad, make some roasted carrots & broccolini for it.
Tourtiere (Canadian Meat Pie)
Print Recipe
Pin Recipe
Ingredients
2

cups

all-purpose flour

1 1/4

cups

very cold butter

2/3

cups

ice water*

2

onions

3

cloves

garlic

1

bunch

kale

1

Tbsp

avocado oil

2

lbs

ground pork

1

tsp

all spice

1

tsp

cinnamon

salt

pepper

1/2

cup

beef broth

1

Tbsp

corn starch

1/3

cup

dried cranberries

1

small

egg

1

Tbsp

water
Instructions
Prepare the ruff puff by adding flour and diced very cold butter into a food processor and process for about 1-2 minutes. Then while continuing to process add 2/3 cups ice water*. Do not overprocess because the dough will get warm. As soon as the dough forms stop.

Flour your work surface and dump the content of the food processor onto it. Form a rectangle with the dough, lightly flour the top, then roll it out with a wooden rolling pin. Fold 1/3 from the top down and 1/3 from the bottom up, turn around the dough, flour the top again lightly, and repeat this process 10-15 times working in the least amount of flour possible, and no big chunks of butter are visible anymore (see video). Then place the dough into a bag or wrap in cling film and place in the fridge for 2 hours.

In the meantime, prepare the meat filling. Peel and finely chop onions and garlic and destem and finely slice kale.

Preheat a large pan over medium heat, add a drizzle of avocado oil and then sauté the chopped onions until translucent. Then add the ground pork and break it up with a wooden spoon and constantly move around to brown it evenly and avoid steam building at the bottom of the pan. Season the meat with all spice, cinnamon, sea salt, pepper, and the chopped garlic.

Once the meat is cooked through, add cranberries and sliced kale and stir for another 2 minutes until the kale wilted. Then let cool down completely (at least 1 hour).

Preheat the oven to 450F and then build the meat pie by taking 2/3 of the rough puff and rolling it out on a floured work surface until about 1/6" thick and transfer into your pie dish. Make sure to press it into the sides, then cut off the excess on the edges.

Fill the uncooked crust with the cold meat filling pressing down with a wooden spoon and compressing the filling as much as possible. Then roll out the remaining 1/3 of the rough puff dough on a floured surface until 1/6" thick and place on top of the filling. Cut off the excess dough on the sides.

Use a fork to seal the rough puff dough on the edges by pressing down and creating a pattern (see video).

Prepare the egg wash by adding an egg and 1 Tbsp water to a small bowl and whisk, then use a brush or your fingers to brush the top of the meat pie with the egg wash being thorough around the edges.

Cut a cross in the center of the meat pie so the rough puff doesn't break open, then bake it for 20 minutes at 450F, then reduce heat to 350 and continue baking for another 20 minutes.

Remove the meat pie from the oven and let it rest for 5-10 minutes before cutting into it, then serve.
Notes
* ice water is simply water that has lots of ice cubes in it so it's super duper extra cold. Make sure you do NOT add ice cubes to the dough, however. Use only the water.
* you can prepare the rough puff and filling the day before and then simply build on the the day of.
Nutrition
Calories:
586
kcal
|
Carbohydrates:
27
g
|
Protein:
20
g
|
Fat:
44
g
|
Saturated Fat:
22
g
|
Cholesterol:
140
mg
|
Sodium:
754
mg
|
Potassium:
428
mg
|
Fiber:
2
g
|
Sugar:
4
g
|
Vitamin A:
2035
IU
|
Vitamin C:
18
mg
|
Calcium:
57
mg
|
Iron:
2
mg
What's your clean eating vibe?
Take this fun QUIZZ and find out in 10 seconds!