Here is a video tutorial and full instructions on how to arrange a fruit platter so beautifully you'll want to hang it on your wall. And as bonus: more fruit platter ideas.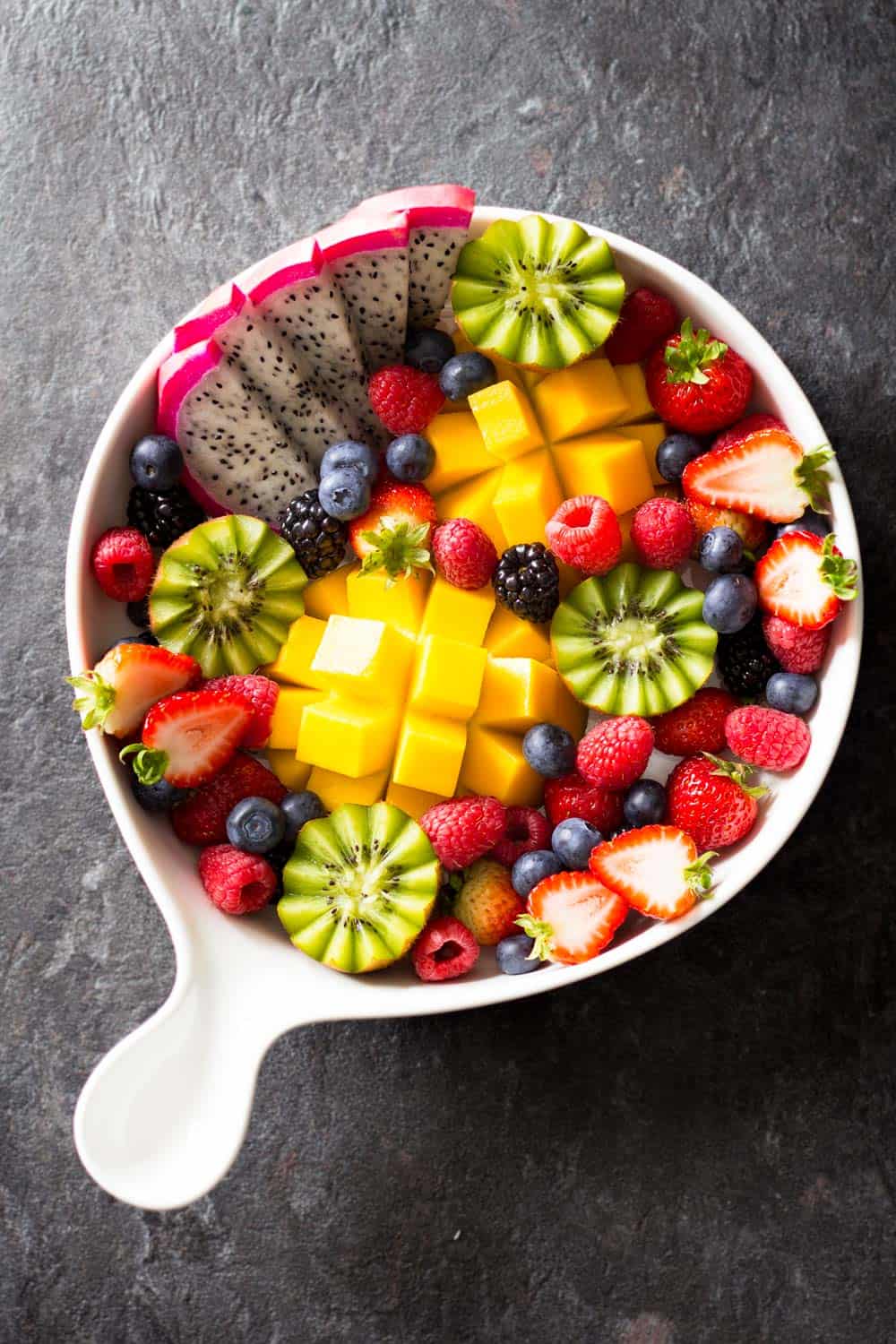 To begin with a fruit platter has to be LOADED! If you're scared there will be leftovers (which I highly doubt), you can always transform them into a smoothie or a fruit salad.
Here you get details about what fruits to choose, how to cut them and how to arrange them. Are you ready? Here is the video first, then the written explanation with more details.
Video tutorial
What fruits to choose for a fruit platter
There are three important points to consider:
Choose fruits that contrast each other in color. The important part here is to consider both the flesh's color and the skin's color in case you are leaving the skin on. I recommend leaving the skin on, especially with fruit that is very colorful such as dragon fruit.
Choose fruits that don't brown! No apples, no pears, no bananas. A couple minutes exposed to air and they look very unappealing.
Use very very VERY fresh fruit. As in bought that same day or max the day before. The longer you keep fruit even in the fridge, the less it keeps its shape and pretty color. Strawberries look amazing with the green part still attached, however, only a couple days in the fridge, the green part wilts and doesn't look pretty at all anymore.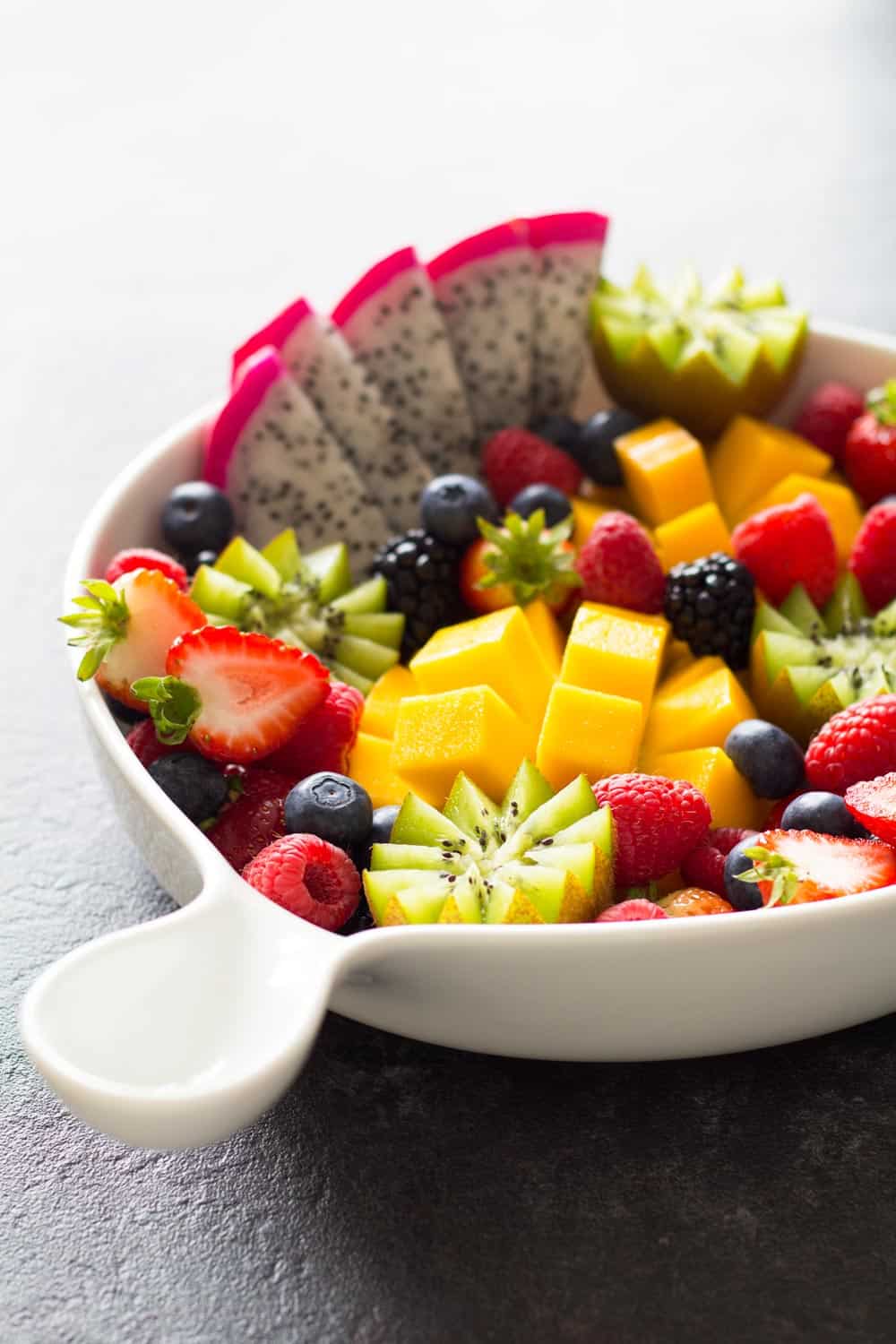 How to cut fruit for a fruit platter
The answer to this is very simple: cut it in FUN shapes. Get inspiration on Pinterest or Instagram and copy what others have achieved with easy utensils such as a sharp knife or cookie cutters. Don't just cut all fruit in squares. This works for a fruit salad but not a fruit platter where you want to SHOW each fruit's beauty.
In the video I am showing you how cutting a kiwi in a fun shape can make ALL the difference for your fruit platter. It's really, really easy to do and makes a long lasting impression on the eyes of anyone marvelling at your piece of art.
Yes! YOU can turn a fruit platter into a piece of art. Just take a couple extra minutes to cut fruit in exciting ways and pay attention to its composition. Which brings us to our next step.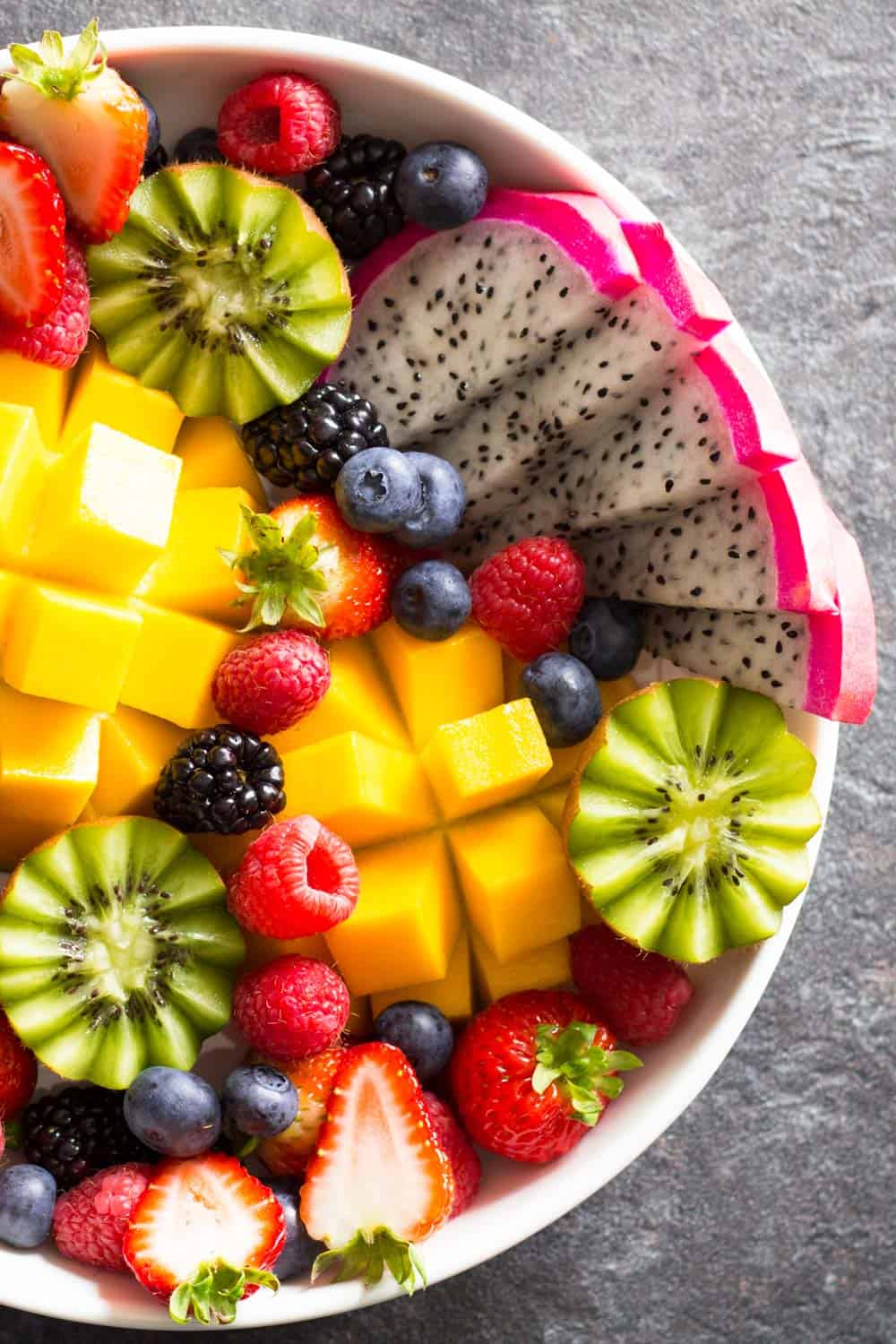 How to arrange a fruit platter
Number 1: use a shallow platter, not a deep bowl. In a deep bowl all the fruit will fall into the middle and not all the fruit can be showcased. Some will get lost under the fruit that's on top.
Number 2: start by placing the bigger fruit in the platter first so it doesn't squish or cover the small pieces of fruit. Place same colored bigger fruit in opposite corners (as seen with green kiwi).
Number 3: keep anything cut into stripes together and fanned out (such as dragon fruit). Would also apply to sliced oranges or sliced melon.
Number 4: add small fruits into nooks and then top with some cut up version of a fruit. In this case I chose strawberries but it could also apply to figs or grapes.
More fruit platter ideas
My fruit platter is kind of tropical inspired. Can you tell I can't wait for winter to be OVER already? However, you can pick and choose any theme you like. I've come up with some fruit platter ideas for you to inspire you to do create your own :)
Fall/Winter: Grapes, Figs, Plums, Pomegranate, Kiwi. Pineapple is available year round and makes a good foundation. Use nuts and seeds to decorate.
Spring: all citrus, grapefruit, orange, clementine, lemon, lime. Cut in circles and make sure to leave the skin on, at least on the limes to get some green in there and contrast with all that yellow/orange. Decorate with edible flowers and you're good :)
Do you have any MORE fruit platter ideas? What did you come up with? Don't forget to take a picture and share it with me on social media :)
P.S. for more ideas on what to do with tons and tons of fruit, check out my smoothie bowls. They are LOADED with fruit! This Acai Bowl is my absolute favorite!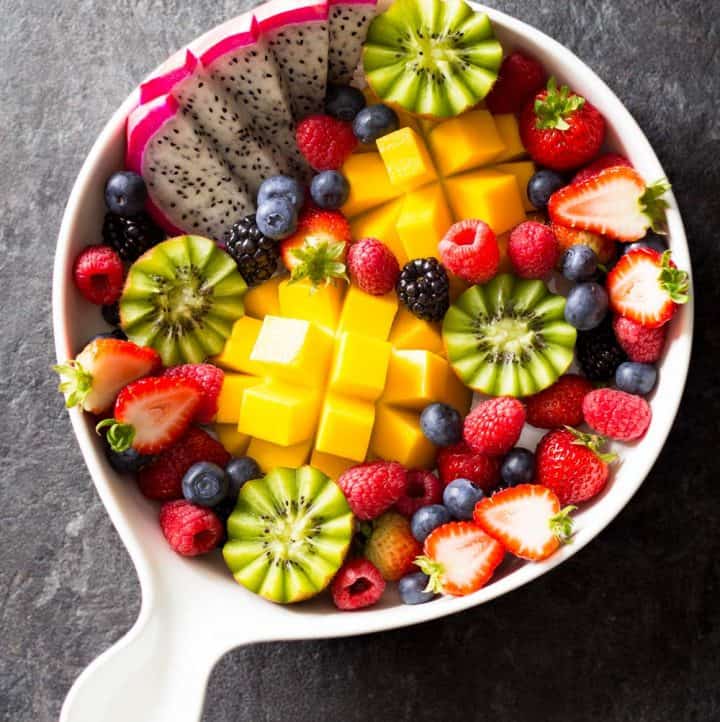 How to arrange a fruit platter
Here is a video tutorial and full instructions on how to arrange a fruit platter so beautifully you'll want to hang it on your wall. And as bonus: more fruit platter ideas.
Print Recipe
Ingredients
1

large

mango

2

kiwis

1

dragon fruit

15-ish

strawberries

15-ish

rasperries

20-ish

blueberries

10-ish

black berries
Instructions
Cut fruit into fun shapes and arrange as indicated in the video, photographs and detailed description in the blog post.
Nutrition
Calories:
89
kcal
|
Carbohydrates:
21
g
|
Protein:
2
g
|
Fat:
1
g
|
Saturated Fat:
0.04
g
|
Polyunsaturated Fat:
0.2
g
|
Monounsaturated Fat:
0.1
g
|
Sodium:
12
mg
|
Potassium:
226
mg
|
Fiber:
5
g
|
Sugar:
14
g
|
Vitamin A:
350
IU
|
Vitamin C:
87.5
mg
|
Calcium:
30
mg
|
Iron:
0.5
mg
What's your clean eating vibe?
Take this fun QUIZZ and find out in 10 seconds!