The best Flourless Peanut Butter Cookies you've ever tried. No flour substitutes, simply NO flour. The best part: they are also 3-ingredient cookies. Add some dark chocolate chips for extra flavor.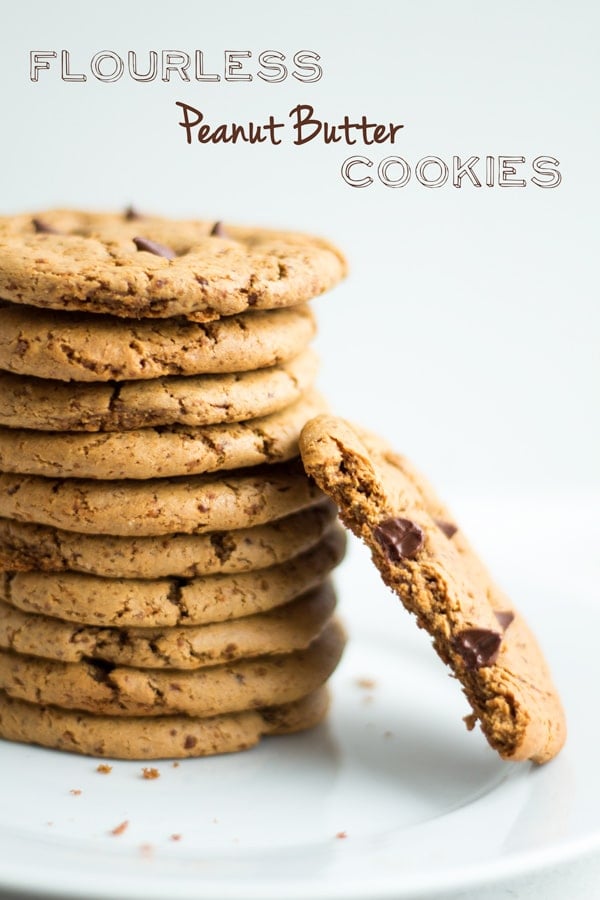 First I should start with a disclaimer. I've made these cookies about 10 times and not one single time have two batches come out the same way. I have no idea why.
The temperature of the ingredients? The oiliness of the peanut butter? The grind of the coconut sugar? The size and wateriness of the egg? I simply cannot tell.
However, they have tasted amazing every.single.time! The only difference is in shape really. Even the consistency once baked is fairly similar. Some batches come out thick and some spread out a ton and come out all flat (like in the photo).
Make sure you leave a lot of space between the cookies on your baking sheet. You never know how much they will spread out.
How to make Flourless Peanut Butter Cookies Healthy?
In one sentence: by keeping it simple. Add as little ingredients as possible and avoid processed ingredients. These Flourless Peanut Butter Cookies contain only 3 ingredients and an optional 4th.
Psst….check out my 2-Ingredient Almond Cookies, if 3 ingredients are too much, hehe.
The peanut butter is simply peanuts, no other ingredient, no salt, no sugar, no emulsifier, no preservative, JUST peanuts.
The sweetener is coconut sugar, which is hardly processed and the raising agent and glue is: an egg. That's it. The chocolate chips I used are 70% dark and thus contain only a minimal amount of sugar.
Is Coconut Sugar good for you?
Coconut sugar is sugar and sugar is not good for you. Fullstop…BUT it's GI (glycemic index) is lower than the regular refined sugar and what I like best about it is that only 2 natural processes are needed to produce it.
Liquid sap is collected from a cut made into the flower of the coconut palm and then this sap is placed under heat so its water evaporates and leaves coconut sugar.
This is a processed food I am comfortable to consume every once in a while. It might not be completely healthy but it definitely. DEFINITELY isn't as unhealthy as refined sugar.
Are Flourless Peanut Butter Cookies Gluten-Free?
YES! They are completely gluten-free and not only that. They are naturally gluten-free. There is no need for a gluten-free "replacement" of flour.
They simply don't contain ANY flour at all. If you are in need of a gluten-free peanut butter cookie you just found the best on the world wide web.
Are Flourless Peanut Butter Cookies Dairy-Free?
YES! Again, naturally dairy-free. No need for substitutions of dairy. The recipe doesn't call for any butter, milk or cream at all and thus the cookies are dairy-free peanut butter cookies.
I recommend to only make one batch and to only bake to share with a friend or two. These are addictive and you won't stop eating until they are all gone. So you better share. Remember: sharing is sexy and keeps you in sexy shape, ha!
If you have ever wondered how to make Healthy Flourless Peanut Butter Cookies from scratch in 20 minutes flat, I can show you in a video that lasts less than a minute. It is by far the simplest recipe you will ever know. No need to go buy any store-bought cookies anymore when the sweets cravings hit you like a hammer :)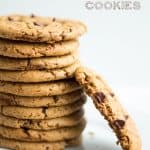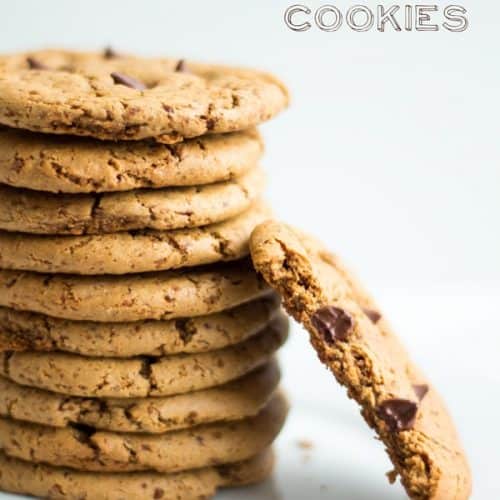 Flourless Peanut Butter Cookies
The best Flourless Peanut Butter Cookies you've ever tried. No flour substitutes, simply NO flour. The best part: they are also 3-ingredient cookies. Add some dark chocolate chips for extra flavor.
Print Recipe
Ingredients
1/2

cup

unsweetened and unsalted smooth peanut butter

-

(only ingredient: peanuts)

1/3

cup

coconut sugar

1

egg

chocolate chips

-

(optional)
Instructions
Preheat oven to 350F (180C).

Add peanut butter, coconut sugar and egg into food processor (sorry, highly doubt a blender will do the job, a big bowl, your hands, perseverance and muscle might do the trick though).

Turn on and let mix until the food processor can hardly handle it anymore.

Freeze the dough for 10 minutes.

Line a baking tray with parchment paper.

Roll the dough into cherry-sized balls with your hands and place on lined baking tray leaving a lot of space between each ball because the cookies will spread out.

Once your dough is out or your tray is full, press balls down a bit with your fingers

If using chocolate chips, place a couple chocolate chips on top of each cookie and press them into the dough a little.

Bake for 8-10 minutes or until golden.

Take out of the oven and let cool for at least 10 minutes without touching them (otherwise they might brake).
Nutrition
Calories:
82
kcal
|
Carbohydrates:
5
g
|
Protein:
3
g
|
Fat:
5
g
|
Saturated Fat:
1
g
|
Cholesterol:
13
mg
|
Sodium:
63
mg
|
Potassium:
74
mg
|
Sugar:
3
g
|
Vitamin A:
20
IU
|
Calcium:
7
mg
|
Iron:
0.3
mg
What's your clean eating vibe?
Take this fun QUIZZ and find out in 10 seconds!