How to cut a pumpkin, how to cook or roast pumpkin and delicious pumpkin recipes to make at home. The pumpkin curry is out of this world!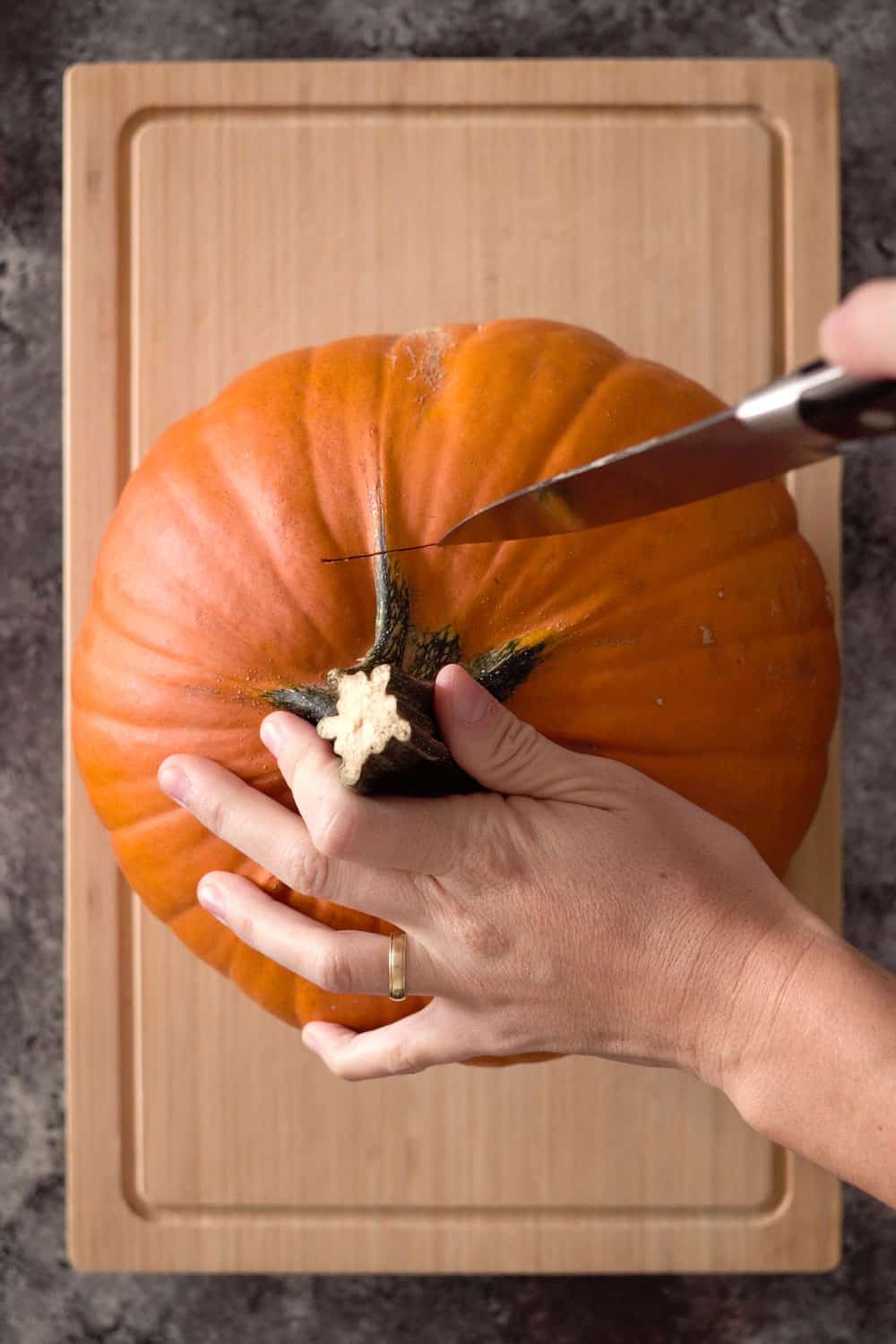 It's officially pumpkin season! Woot woot! Even though most people buy pumpkins for carving and decorating, one or the other might actually want to eat them :)
Pumpkins taste absolutely fantastic and are a nutritious and delicious vegetable!
How To Cut A Pumpkin
Just like watermelons, pumpkins are not the easiest to cut but with a few simple tricks, you can get this done fast and safely. I recommend watching the video on the recipe card. It will make a lot more sense than the following text:
You need a large and very sharp knife. Cut your pumpkin on a large chopping board on a steady work surface. Place the pumpkin on its bottom (opposite the stem) so it sits steady.
The most important is to not try and cut through the stem. That is the hardest part. Take your knife and insert it straight into the pumpkin about half an inch to the right or left of the stem. This will depend on if you are left-handed or right-handed. Take the knife with your dominant hand and hold the stem of the pumpkin with the other, then insert the knife from the top down without crossing your arms.
Once the knife is in, move down toward the cutting board. Pull the knife out and turn the pumpkin away from you like a wheel and repeat until you cut the pumpkin into two halfs, one bigger than the other.
How To Deseed A Pumpkin
Use a spoon to deseed the pumpkin. Scrape down the sides and remove all the seeds with the "brains" the hairy, mushy, slimy parts of the pumpkin and either remove the seeds by hand to make roasted pumpkin seeds or discard.
How To Peel A Pumpkin
It's easier to peel it when cutting into quarter or eighth wedges. So you might want to use your large sharp knife to cut it into wedges and then use a serrated vegetable peeler or a very sharp smooth one to peel off the skin.
Alternatively, you can roast the pumpkin with the skin on and once roasted the peel can easily be peeled by hand. It comes right off when the pumpkin is hot and it becomes more difficult to peel when it cooled off. Depending on which pumpkin recipes you plan on making, this might not be the best way to peel it.
How to Dice Pumpkin
Some pumpkin recipes call for diced pumpkin. To dice pumpkin, it's best to peel it first. Cut the pumpkin into wedges, then peel the wedges with your vegetable peeler. Once peeled you can cut the pumpkin into long stipes and then into dice.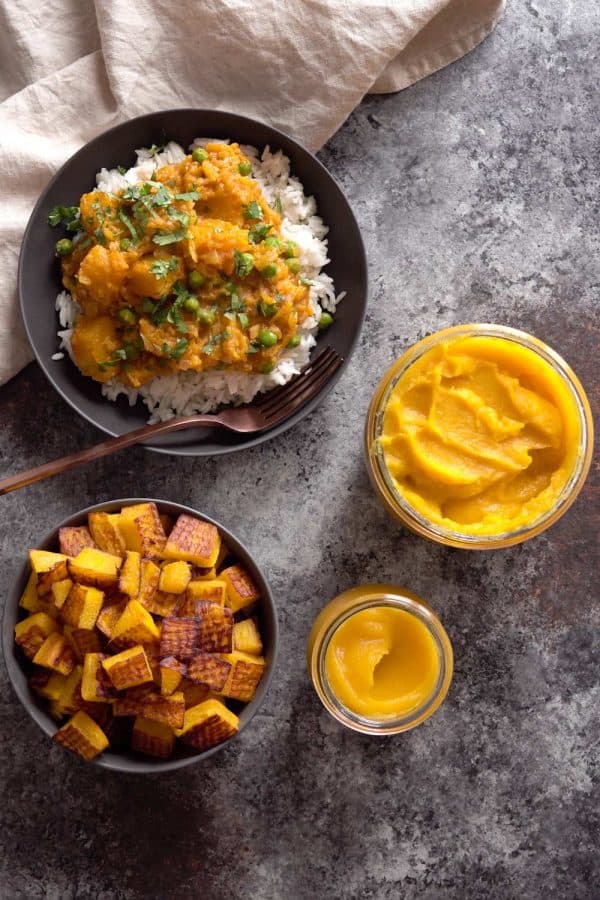 How to Cook Pumpkin & Pumpkin Recipes
You can either cook/boil (approx. 15 minutes) it, roast (approx. 30-50 minutes) it, steam (approx. a million years) it, or pressure cook (approx. 4 minutes) it.
To boil it, I recommend cooking it in a deliciously flavorful sauce, such as a Thai Curry Sauce (see recipe card).
To roast it, you can either roast whole wedges by adding a couple of teaspoons of oil and using your hands to cover it inside and out, and place it on a baking sheet. Roast it at 400F for anywhere from 50-70 minutes depending on the size and thickness. Use this method to make pumpkin puree.
OR, you can also roast diced pumpkin by adding the dice to a baking sheet, drizzling with oil, and seasoning with sea salt and pepper, massaging oil and seasoning into the dice with your hands and then spreading them out in an even layer. Do not crowd the pumpkin or else it will steam instead of roast. Roast for 20-25 minutes, then flip them with some tongs or use a spatula to move all around, to make sure they brown evenly. Roast for another 10-15 minutes and they are done and ready to serve as is.
To pressure cook, add peeled and diced pumpkin to a steaming basket and place the basket on the trivet. Add 1 cup of water to the bottom of the pressure cooker. Seal the pressure cooker and set it to 4 minutes on high pressure. Quick-release pressure and your pumpkin is done. This is a great way to preserve a lot of nutrients so it's ideal for making baby food. Add your pressure-cooked pumpkin to a jar and use an immersion blender to blend until desired smoothness. Baby will love it just like this!
How to Make Pumpkin Puree (for pumpkin recipes)
Roast pumpkin wedges with skin on as described above, then right out of the oven and hot remove the skin by peeling with your hands. That's hot but you can do it!
Add the peeled roasted pumpkin into a food processor and process for at least 5 minutes or until super smooth. The pumpkin puree can be used like that, however, it has high water content, and is not suitable for any recipe that calls for "canned pumpkin puree".
To achieve the same consistency of canned pumpkin puree, add a piece of cheesecloth into a colander and place the colander over a large bowl. Add the pumpkin puree into the cheesecloth-lined colander, place a lid on top and place it in the fridge. Let the puree drain for at least 6 hours or overnight.
Pumpkin puree lasts in the fridge for up to 4 days but can also easily be frozen.
More Pumpkin Recipes
A delicious way to enjoy pumpkin in a savory dinner recipe is as Pumpkin Curry!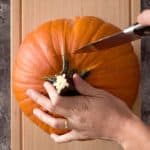 How To Cut A Pumpkin & Pumpkin Recipes
How to cut a pumpkin, how to cook or roast pumpkin and delicious pumpkin recipes to make at home. The pumpkin curry is out of this world!
Print Recipe
Pin Recipe
Ingredients
1/2

Tbsp

coconut oil

1/2

cup

chopped onion

2

cloves chopped garlic

2-3

cups

diced pumpkin

2

Tbsp

yellow curry paste

1

cup

canned coconut milk

1/2

cup

frozen peas

sea salt

fresh chopped cilantro

-

for garnish
Instructions
Preheat a pan over medium heat and once hot add coconut oil.

Add chopped onion and garlic and stir-fry until just about to turn brown.

Add curry paste and stir-fry until fragrant, then add coconut milk and stir until well combined.

Add diced pumpkin and make sure it is all in one layer and submerged in the coconut curry sauce.

Put on the lid, reduce the heat to low and let simmer for 10-15 minutes or until the pumpkin is fork-tender.

Add frozen peas and give a quick stir to defrost, then season with sea salt if necessary.

Serve over steaming hot rice and sprinkle with freshly chopped cilantro.
Nutrition
Calories:
217
kcal
|
Carbohydrates:
24
g
|
Protein:
4
g
|
Fat:
12
g
|
Saturated Fat:
10
g
|
Sodium:
89
mg
|
Potassium:
640
mg
|
Fiber:
4
g
|
Sugar:
9
g
|
Vitamin A:
14984
IU
|
Vitamin C:
33
mg
|
Calcium:
75
mg
|
Iron:
2
mg
What's your clean eating vibe?
Take this fun QUIZZ and find out in 10 seconds!