Call it what you want, Flammkuchen, German Pizza, Tarte Flambée or French Pizza. The only important thing is, it's the best pizza in the world.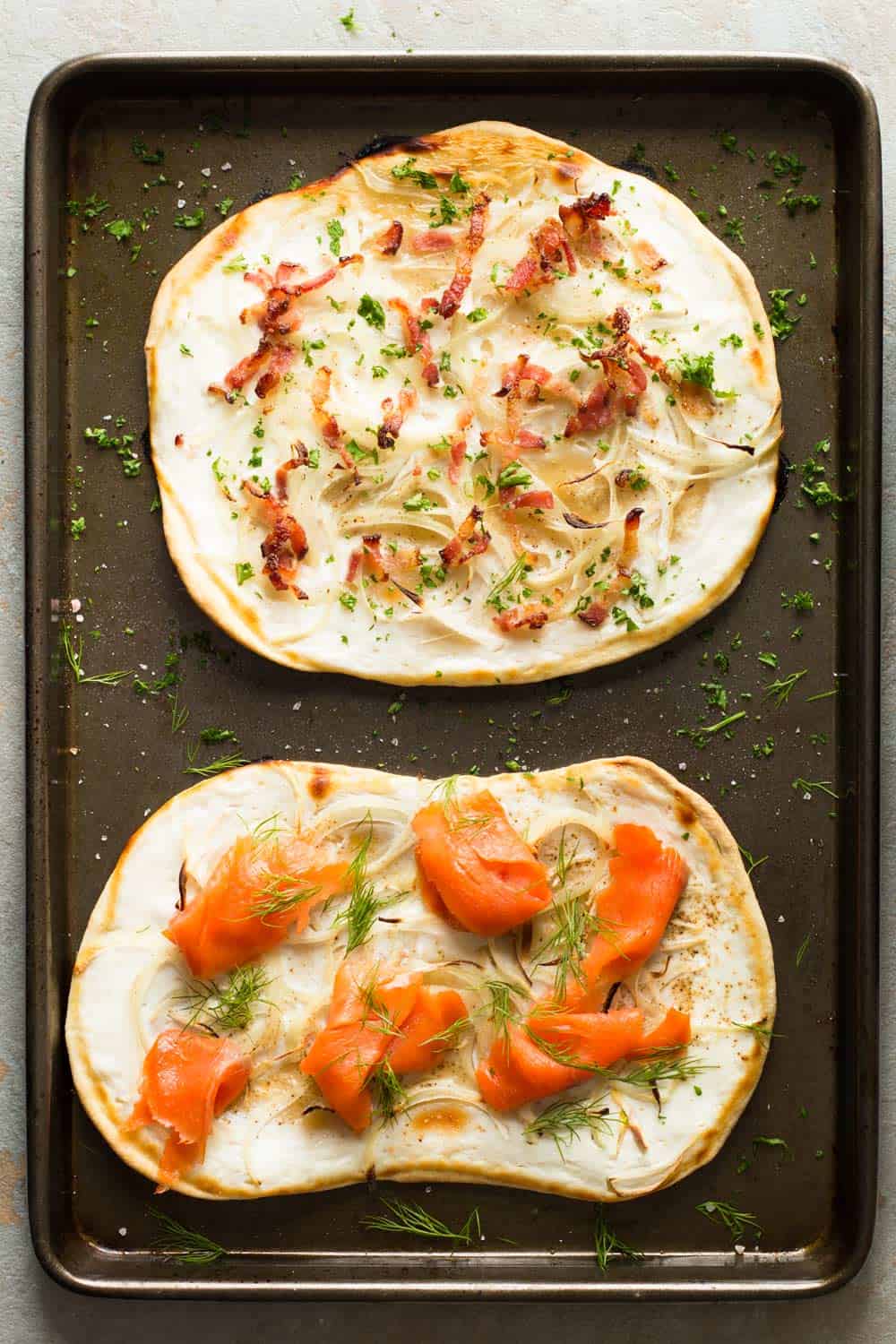 Where I come from we call this "Flammkuchen" which means something like 'flame cake' or 'cake baked in the flames'. It is originally from Alsace, a region of now Eastern France.
During and after the Roman Empire the region belonged to what today is Germany which is why this delicious pizza has so many names.
The original Flammkuchen is the one with just French cream cheese, thinly sliced onion and bacon. Very simple and simply delicious! I figured it would be fun though to show you a little twist on the original recipe.
So here is a great recipe two ways. Original and fancy. Simple and elegant. Delicious and scrumptious.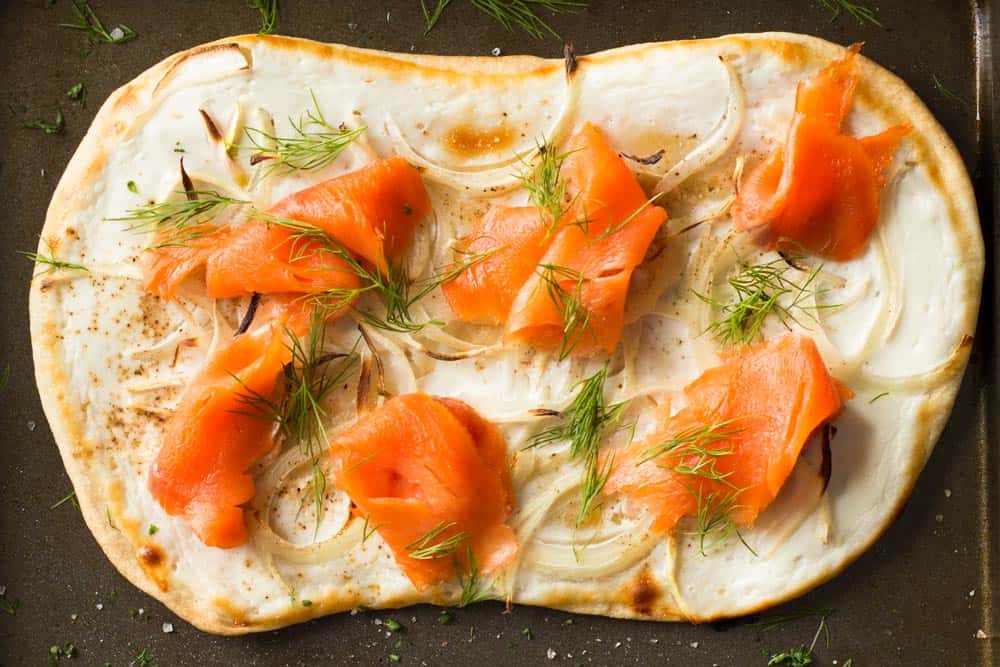 How to pronounce Flammkuchen
In case you were wondering this. The German 'a' is pronounced like the 'a' in "alpha". The double 'mm' indicates that the 'a' ahead of it is short, not long.
The 'u' is pronounced like the American English 'ew' in "new". The 'ch' is pronounced like the Scottish English 'ch' in "loch". The 'e' is pronounces like the 'e' in "elegant".
See?? It's not that difficult, eh? :P
Now to the way more important part, who cares how that thing is pronounced anyway? Just call it "German deliciousness" if you want.
How to to prepare a Flammkuchen crust
The most amazing part about this German pizza (or French, always giving credit to our lovely neighbors) is that there is no yeast in the "dough" and thus it's ready in like 5-10 minutes .
The whole pizza start to finish takes less than 30 minutes to make if you work quickly.
The crust requires only 4 ingredients: flour, salt, water and oil. That's it. Make sure you use the right proportions to achieve an elastic dough and you are good to go.
If for some reason my measurements don't work for you (flours are different all over the world), add a little more water or flour as needed, in 1/2 Tablespoon increments. The goal is to end up with a dough that doesn't stick but is fairly elastic so it's easy to roll out.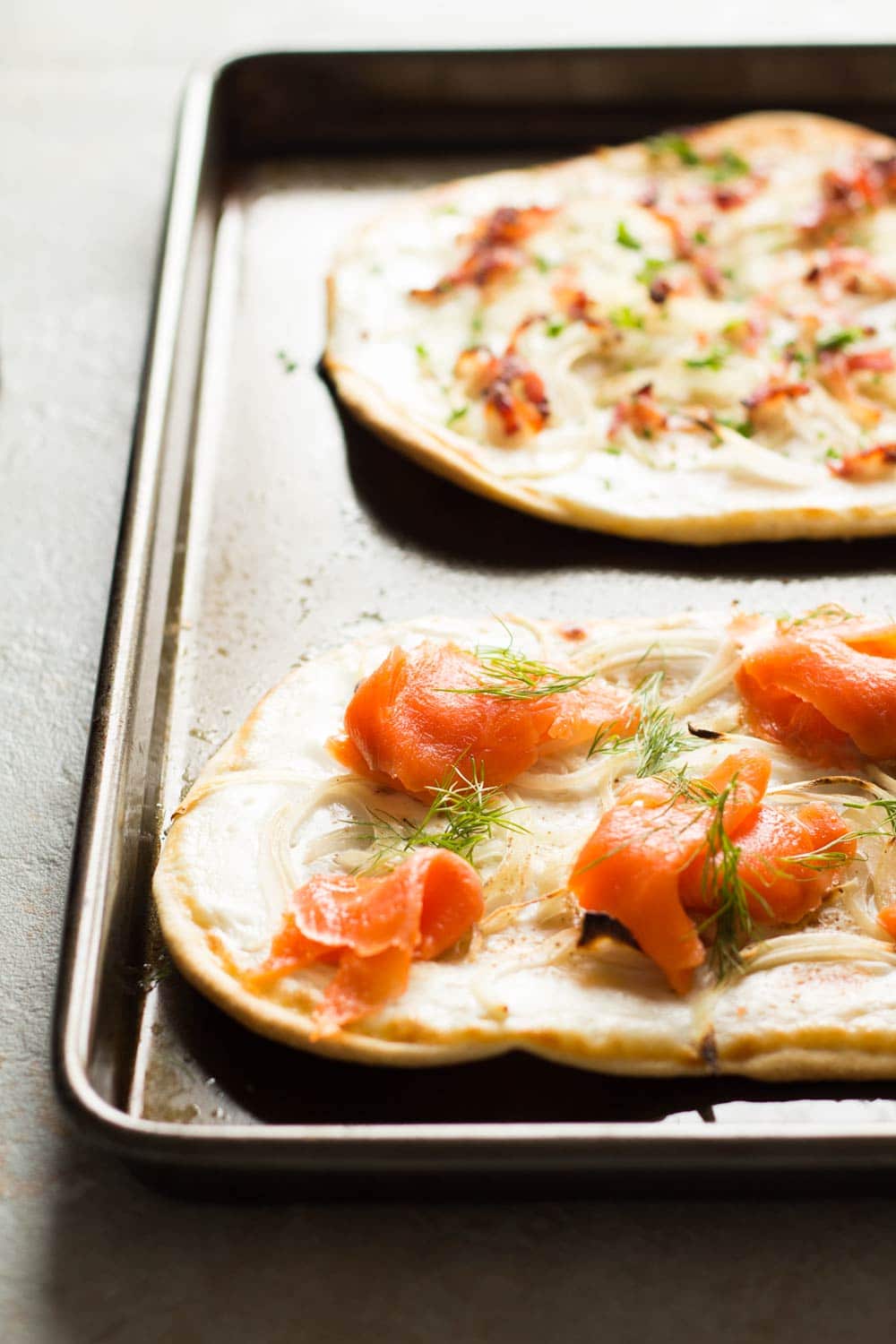 Which cheese for Flammkuchen
This pizza is different than the typical Italian pizza. No need for tomato sauce as a base and no need for cheese on top. A soft cheese called "fromage blanc" or if you can't find that "crème fraîche" is the base for this pizza. It's a white pizza. My favorite!
This cheese is like something in between greek yogurt and cream cheese. You can't use either on this pizza. The greek yogurt contains too much water and the cream cheese to little and adding water doesn't work either.
"Quark" might work, too. I haven't tried though. I've also never heard of anybody putting quark on their Flammkuchen. If you ever try, let me know in the comments if you liked it.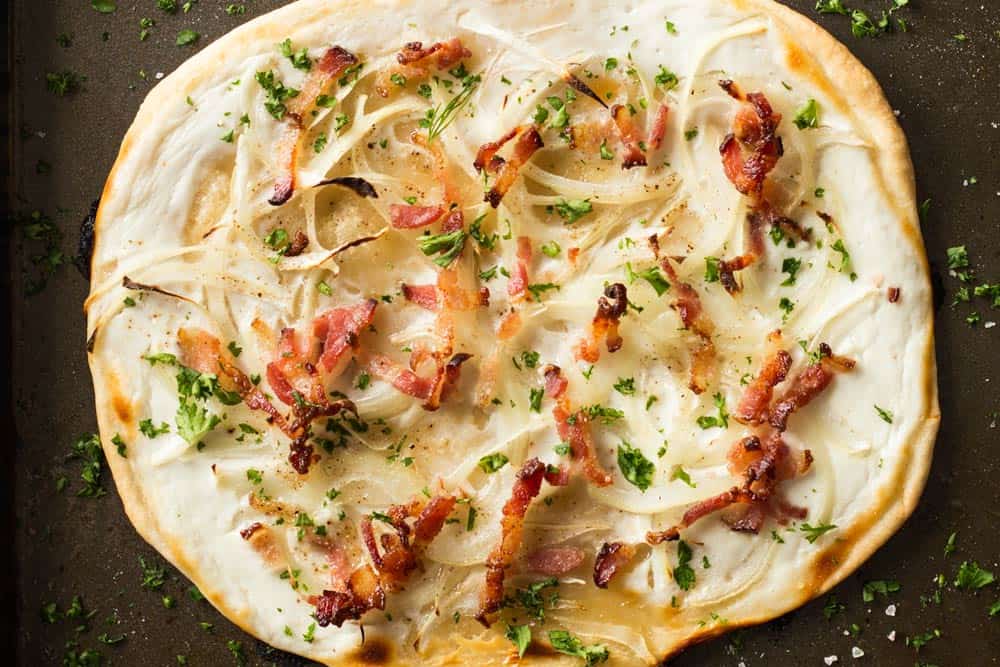 Important steps for the best Flammkuchen
One of the most important steps is to cut the onion (and bacon if using) very very VERY (did I say very enough times?) thinly. The pizza will go in the oven for only 15-17 minutes. If the onion slices are too thick they don't become soft and sweet but rather stay kind of raw and yucky.
The same applies to bacon. If you already have spliced onion in your fridge and don't want to waste it, give it a quick toss in a slightly oiled pan before adding to the pizza. This is an extra dish and an extra step though. Boo.
This pizza is best served with a simple green salad soaked in Maple Mustard Balsamic Dressing.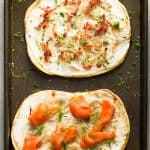 Flammkuchen (Tarte Flambée)
Call it what you want, Flammkuchen, German Pizza, Tarte Flambée or French Pizza. The only important thing is, it's the best pizza in the world.
Print Recipe
Ingredients
1 1/4

cup

unbleached all-purpose white flour

-

(200g)

1/2

tsp

Salt

1/2

cup

water

-

(118 ml)

2

Tbsp

olive oil

1/4-1/3

cup

fromage blanc or creme fraiche

1

small

white onion

2-3

strips

bacon

2

oz

smoked salmon

-

(60g)

Salt

Pepper

dill

parsley
Instructions
Preheat oven to 500 F (260 C).

Mix flour, salt, water and oil in a bowl until starting to clump, then use your hand to knead into dough.

Divide dough in two, roll out thinly and place on a thick baking sheet.

Cut onion and bacon into VERY thin slices.

Spread fromage blanc or creme fraiche on each of the two pizza bases, sprinkle onion over both and bacon over one. Salt and pepper generously.

Bake for 15-17 minutes keeping a close eye on them to avoid burning.

Remove from oven and add smoked salmon to the pizza without bacon, sprinkle dill leaves over the salmon pizza and freshly chopped parsley over the bacon pizza. Enjoy immediately.
Nutrition
Calories:
585
kcal
|
Carbohydrates:
63
g
|
Protein:
15
g
|
Fat:
29
g
|
Saturated Fat:
10
g
|
Polyunsaturated Fat:
2
g
|
Monounsaturated Fat:
10
g
|
Cholesterol:
58
mg
|
Sodium:
825
mg
|
Potassium:
134
mg
|
Fiber:
3
g
|
Sugar:
2
g
|
Vitamin A:
800
IU
|
Vitamin C:
22.3
mg
|
Calcium:
50
mg
|
Iron:
4.1
mg
What's your clean eating vibe?
Take this fun QUIZZ and find out in 10 seconds!