Snowy & cold winter days scream for hearty Mexican Beef Stew topped with delicious avocado, spicy jalapeño, crispy tortilla & juicy lime!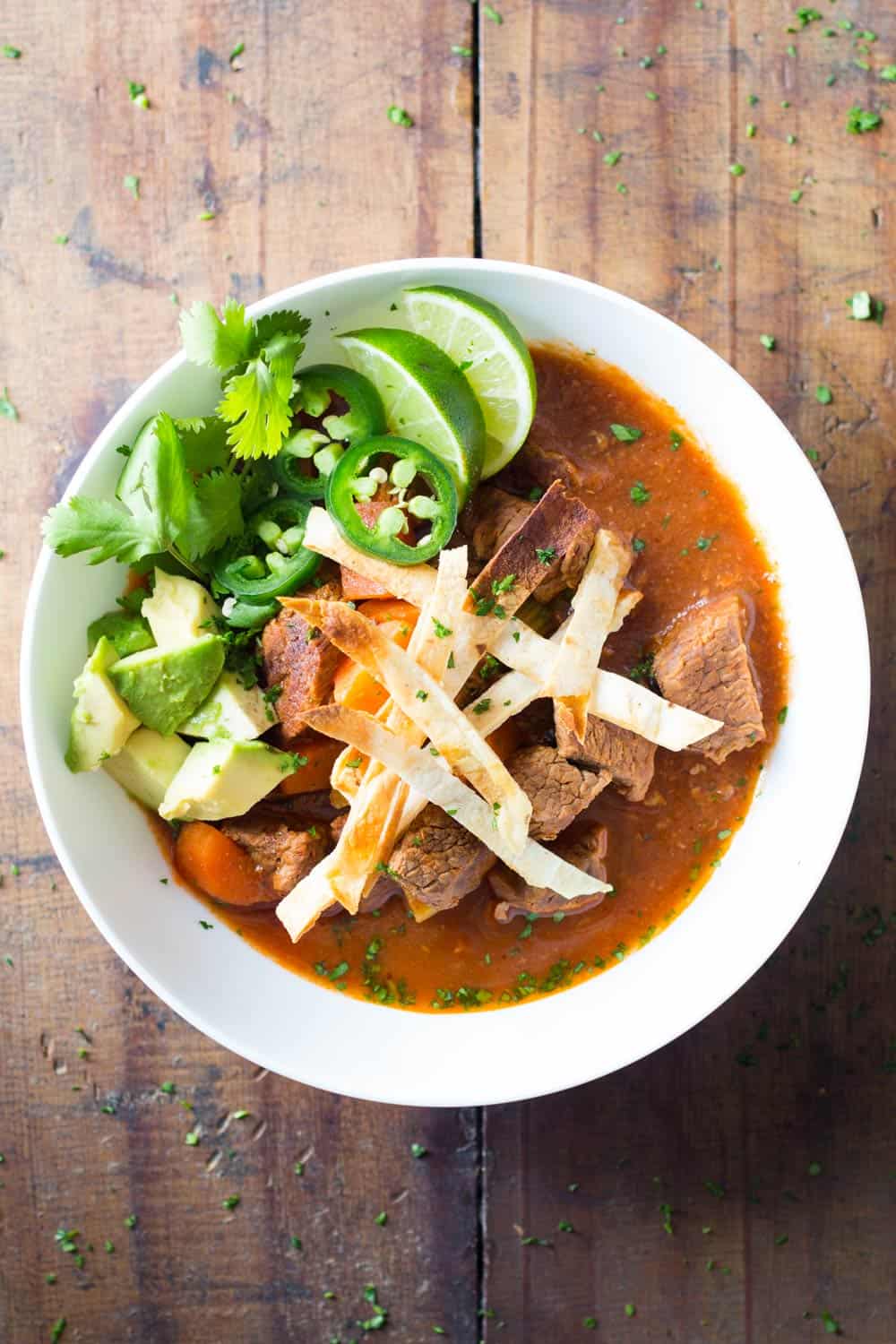 Have you ever tried drizzling lime juice into your beef stew? No? You've missed out big time. This is the most delicious thing on earth. I've never made a Mexican-Style beef stew before so it was about time and the best discovery was how wonderful lime juice tastes in a beef stew.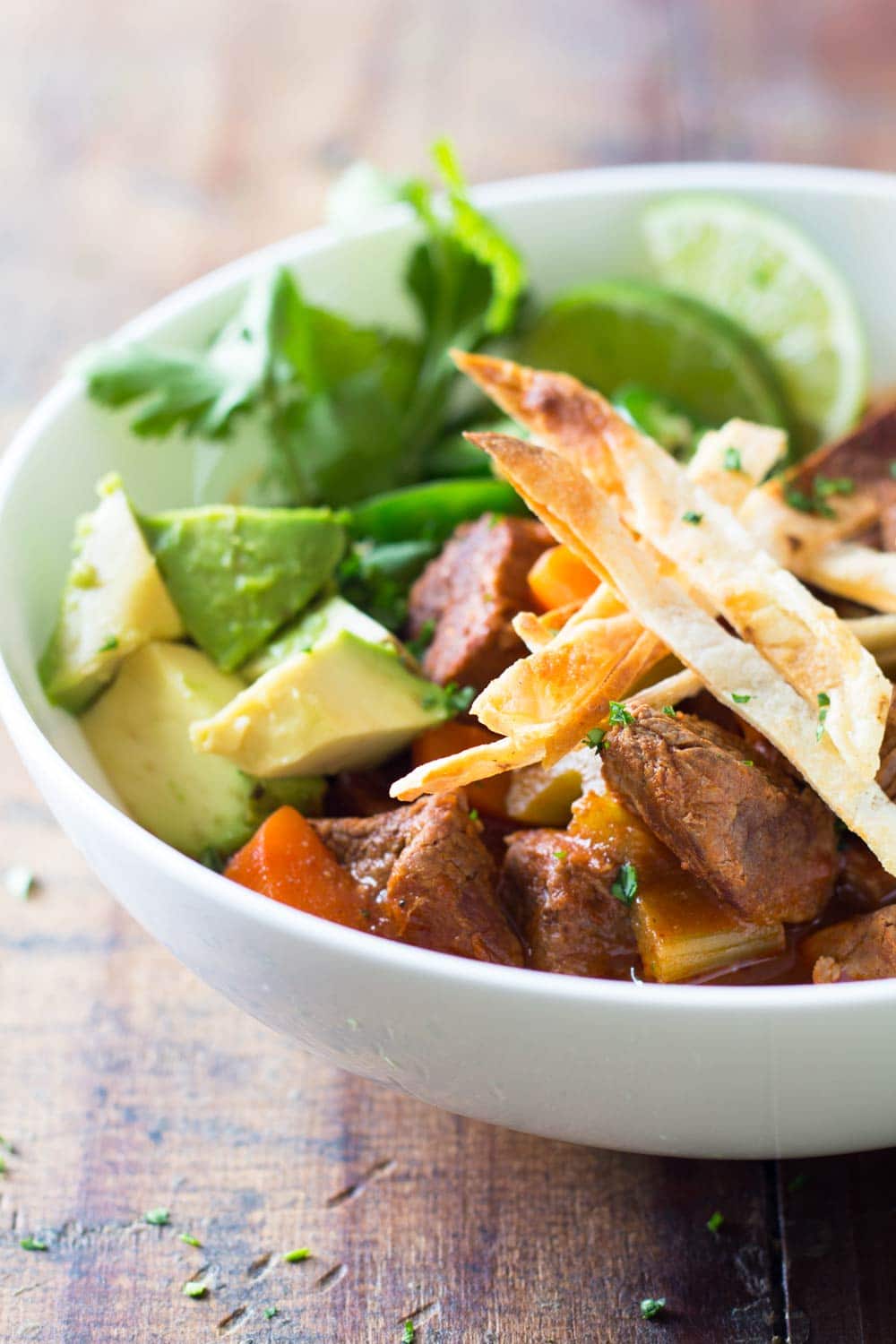 How to make beef stew from scratch
Despite what many may think, making beef stew from scratch is actually super easy. There are many ways to make beef stew and the hardest and messiest in my opinion is searing the beef cubes first, so we won't do that because in my opinion that's so not necessary. No searing needed. Keep your kitchen clean, your hands unburnt and your prep time as short as possible. The hardest part about preparing this Mexican Beef Stew is sitting around waiting for it to be ready.
Just fry your onion a little, add all the liquid, bring it to a boil over medium-high heat and THEN then the beef cubes. No worries, the meat will not be dry. It will be soft and absolutely delicious. Adding the beef cools down the liquid a little and the boil might seize for a couple seconds but once it's bubbling again you add carrots, celery and spices, reduce the heat to low, cover and…..relaxxxx. Yup, that's all. It takes about 10 minutes to do all this and then you just play the waiting game. I recommend getting busy or watching a movie because the amazing smell will kill you and you will want to eat the stew way before it's ready ;)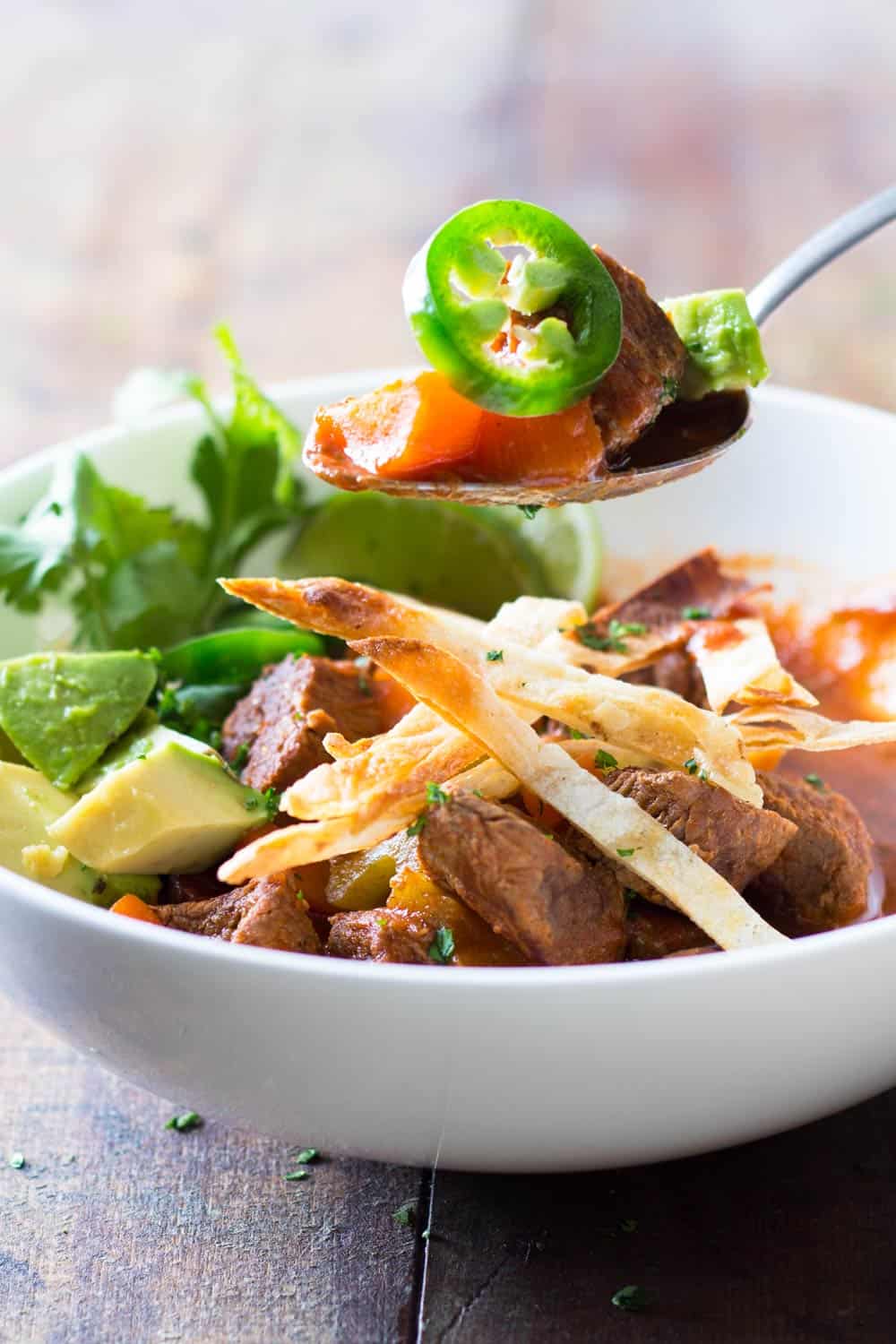 How to turn a beef stew into a Mexican Beef Stew
Now this Mexican Beef Stew recipe isn't a heritage recipe. I can't call it "authentic" because honestly I don't know if there even exists THE one and only Mexican Beef Stew. However, there are obviously several ingredients very very common in Mexican cuisine and adding them to the beef stew gives it that special taste that make Mexican cuisine so special. First of all add some ground coriander to the stew to infuse the broth with this delicious spice. Then, add diced avocado, a couple slices jalapeño pepper, crispy fried corn tortilla stripes and a hand full fresh coriander and at the end the best part: fresh lime juice drizzled all over.
If you prefer lamb over beef, you may want to check out this out of this world Peruvian Lamb Stew :)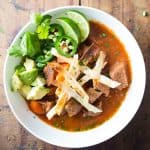 Mexican Beef Stew
Snowy & cold winter days scream for hearty Mexican Beef Stew topped with delicious avocado, spicy jalapeño, crispy tortilla & juicy lime!
Print Recipe
Ingredients
1

small

onion

1

cup

beef or vegetable broth

1

cup

canned tomato sauce

1

tsp

ground coriander

Salt

Pepper

2

lbs

beef cubes

2

large

carrots

2

large

celery sticks

1

large

avocado

1-2

jalapeno peppers

1

hand full

fresh coriander leaves

1-2

limes

2

corn tortillas
Instructions
Remove beef from fridge at least 30 minutes before cooking.

Peel and finely chop onion. Wash or peel carrots and cut into pite size pieces. Wash celery and cut into bite size pieces.

Heat a large lidded pan over medium heat. Once hot, stir fry chopped onion.

Add broth, tomato sauce ground coriander, salt and pepper and bring to a boil. Once boiling add beef cubes.

Bring back to a boil and once bubbling again add vegetables.

Reduce heat to low, cover with tight sitting lid and let simmer for approximately 1.5 hours without uncovering.

5 minutes before the stew is ready, brush 2 corn tortillas with oil on both sides, cut into stipes and broil for 3-4 minutes until crispy. Cut an avocado into bite-size chunks. Cut lime into wedges. Cut jalapeno pepper into slices and chop some fresh coriander to add on top of stew once served in a bowl.
Nutrition
Calories:
832
kcal
|
Carbohydrates:
23
g
|
Protein:
67
g
|
Fat:
53
g
|
Saturated Fat:
19
g
|
Polyunsaturated Fat:
3
g
|
Monounsaturated Fat:
24
g
|
Cholesterol:
207
mg
|
Sodium:
1693
mg
|
Potassium:
1436
mg
|
Fiber:
7
g
|
Sugar:
7
g
|
Vitamin A:
6350
IU
|
Vitamin C:
29.7
mg
|
Calcium:
70
mg
|
Iron:
8.1
mg
What's your clean eating vibe?
Take this fun QUIZZ and find out in 10 seconds!