The so-called Ají Verde sauce served in many Peruvian restaurants in anglophone America is essentially a fusion of Peruvian, Mexican, and North American cuisine. It's not really something you'd find in Peru at all but well worth making because it's absolutely divine. A true magical sauce that goes well with any grain bowl or grilled goods, such as steak, grilled veggies, or my favorite: Pollo a La Brasa (Peruvian Grilled Chicken).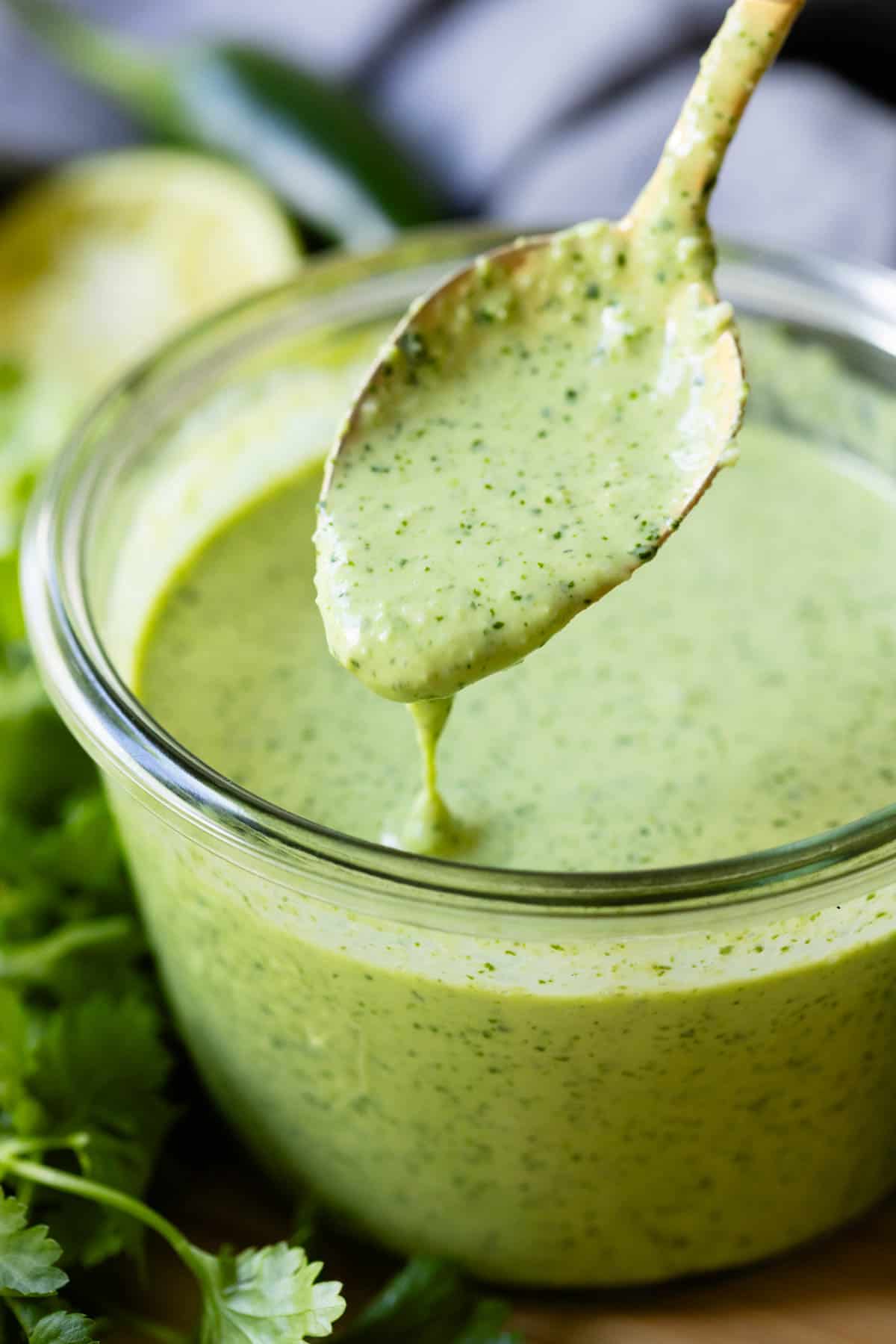 A true Peruvian green sauce would essentially be a sauce based on what Peruvians know as ají verde which is simply unripe ají amarillo. "Ají" means "chili pepper" by the way. It's how South Americans refer to any spicy pepper. And "chile" is what Mexicans and Central Americans call their spicy peppers.
So, an authentic Peruvian salsa de ají verde is made with green ají amarillo, and also with "huacatay", not cilantro. Huacatay is a leafy green herb native to the Andes and it's somewhat similar to the Mexican "epazote".
Now all that being said, I've had several people ask me for a recipe of what they know as Ají Verde. The green sauce many Peruvian restaurants in the US serve with Peruvian grilled chicken called "Pollo a la Brasa". Fusions with Peruvian and/or Mexican cuisine are my absolute favorite and in this sauce recipe we mix BOTH together. Pure bliss!
Ingredients & Substitutions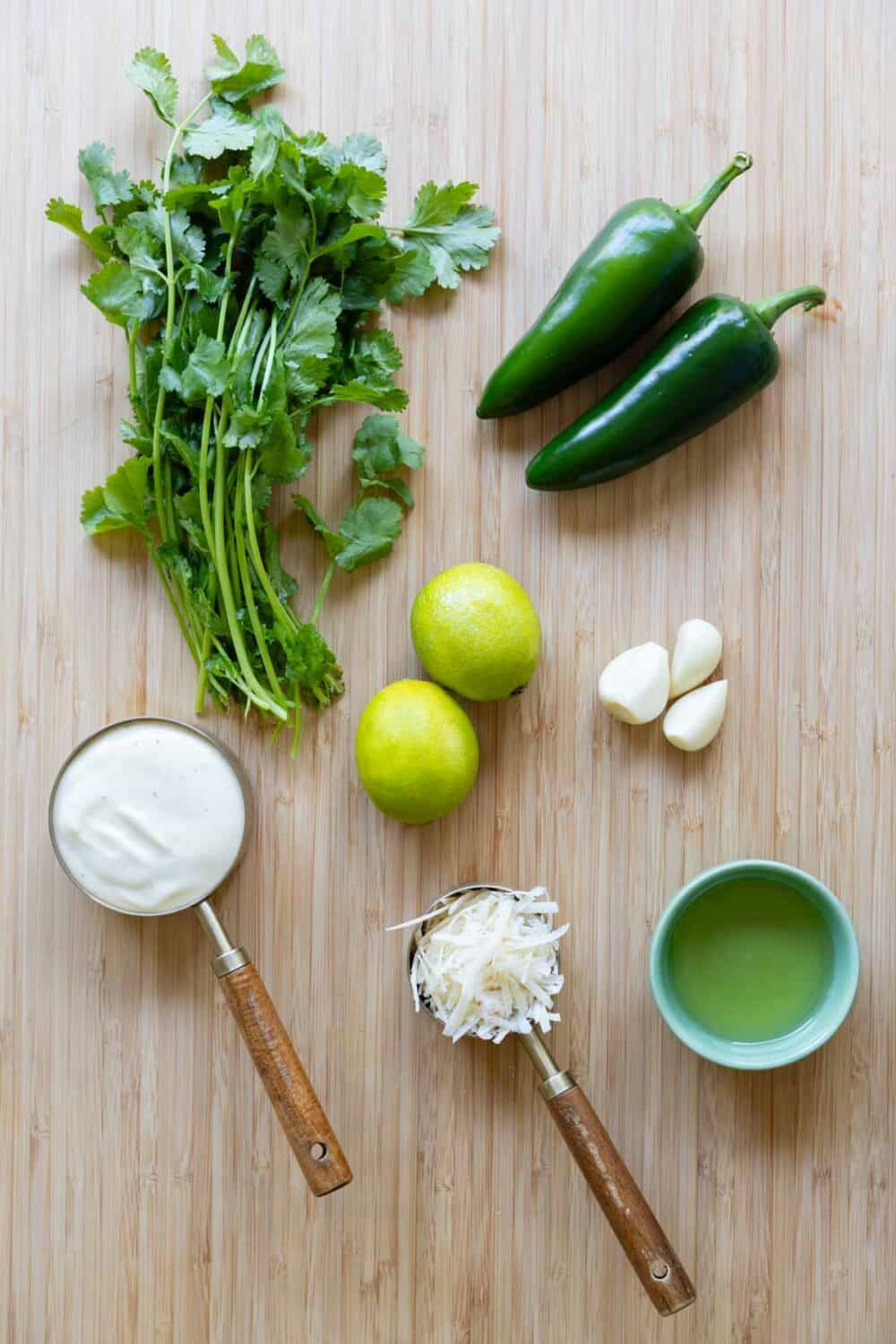 Jalapeño – the easiest green chili to get your hands on in most of the non-Latin American world. It's fairly mild though so if you want your Ají Verde sauce to be spicier I recommend using Serrano instead.
Cilantro – the easiest Latin-American leafy green to get your hands on so definitely your best bet for this recipe and also what any Peruvian restaurant outside of Peru will most likely be using. If you don't like cilantro you could potentially use basil but it will change the flavor a lot.
Garlic – fresh garlic is an absolute must. It's the flavor that shines the most in this magical green sauce. If you're not a huge fan of raw garlic then maybe reduce the amount a little but don't omit the garlic and most definitely don't use dried garlic.
Lime – if you can't get any limes use white wine vinegar, not lemon juice. Really try and get limes though. They fit the sauce so much better than any other acid.
Mayonnaise – the best mayonnaise will always be homemade mayonnaise. It takes only 2 minutes to make your own. Make sure you use a flavorless oil, not olive oil. And also, make sure you mix it until it's super thick and not too runny.
Avocado Oil – any other flavorless oil will work. Just don't use any oil that has a lot of flavor such as olive oil or sesame oil.
Parmesan – preferably freshly grated because it's much softer that way and blends in much better into the sauce. You could use any other hard and dry cheese as long as it's freshly grated.
How To Make Ají Verde Sauce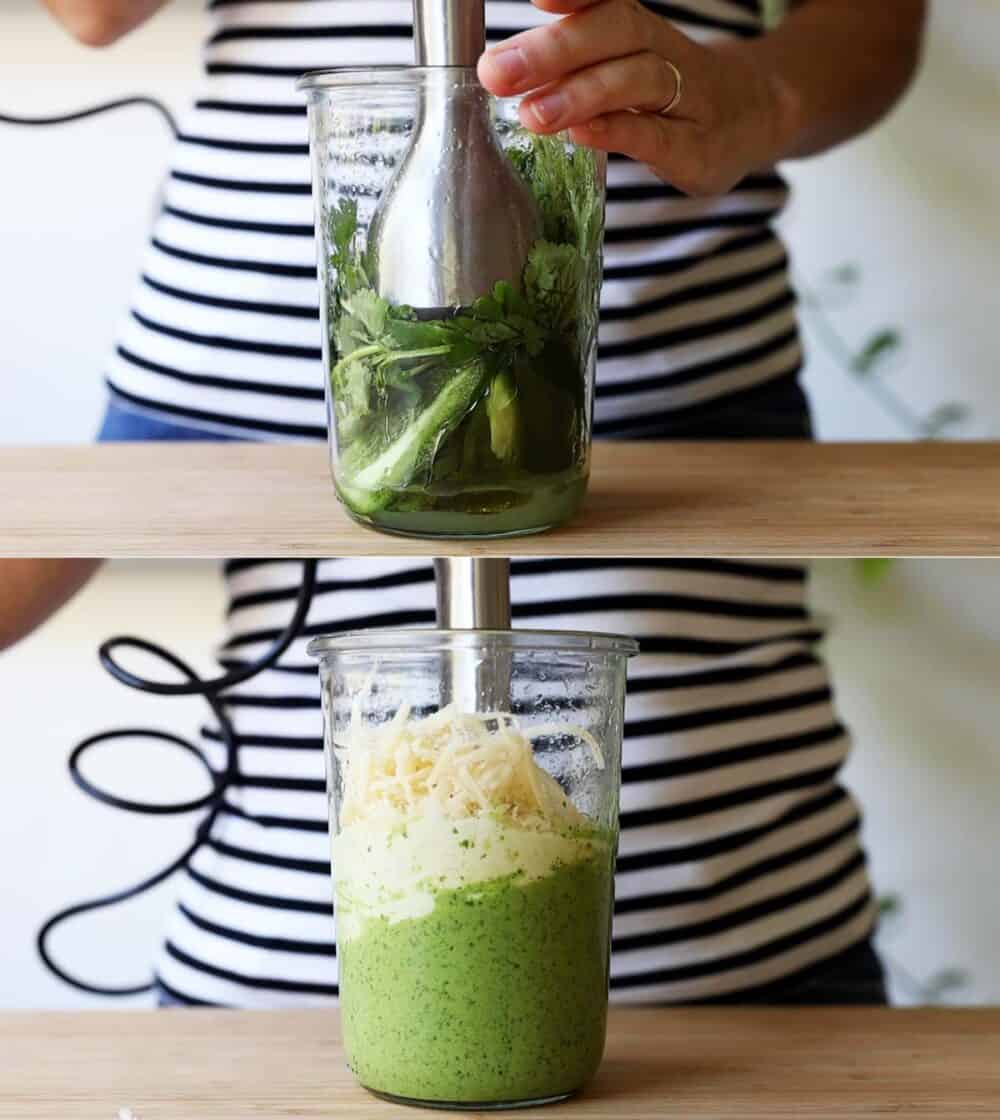 It's really really simple. Just add all ingredients but the mayonnaise and Parmesan to a blender or a jar into which your immersion blender fits. Process everything until smooth. The reason we're not adding the mayonnaise from the beginning is because overprocessed mayo starts to curdle.
Once your base is bright green and smooth, add the mayonnaise and the grated Parmesan and turn the speed to low and just mix everything together for a few seconds.
Over time your sauce will thicken a little more so don't worry if it's a little too runny. If it doesn't thicken at all and it's runny like water simply add a little more parmesan and mix it in by hand this time.
How Long Can I Store Ají Verde?
Since the sauce is based on mayonnaise we can only store it for as long as your mayonnaise is safe to eat. Homemade mayonnaise tends to be fine in the fridge for up to a week. I recommend storing the green sauce in an airtight container in the fridge and eating it within a week.
What Can I Serve Ají Verde Sauce With?
It's best served over Pollo A La Brasa (Grilled Chicken), any other grilled meat or vegetables, or over a delicious grain bowl made with quinoa for example.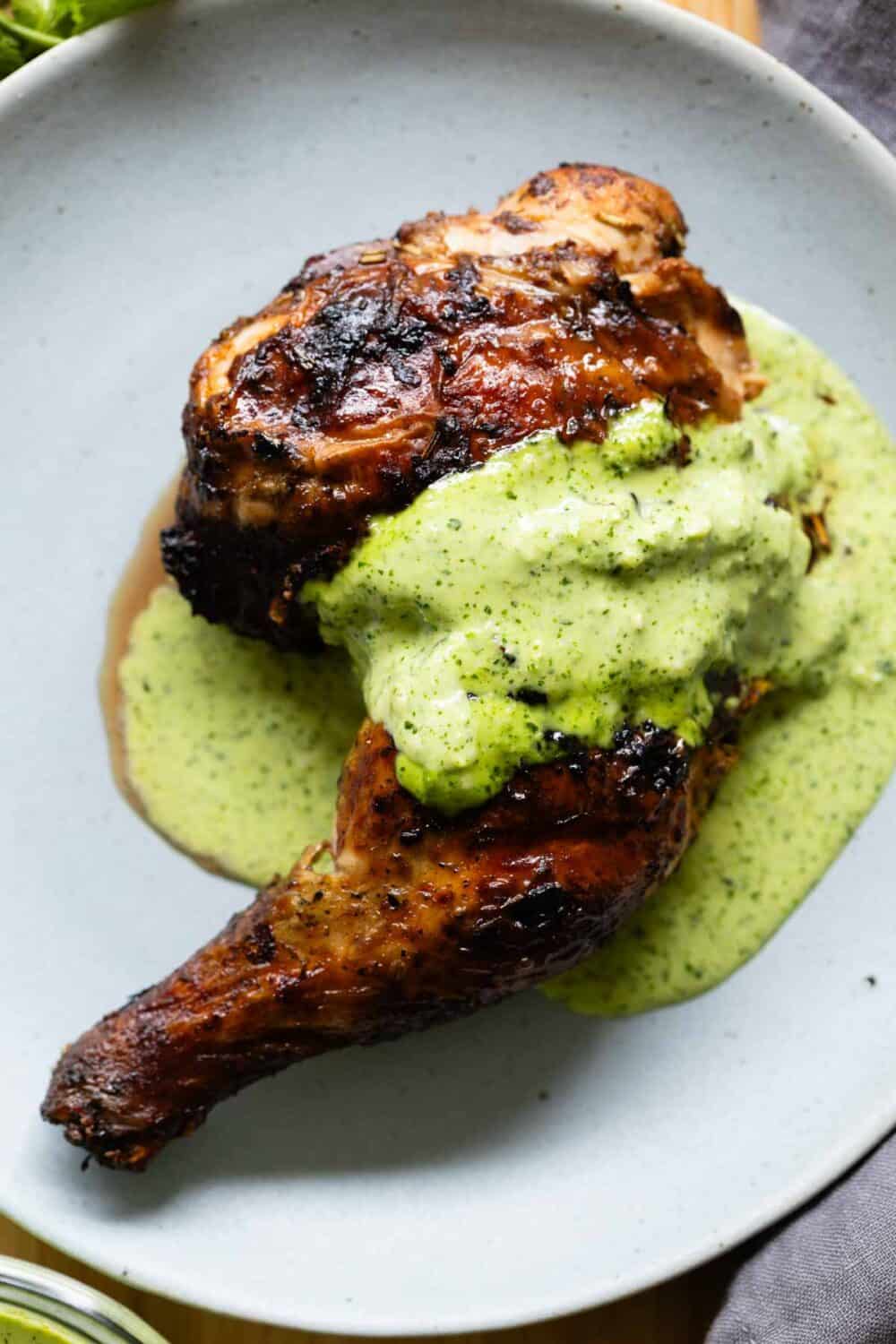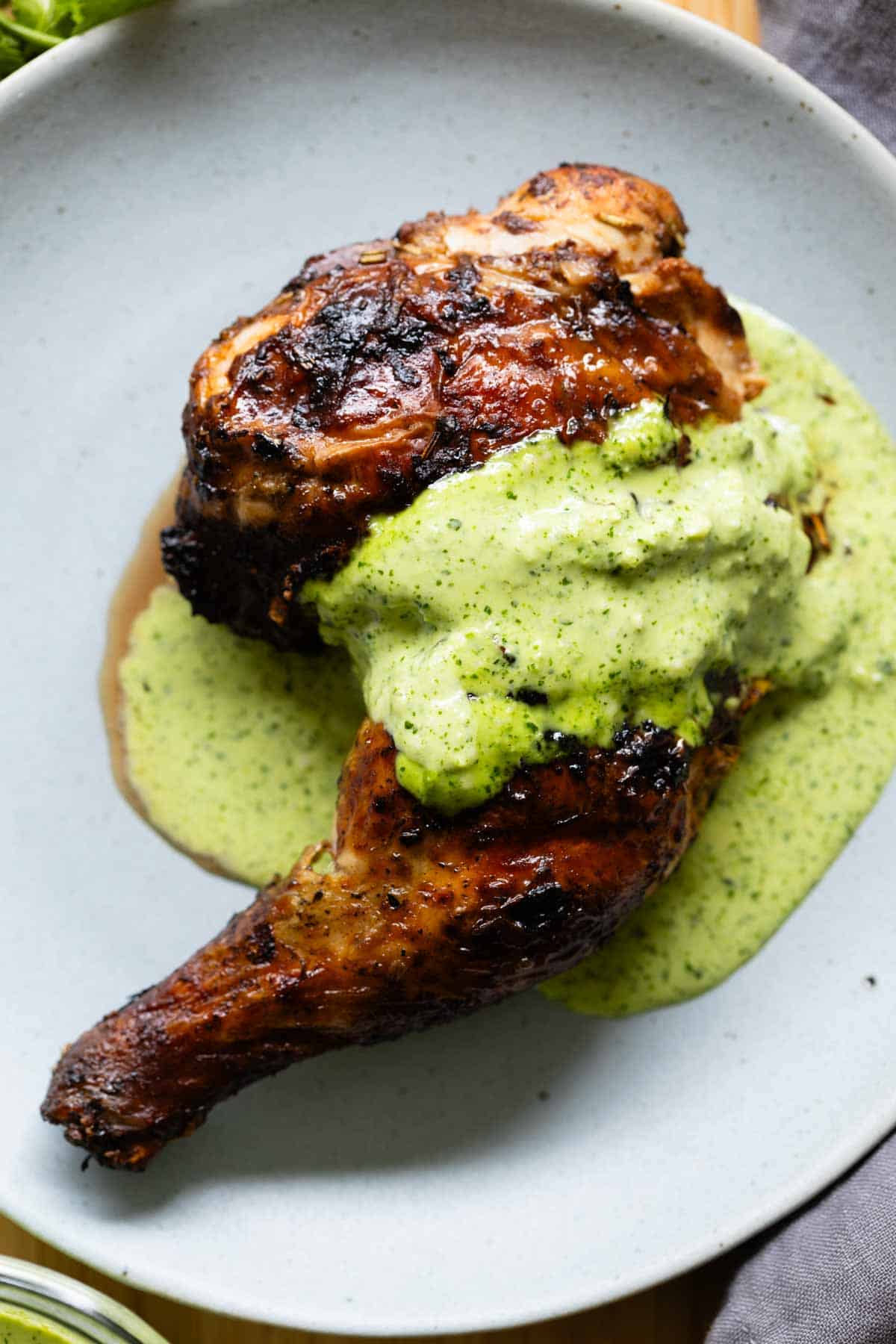 More Peruvian Recipes You'll Enjoy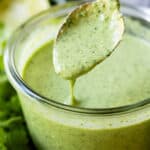 Ají Verde (Peruvian-Style Green Sauce)
Ají Verde is a magical green sauce that goes well with any grilled good such as chicken, beef, and vegetables, or even as a dressing for a delicious grain bowl.
Print Recipe
Pin Recipe
Ingredients
2

Jalapeños

1

handful cilantro

2-3

cloves garlic

3

Tbsp

avocado oil

1.5

Tbsp

lime juice

1/2

cup

mayonnaise

-

preferably homemade

1/4

cup

freshly grated Parmesan

sea salt to taste

-

*
Instructions
Add all ingredients but mayonnaise and Parmesan to a blender or a jar into which your immersion blender fits and blend on high until bright green and smooth.

Add mayonnaise and grated Parmesan and blend on low for only a few seconds. If you blend on high or for too long you risk your mayonnaise curdling.

Serve immediately or store in an air-tight container in the fridge.
Notes
* my mayo and Parmesan were salty enough so I didn't add any salt. Make sure you try your sauce first before adding salt.
Nutrition
Calories:
126
kcal
|
Carbohydrates:
1
g
|
Protein:
1
g
|
Fat:
13
g
|
Saturated Fat:
2
g
|
Polyunsaturated Fat:
6
g
|
Monounsaturated Fat:
5
g
|
Trans Fat:
0.02
g
|
Cholesterol:
6
mg
|
Sodium:
112
mg
|
Potassium:
21
mg
|
Fiber:
0.1
g
|
Sugar:
0.3
g
|
Vitamin A:
112
IU
|
Vitamin C:
4
mg
|
Calcium:
33
mg
|
Iron:
0.1
mg
What's your clean eating vibe?
Take this fun QUIZZ and find out in 10 seconds!