This Peruvian-style whole turkey recipe is perfect for Thanksgiving or Christmas. The marinade and stuffing are a true flavor explosion and the turkey ends up nice and juicy. Exactly what you've been looking for as a centerpiece for your holiday table.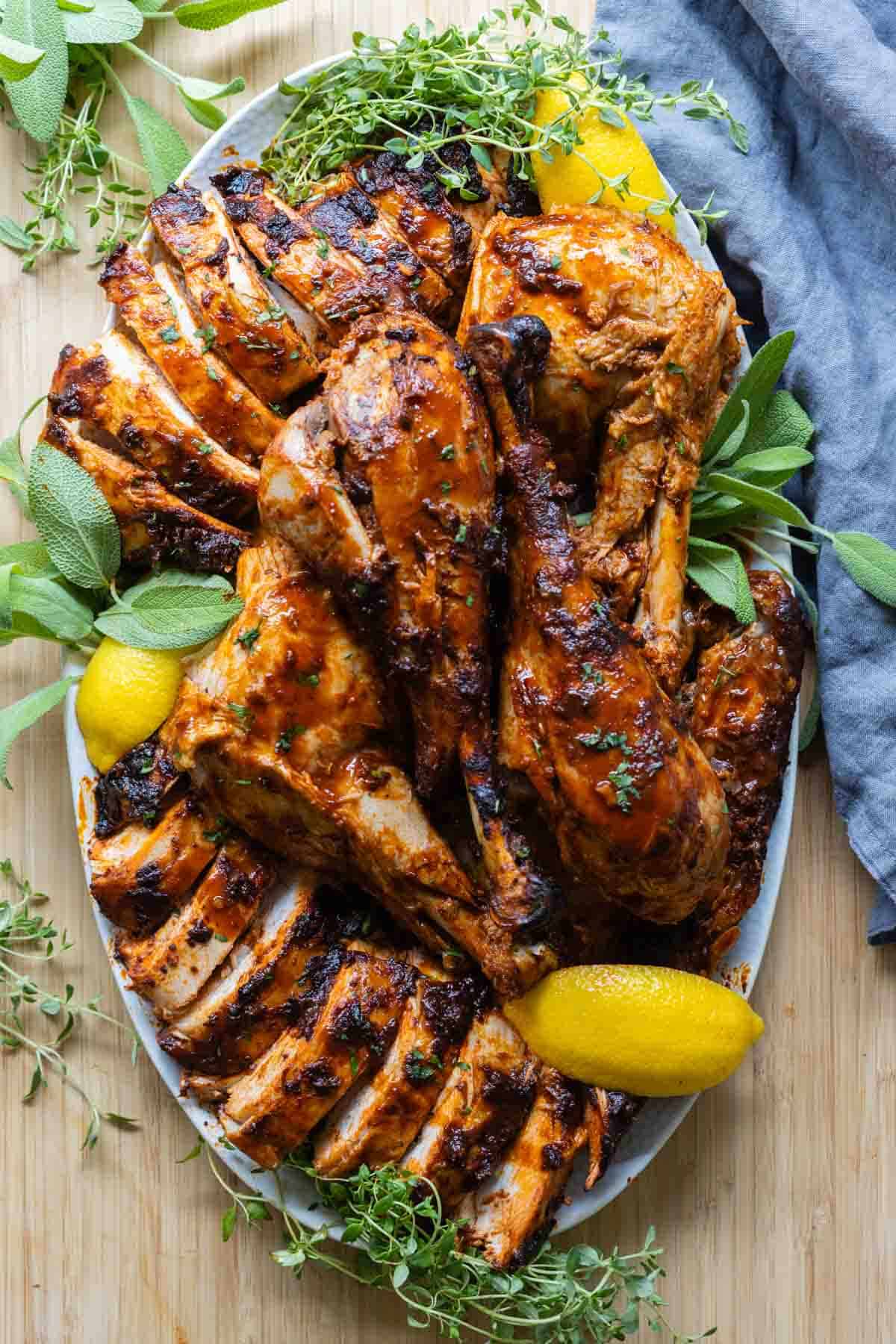 My Peruvian recipes are super popular lately, especially the Pollo A La Brasa with its Ají Verde Sauce and the delicious Salsa Criolla, and I totally get why. Peruvian cuisine has a special place in my heart because of its incomparable flavor. Naturally, I had to offer you a Peruvian-Style Whole Turkey Recipe so we can keep spreading the love for Peruvian Cuisine to the whole world.
Ingredients & Substitutions
The ingredient amounts in the recipe card are for a 12-18lbs turkey. If yours is significantly smaller you'll end up with leftover marinade and stuffing which you can freeze. If your turkey is significantly bigger I recommend making 1.5 times the amount of marinade and stuffing.
For the marinade you will need: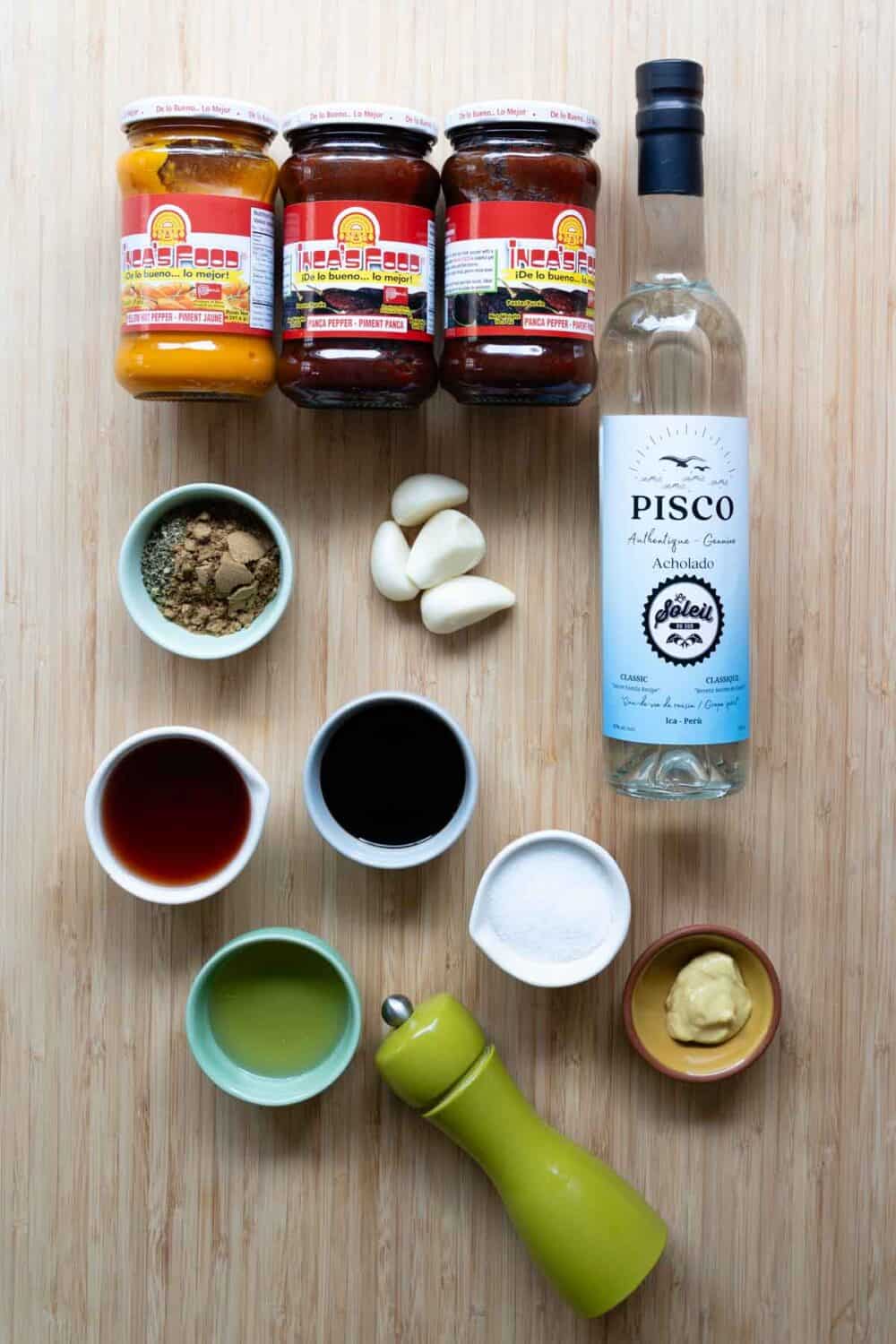 Ají Panca – Ají Panca is a Peruvian red chili pepper known for its deep, rich flavor and no heat. It adds a smoky, fruity dimension to dishes and is commonly used in Peruvian cuisine to create distinctive sauces and marinades. There is nothing quite like it but a good replacement in case you really can't get your hands on it would be roasted red pepper blended in a blender.
Ají Amarillo – Ají Amarillo is another Peruvian chili pepper, prized for its vibrant yellow color and medium heat. Its fruity and slightly floral notes contribute a unique flavor to various dishes, and it is often used in sauces and traditional Peruvian recipes. For the whole turkey I use 1/2 cup and I find the turkey is mildly spicy but if you are sensitive to heat then add only 1/4 cup. If you absolutely can't get your hands on Ají Amarillo then replace it with blended chipotle chilis.
Pisco – Pisco is a type of grape brandy that originates from Peru and Chile. It has a smooth, grape-derived character and is a key ingredient in the famous Pisco Sour cocktail. Pisco adds a sophisticated and aromatic element to cocktails and culinary creations. The Italian grappa would be the best replacement if you can't find Pisco. You can, however, also simply omit this ingredient altogether if you want to keep it alcohol-free. Remember, all the alcohol will evaporate during the long roasting time so no alcohol flavor in the end.
Garlic – I strongly recommend using fresh garlic but in a pinch, you could also use dried.
Dijon Mustard – Dijon is my favorite mustard and I much prefer it over any other type of mustard. You could use a different mustard though if you want.
Sea salt – Since we are brining the turkey 1/4 cup sea salt should be enough for a 15-ish pound bird. If you don't brine it I recommend adding more salt though.
Cumin & Oregano – the most common two dried spices used in Peruvian cuisine. You could also use ground coriander and thyme instead.
Soy Sauce – soy sauce offers extra saltiness and darkens the color of the marinate a little more.
Red Wine Vinegar – red wine vinegar goes really well with the Ají Panca but you could also use white wine or apple cider vinegar instead.
For the stuffing you will need: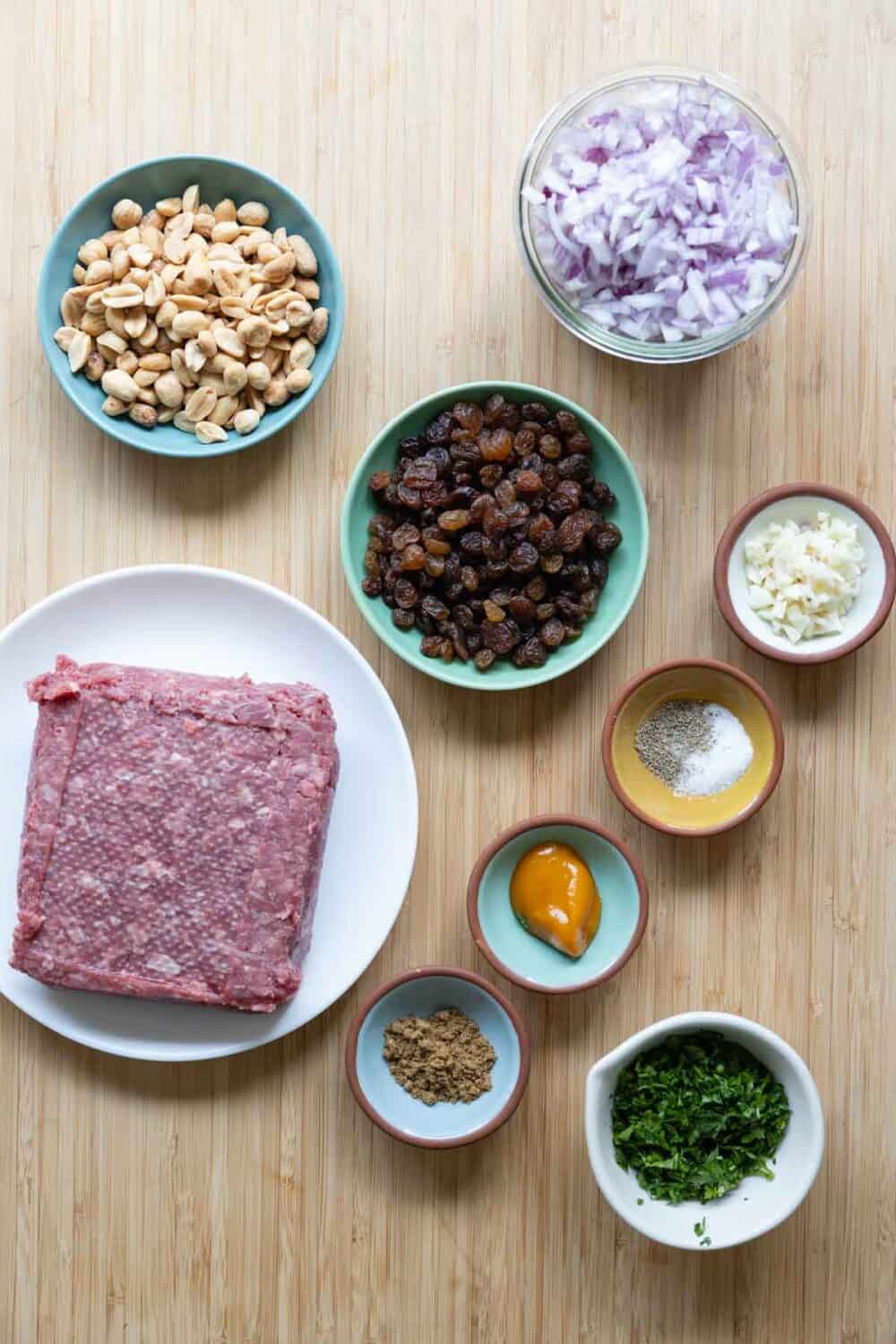 Red Onion – you can use any type of onion for the stuffing, I like red onions best for this.
Garlic – I strongly recommend using fresh garlic but in a pinch, you could also use a teaspoon or two of dried ground garlic.
Ají Amarillo – the ají gives it that extra special Peruvian touch but same as with the marinade you could replace it with a little chipotle.
Ground Beef – use lean ground beef or ground bison. Don't use ground turkey, that would be super weird, no? Haha.
Sea Salt & Pepper – duh.
Cumin – same as in the marinade, the best option is cumin, second best is coriander.
Roasted Peanuts – roasted peanuts are the best but chopped-up pecans are nice, too.
Raisins – don't skip these even if you usually don't like raisins you'll love them in this. They become super soft and are like little candies in every bite.
Parsley – parsley or cilantro both work here.
White Rice – Jasmin is my favorite but you can also use Basmati.
Turmeric – the turmeric is just to give the rice its yellow color so if you don't like turmeric simply use saffron instead.
Brining vs No Brining Of Turkey
In my personal opinion, there is a clear winner. I say YES to brining. Brining is 100% recommended for anyone who prioritizes moistness and enhanced flavor. Particularly for larger birds that can be more prone to drying out during extended cooking times.
Advantages of Brining
Moisture Retention: Brining a turkey helps it retain moisture during the cooking process which results in a juicier and more tender bird.
Flavor Infusion: Brining allows the salt in the brine to penetrate the meat, enhancing the overall flavor of the turkey.
Things to Keep In Mind
Requires Planning: Brining requires overnight soaking, so it requires some advance planning.
Space and Refrigeration: You need enough space in your refrigerator to store the brining turkey.
Basting vs No Basting Of Turkey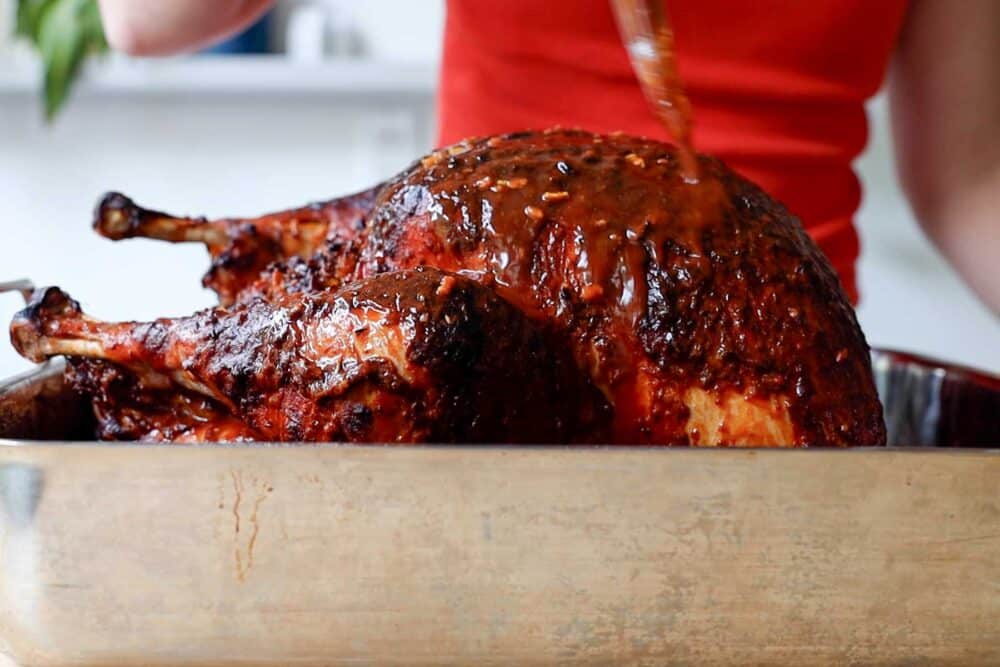 Some argue that by opening and closing the oven door several times we disturb the cooking process and dry out the turkey but this hasn't been my experience at all.
I have experienced the exact opposite: basting helps to keep the surface of the turkey moist which in turn contributes to a juicier final product. And on top of that it leads to a more complex and seasoned taste as well as an appealing presentation thanks to the shiny glaze.
How Long Can I Leave Raw Turkey Out To Marinate?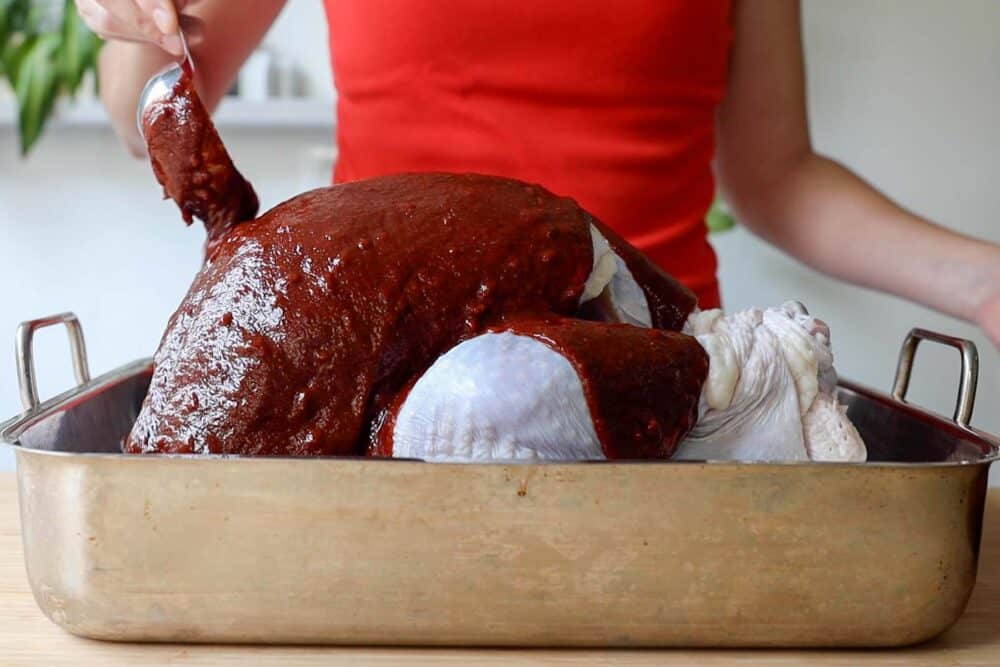 This depends entirely on the room temperature. The "danger zone" is an internal temperature between 40°F and 140°F. As long as the raw turkey's internal temperature stays colder than 40°F it is safe to then be cooked. This means that typically, in a 68°F to 72°F warm kitchen, a turkey can be out on the counter to marinate for an hour without any issues.
I recommend marinating on the counter because it's always best to avoid putting fridge-cold turkey into the oven. If you plan on marinating it longer than an hour I recommend marinating it in the fridge, then take it out of the fridge one hour before placing it in the oven.
At What Temperature Should I Roast A Whole Turkey?
Since we are leaving the whole turkey out on the counter for an hour before adding it to the oven I recommend you preheat the oven to 450°F. This way, the bird gets quickly out of the above-mentioned "danger zone" of under 140°F internal temperature.
However, the actual roasting temperature is 325°F throughout the whole roasting time. This means you should immediately lower the oven temperature to 325°F once you place the turkey inside.
How Long Should I Roast A Whole Turkey?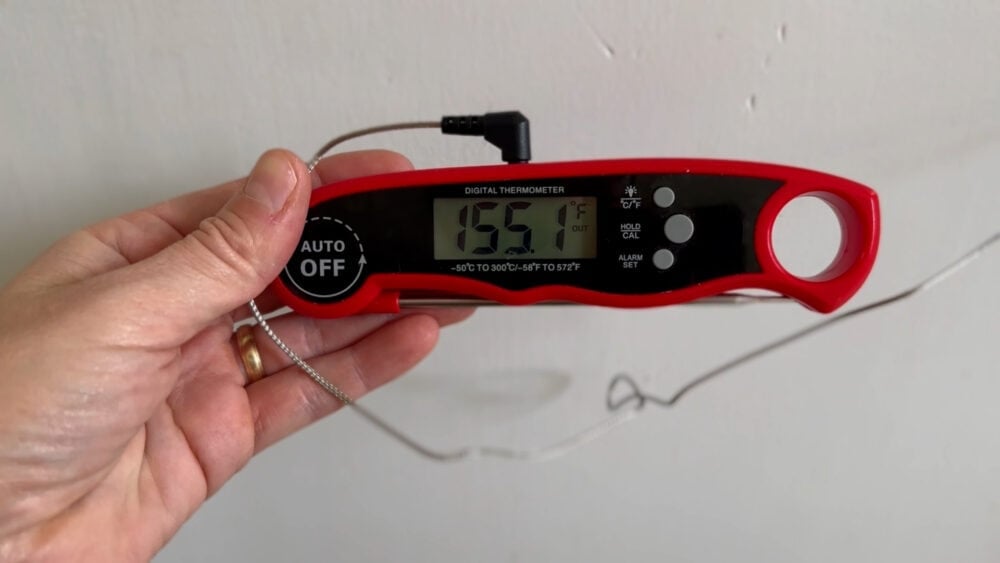 A good rule of thumb is 15 minutes per pound. However, the exact timing can only be determined with a meat thermometer.
About 30 minutes before your calculated time you should start measuring the internal temperature at the thickest part of the breast by inserting the thermometer horizontally from the neck/shoulder of the turkey towards the thickest part of the breast.
When the internal temperature reaches 155°F you should pull the whole turkey out of the oven. During the resting time, its temperature will still rise and reach the 165°F safe temperature.
When and How To Store Leftover Turkey
Turkey should be stored in the refrigerator not longer than 2 hours after taking it out of the oven. So once everybody served themselves firsts and seconds I recommend taking a few minutes to store the turkey leftovers in an airtight container or ziplock bag in the refrigerator so you can enjoy them the next day(s).
You can then decide later that day or night if you want to freeze parts or not. To freeze simply add to a freezer-safe airtight container or ziplock bag and place in the freezer for up to 3 months.
To defrost simply place in the refrigerator overnight.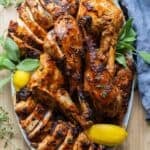 Peruvian-Style Whole Turkey Recipe
This Peruvian-style whole turkey recipe is perfect for Thanksgiving or Christmas. The marinade and stuffing are a true flavor explosion and the turkey ends up nice and juicy.
Print Recipe
Pin Recipe
Ingredients
14-16

lbs

whole turkey

1/2

cup

sea salt

1

cup

aji panca

1/2

cup

aji amarillo

4

cloves garlic, crushed

1

tsp

Dijon mustard

1/4

cup

sea salt

1

Tbsp

cumin

1

Tbsp

oregano

pepper to taste

2

Tbsp

low-sodium soy sauce

1/3

cup

red wine vinegar

1/4

cup

pisco

3

Tbsp

butter

1

cup

jasmin white rice

1/2

tsp

sea salt

1

tsp

turmeric

1

cup

red onion, chopped

2

cloves garlic, chopped

1

tsp

aji amarillo

1

lbs

lean ground beef

1

tsp

cumin

sea salt and pepper to taste

1/2

cup

roasted peanuts

1/2

cup

raisins

1/4

cup

parsley, chopped

apple sauce for serving

lemon for decoration

fresh herbs for decoration
Instructions
Brine the turkey: Remove the giblets and neck from the cavity of the turkey. Add 1/2 cup of salt into a giant pot or bucket filled with water and stir. Then place the turkey into the pot or bucket breast side down. You want the whole or at least most of the turkey submerged in water. Cover it with cling film and place it in the fridge overnight. You want to brine the turkey for at least 12 hours.

Dry the turkey: Remove the turkey from the brine and rinse it under cold running water to remove excess salt. This is a messy job so wear an apron and make sure you disinfect your sink and faucet and handles and counter around the sink after. Then dry the turkey with paper towels until it's super super super dry and place it in a large roasting pan and set it aside.

Make the marinade: Add aji panca, aji amarillo, crushed garlic, Dijon mustard, 1/4 cup sea salt, 1 Tablespoon cumin and 1 Tablespoon oregano, pepper, soy sauce, red wine vinegar, and pisco to a large bowl and whisk until well combined.

Marinate: Add the marinade all over the turkey and use your hands to work it into every nook and cranny, then set the turkey aside for one hour on the counter. Do not return to the fridge.

Prepare the yellow rice: Add 1 cup Jasmin rice, 1/2 teaspoon salt, 1 teaspoon turmeric, and 1 cup water to the Instant Pot and mix it. Then set the Instant Pot to 3 minutes on high pressure and let pressure release naturally. If you need stovetop instructions leave a comment and I'll explain.

Prepare stuffing: In the meantime, prepare the stuffing by preheating a large pan over medium heat and once hot add a drizzle of oil and stir fry the chopped onions and garlic in it until translucent. Then add a teaspoon of aji amarillo as well as the ground beef and break the beef up a little before seasoning with sea salt, pepper, and cumin. Fry the meat until it's nice and brown. Then add peanuts, raisins, and chopped parsley, as well as the yellow rice which should be ready by now, and mix well. Remove from the heat and set aside.

Preheat the oven and stuff the turkey: About 10-15 minutes before the one-hour marinating time of the turkey preheat the oven to 450°F. Stuff the cavity of the turkey with the ground beef rice stuffing we just prepared. Then add slices of cold butter all over the turkey and also add 1 cup water to the bottom of the roasting pan.

Roast and baste the turkey: Add the turkey to the oven and IMMEDIATELY REDUCE THE HEAT TO 325°F!! Set a timer every 30 minutes to baste it. Use a baster to suck up the juices collecting in the bottom of the pan and drizzle them all over the turkey.

Measure the internal temperature: The turkey needs to roast for approximately 15 minutes per pound. About 30 minutes before your calculated time start measuring the internal temperature at the thickest part of the breast by sticking the meat thermometer in horizontally from the neck/shoulder towards the thickest part. Once it reaches 155°F take the turkey out of the oven.

Rest the turkey then carve and plate it: Let the turkey rest for at least 30 minutes before carving it. For carving and plating instructions please watch the video.

Serve: Serve the turkey with the stuffing on the side and some apple sauce on top.
Nutrition
Calories:
609
kcal
|
Carbohydrates:
23
g
|
Protein:
70
g
|
Fat:
25
g
|
Saturated Fat:
8
g
|
Polyunsaturated Fat:
5
g
|
Monounsaturated Fat:
9
g
|
Trans Fat:
1
g
|
Cholesterol:
228
mg
|
Sodium:
5834
mg
|
Potassium:
948
mg
|
Fiber:
1
g
|
Sugar:
3
g
|
Vitamin A:
366
IU
|
Vitamin C:
7
mg
|
Calcium:
70
mg
|
Iron:
4
mg
What's your clean eating vibe?
Take this fun QUIZZ and find out in 10 seconds!