Forget about takeout when you make this super-flavorful Thai Chicken Cauliflower Curry at home. Protein-packed chicken and vegetables are cooked in a flavorful curry sauce.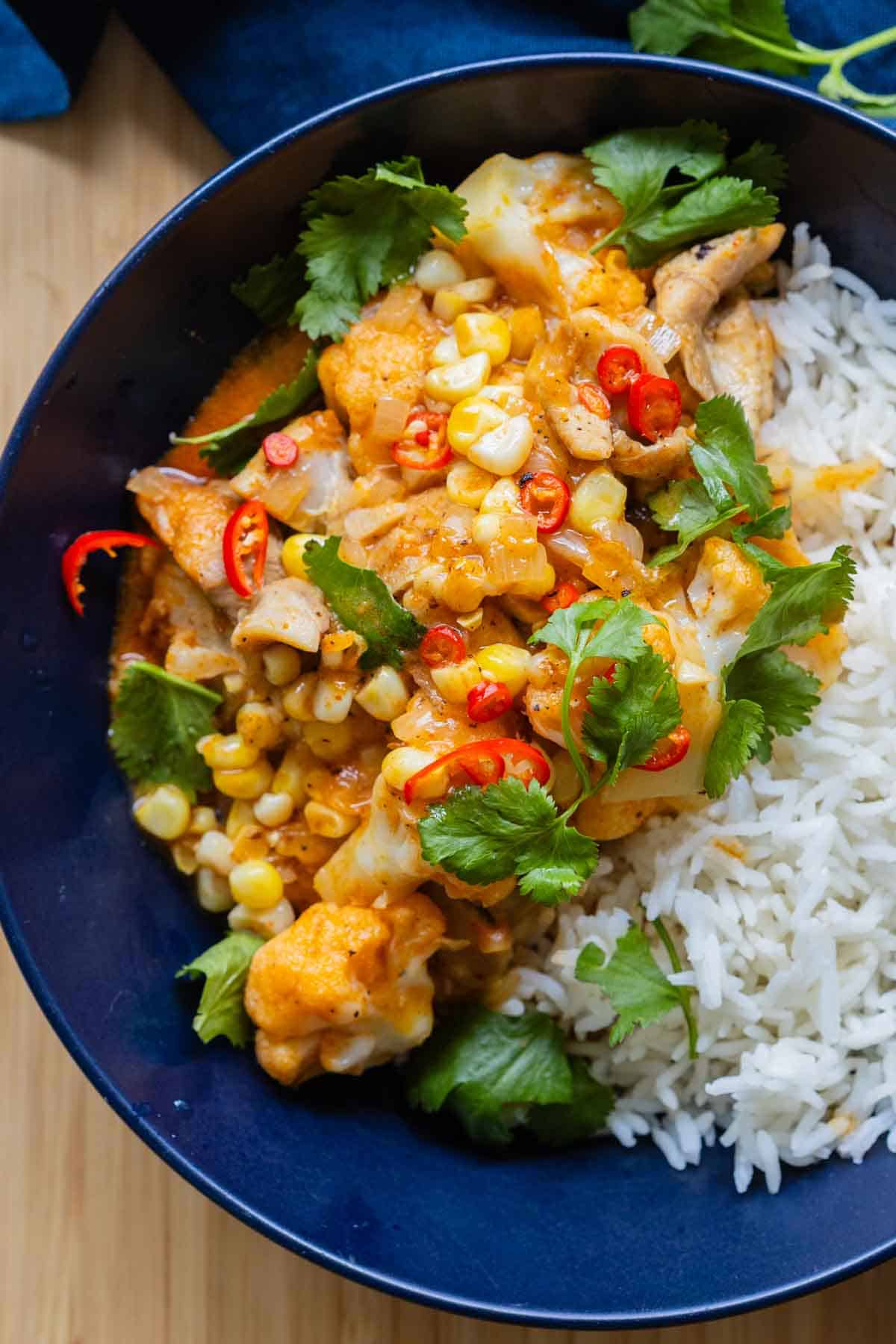 The number one reason you need this curry tonight is that it tastes AMAZING!!! *angelical-aaaaahhh*.
The second reason is it's a fantastic nutritionally balanced meal. If you've been on a healthy eating journey you know how important it is to balance protein, carbohydrates, and healthy fats. You know how important fiber in the form of vegetables is, and you know how clean eating and from-scratch cooking can help you nourish your body.
This Chicken Cauliflower Curry offers everything in one bowl. And if you love this meal you will also adore this quick and easy Thai Green Curry and this Coconut Curry Soup.
Ingredients & Substitutions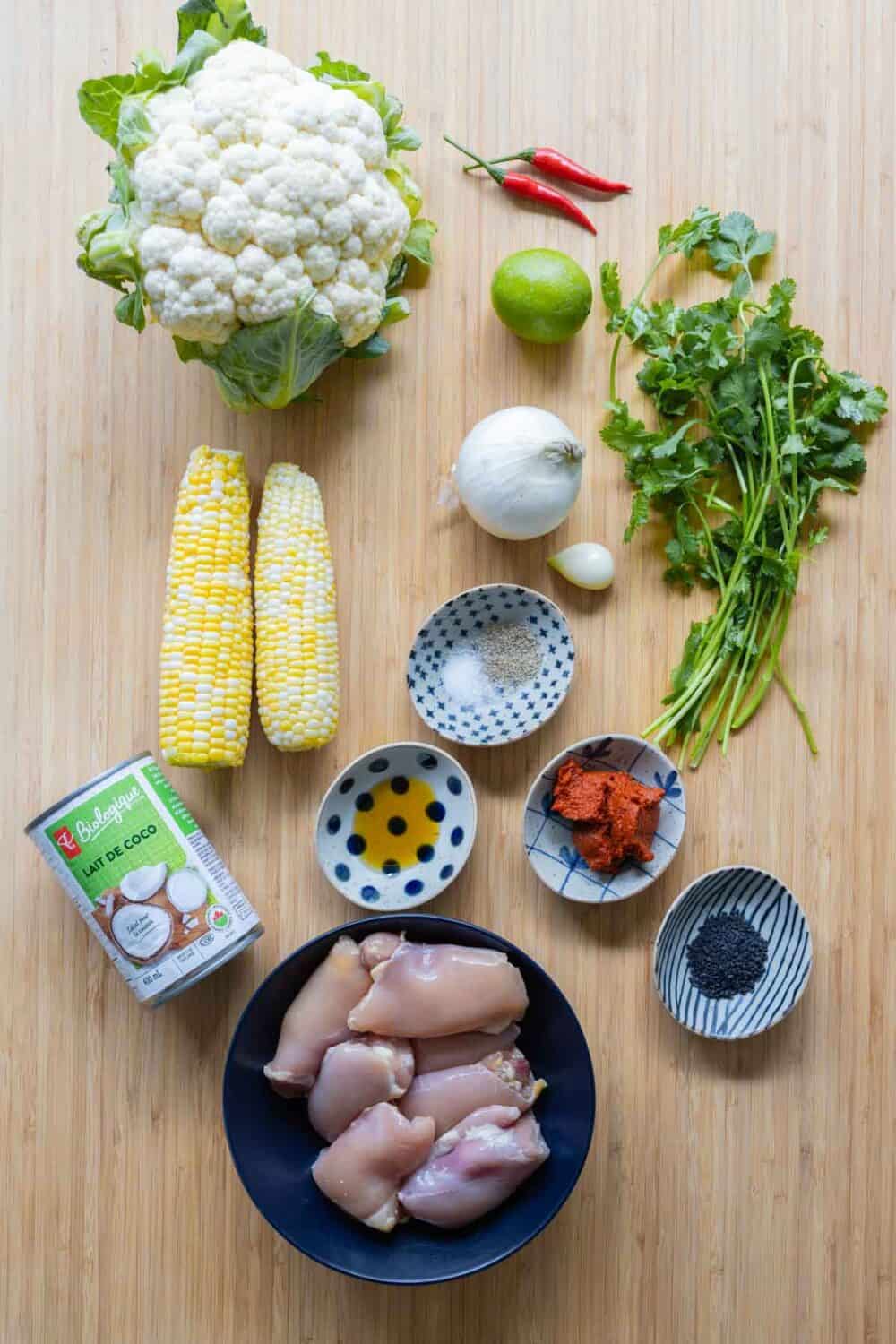 Onion & Garlic – as always the most important flavor-enhancers. I always recommend fresh but in a pinch, you could use 1 tsp dried ground onion and 1/4 tsp dried ground garlic instead.
Cauliflower – Cauliflower has tons of vitamin C and B6 and a good amount of folate, protein, and fiber. The best part though is that it sucks up all the delicious curry sauce. I love this vegetable because it absorbs so many flavors.
Corn – this is optional but highly recommended. It offers extra fiber and a delicious sweetness to the dish. You can save time by using frozen or canned instead of fresh.
Thai Red Curry Paste – my favorite brand is from Thai Kitchen (not sponsored) because it's made with all clean ingredients and it's not spicy so it's great for kids as well. You can add spiciness in the form of chili later to your plate.
Coconut Milk – I like using full fat but you can also use light if you want to reduce the fat content of your meal. However, the less fat your coconut milk the less creamy your curry.
Fish Sauce – this is optional but highly recommended. It gives a lot of flavor.
Toppings – these are all optional but change your curry from great to fabulous. Fresh lime juice tastes so good in curries. If you only want to add two toppings let it be cilantro and chili. Super delicious and also gorgeous to the eye. Sesame seeds (black or white) look super pretty on top as well but aren't a must. I myself forgot them, lol.
Serve over rice: here is a full tutorial on how to cook rice in the Instant Pot.
How to make Thai Chicken Cauliflower Curry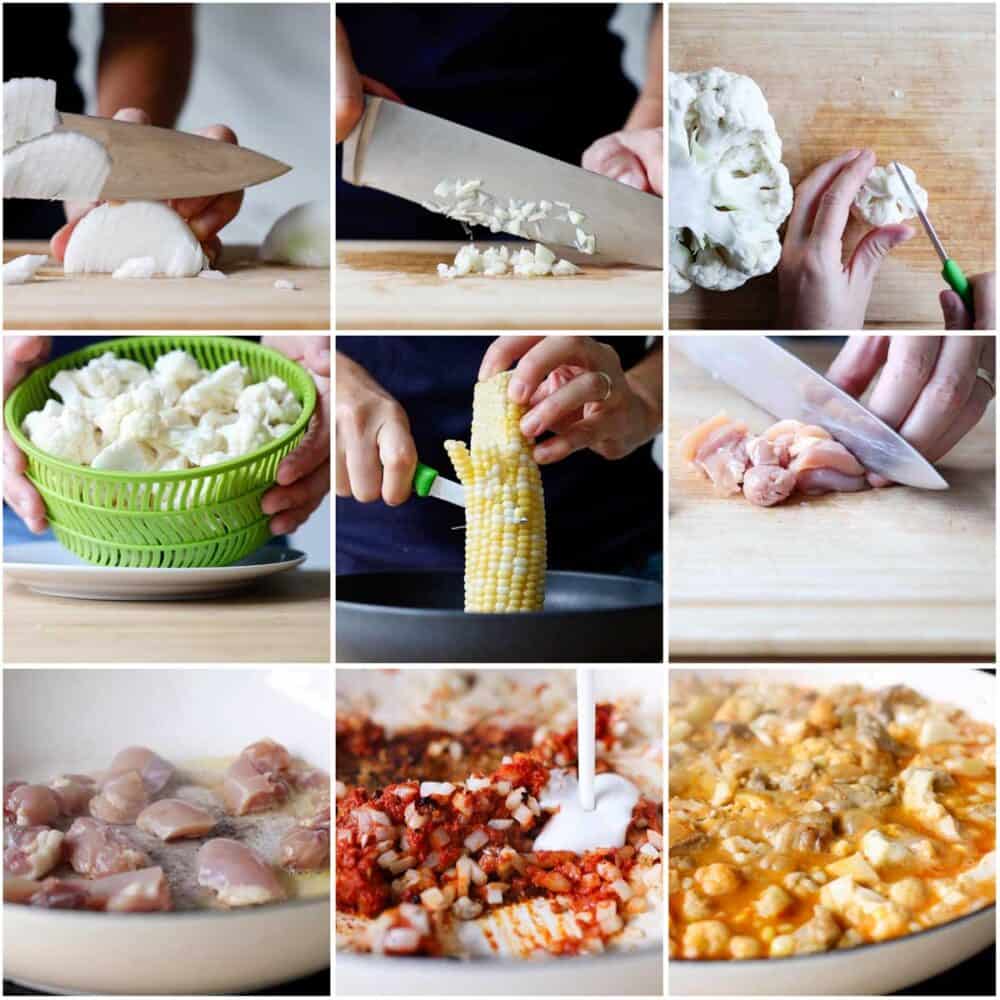 As an experienced cook you can start by cutting the chicken and brown it while you are chopping the veggies, to save on time. As a beginner, I recommend getting all the chopping out of the way first so you can focus on the cooking part and not risk anything burning.
It's really easy to make Thai Chicken Cauliflower Curry. You essentially just brown the chicken and then remove it from the pan and set it aside. Then stir-fry the onion and garlic, add the curry paste, coconut milk, and fish sauce, and mix well before adding all veggies and chicken back into the pan. Simmer first covered then uncovered and that's already it.
How to make Chicken Tender in a Curry
You HAVE to use chicken thighs (dark chicken meat) instead of breasts. It's the only way. Chicken breasts are best used with dry direct heat. Short period of itme on high heat. That's how you keep breasts juicy and tender.
For stews or anything cooked in sauce it's always better to use dark chicken meat such as skinless boneless thighs. They can withstand heat for a long time and become tender over time without drying out. That's all there is to it really. If you usually don't like thighs because you think they become "rubbery" it's because you ate thighs after cooking like breasts (high temp, little time). They are meant to be cooked longer than breasts to become tender.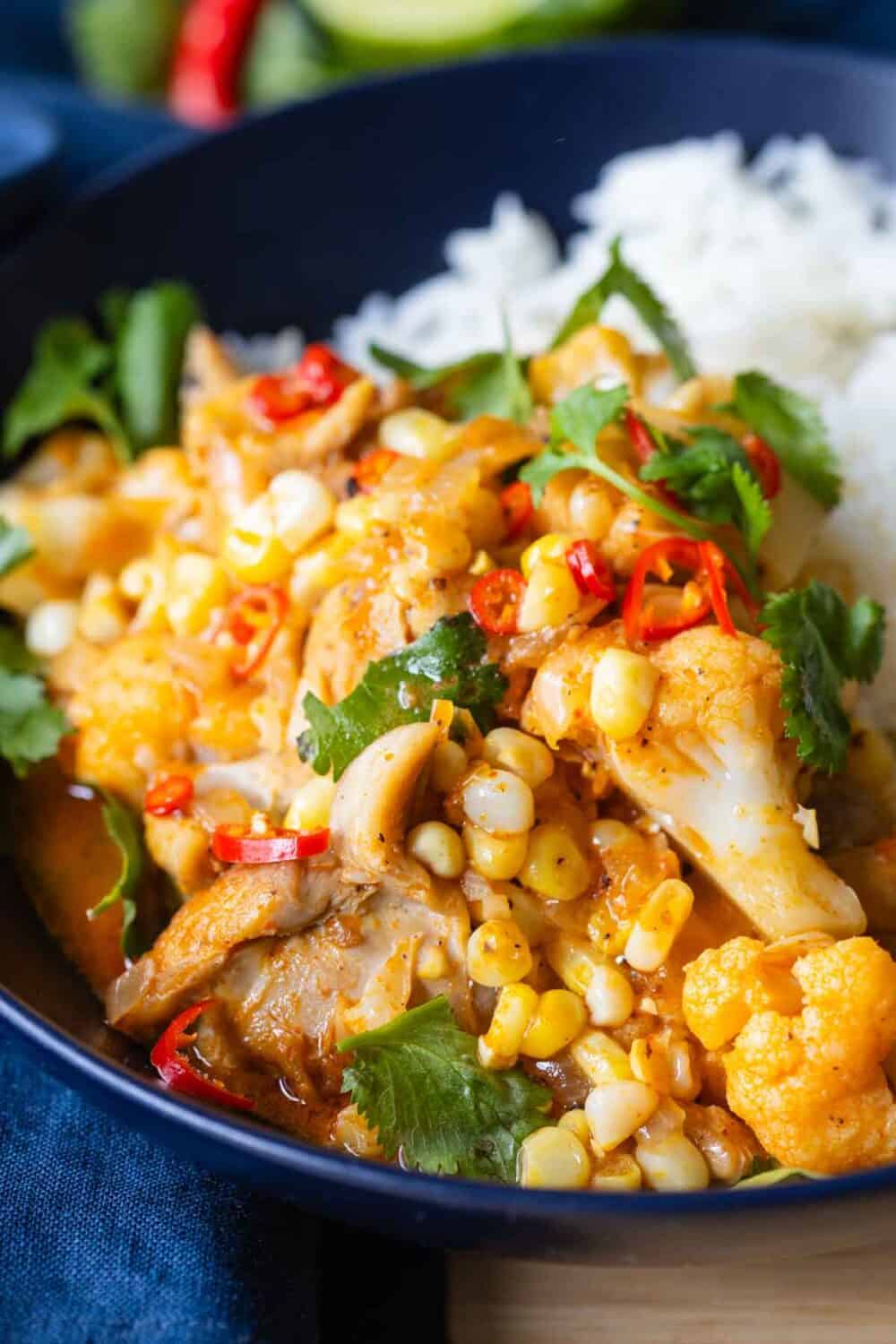 How long does Chicken Cauliflower Curry last in the fridge? And can you freeze it?
Most animal protein lasts 3-4 days in the fridge. So does chicken. Which makes this an amazing dish for meal planning for the week. Make a double batch and eat it Monday through Thursday as lunch.
You can also easily freeze this curry. If you plan on freezing it, I recommend undercooking the cauliflower. Add the chicken to the coconut curry first and after maybe 5 minutes the cauliflower florets. Cook until the chicken is done and the cauliflower is still a bit hard. That way you get to the perfect consistency when reheating your curry in a pan.
To defrost, put in the fridge 12 hours prior to eating and reheat in a pan or microwave. Alternatively, if you weren't able to plan ahead, reheat the frozen dish in the pan on low and moving constantly to avoid burning.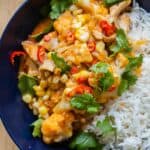 Thai Chicken Cauliflower Curry
Forget about takeout when you make this super-flavorful Thai Chicken Cauliflower Curry at home. Protein-packed chicken and vegetables are cooked in a flavorful curry sauce.
Print Recipe
Pin Recipe
Ingredients
1

onion

2

cloves

garlic

1

head

cauliflower

2

corn on the cob

-

or 1/2 cup frozen or canned corn

1

lbs

boneless skinless chicken thighs or chicken breast

3

Tbsp

Thai red curry paste

1

can

coconut milk

1

tsp

fish sauce

salt

pepper

cilantro for garnish

black or white sesame seeds

red chilli
Instructions
Peel and chop onion and garlic and set aside.

Remove green leaves and stem of cauliflower and cut into bite-size florets.

Remove corn kernels from the cobs and set aside.

Cut chicken thighs into bite size pieces.

Preheat a large pan over medium heat and once hot add a drizzle of oil and a knob of butter and once sizzling add the chicken in one layer and brown for about 2 minutes until golden and then flip to brown another 2 minutes on the other. Remove the chicken and set aside.

Add the chopped onion and garlic to the pan juices and stir-fry until translucent. Then add the curry paste and stir-fry until fragrant (about 1 minute) and then add the coconut milk and fish sauce and mix well until fully combined.

Add the chicken back into the pan as well as the cut cauliflower and corn kernels, bring to a boil, reduce heat to low, cover and let simmer for 5 minutes.

Remove the lid and let simmer for an additional 15 minutes or until the cauliflower reaches your desired softness, stirring every once in a while and making sure the cauliflower florets stay submerged in the coconut milk.

Serve over rice and sprinkle with cilantro leaves, freshly chopped red chili, and sesame seeds.
Nutrition
Calories:
424
kcal
|
Carbohydrates:
22
g
|
Protein:
29
g
|
Fat:
27
g
|
Saturated Fat:
20
g
|
Polyunsaturated Fat:
2
g
|
Monounsaturated Fat:
3
g
|
Trans Fat:
0.02
g
|
Cholesterol:
108
mg
|
Sodium:
283
mg
|
Potassium:
1090
mg
|
Fiber:
5
g
|
Sugar:
8
g
|
Vitamin A:
1891
IU
|
Vitamin C:
77
mg
|
Calcium:
85
mg
|
Iron:
5
mg
What's your clean eating vibe?
Take this fun QUIZZ and find out in 10 seconds!