This Peruvian-style mahi mahi recipe is absolutely incredible. It's so good you'll want to make it over and over again just because of the sauce!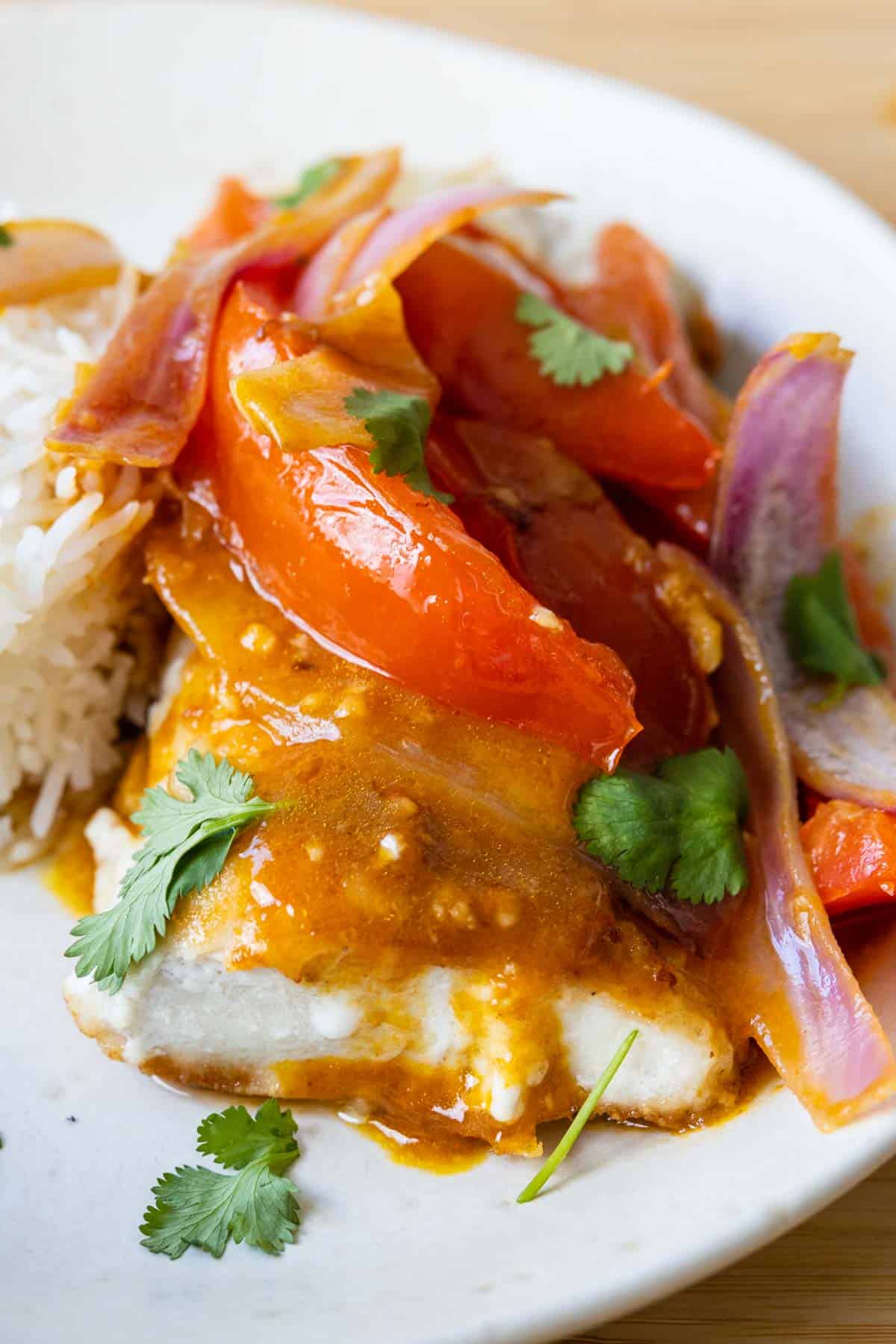 The secret ingredient to make it Peruvian-style is aji amarillo. This type of pepper is one of the most important ingredients in Peruvian cuisine and it is essential in many of their traditional dishes. Its flavor is hot, sweet and fruity. Perfect to pair up with fresh mahi mahi and served with a side of coconut rice or your favorite rice. Personally, I love cooking rice in the instant pot so I can leave it in the background while I focus on the main dish.
As opposed to Peruvian stores that commonly sell aji amarillo fresh, sometimes it is hard to find abroad. Outside of Peru, you can most likely find it pureed and sold in a jar. Hispanic grocers and Amazon tend to always carry it. However, if you can't find any kind of aji, you can use any other type of chili paste you can get your hands on such as sambal oelek.
Ingredients and Substitutions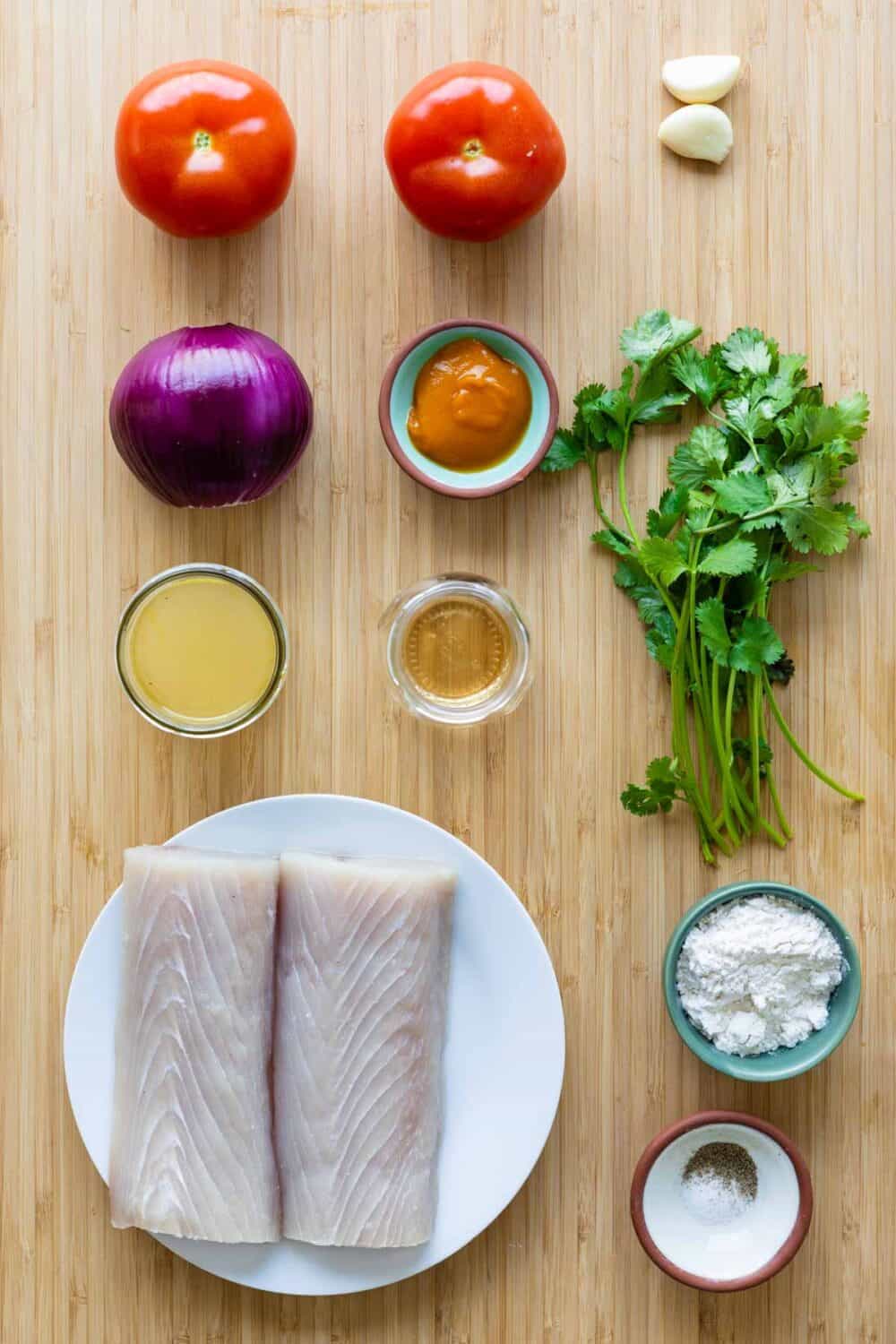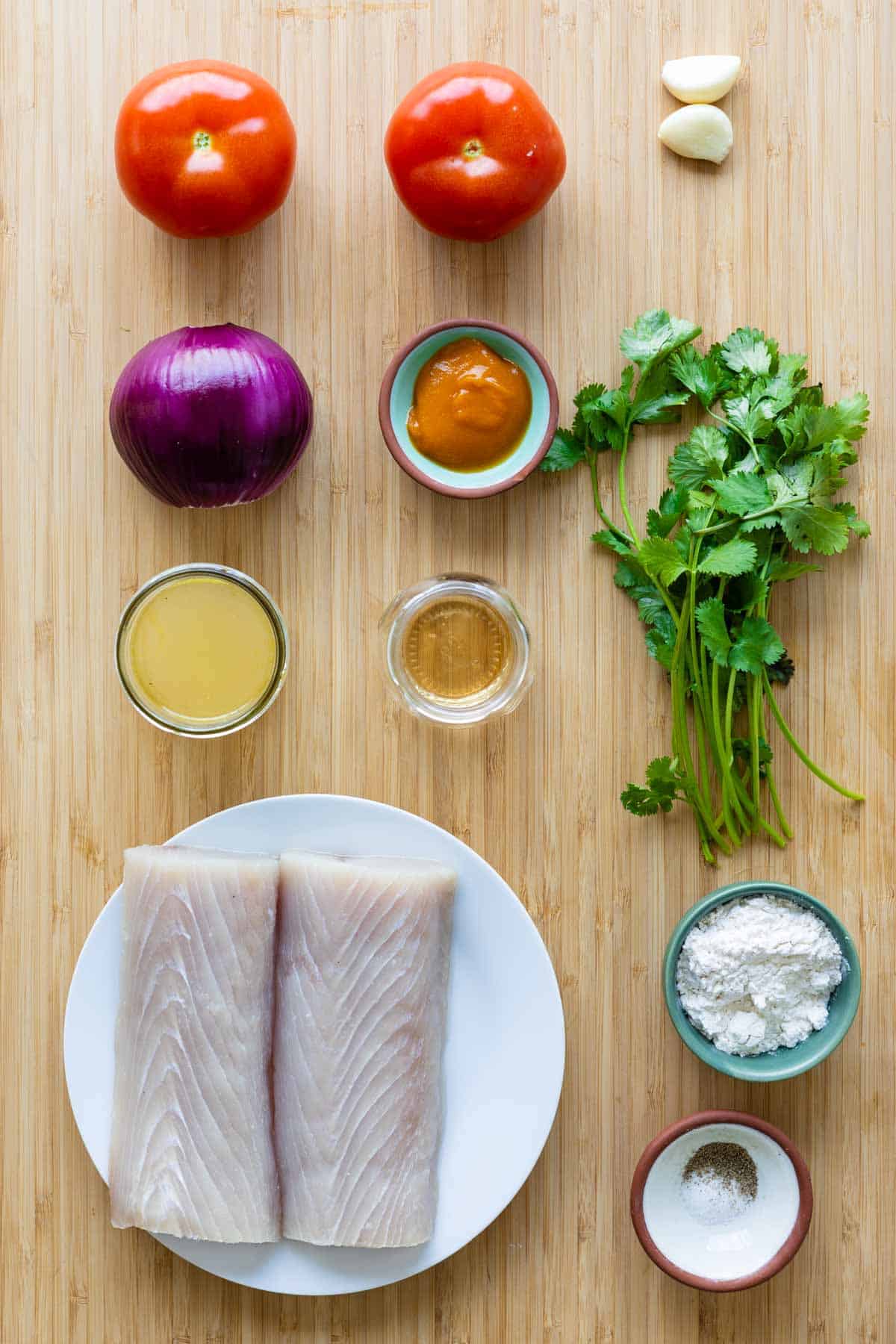 Aji Amarillo – as I mentioned above, I encourage you to try to find aji in any format, it is absolutely delicious, you won't regret it! If you must use a different chili paste, try sambal oelek or even sriracha.
Mahi Mahi – the mild taste of mahi mahi is the perfect base for a flavorful sauce. If you don't have any, Halibut is a great alternative for this recipe.
Red onion – the best tasting onion for this sauce in my opinion, but yellow or white onion can be used as well.
Tomatoes – for this recipe you need 2 large tomatoes or 3 tomatoes on the vine, depending on the size.
Garlic – I recommend using fresh garlic. You only need 2 cloves.
Avocado Oil – my personal favorite, but you can use any other high-smoke point cooking oil like sunflower or grapeseed oil.
Fish Broth – a key for this mahi mahi delicious sauce is fish broth, however you could also use chicken or vegetable broth diluted in half with water.
White Wine Vinegar – it can be replaced with unseasoned rice vinegar or apple cider vinegar if needed.
All-Purpose Flour – you can also use rice flour or chickpea flour, for a gluten-free option.
Cilantro – optional. You only need a few chopped leaves for garnishing.
How to make this Peruvian-Style Mahi Mahi Recipe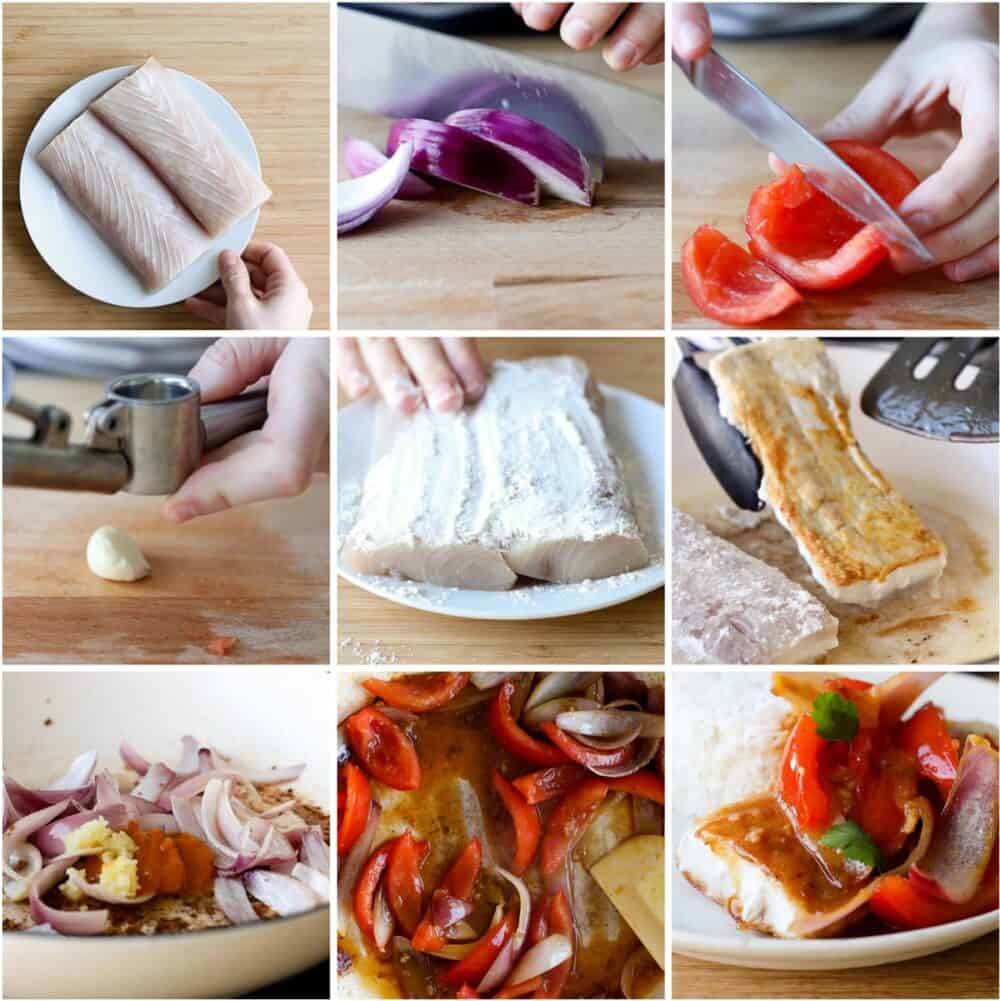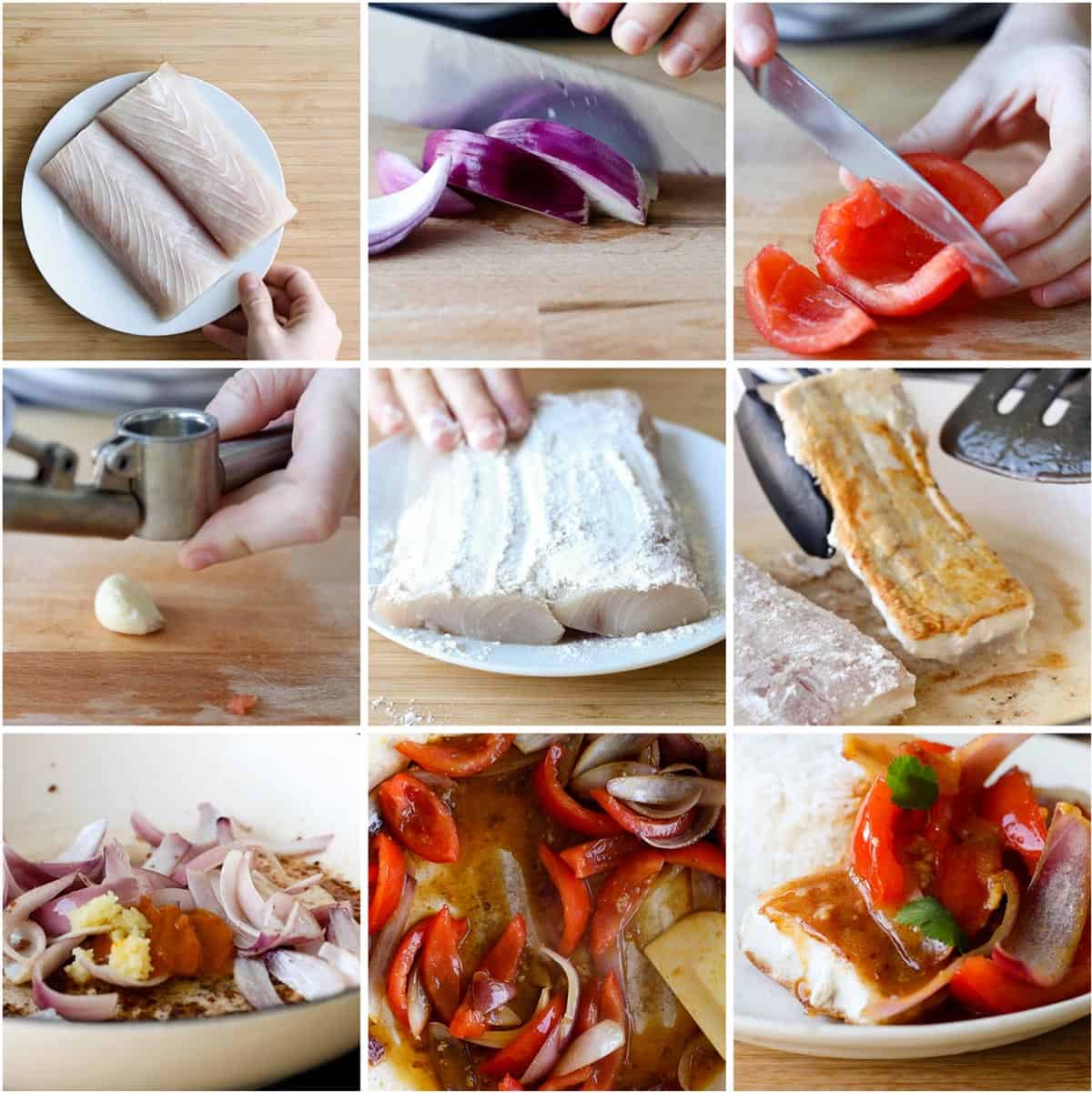 Start by taking the fish out of the fridge at least 20 minutes before it hits the pan so it is not too cold.
Get a chopping board and cut the red onion lengthwise into large strips.
Grab the tomatoes, cut them in half and deseed them. Discard seeds and cut them lengthwise into large strips as well.
Crush two garlic cloves with garlic press and set aside.
Preheat a large pan over medium heat. In the meantime, season fish with sea salt and pepper and cover it with all-purpose flour.
Add a generous drizzle of avocado oil to the hot pan and fry the fish until cooked to your liking. I cook mine for about 3-4 minutes per side. Remove the fish from the pan and keep warm.
Add the red onion to the same hot pan and fry for a few minutes until it starts to soften. Then add 2 Tbsp of aji amarillo and the crushed garlic and fry for another minute.
Add the sliced tomatoes and ¼ cup of fish broth. Let simmer for 1-2 minutes and then add a splash of white wine vinegar. Stir well.
Serve your mahi mahi on a plate and pour the delicious Peruvian sauce on top, garnish with some chopped cilantro if you like. Grab a fork and enjoy!
Frequently Asked Questions
What does mahi mahi taste like?
Mahi Mahi is a very mild fish and the texture almost resemles chicken, not as flakey as many other types of fish.
Is mahi mahi healthy?
Mahi Mahi is an excellent source of lean protein. It is rich in B vitamins, Niacin, and contains plenty of Selenium.
How do you know when mahi mahi is done?
When it easily flakes, it is done. Alternatively, measure its internal temperature. It should reach 130°F and then be removed from the heat right away. The internal temperature will keep rising another 5-10 degrees while resting. Do not overcook fish or it will become super dry.
If you want to try some other mouthwatering Peruvian recipes, I recommend this Peruvian Green Rice and Salsa Criolla. Your tastebuds will thank you!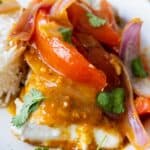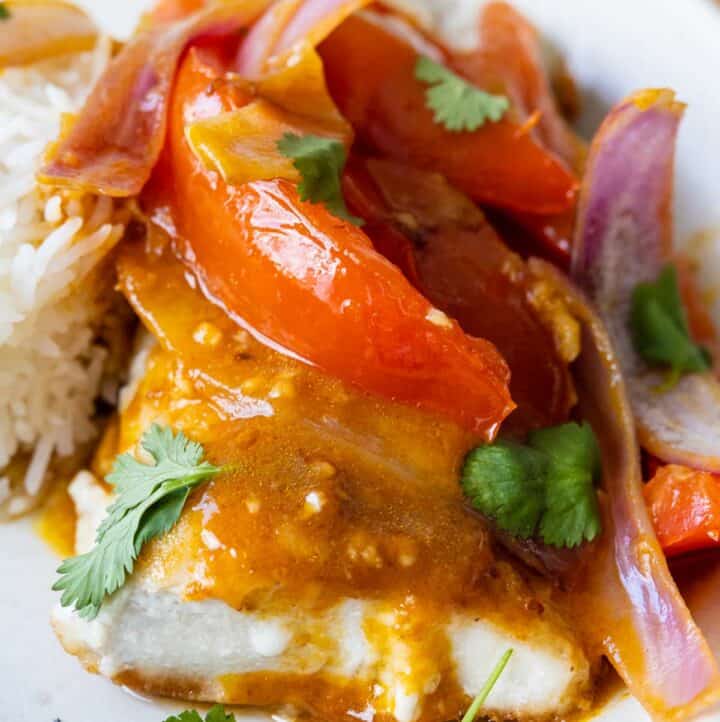 Peruvian-Style Mahi Mahi Recipe
This Peruvian-style mahi mahi recipe is absolutely incredible. It's so good you'll want to make it over and over again just because of the sauce!
Print Recipe
Pin Recipe
Ingredients
2

mahi mahi fillets

sea salt

pepper

2

Tbsp

all-purpose flour

1/2

red onion

2

tomatoes

2

cloves garlic

2

Tbsp

ají amarillo

-

or sambal oelek

1/4

cup

fish broth

-

or any other broth

1

Tbsp

white wine vinegar

cilantro for garnish
Instructions
Take fish out of the fridge about 20 minutes befor it hits the pan so it isn't too cold. Season with sea salt and pepper on both sides, then cover with flour all over and set aside.

Cut onion into thick stripes. Half tomatoes, deseed, and cut into equally thick stipes. Crush garlic.

Preheat a pan over medium heat and once hot add a generous amount of avocado oil.

Add the floured fish to the hot oil and fry for 3-4 minutes per side depending on the thickness, until it's golden brown. Remove from the pan and keep warm.

Add onions to the leftover oil and stir-fry until starting to soften. At this point add ají amarillo and crushed garlic and sauté for another minute or so.

Add tomatoes and fish broth and stir for 1 minute, then add vinegar, give one last stir and serve onion tomato mix over mahi mahi.

Sprinkle with fresh cilantro and enjoy.
Nutrition
Calories:
232
kcal
|
Carbohydrates:
19
g
|
Protein:
35
g
|
Fat:
2
g
|
Saturated Fat:
1
g
|
Polyunsaturated Fat:
1
g
|
Monounsaturated Fat:
1
g
|
Cholesterol:
124
mg
|
Sodium:
170
mg
|
Potassium:
1147
mg
|
Fiber:
2
g
|
Sugar:
6
g
|
Vitamin A:
1377
IU
|
Vitamin C:
22
mg
|
Calcium:
56
mg
|
Iron:
3
mg
What's your clean eating vibe?
Take this fun QUIZZ and find out in 10 seconds!