Homemade mayonnaise is a quick condiment that can be made with typical pantry items. This recipe makes mayo that is fresher than anything you can buy from a store!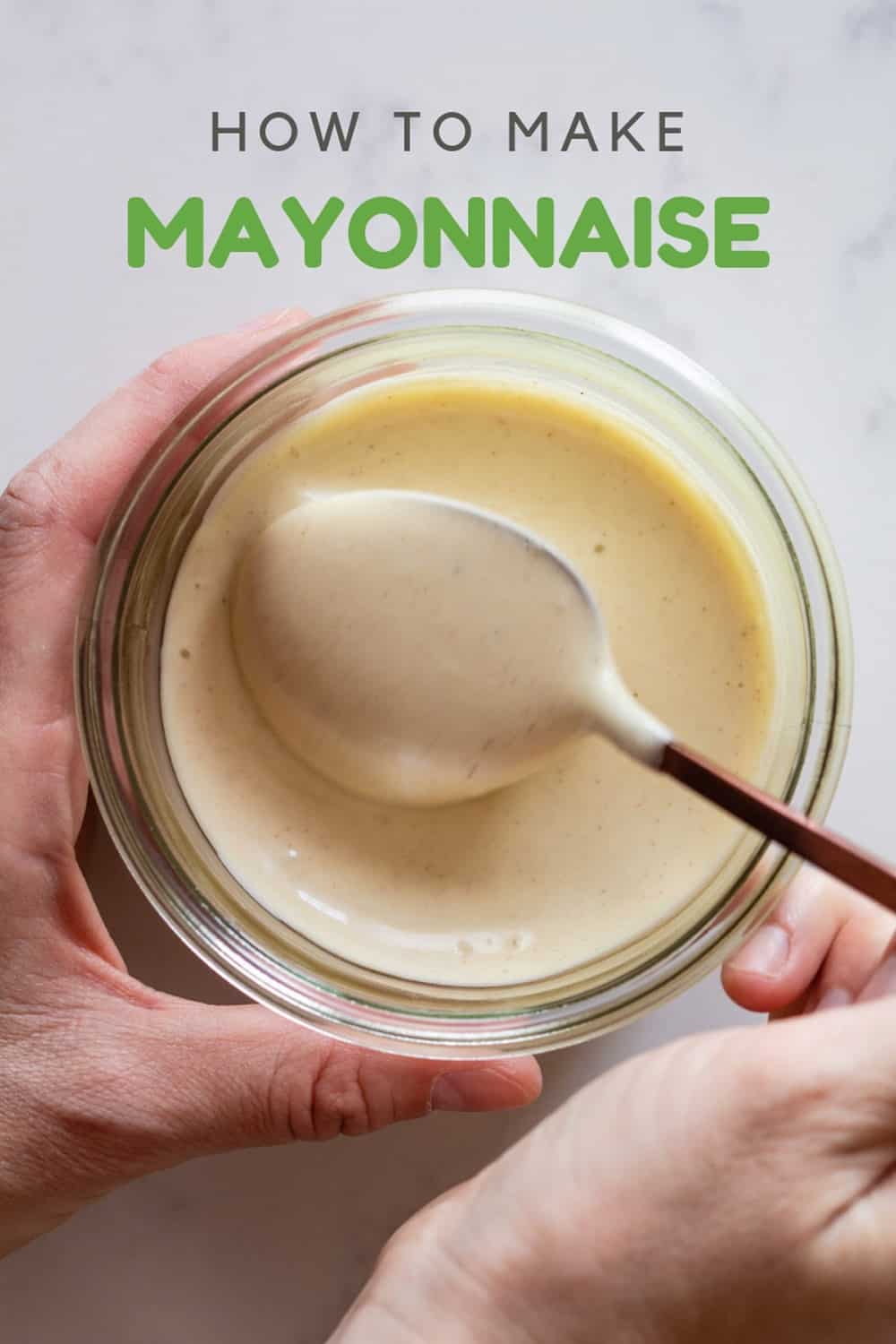 Is homemade mayo safe to eat?
As long as caution is taken in the making and storage of homemade mayonnaise, it is safe. That being said, the USDA does not recommend eating raw eggs that are uncooked or undercooked due to salmonella risk. The best way to avoid the risk is to use pasteurized eggs.
The freshness of the egg also dictates how long it can be stored safely in the refrigerator. The acid of the lemon juice will help to kill any bacteria that may be in the egg, but one to two weeks is the maximum homemade mayonnaise should be used.
The first sign that it is starting to turn is when it starts to separate. If there is any "off" aroma, change of color or mold spores, discard immediately.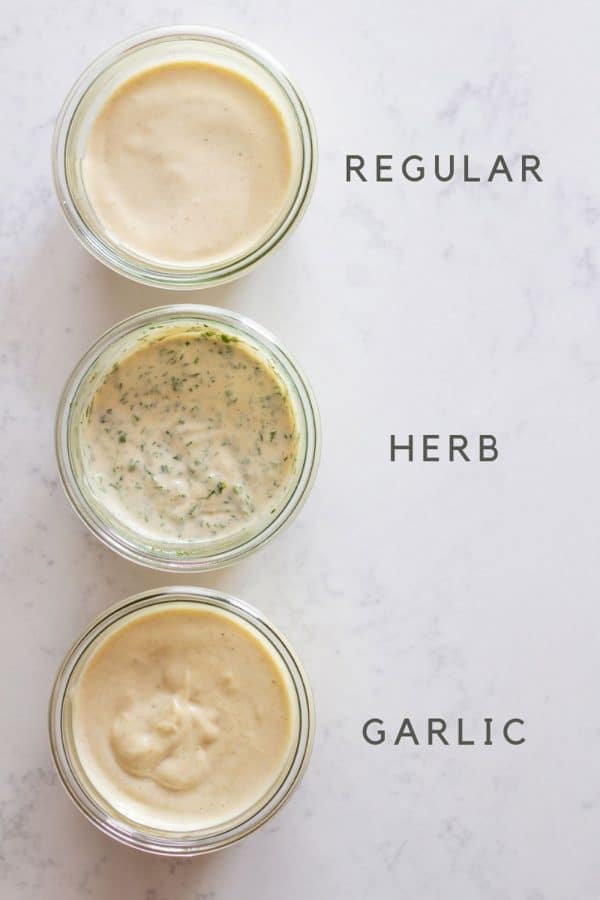 Which oil is best for making mayonnaise?
Olive oil, while popular for a variety of cooking, may taste bitter in mayonnaise. Avocado oil is flavorless and provides a much better canvas for the basic mayo and is my personal favorite. If using olive oil is important, use just 1/4 cup along with 3/4 cup of a flavorless oil. Other great options would be grapeseed oil or safflower oil.
The key to making great homemade mayonnaise is to add the oil in a steady stream. If too much is added at one time, the mayonnaise may curdle and be unusable.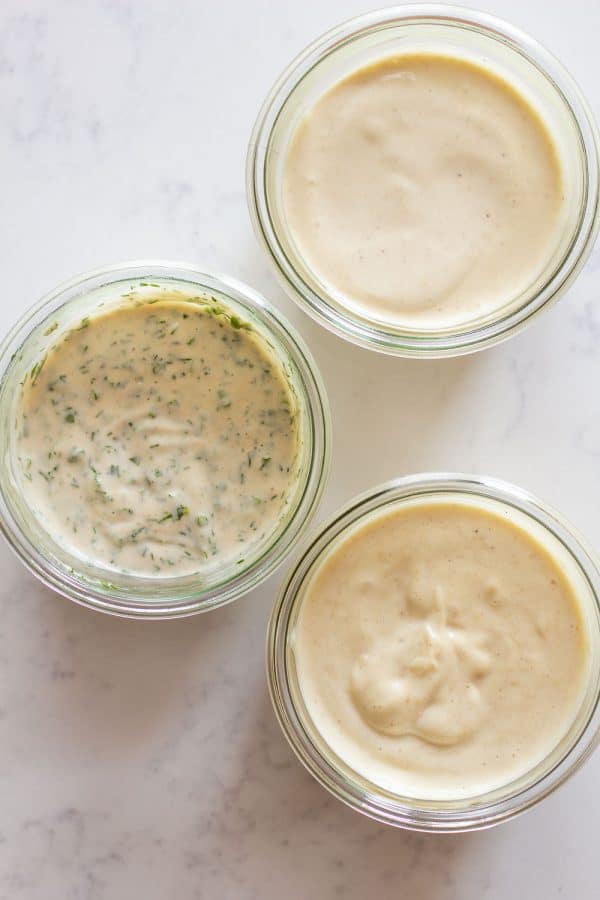 How do you make homemade mayonnaise?
An immersion blender is the best way to fully combine all the ingredients for homemade mayonnaise. Use a tall narrow jar that is just wide enough for your immersion blender to still be able to touch the bottom.
Start with blending the mustard, lemon juice, salt, pepper, and egg then add the oil in a slow stream. Do not turn the immersion blender off or remove it from the jar until completely blended.
Without constant blending, the mayo could curdle. The more oil added, the thicker the end product will be. Also, do not over-blend. This could result in curdling as well. There is a balance to strike that may take some practice.
Nutritional Information
Mayonnaise has a bad reputation for being unhealthy and exceptionally high in fat. While it does have about 90 calories per tablespoon, it can be made with healthy fats.
Additionally, some store-bought mayo includes unnecessary sugar. Making your own takes about five minutes and as a result, you won't need to worry about what may be hiding inside!
Generally, a tablespoon or so is all you'll need for most dishes. Using too much will not only jump the fat and calorie count but can also be too filling and heavy on your stomach.
Delicious ways to use homemade mayonnaise
In my salmon burger recipe, garlic herb mayonnaise is used to boost the flavor of the burger.
I use the plain homemade mayonnaise when I make chicken salad with grapes. In my grilled chicken burger recipe, I use the plain mayo as a light, refreshing topping.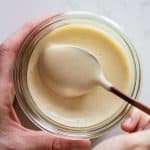 Homemade Mayonnaise
Homemade mayonnaise is a quick condiment that can be made with typical pantry items. This recipe makes mayo that is fresher than anything you can buy from a store!
Print Recipe
Pin Recipe
Ingredients
1

Tbsp

dijon mustard

1

Tbsp

fresh lemon juice

1

egg

sea salt

pepper

1

cup

avocado oil

-

or any other flavorless high quality oil

1

bulb

garlic

-

optional for garlic mayonnaise

1/2

cup

herbs (dill, parsley, chives, cilantro, basil....)

-

optional for herb mayonnaise
Instructions
Add mustard, lemon juice, egg, sea salt and pepper to a tall jar in which your immersion blender fits all the way to the bottom. *it cannot be a wide jar, it has to be a narrow and tall jar but wide enough so the immersion blender can touch the bottom.

Turn on the immersion blender on high and blend for 10-15 seconds.

Then add approximately 1 cup of oil (maybe more depending on the size of the egg, so have more on hand) in a steady thin stream while the immersion blender is constantly going. The stream should be about as thick as a thick spaghetti and the blender has to be on all the time (see video).

Once the immersion blender has a hard time blending in the oil anymore because the mayo is becoming too thick, you start moving the immersion blender up an down a little adding very little more oil from that point on until you reach your desired consistency. (Creamy liquid or thick and spreadable). The thicker you want it, the more oil you'll want. Be careful at this point to not over mix or you mayonnaise will start curdling.

Once the mayo is done you can store it in an airtight container in the fridge for up 1-2 weeks depending on how fresh the egg was. At this point you can also flavor the mayo further.

Herb Mayonnaise: for the herb mayonnaise all you do is finely chop up about 1/2 cup of soft herbs (I don't recommend hard herbs like rosemary/thyme etc. they are pretty strong and hard uncooked) and mix them into the mayo. Use either parsley, dill, chives, cilantro, basil or a combination of them. Herb mayo does not last as long as regular or garlic mayo.

Garlic Mayonnaise: you can either use 1/4 cup of the finished mayo and blend it with 1-2 cloves of raw garlic until super smooth and then mix back into the big batch of mayo OR what I prefer: roast 1 bulb of garlic (papery peel off, but cloves intact and top ends cut off > see video) in a cocotte or in aluminum foil in a 400F preheated oven for 40-50 minutes, then add the peeled roasted garlic cloves to about 1/4 cup mayo and blend, then mix back into the big batch of mayo.
Notes
*if the oil is added in an unsteady stream, too much at one point, you risk the mayonnaise curdling
*if you don't run the immersion blender consistently, you risk the mayonnaise curdling
*I do not recommend olive oil for mayonnaise, it tastes very bitter. If you want to use olive oil I recommend using maximum 1/4 cup olive oil and 3/4+ cups flavorless oil
Nutrition
Calories:
90
kcal
|
Carbohydrates:
1
g
|
Protein:
1
g
|
Fat:
10
g
|
Saturated Fat:
1
g
|
Cholesterol:
7
mg
|
Sodium:
10
mg
|
Potassium:
3
mg
|
Fiber:
1
g
|
Sugar:
1
g
|
Vitamin A:
10
IU
|
Vitamin C:
0.2
mg
|
Calcium:
1
mg
What's your clean eating vibe?
Take this fun QUIZZ and find out in 10 seconds!