A great alternative to turkey during the holidays is Two Whole Roasted Chickens. Spoil and impress your guests with a quick and easy but tasty recipe.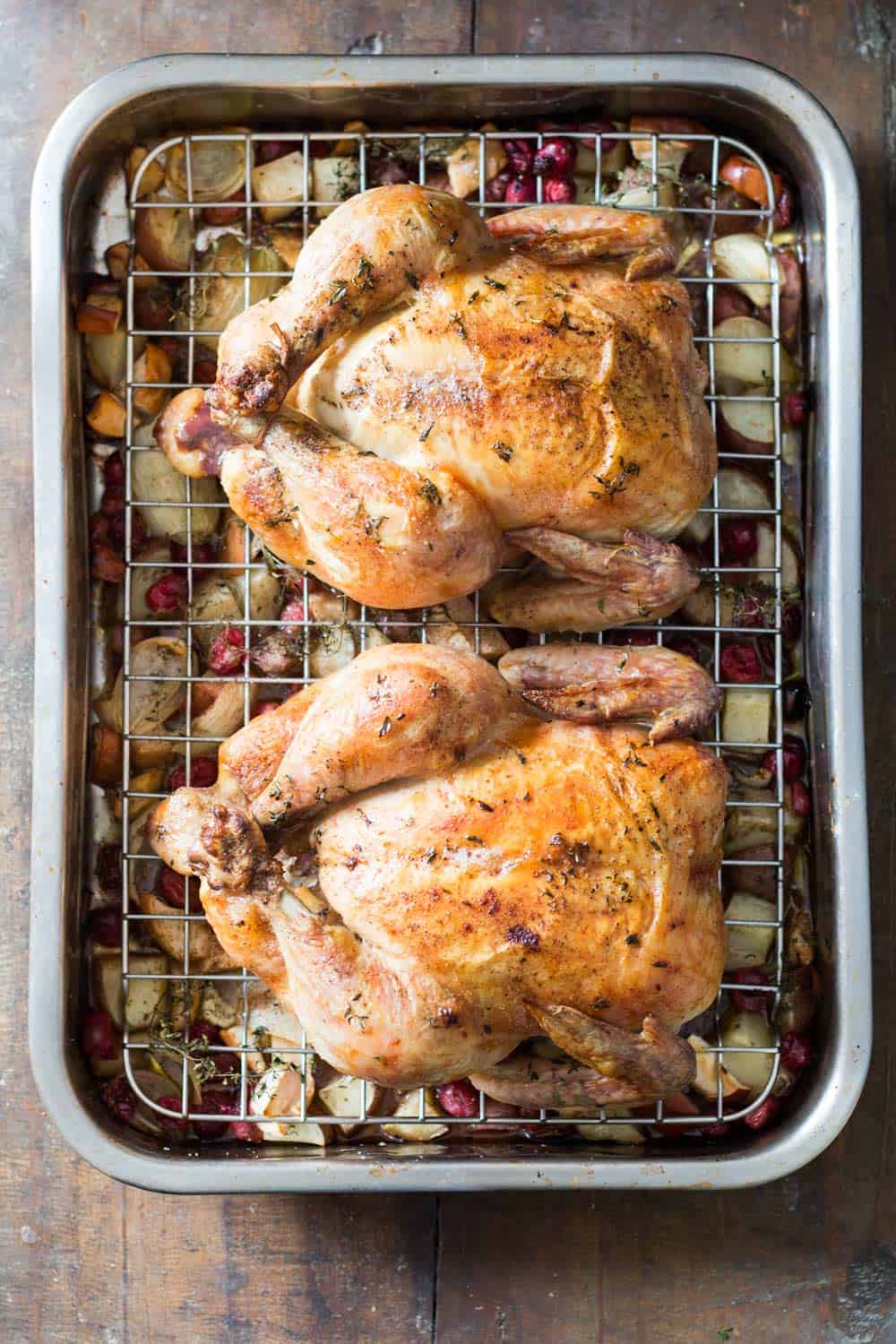 Two whole roasted chickens take a lot less time to prepare, and also a lot less space in the oven than a roasted turkey and they taste absolutely amazing. Roasting a chicken is an easy thing. Roasting two is the exact same.
A lot of people feel intimidated when it comes to roasting a whole chicken when in fact it is easy peasy! I'm not saying that with my chef's hat on but as my former self who found out after roasting a whole chicken for the first time how easy it really is. I was totally amazed and to be honest, I felt a bit silly for having been scared.
For a holiday dinner with friends and family over, one whole roasted chicken is not enough food of course. I did wonder if roasting two chickens would take longer than roasting one. I ran some tests and here you have all the info you need to succeed in the process :)
First of all, I wanted to make it festive and add some cranberries to the dish. Since cranberries are suuuper sour though I needed to counteract the sourness with some sweetness and apples and maple syrup seemed to be the best combo for that.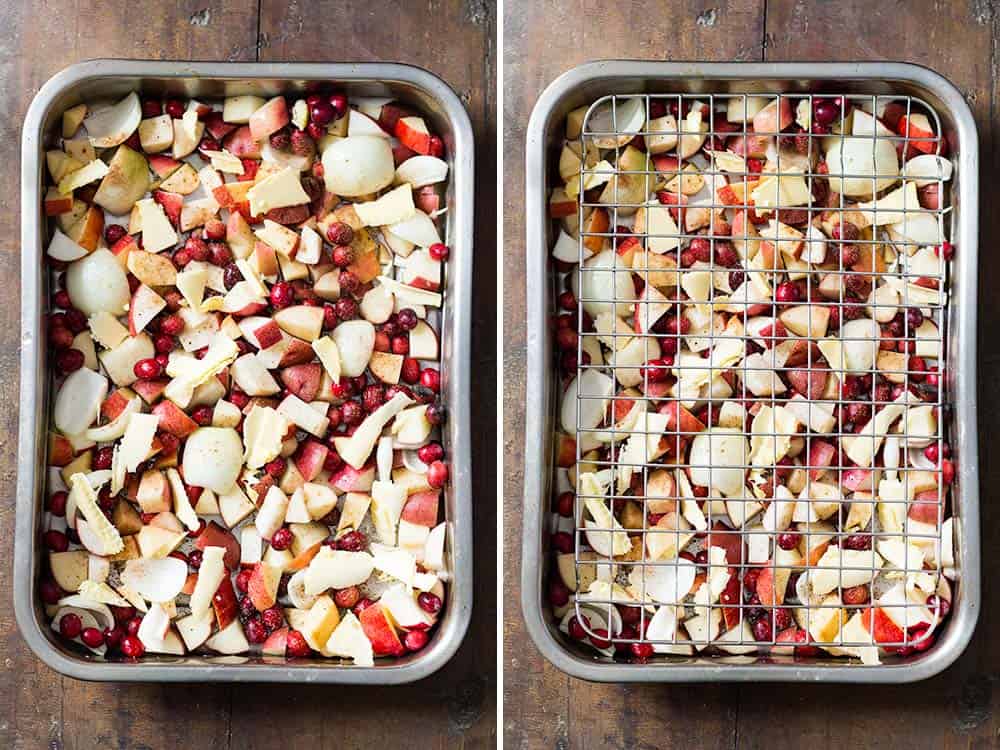 I really liked how the "side dish" of potatoes, apples and cranberries turned out. If you don't like cranberries or if you want to keep the dish completely savory because you have a big and sweet dessert up your sleeve I suggest you exchange the fruits for other root vegetables such as cut up carrots and celery.
If you have decided on a different side-dish altogether already, you may want to check out this differently seasoned whole chicken recipe. It has a few more spices that would not have gone well will the cranberries but certainly with other vegetables you are considering making as a side :)
How long to roast two whole chickens
Two whole roasted chickens take the exact same amount of time in the oven as one whole roasted chicken.
Now after testing and reflecting, of course, this makes total sense. Duh! The amount of time a whole chicken takes to roast depends on its weight alone. The weight basically tells how deep the heat has to go from it's surface to the center. If you roast two chickens at the same time, the thickness from surface to center doesn't change.
That being said, here is the magical formula for juicy and tender but cooked through chicken:
20 mins / lbs + 20 minutes
In words: twenty minutes per pound (450g) plus twenty extra minutes.
I used a 1850 g and a 1900g chicken which are each just a tiny little bit over 4 lbs. Four times 20 minutes equals 1:20 hours plus the additional 20 minutes equals 1:40.
Do NOT combine the weight of both chickens to do your calculation. As I mentioned above, two chickens need the same amount of time in the oven as one single one. One 4 lbs chicken takes 1:40 and two 4 lbs chicken also need 1:40 in the oven. (<- very important point for success).
Roasting a turkey takes longer than two chickens because the meat, surface to center, is much much thicker. The heat coming from the outside has to go a longer way.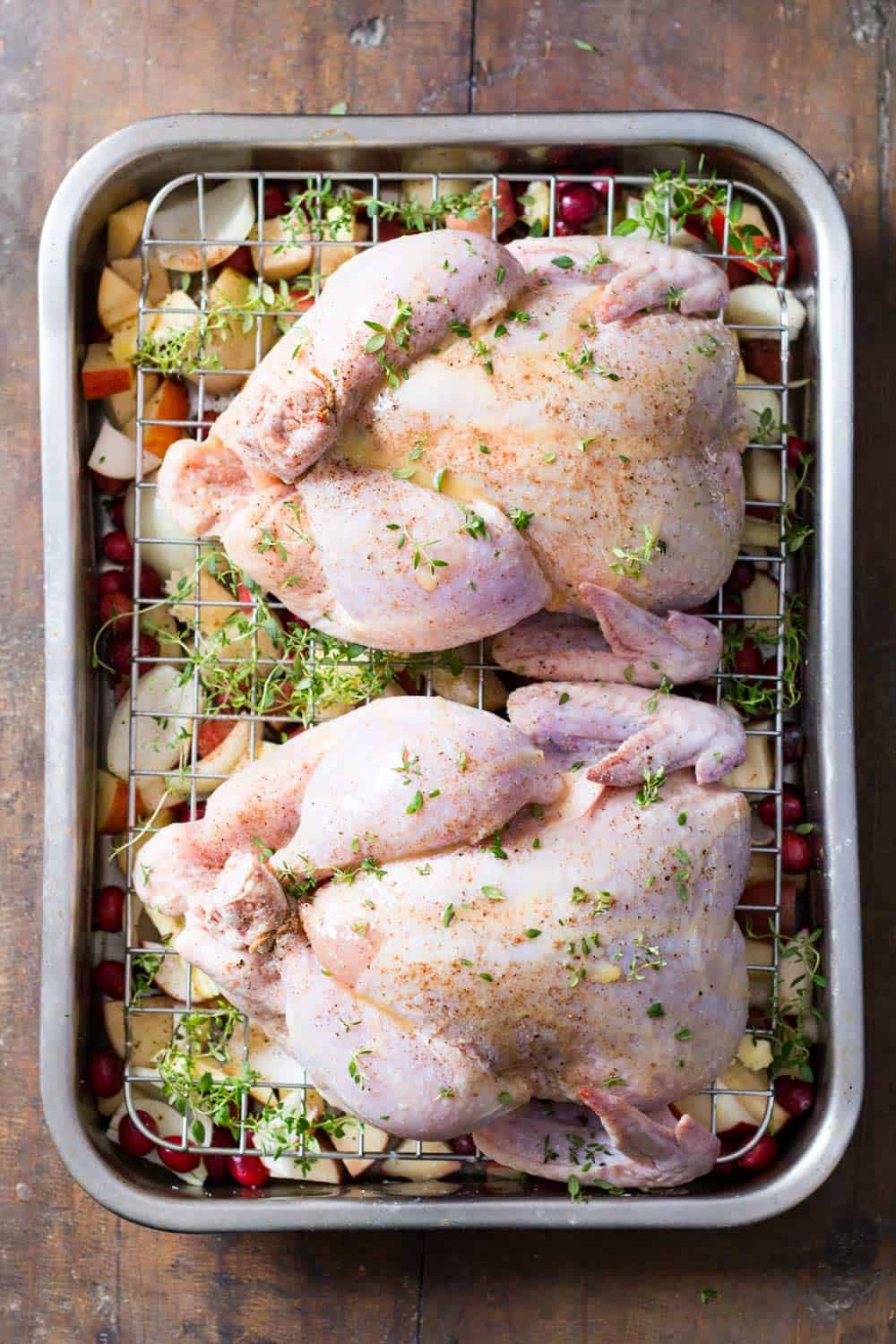 Things to consider when making two whole roasted chickens
Firstly, and most importantly, both chickens have to be the same weight! It is best if their weights are within 3.5oz (100g) of each other. If you have different size chickens, either the smaller one will be totally dry or the bigger one undercooked.
Secondly, never, ever, ever, remove the skin when you roast a whole chicken. The skin protects the flesh from drying out during the roasting process. You don't have to eat that delicious crunchy, crusty skin at the end :P but by all means leave it on for the roasting process.
Thirdly, don't be shy when seasoning the chicken. Be generous. Remember, all salt and pepper will only be on the surface but you will eat a lot of meat that wasn't exposed to seasoning. Season generously to the sauce that forms at the bottom of the pan and which will end up on your slice of meat ends up well seasoned.
Lastly, never cut into a roasted chicken right out of the oven. Let the juices redistribute first. Leave it untouched for 10 minutes, then cut into it.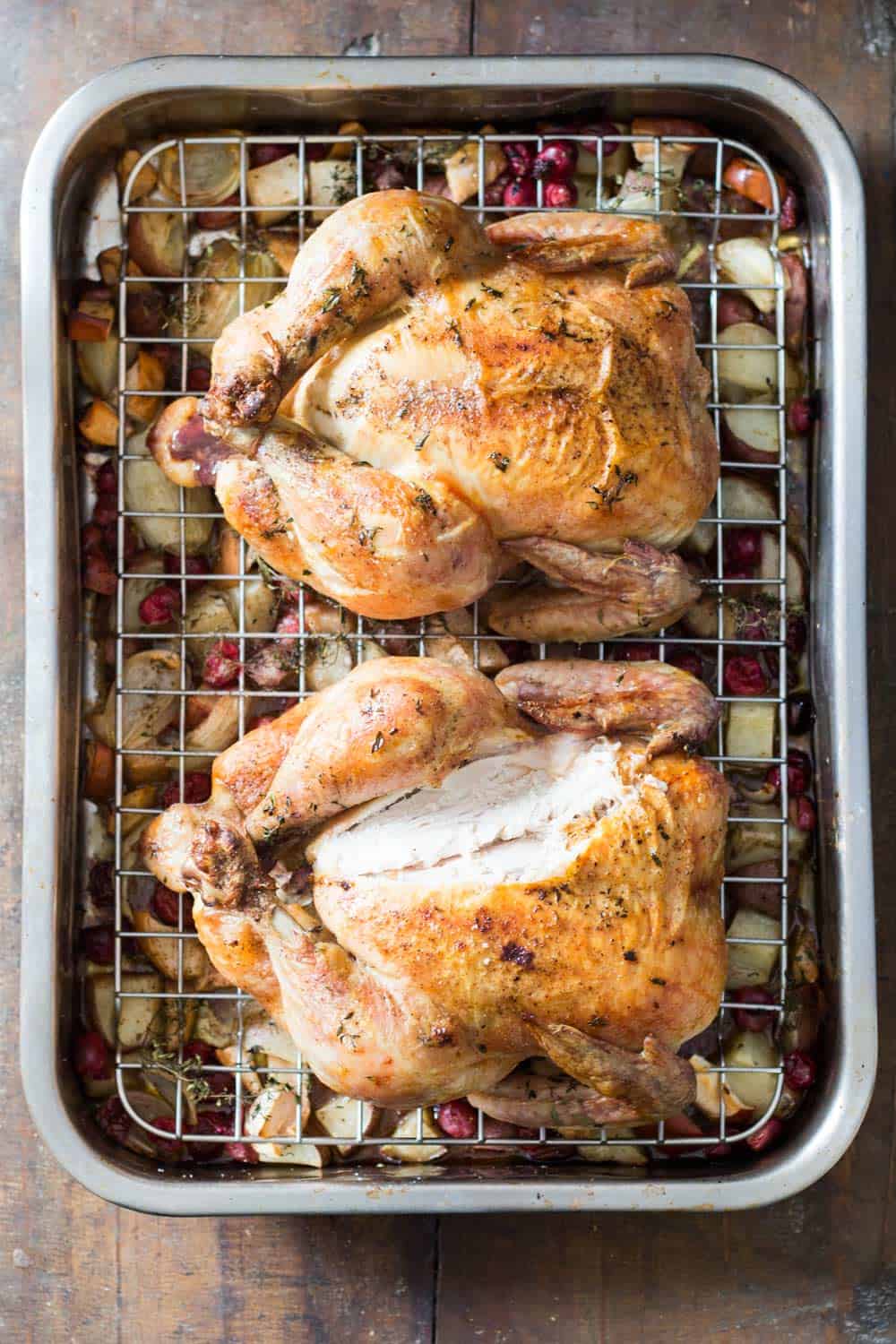 If you haven't made up your mind yet about what kind of main dish you want to make for the holiday get togethers and need more inspiration, make sure you scan this Roast Lamb Shoulder and this Instant Pot Pot Roast.
If you want an additional side dish for these two whole roasted chickens, I recommend you check out Green Healthy Cooking's most popular side dish: Bacon-Wrapped Green Beans. YUUUUUM!!!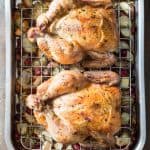 Two Whole Roasted Chickens
A great alternative to turkey during the holidays is Two Whole Roasted Chickens. Spoil and impress your guests with a quick and easy but tasty recipe.
Print Recipe
Pin Recipe
Ingredients
2

whole fridge-cold chickens

1.5

lbs

baby red potatoes

2-3

large

sweet apples

2

medium

onions

1/2-1

cup

fresh cranberries

1/4

cup

butter

3

Tbsp

avocado oil

1/4-1/3

cup

maple syrup

-

(amount will depend on sweetness of apples and how much you like cranberries)

sea salt

pepper

fresh thyme
Instructions
Preheat oven to 450 F.

Wash and dry potatoes and apples, no need to peel either. Peel onions.

Cut potatoes and apples and onions into 2" squares (remove apples' cores).

Add all fruits and vegetables to the bottom of the roasting pan making sure they cover the whole bottom but only in one layer (as shown in photo above).

Add salt, pepper, 1 Tbsp of olive oil and maple syrup to fruits and vegetables and mix well with your hands to make sure all are covered in marinade. Then redistribute again to form an even layer. Spread thinly cut up butter all over the place and place roast rack on top.

Paper-towel dry chickens, hold over roasting pan, and use your hands to cover each chicken with 1 Tbsp of avocado oil while excess drips into roasting pan.

Salt and pepper chickens generously all around and place on roasting rack, then add thyme all over the place.

Place roasting pan with both chickens on the middle shelf in the oven, immediately reduce heat to 400F (<- VERY IMPORTANT!!) and roast for 20 minutes per pound (450g) plus an additional 20 minutes. (*see notes)

Once out of the oven, let rest for at least 10 minutes before cutting into it.
Notes
Roasting time
2 lbs chickens = 1:00
3 lbs chickens = 1:20 
4 lbs chickens = 1:40
5 lbs chickens = 2:00
Nutrition
Calories:
408
kcal
|
Carbohydrates:
16
g
|
Protein:
25
g
|
Fat:
26
g
|
Saturated Fat:
8
g
|
Cholesterol:
105
mg
|
Sodium:
127
mg
|
Potassium:
524
mg
|
Fiber:
1
g
|
Sugar:
5
g
|
Vitamin A:
295
IU
|
Vitamin C:
15.1
mg
|
Calcium:
33
mg
|
Iron:
1.6
mg
What's your clean eating vibe?
Take this fun QUIZZ and find out in 10 seconds!