I struggle to eat enough fruit! This Strawberry Smoothie Without Yogurt makes it easy peasy to dump 2 servings of fruit in one go.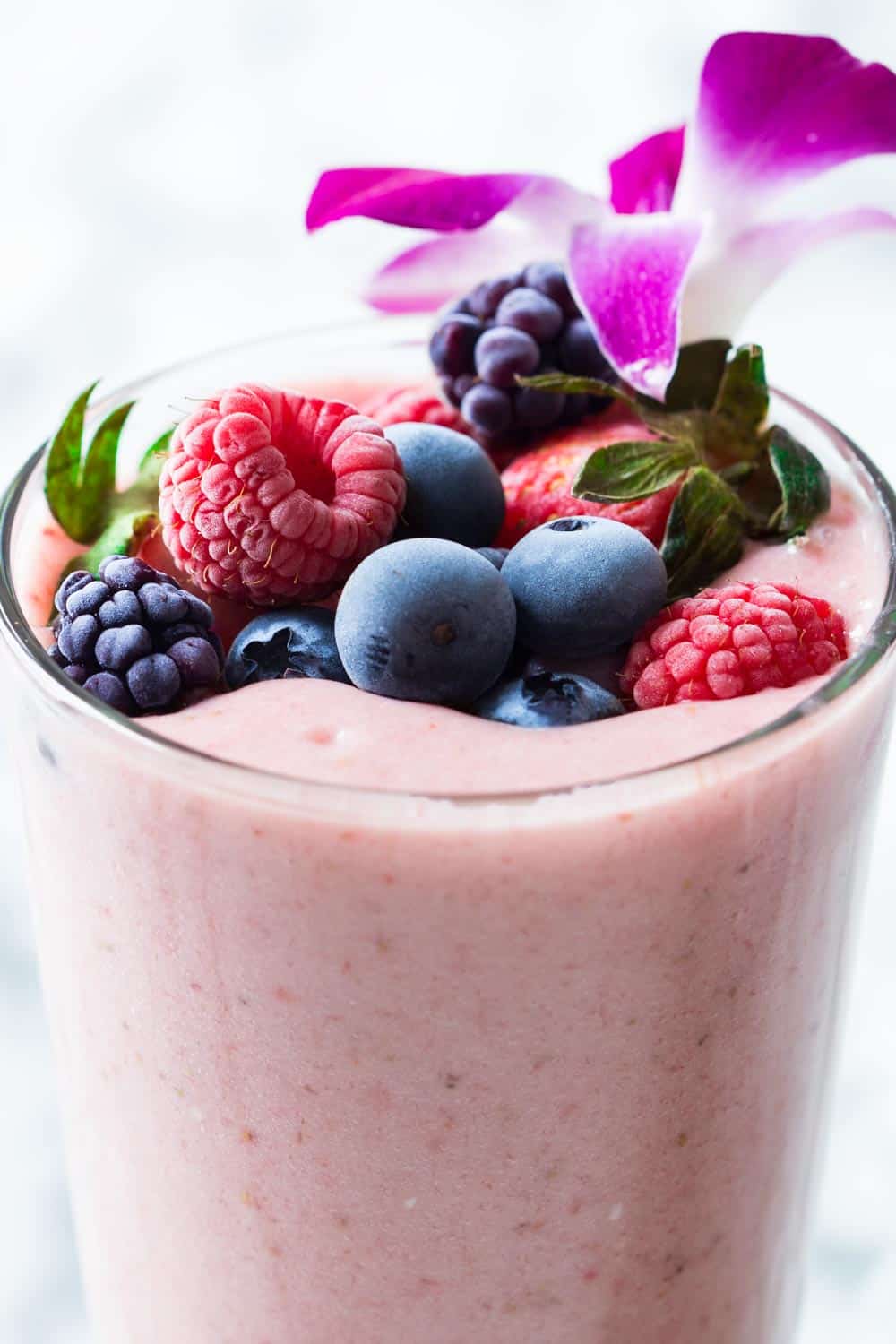 I love vegetables to death! All of them. They all taste like glory to me. Fruits taste great once I have them in my mouth but for some reason, I hardly ever crave them. Am I the only one?
I had to come up with a way of consuming more fruit and this smoothie made it really easy for me. I'm more of a protein-rich green smoothie type o' gal.
Just strawberries, which are low in sugar and high in vitamin C would have been great but it made the smoothie super sour.
How to make a Strawberry Smoothie Sweet
Adding sweeteners to a fruit smoothie isn't the smartest idea. It's already high in fruit sugar. The best way is to choose 1-2 high fructose fruits and use those as a sweetener. I chose a banana and it worked wonderfully. Since I froze it and added a ton of strawberries it didn't taste all banana-y. It tasted mostly like sweet strawberries. Awesome!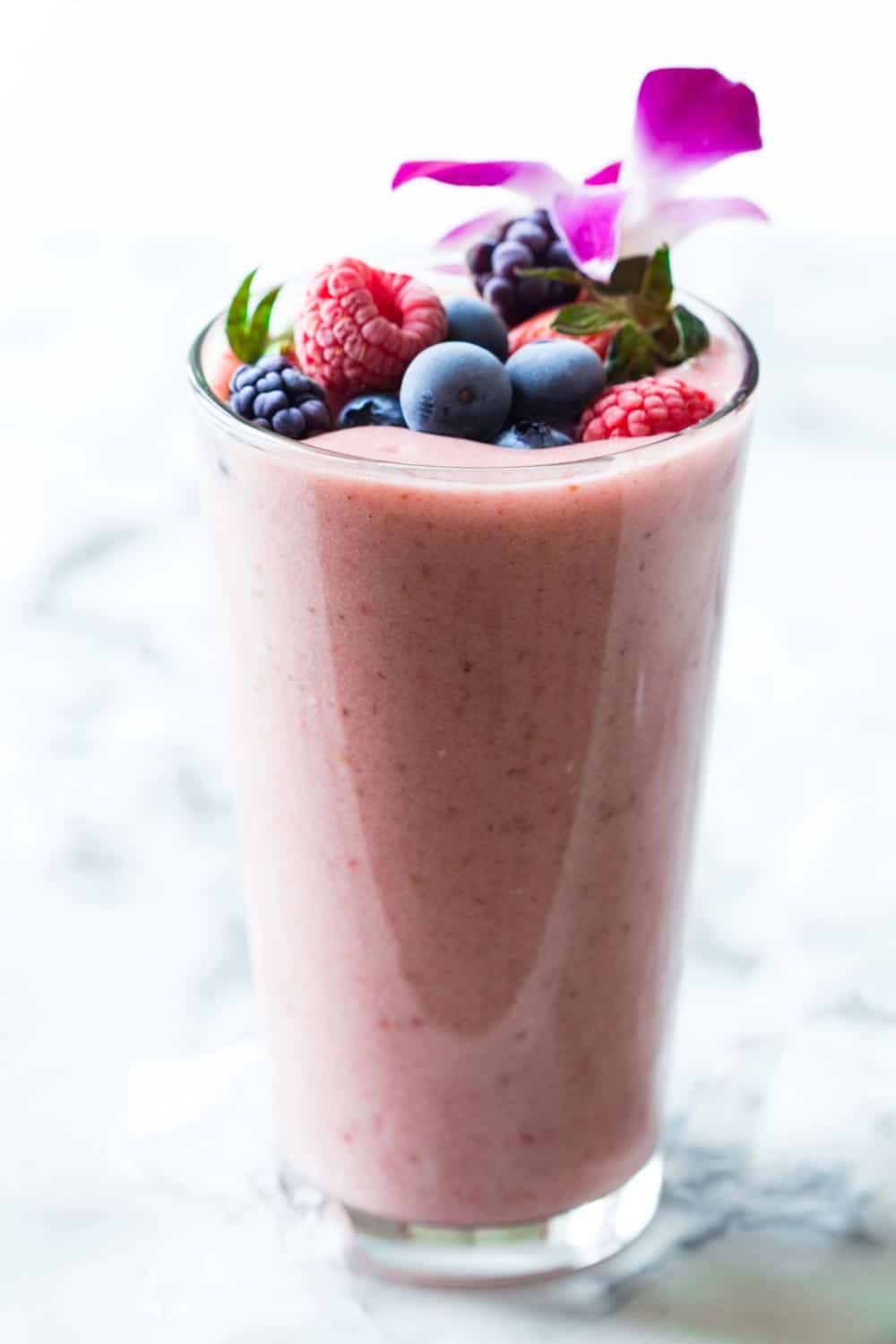 How to make a Strawberry Smoothie without ice
Adding ice to your smoothie is great for consistency BUT once it melts it waters down the smoothie and makes it tasteless. Freezing one or all your fruits is much smarter. You get the smoothie-like consistency without losing taste.
How to make a Strawberry Smoothie without yogurt
Most smoothies use either yogurt or juice and ice as a base to make it creamy. You don't have to choose one or the other though. Juice spikes up the fruit sugar content unnecessarily so always try and stay away from smoothies based on juice.
Yogurt is a great source of protein if you don't have any dairy tolerance issues. If you do, however, you don't have to go for the juice option. There is other ways. You can use coconut milk for example to obtain that "creamy" texture and flavor. I use light coconut milk for my smoothies so they don't sit in my stomach too heavy.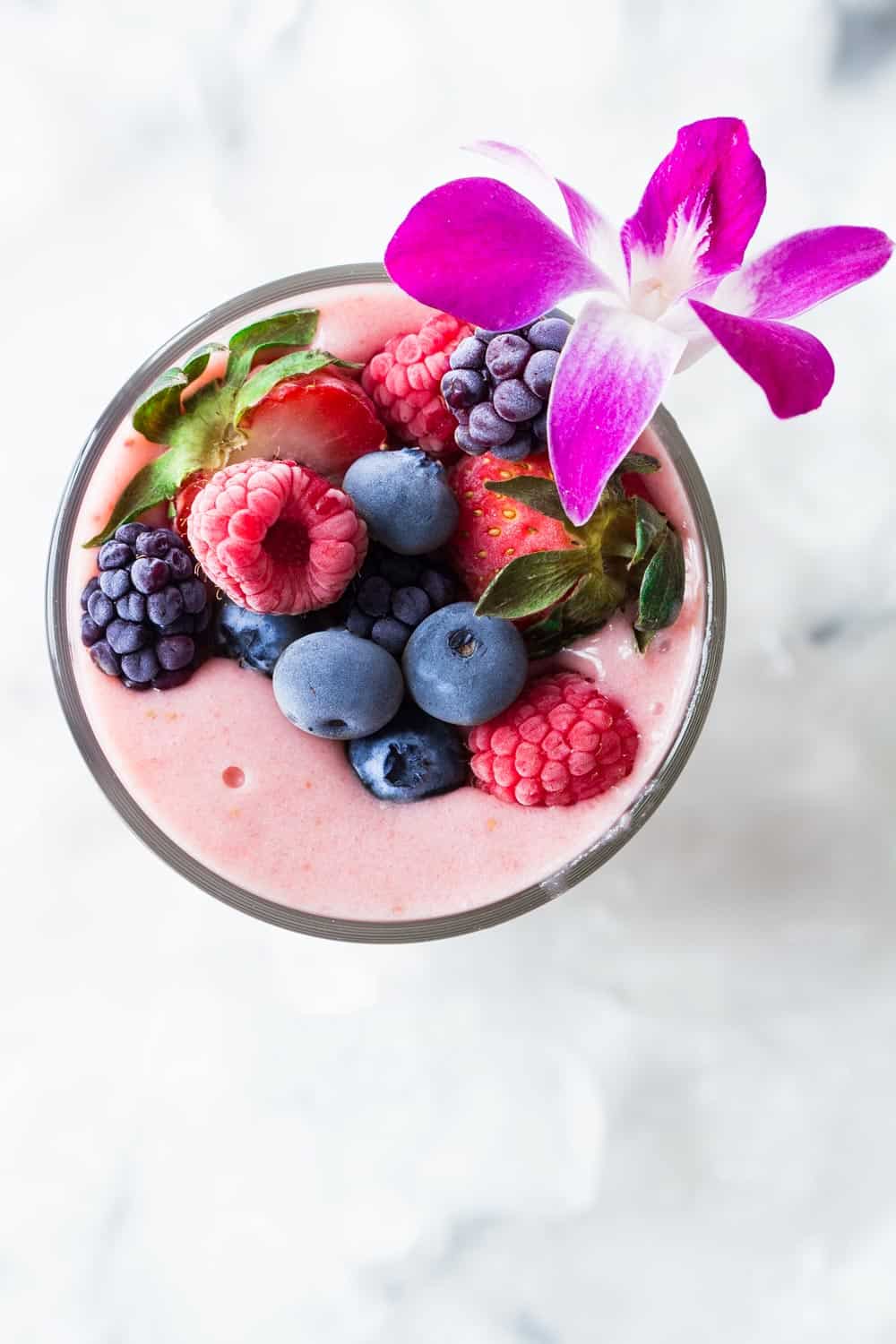 How to make a Strawberry Smoothie without milk
If you don't like the creamy taste of smoothies and rather the freshness of them. You can simply replace "milk" (whatever kind that might be) by water. You can replace not only milk but also yogurt with simply water if you don't fancy "creamy" in your smoothie.
Are Strawberry Banana Smoothies healthy?
Many will argue that fruit-only smoothies are not the healthiest. Here is the thing. Adding vegetables to your smoothies is super smart and healthy. Keeping the sugar content down is smart and healthy….IF you don't already eat a ton of vegetables.
I eat vegetables like a machine. Fruits, not so much. I struggle to eat enough fruit. It basically the only food group I struggle with. Vegetables no problem. Protein no problem. Carbs no problem. Fruit….argh, I have to eat more than an apple slice a day??
This Strawberry Smoothie without yogurt and without milk sweetened with only banana has gotten me to get in so much more fruit in a day and I serve a tiny glass of it to my kids as dessert and they LOVE it. So I guess it depends on how you look at it.
If your diet is low on vegetables and high on sugar (be it natural or not), no, a Strawberry Smoothie Without Yogurt will probably not be the healthiest for you. If you drink it in order to get in your daily fruits and or a replacement for dessert, YES, it couldn't be any healthier ;)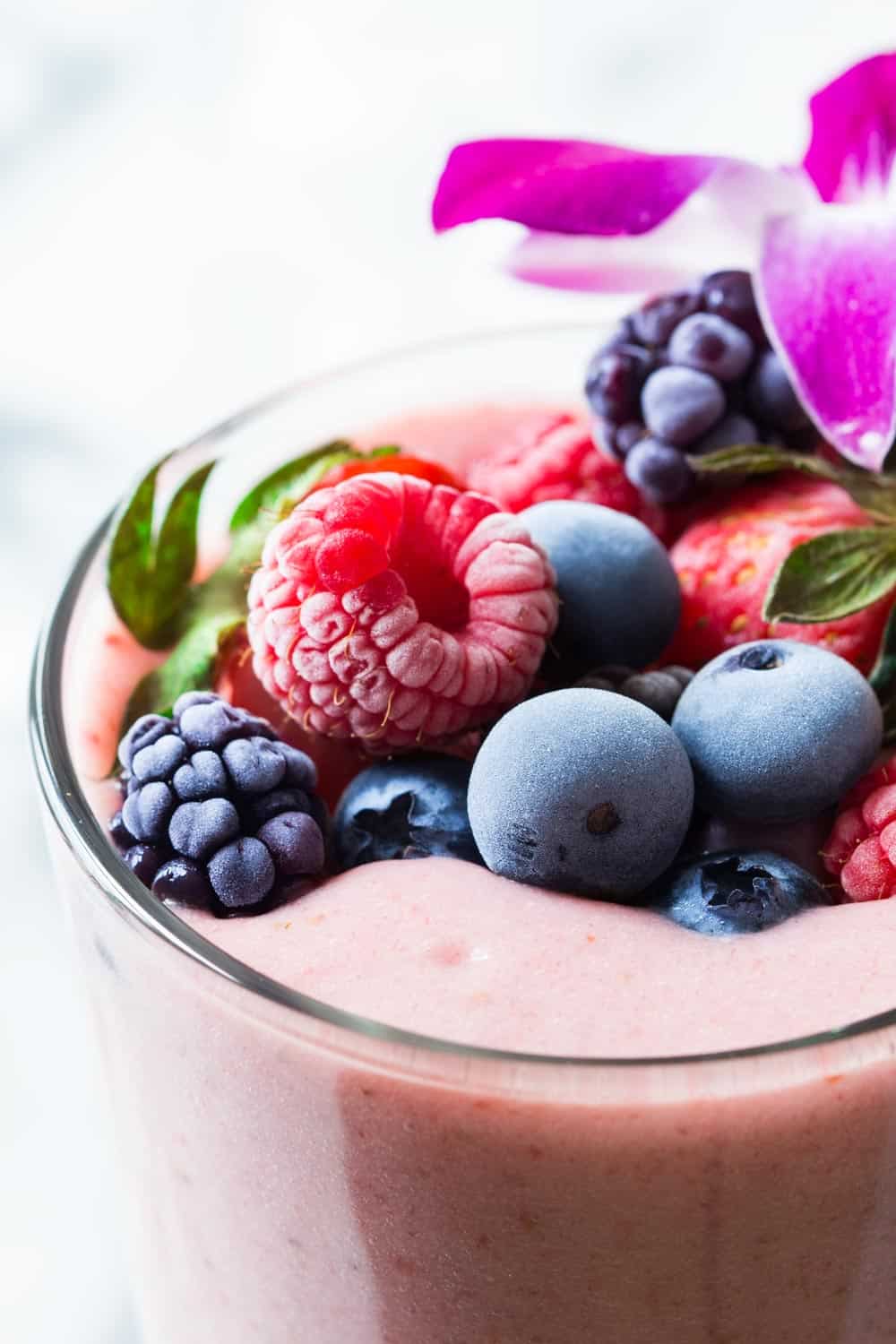 How else to reach your daily fruit goal
For me, the trick is to make the fruit very presentable. The prettier the presentation, the more I eat/drink. This Strawberry Smoothie Without Yogurt worked for me because I "beautified" it with frozen berries on top. I look at it with hearts in my eyes and then dump it. I guess that's called auto-brain-washing, haha.
Another way that works great for me is a pretty fruit platter. I've got tons of tips on how to arrange a beautiful fruit platter.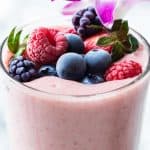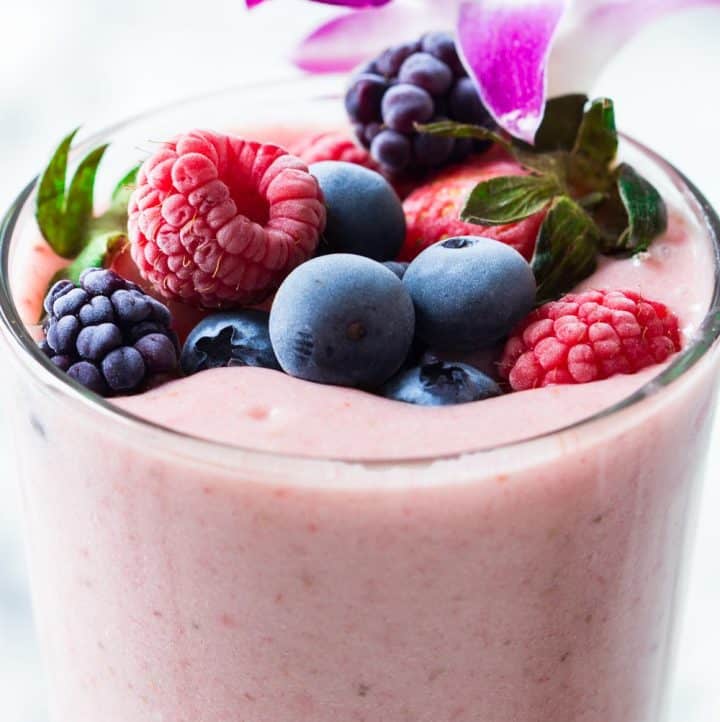 Strawberry Smoothie Without Yogurt
I struggle to eat enough fruit! This Strawberry Smoothie Without Yogurt makes it easy peasy to dump 2 servings of fruit in one go.
Print Recipe
Ingredients
2

frozen bananas

1

cup

hulled strawberries

1/2

cup

coconut milk

assorted frozen berries for decoration
Instructions
If you don't have frozen bananas yet, PEEL THEM, and then freeze them for at least 4 hours. I wrap them in parchment paper to avoid from sticking to anything or each other.

Wash and hull strawberries, add hulled strawberries, bananas and coconut milk to blender and blend until smooth.

Add frozen berries on top to "beautify" :)
Nutrition
Calories:
605
kcal
|
Carbohydrates:
64
g
|
Protein:
6
g
|
Fat:
36
g
|
Saturated Fat:
28
g
|
Polyunsaturated Fat:
0.2
g
|
Monounsaturated Fat:
0.1
g
|
Sodium:
63
mg
|
Potassium:
697
mg
|
Fiber:
19
g
|
Sugar:
34
g
|
Vitamin A:
50
IU
|
Vitamin C:
183.2
mg
|
Calcium:
50
mg
|
Iron:
7.4
mg
What's your clean eating vibe?
Take this fun QUIZZ and find out in 10 seconds!