An apple rose tart that will make your loved one drop their chin! It's not only a piece of art but also absolutely delicious. A gluten-free almond crust with sweet apples and coconut maple custard, what else can you want in life?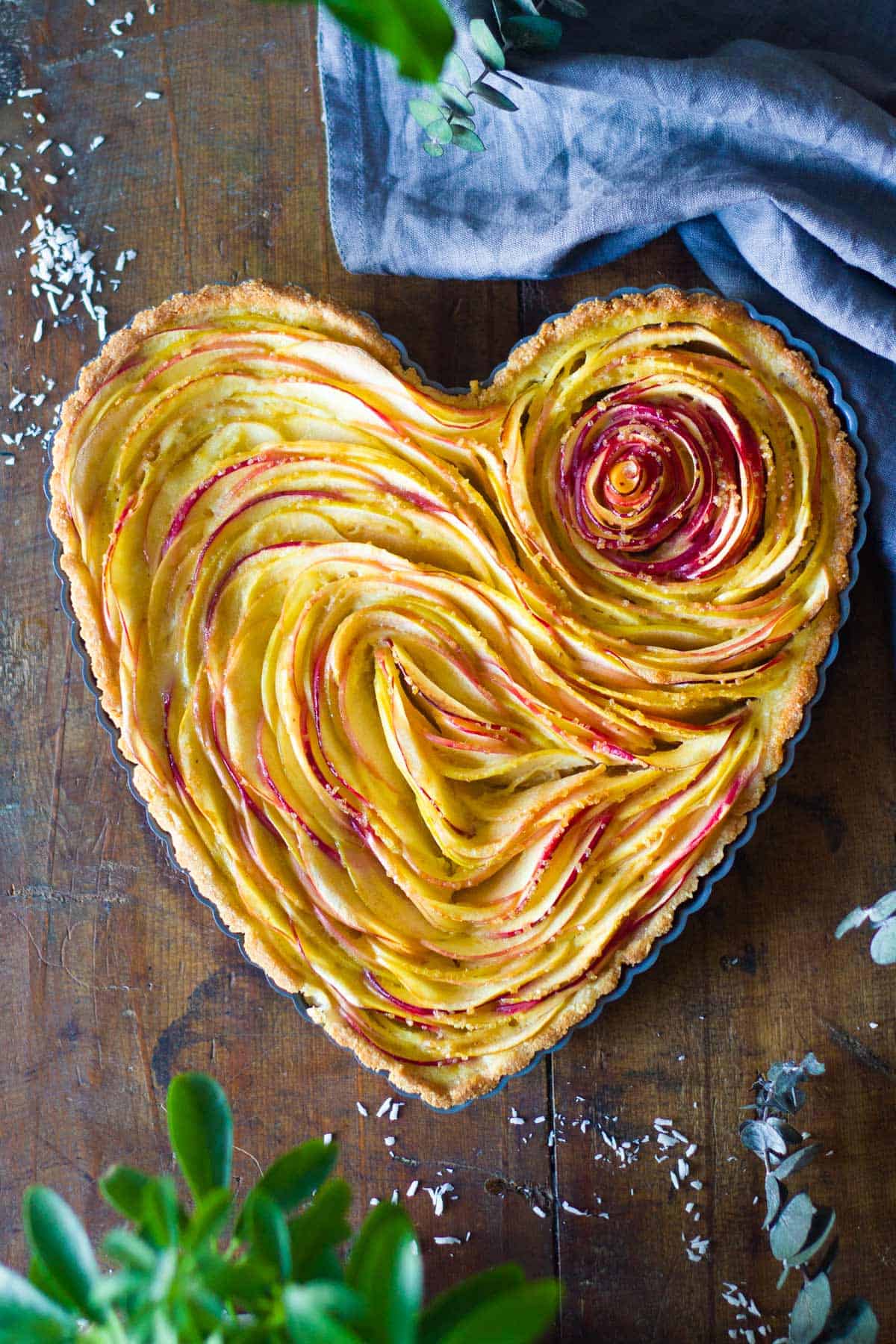 Making this for the love of your life will be fun and there is no better way to show love than to dedicate time to someone. I believe that that is the essence of love.
If you're in a bit of a rush though I recommend you make my delicious but quick and easy German Apple Cake (Versunkener Apfelkuchen).
Best crust for an apple rose tart
Hands down an almond flour crust! The crust for this pie was inspired by my almond cookies. So simple yet so delicious!
Only wholesome ingredients and still, it takes no longer than 3 minutes to whip up the dough. Almond flour, melted coconut milk and maple syrup. That's it. Easy peasy.
Crispy crust: Now, it's important to know that if you want a crispy bottom apple rose tart you will have to prebake the crust at least a little bit. 10 minutes at 350F is usually enough. You don't want to prebake it for too long. Almond flour is notorious for burning and your sides might burn if you prebake too long.
Soft crust: If you don't prebake the bottom will be soft like marzipan. Absolutely edible and delicious tough. Remember, almonds, coconut oil, and maple syrup can all be eaten raw and they are the only ingredients in the almond crust. There is no such thing as "raw" or "underbaked" in this case, it's just a matter of preference (soft vs. hard bottom).
How to prevent apples from browning?
Exposure to air/oxygen makes apples brown. In order to prevent the apple slices from browning, place them in lemon water. The water will keep air away and the lemon's acidity helps keep them from browning even once you removed the slices from the water.
Add about 2 liters (half a gallon) of filtered water to a bowl.
Squeeze the juice of half a lemon into the water and mix well.
Place your mandoline on the edges of the bowl and start slicing. The apple slices fall right into the lemon water and thus never turn brown.
How to form apple roses?
Here is the trick: you will need very moldable apple slices. Submerge a couple of apple slices, one at a time, in boiling hot water for a couple of seconds only. Remove immediately with tongs so it doesn't overcook. Wait for the slices to cool down a little so you don't burn your hands. You should be able to form any shape of your liking without the slice breaking.
Do not submerge all of the apple slices in boiling water because they will become all mushy and won't stand nicely. Only submerge the one slice you'll be working with next.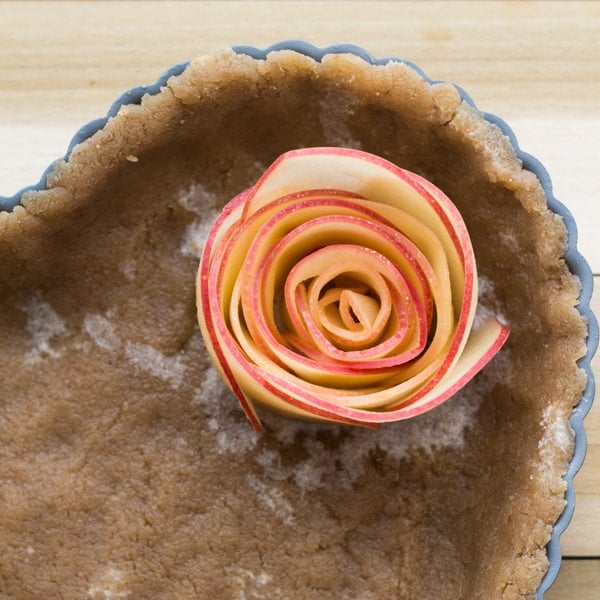 Start by rolling up the first slice very tightly (center of the rose) and then add in more slices around it in a circular motion. Do this over a wooden cutting board so it can absorb the excess water. Place the small rose in your tart pan. Hold the center with one hand and form the outer layers with the other. Now it won't be necessary to submerge any more slices into hot water. Just take them right out of the big bowl.
Have a dishcloth handy in order to tap the apple slices dry a little bit and avoid the crust from soaking in lemon water.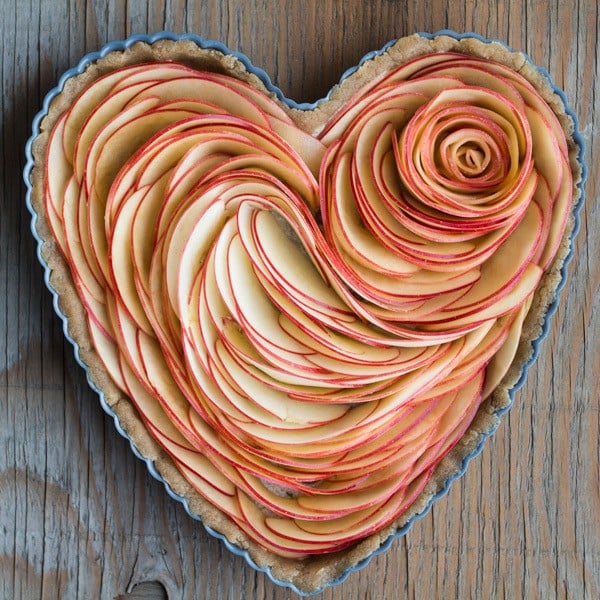 The best maple custard for an apple rose tart
It takes literally 1 minute to make the custard because you don't have to cook it. Just add all ingredients in a bowl (preferably with a spout for easy pouring) and whisk. Egg, egg yolks, coconut milk, and maple syrup. That's it. Easy peasy!
Pour the custard into the empty spaces in between the apple slices making sure to fill them all out. Do not pour too much at a time as this may make the apple slices fall and flatten the whole pie. Once baked the liquid custard will solidify and once it completely cools off it will have the most perfect creamy consistency.
Happy Valentine's Day! I love you to the belly and back! And remember to take a picture of your tart and tag me on Facebook or Instagram so I can see :)
If this recipe sounds way too daunting…..I get it. I've got a much easier shortcrust pastry pear tart for you, as well.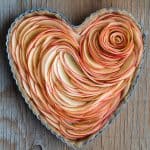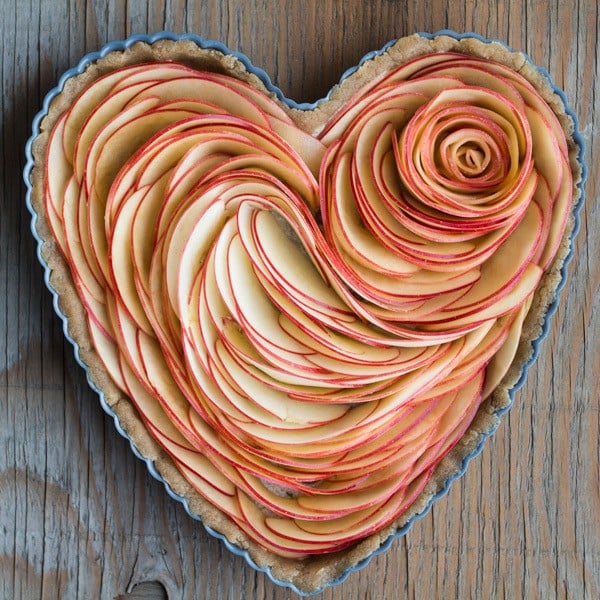 Valentine's Apple Rose Tart
An apple rose tart that will make your loved one drop their chin! It's not only a piece of art but also absolutely delicious. A gluten-free almond crust with sweet apples and coconut maple custard, what else can you want in life?
Print Recipe
Pin Recipe
Ingredients
2

cups

almond flour

2

Tbsp

coconut oil

3-4

Tbsp

maple syrup

-

enough to create a cohesive dough (see video)

1.25

cups

full fat canned coconut milk

1

egg

2

egg yolks

1/3

cup

maple syrup

5

apples

-

any kind, all same color or different colors

1

lemon

1/4

cup

demerara sugar

-

or any other raw sugar
Instructions
Prepare the apples: Wash, dry, and core apples, then slice very thinly (preferably with a mandoline) and immediately add to a large bowl filled with filtered water and fresh lemon juice. This is to avoid the apple getting brown. If you have a specific color pattern in mind for your tart, keep different colored apples separate in different bowls. If not, add all apple slices to the same bowl. Set aside.

Prepare the almond dough: Add 2 cups almond flour to an air-tight sealable container. Add coconut oil to a 1/3 measuring cup and then fill that measuring cup to the top with maple syrup. Add the cup's ingredients to a heatproof container and melt coconut oil and maple syrup in the microwave or water bath. We need about 1/3 cup liquid for the almond flour but adjust the ratio to achieve a soft playdough-like consistency. The exact amount will depend on the grind of your almond flour. Watch the video to see what consistency you need. Put on the lid onto your container and place the dough in the fridge for about 15 minutes.

Preheat the oven: to 350 F (180 °C).

Mix the custard: Add coconut milk, egg, egg yolks, and 1/3 cup maple syrup to a jar with a spout and whisk until well combined. Add less milk and more maple syrup if you like your tarts very sweet.

Make the crust: Take the almond dough out of the fridge and place it in between two sheets of parchment paper to roll out into a large circle about 1/6" (4mm) thick. Then remove the top parchment paper, slide your hand under the other and flip the rolled out dough in one quick move over your removable bottom tart pan (either round or heart-shaped but with removable bottom, that's important!). Use the bits and pieces falling out to press into the sides. Be thorough so you have same-thickness sides that can hold in the custard while baking. If you like a crispy bottom prebake the crust for 10 minutes at 350. If you like it soft like marzipan at the bottom, leave raw.

Form your apple rose: Boil some water in the kettle and add boiling water to a small bowl. Add one apple slice at a time into the boiling water with some tongs for about 3-4 seconds to make it pliable and then tightly roll the first slice into a circle, the next slice around that one and so on until you feel like you're not bending them too much anymore and they don't need any more hot water. Form the center of your rose over a wooden cutting board so it can absorb the excess water. Then once it's bigger add it to your tart pan and start adding apple slices around the rose. Have a clean kitchen towel handy to wipe the apple slices and remove excess water or you risk your tart crust getting soggy.

Pour the custard: Once your whole tart pan is full, give your custard another quick whisk and then pour it slowly and carefully in between the apple slices.

Bake the tart: Add the tart to the center of your 350F preheated oven and bake for initially 35 minutes, then check on it to see if you need to move it to another corner of your oven or turn it to ensure some slices don't burn while others stay completely uncooked. Bake the tart for 45-50 minutes in total or until the custard is set.

Cool: It's very important that you let the tart cool down completely before you remove the tart pan side and cut into the tart. If it's still warm it will fall apart. Take it out of the oven and place it on a wire rack for at least 1 hour to cool down completely. THEN cut into it and serve.
Nutrition
Calories:
425
kcal
|
Carbohydrates:
44
g
|
Protein:
9
g
|
Fat:
27
g
|
Saturated Fat:
11
g
|
Cholesterol:
69
mg
|
Sodium:
18
mg
|
Potassium:
278
mg
|
Fiber:
6
g
|
Sugar:
32
g
|
Vitamin A:
156
IU
|
Vitamin C:
13
mg
|
Calcium:
107
mg
|
Iron:
3
mg
What's your clean eating vibe?
Take this fun QUIZZ and find out in 10 seconds!