Quick and easy apple tart recipe to impress your guests. Delicious oat crust topped with sliced fresh apples and naturally sweetened.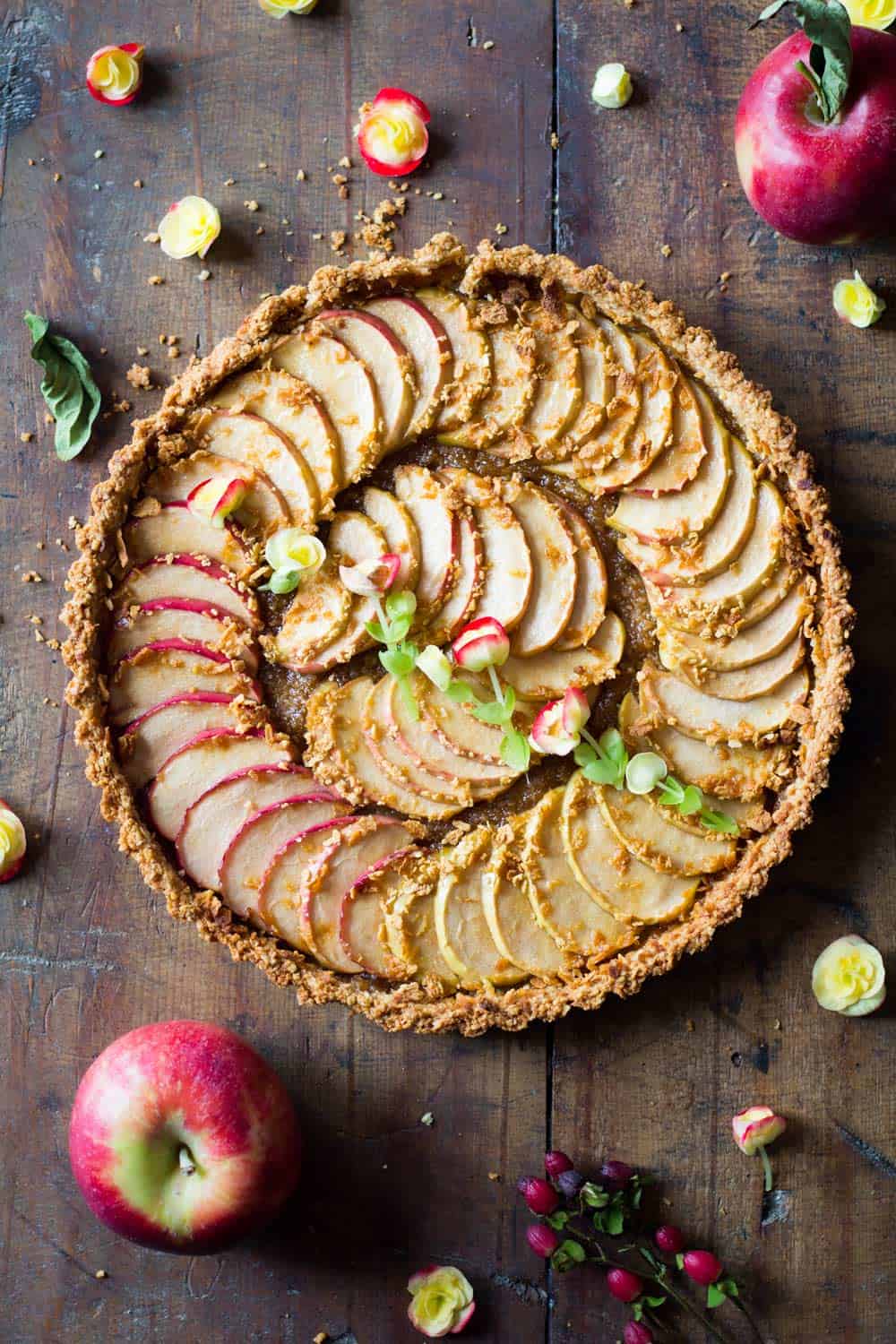 For a more "cakey" apple dessert check out my German Apple Cake (Versunkener Apfelkuchen).
The most special part about this recipe is the oatmeal crust. It can obviously be used for any kind of pie or tart you like. This pear tart for example is super popular on the blog and its crust can easily be exchanged for this oatmeal crust if you like. It has only 5 ingredients and all you need is a food processor, some parchment paper, and a rolling pin.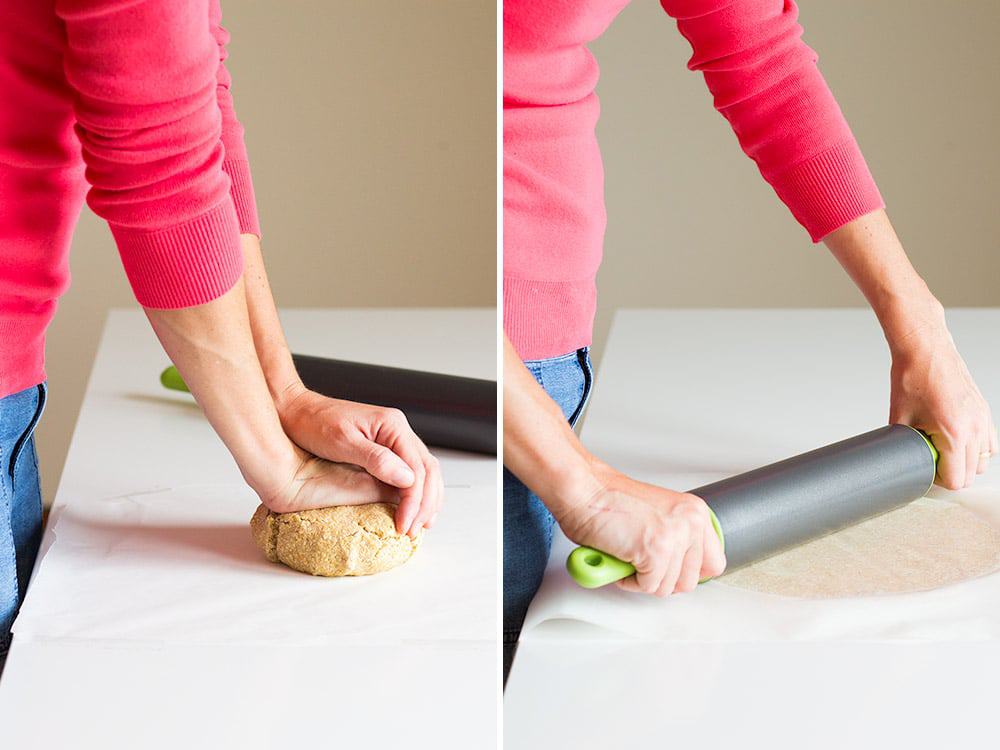 How To Best Roll Out Tart Crusts
I use parchment paper to avoid the dough from sticking to the rolling pin.
Peel off on one side, slide your hand under the bottom layer of parchment paper and quickly flip over into your tart pan. Then press down the sides to cover everything. Put everything in the fridge or freezer to get nice and cold.
Remove the second layer of paper and then use your fingers to finish pressing into every corner and nook and tadaaa: an evenly thick oatmeal pie crust in your pan. This method works well with any kind of pie crust.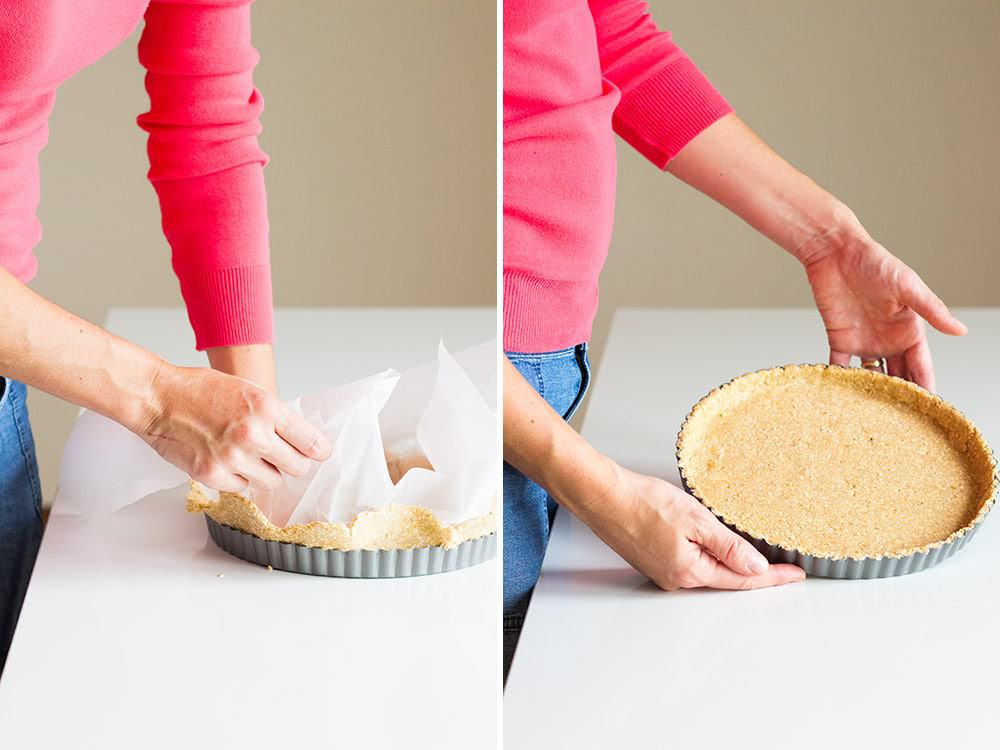 Which Apples Are Best For A Tart?
In theory, you can use absolutely any apple you have on hand for an apple tart. Since this tart is sweetened only with maple flakes I recommend a sweet kind of apple though.
Granny Smiths are probably the worst apples for this because they are so sour. Fuji, Cortland, Honeycrisp, Jonagold, Gala any of those are great. For the tart in the picture, I used Mcintosh, and for the tart in the video I used Gala.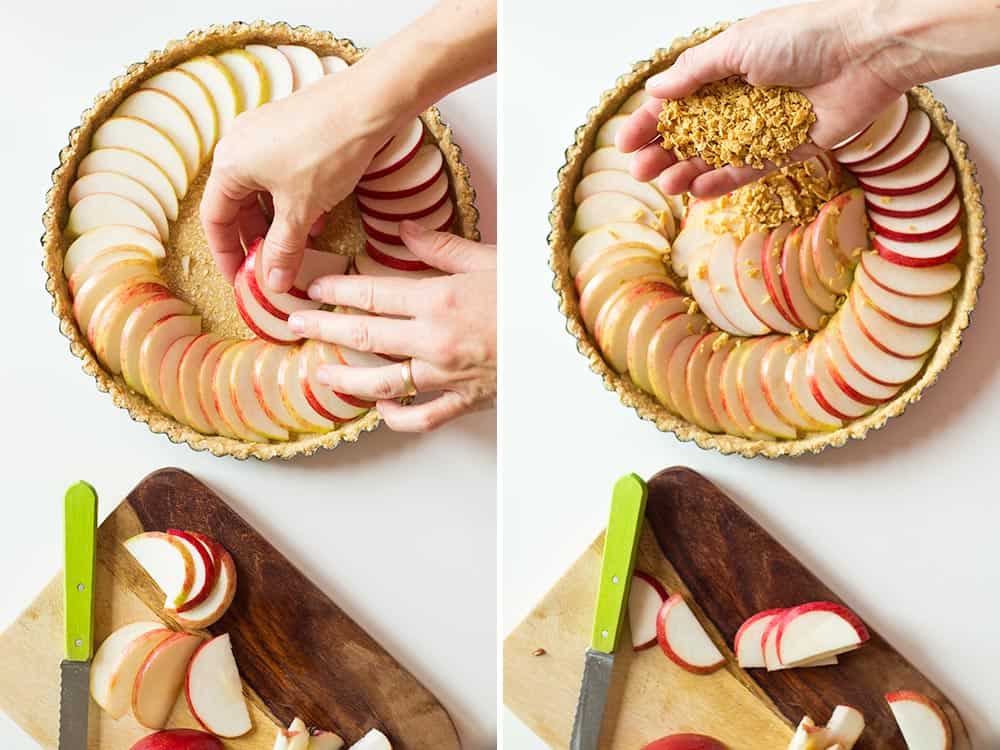 Should I Peel The Apples?
That depends 100% on the thickness of the skin. If your apples have thin skin you can leave the skin on and your tart will look a lot prettier. If the skin is thick and tough it's better to peel the apples.
What's The Difference Between An Apple Pie And An Apple Tart?
Both are desserts. Both have some sort of curst.
A tart has shallow sides and little "filling". It basically doesn't even have a filling but rather a topping.
A pie has high sides and a lot of filling. A lot of pies also have crusts on top, you won't ever find a tart with crust on top.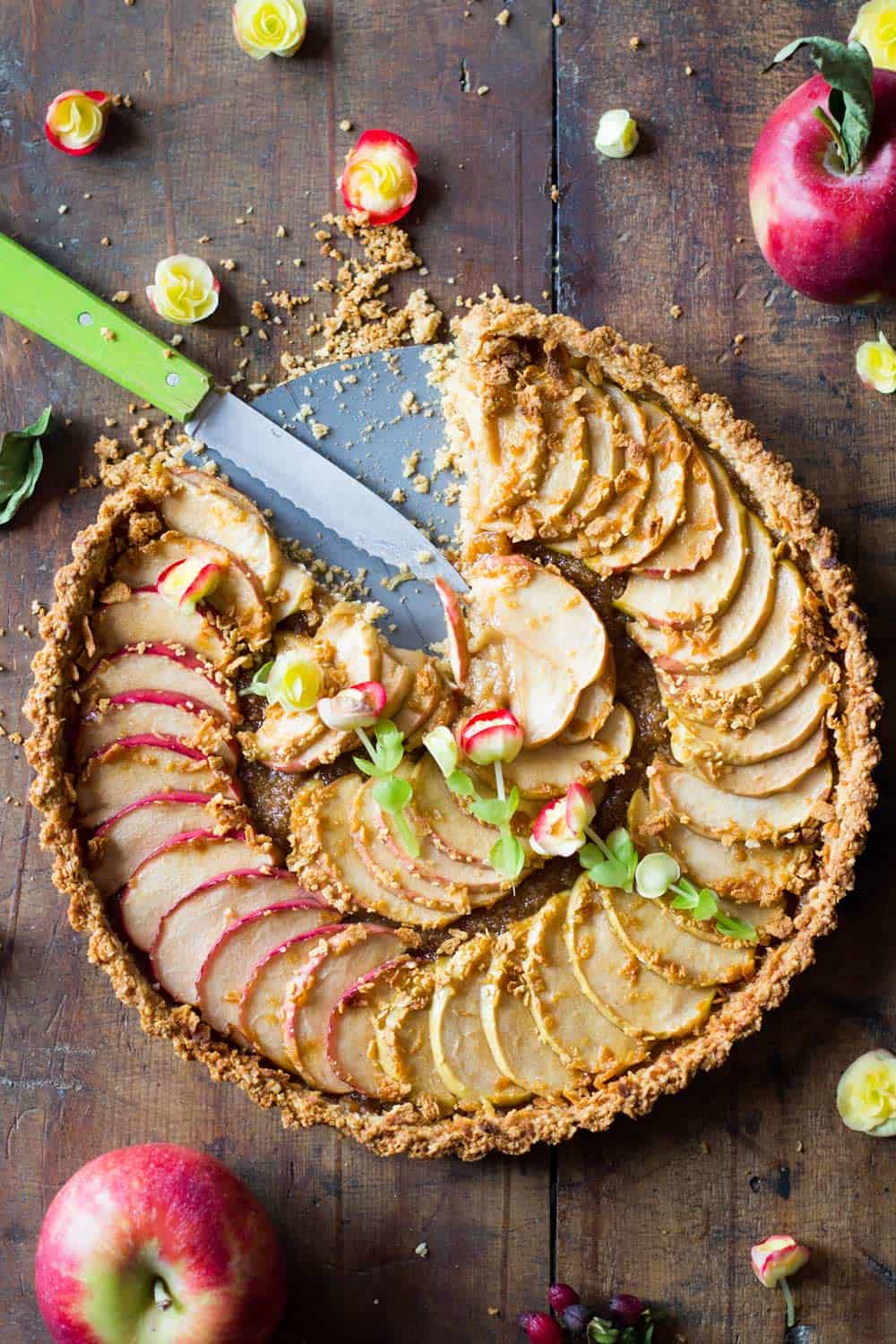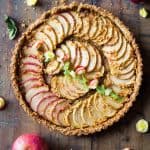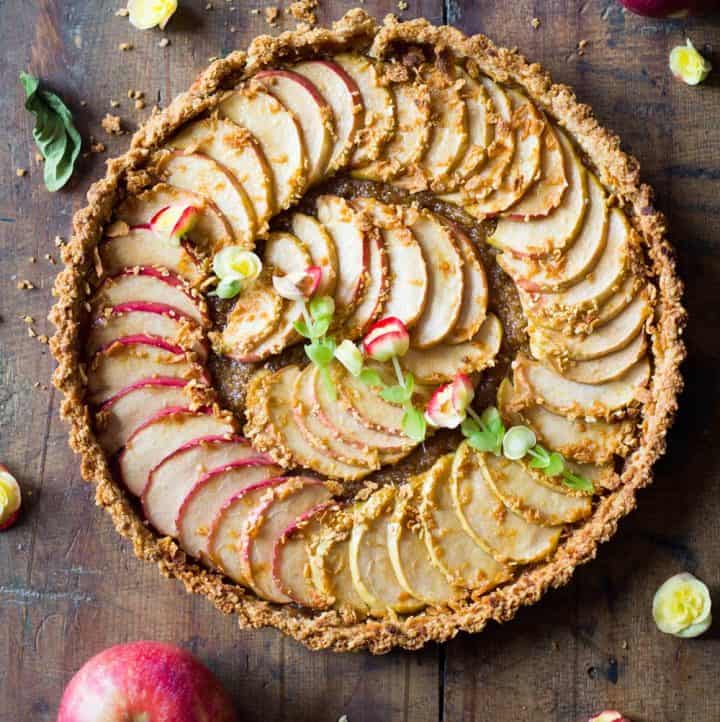 Simple Apple Tart
Quick and easy apple tart recipe to impress your guests. Delicious oat crust topped with sliced fresh apples and naturally sweetened.
Print Recipe
Pin Recipe
Ingredients
2 1/4

cups

old fashioned rolled oats

1/4

tsp

sea salt

1/2

cup

cold butter

1

egg yolk

1

Tbsp

maple syrup

2

Tbsp

ice water

3

apples

3/4

cup

maple flakes

-

if you can't find any, the best alternative is coconut sugar or brown sugar
Instructions
Preheat oven to 400 F (200 C).

Process oats and sea salt in a food processor until it reaches a coarse flour like consistency. Similar to coarse salt at the very least.

Add cubed cold butter to processor and while processing add egg yolk, maple syrup and ice water.

Once well combined, remove from processor and place on a piece of parchment paper, cover the dough with another sheet of parchment paper and roll out into a circle about 1/6" thick.

Peel off the parchment paper from the top and flip the dough over quickly into a parchment-paper-lined 8" or 9" separable tart pan. Press the dough into the sides, then freeze for a few minutes before you remove the excess from the edges and peel off the other sheet of parchment paper.

In the meantime, (peel), core, and slice the apples thinly (1/4" max) and arrange in a circle on the oat crust until all the bottom is covered.

Sprinkle maple flakes evenly on apple slices and bake for 30 minutes or until golden brown.

Let cool completely before removing the from the tart pan or the sides of the crust will break.
Nutrition
Calories:
300
kcal
|
Carbohydrates:
31
g
|
Protein:
4
g
|
Fat:
18
g
|
Saturated Fat:
10
g
|
Cholesterol:
73
mg
|
Sodium:
236
mg
|
Potassium:
182
mg
|
Fiber:
4
g
|
Sugar:
8
g
|
Vitamin A:
550
IU
|
Vitamin C:
2.8
mg
|
Calcium:
31
mg
|
Iron:
1.4
mg
What's your clean eating vibe?
Take this fun QUIZZ and find out in 10 seconds!