This Coconut Shrimp Curry is a super simple 15-minutes weeknight dinner recipe that tastes like you spent all day in the kitchen. A nutrient-dense bowl of pure bliss.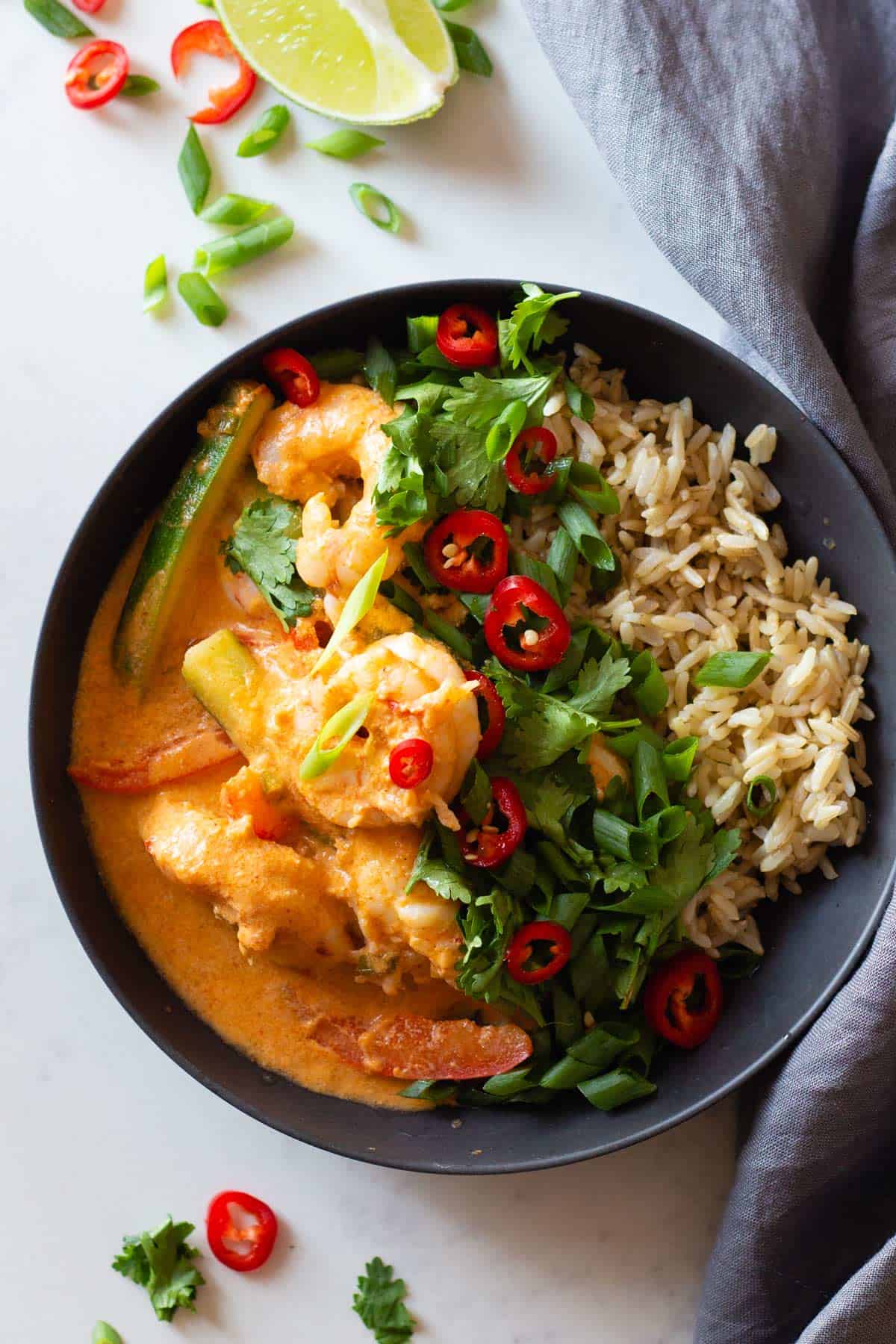 Serve it over Instant Pot Rice so that cooks itself without you having to lose one thought about it, while you focus on just the shrimp curry. That's why it's a 15-minute recipe. You basically just spend 5 minutes chopping and then 10 minutes cooking and voilá all done. Dinner on the table.
The ingredients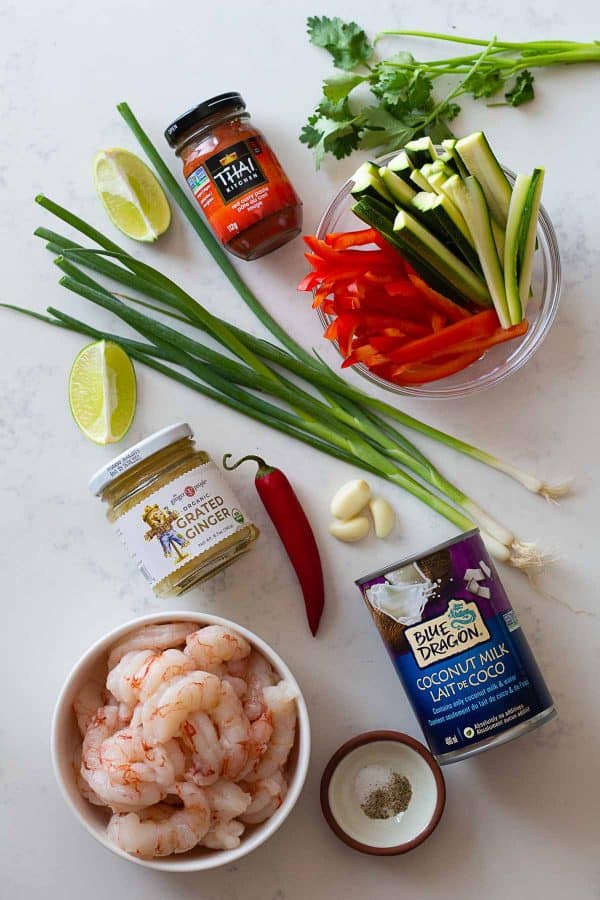 These are the few ingredients you need to make an incredibly flavorful bowl of bliss. It wouldn't be a coconut shrimp curry if it didn't have coconut, shrimp, and Thai curry of course but I'll tell you all the substitutions you can make if you need or want:
Shrimp – it's a powerhouse of protein and incredibly flavorful but I get it, some people simply don't like the taste and texture. You can easily replace this by chopped up chicken breast or chicken thighs. The recipe stays the exact same, you simply add a couple more minutes of simmering time because shrimp cooks in like 2 minutes and cubed chicken in like 5 minutes.
Coconut Milk – use the canned kind. Full fat is the most delicious of course but if you're watching your calories better use light. You can also use the carton milk, however your curry will be more like a soup than a stew that way and the coconut flavor very subtle. I don't recommend using any other milk, rather dairy cream if you don't like the taste of coconut.
Ginger & Garlic – you can use fresh or jarred, both works. If you want to stay under the 15-minute cooking time mark though, peeled and jarred works better of course. I don't recommend omitting these because they are two of the major "flavor givers". That's a word, right?
Scallions – you can replace by a small onion but then you won't have the green part for garnich and it will take longer to chop because you have to peel it.
Red Chili – totally optional. Use only if you like it spicy. Omit if you don't like heat.
Zucchini & bell pepper – you can replace thses two by any vegetable that cooks equally fast. If you want to keep this a fast recipe avoid hard vegetables like carrots or celery that take at least 10 minutes to soften. Stick with broccoli, snow peas, eggplant and silmilar.
Thai Curry Paste – and absolute MUST and the heart of this Coconut Shrimp Curry. You can use yellow (mild), red (medium hot), or green (spicy) but red is my favorite in combination with shrimp. The green one is much better in this Thai Green Curry Recipe made with chicken.
Cilantro – Optional of course but pretty and yummy.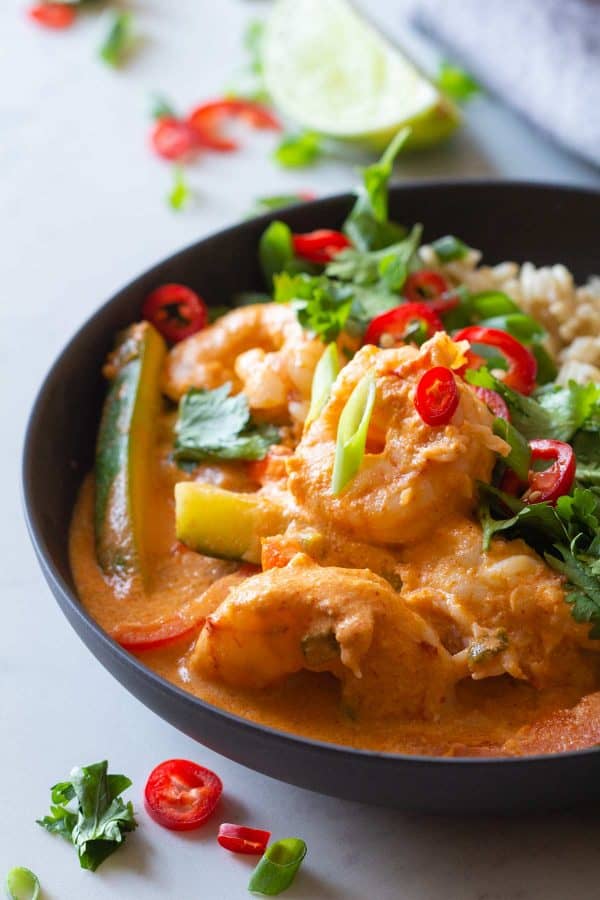 Special Shrimp Cooking Tips
A lot of people don't like shrimp simply because they don't cook it the right way. There are important steps to follow for amazing tasting shrimp.
Ensure they aren't still frozen inside, most shrimp if not sold frozen is sold defrosted. They should not only be completely defrosted but also not cold! Take them out of the fridge at least 15-20 minutes before cooking.
Drain them and dry them. To get rid of the stinky sea food smell and taste you have to get rid of their juices. So once they are completely defrosted, drain them and then lay them out flat in one layer on some paper towel to absorb the excess juices.
Add them to strong heat when ready to cook and cook for a very short time.  When pan-frying ensure your pan is super hot. When boiling, make sure your broth is super hot. If you "slow-cook" shrimp it becomes super dry and rubbery. The consistency people hate. If you cook shrimp only 2 minutes in a hot pan or a hot coconut curry broth they taste juicy and delicious.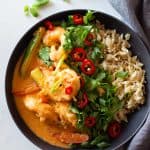 15-Minute Coconut Shrimp Curry
This Shrimp Curry is a super simple 15-minutes weeknight dinner recipe that tastes like you spent all day in the kitchen. A nutrient-dense bowl of bliss.
Print Recipe
Pin Recipe
Ingredients
1

tsp

avocado oil

3

scallions

1

Tbsp

grated ginger

2

cloves garlic

3

Tbsp

Thai red curry paste

1

can

coconut milk

1

zucchini

1

red bell pepper

1

lbs

raw peeled shrimps

sea salt

cilantro

1

red chili

1

lime
Instructions
Ensure your shrimps are ready to cook (see notes in blog post above) and prepare your side dish.

Cut off the dark green part of the scallions and set aside, then cut the white and light green part into fine rings and finely chop the garlic and ginger and set aside.

Preheat a large pan over medium heat.

In the meantime, cut the zucchini and bell pepper into thin stripes.

Once the pan is hot, add a drizzle of oil, then add the sliced scallion and chopped ginger and garlic as well as the Thai curry paste and a litte sea salt to taste and stir-fry until fragrant.

Add coconut milk to the pan and stir until well-combined. Bring to a boil and once boiling add the sliced vegetables and submerge in the broth. Simmer for about 3-4 minutes or until it reaches your desired consitency.

Add the shrimp to the bubbling broth, submerge and cook for about 2 minutes only.

Serve in a bowl along with your side dish and sprinkle with slices of the dark green part of the scallions, cilantro leaves and sliced red chili.
Nutrition
Calories:
340
kcal
|
Carbohydrates:
17
g
|
Protein:
50
g
|
Fat:
8
g
|
Saturated Fat:
2
g
|
Cholesterol:
572
mg
|
Sodium:
1779
mg
|
Potassium:
719
mg
|
Fiber:
5
g
|
Sugar:
9
g
|
Vitamin A:
5996
IU
|
Vitamin C:
151
mg
|
Calcium:
405
mg
|
Iron:
7
mg
What's your clean eating vibe?
Take this fun QUIZZ and find out in 10 seconds!