What is the vegan diet, how to make a nutritionally-balanced 1-day vegan meal plan, what to pay attention to when switching to a vegan diet? This and delicious vegan recipes all in one post.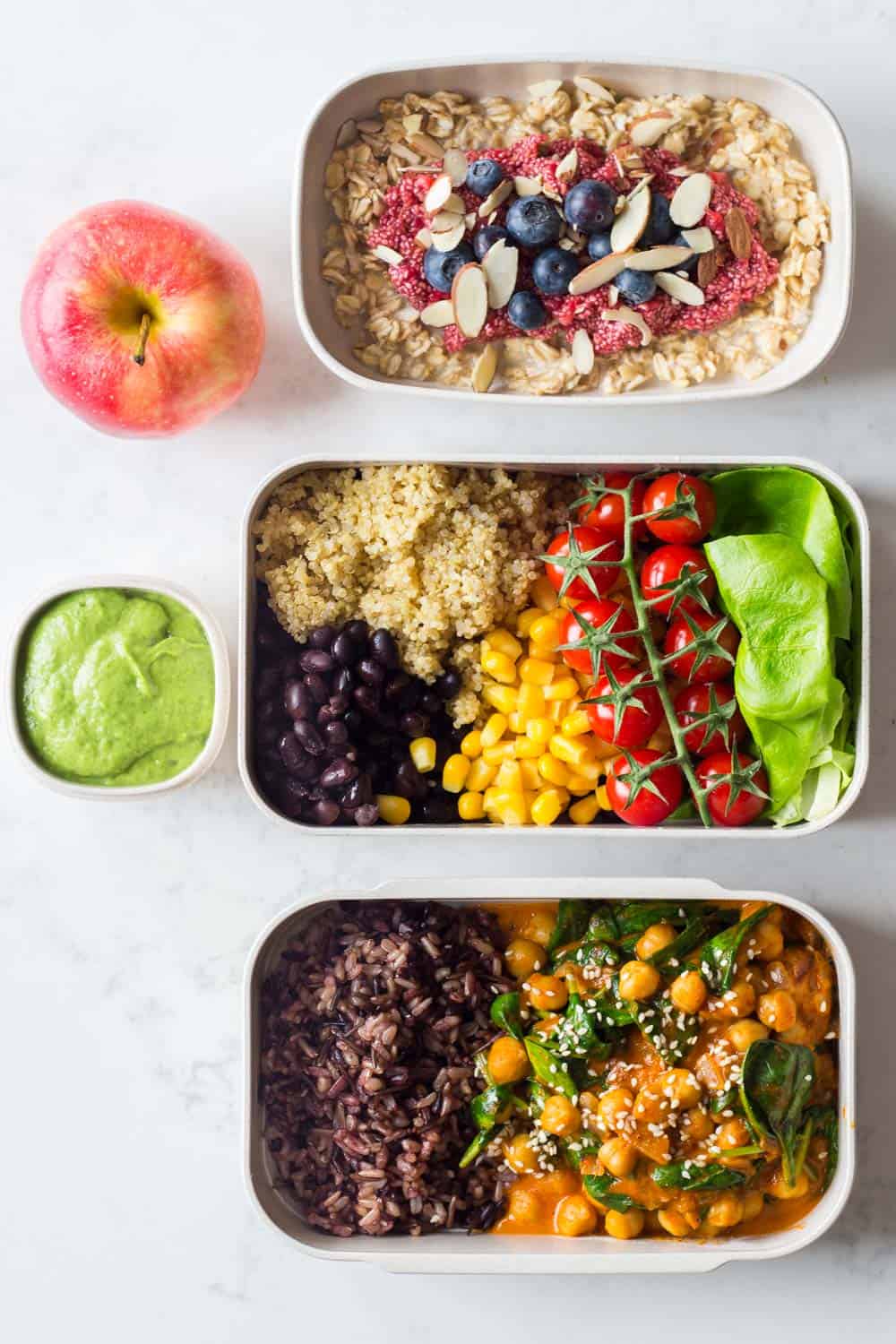 What is the vegan diet?
In the vegan diet you eliminate all animals from your diet like vegetarians but also all animal products such as eggs and dairy. Strict vegans also do not buy any other products that contain anything from an animal such as leather shoes and bags of down-filled jackets.
Being vegan goes beyond excluding animals from your diet. When being vegan you stop supporting animal abuse in all its forms and shapes no matter how "humane" by not purchasing, wearing or eating anything from the industries based on animal processing.
Reasons to become vegan are various and span from health and ethic to economic and environmental.
A Vegan Breakfast for a Nutritionally Balanced Vegan Meal Plan – maple-sweetened overnight oats made with almond milk, raspberry chia pudding, sliced almonds, blueberries and an apple.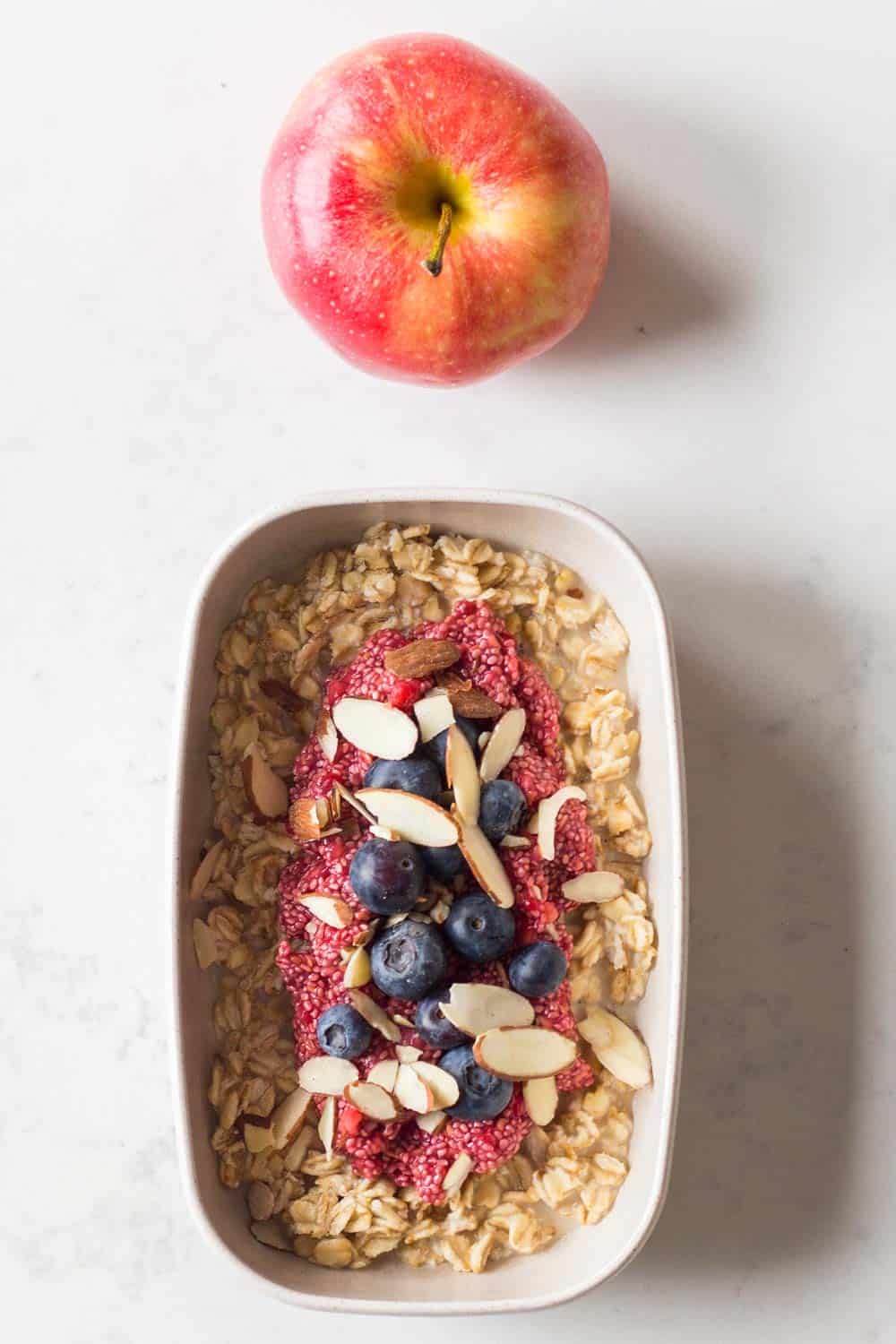 What to pay close attention to when switching to a vegan diet
Unfortunately, many people "jump" into veganism without a thorough understanding of nutrition.
As I wrote above, the reasons for becoming vegan are various but all are pressing and tend to push into acting faster than one can keep up reading about nutrition.
I recommend getting extensive knowledge about nutrition before jumping head first into a vegan diet in order to be able to stay healthy while successfully follow through with a vegan lifestyle.
Simply removing animal products from your diet is going to leave you malnourished. You have to think about how you will replace the animal products that you eat or ate and that used to offer you protein, iron and vitamin B12. And you have to pay close attention to get in enough in your diet on a daily basis.
Protein and iron can be an easy task once you know what plan-foods are the highest protein and iron sources: e.g. soy, legumes, nuts and seeds.
Sufficient vitamin B 12 however is only in fortified foods and/or a vitamin B 12 supplement. More on adequate Vitamin B12 intake here. Make sure you keep on track with your Vitamin B12 intake to maintain healthy nutrient levels.
If you plan on switching to a vegan diet, get informed first. Read as much as you can about nutrition in general from various sources, not only websites supporting veganism but also websites and books opposing this diet. It'll only make you the most knowledgable vegan and also the healthiest vegan. The more you know about nutrition the better you'll be able to create a Nutritionally-Balanced Vegan Meal Plan on which you can thrive.
I also highly recommend going through the process with the help of a nutritionist and maybe doctor well-versed in vegan nutrition to ensure you are meeting your daily nutritional needs.
A Vegan Lunch for a Nutritionally-Balanced Vegan Meal Plan – black beans, quinoa, corn, butter lettuce and cherry tomatoes with an avocado cilantro dressing.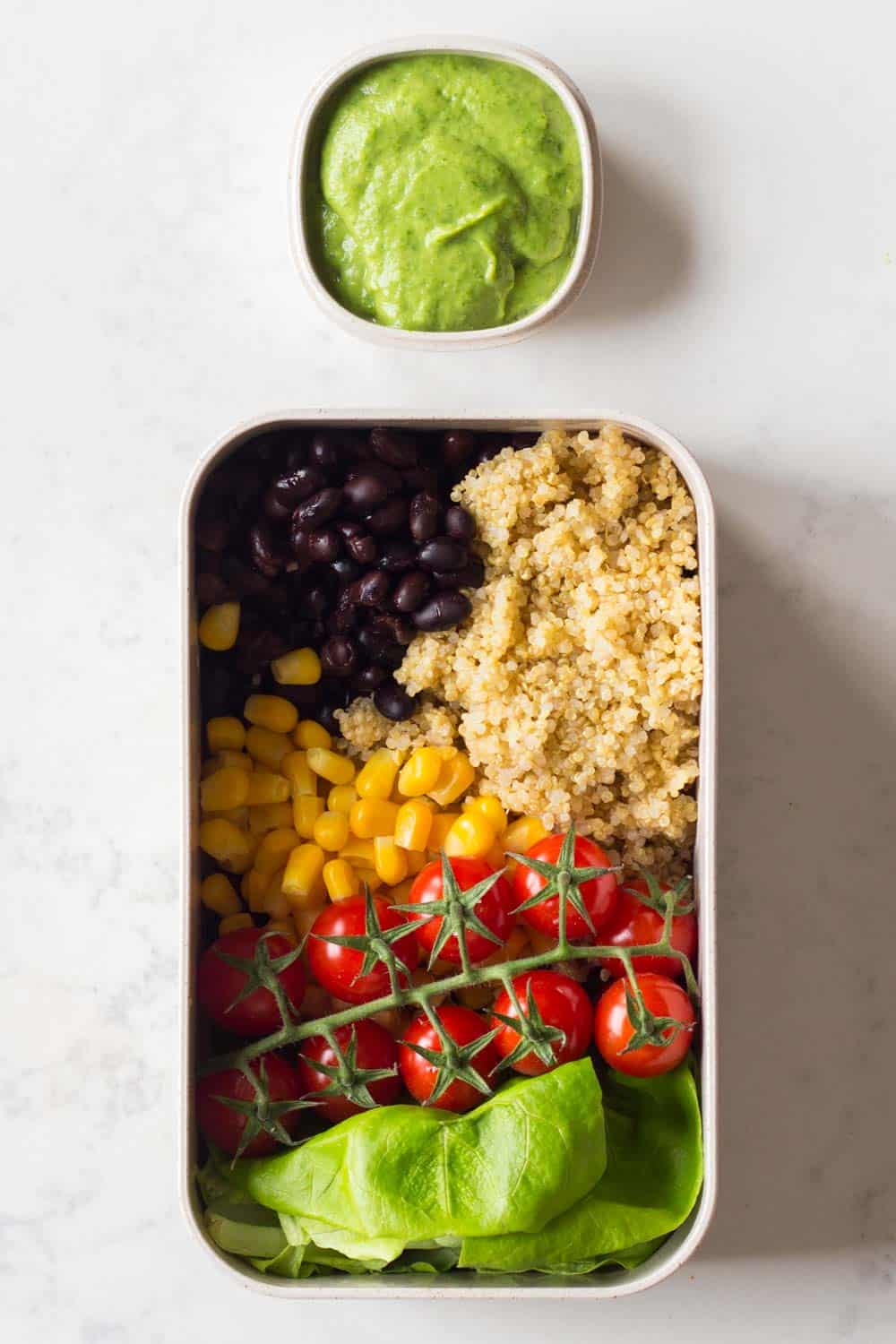 Nutritionally-Balanced Plant-Based Vegan Meal Plan
In order to become and stay healthy on a vegan diet you need to ensure it is nutritionally balanced and plant-based. Meaning it needs to contain plenty of fresh vegetables and fruit, healthy protein-rich whole grains, and high-iron plant-based proteins.
The easiest way to think about it is to eat vegetables or fruit in every single meal, protein-rich grains in every single meal and a food containing iron in every single meal + either a vitamin B12 supplement daily or the necessary amount of Vitamin B12 fortified foods to meet your needs.
Try and avoid highly processed foods that have no nutritional value as they will just fill up your tummy and not leave room for the nutritious foods your body needs to stay healthy. This obviously does not only apply to the vegan diet but ANY healthy diet.
In order to stay on track with a healthy vegan diet and to ensure you meet your needs I recommend you create a vegan meal plan on either a daily basis or weekly basis. Plan out every single meal and either prep the whole meal ahead or prep ahead the ingredients so cooking becomes a easy and quick task.
For my vegan meals I like preparing big batches of home-cooked legumes and home-cooked whole grains and then freeze them in single portions so they are ready to grab and reheat. If I haven't had time of course canned legumes are great as well and whole grains like quinoa actually only need 15 minutes to cook, so no need to stress if the big batch ran out ahead of time.
For more healthy vegan recipes check out the blog's vegan section.
A Vegan Dinner for a Nutritionally-Balanced Vegan Meal Plan – Chickpea Spinach Curry made with coconut milk with wild rice blend on the side.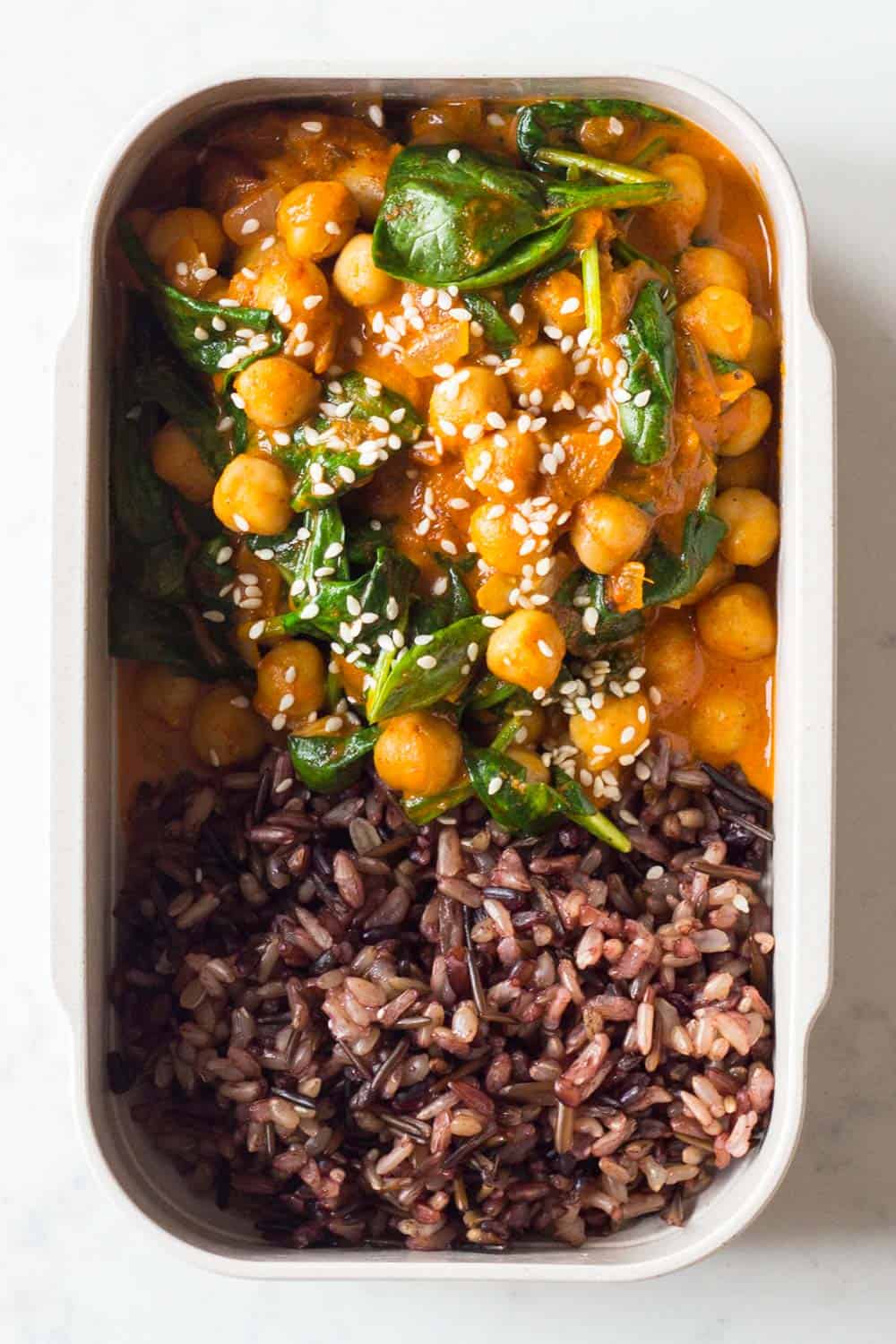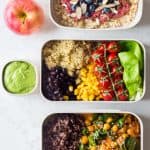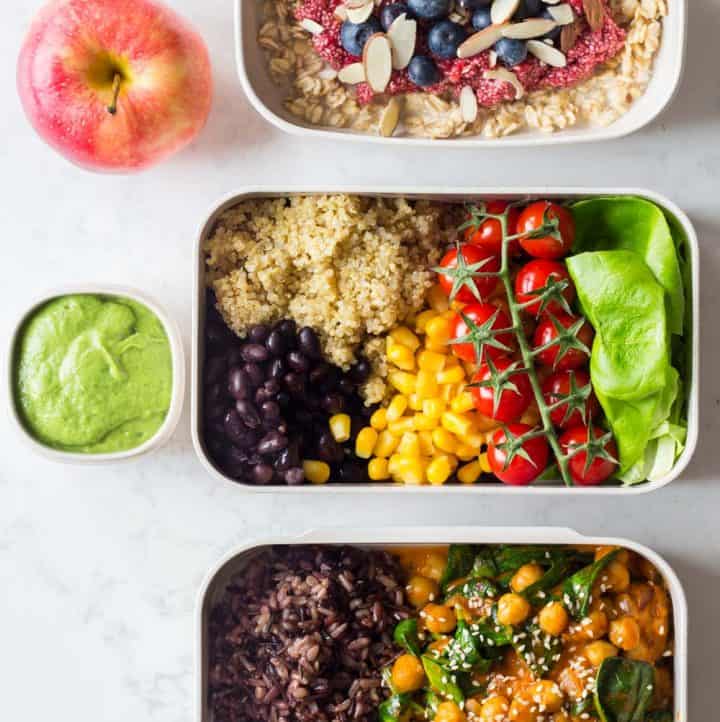 Vegan Meal Plan
What is the vegan diet, how to make a nutritionally-balanced 1-day vegan meal plan, what to pay attention to when switching to a vegan diet? This and delicious vegan recipes all in one post.
Print Recipe
Pin Recipe
Ingredients
1/2

cup

oats

1

Tbsp

maple syrup

1/2

cup

almond milk

2

Tbsp

chia seeds

2

Tbsp

blueberries

1/2

cup

raspberries

1

Tbsp

sliced almonds

1/2

cup

quinoa

3/4

cup

vegetable stock

3/4

cup

black beans

10

cherry tomatoes

5

large leaves

butter lettuce

1/4

cup

corn

1/2

avocado

1

Tbsp

avocado oil

1/2

cup

cilantro

1

jalapeño

1/2

lime

1/2

cup

cooked wild rice blend

1/2

Tbsp

coconut oil

1

clove

garlic

1/2

small onion

1.5

Tbsp

yellow curry paste

1/2

cup

light coconut milk

3/4

cup

cooked chickpeas

1

tsp

sesame seeds

2

cups

baby spinach

sea salt

pepper

1

apple
Instructions
Breakfast: The night before, blend raspberries in a blender (add a couple Tbsp of water if necessary).

Add oats, maple syrup and almond milk into sealable container, shake and refrigerate overnight.

Add blended raspberries and chia seeds into another sealabler container, shake and refrigerate overnight.

Serve both together and sprinkle with sliced almonds and blueberries.

Lunch: Cook quinoa in vegetable broth for about 15 minutes, then fluff up with a fork.

Add avocado, cilantro, jalapeño, lime juice, avocado oil, sea salt and pepper to a blender and blend (<- this is your dressing).

Add cooked quinoa, black beans, corn, butter lettuce and cherry tomatoes to a bowl or lunch container.

Pour dressing over lunch bowl minutes before eating.

Dinner: cook wild rice blend as instructed on packaging. Or 22 minutes on high pressure in the Instant Pot.

Preheat skillet over medium heat.

Peel and chop onion, peel and crush garlic, add a splash of coconut oil to the hot skillet and stir fry onion in it until translucent.

Add curry paste and coconut milk and whisk until well combined, then add cooked chickpeas to reheat. Once chickpeas are hot, remove skillet from heat and add baby spinach and stir until it wilts. Add sea salt and pepper to taste, sprinkle with sesame seeds and serve with wild rice blend.

Snack: 1 apple. Instruction: eat everything but the stem ;)
Nutrition
Calories:
1820
kcal
|
Carbohydrates:
253
g
|
Protein:
54
g
|
Fat:
72
g
|
Saturated Fat:
21
g
|
Sodium:
1644
mg
|
Potassium:
3254
mg
|
Fiber:
60
g
|
Sugar:
52
g
|
Vitamin A:
11505
IU
|
Vitamin C:
130.5
mg
|
Calcium:
679
mg
|
Iron:
17.8
mg
What's your clean eating vibe?
Take this fun QUIZZ and find out in 10 seconds!
Disclaimer: this is an omnivore food blog and if you subscribe to Green Healthy Cooking's newsletter or follow Green Healthy Cooking on social media you will see both, vegan recipes and recipes containing animal products.
* this post contains affiliate links and I might earn a small commission at no added cost to you if you purchase the product.