The best and easiest Instant Pot Risotto you'll ever make. Risotto is a delicious Italian rice dish that usually takes quite a while to prep. With the pressure cooker, we bring the cooking time down to about 30 minutes. Ever since discovering how to cook rice in the Instant Pot I've never ever cooked it any other way again.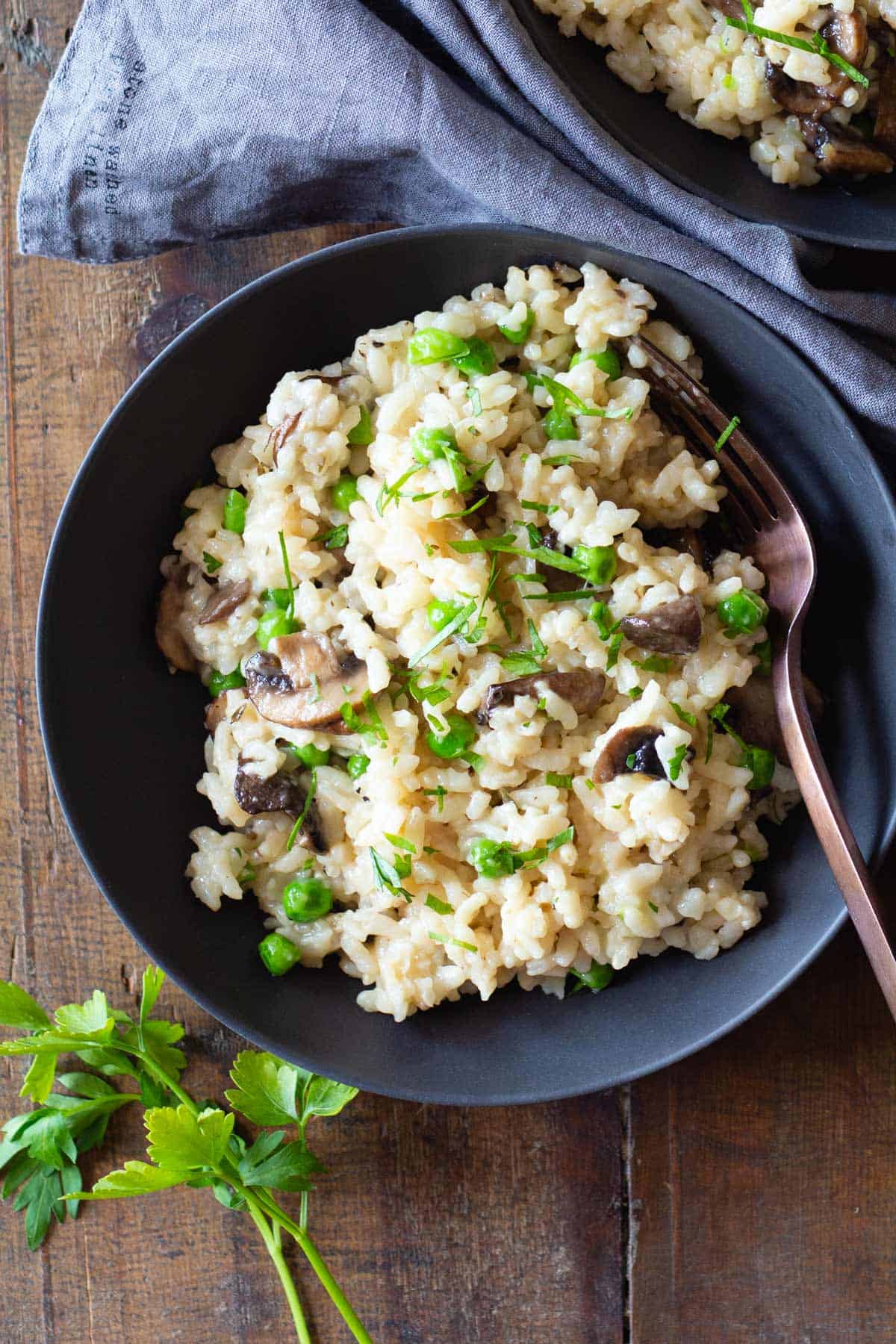 What Rice Is Used For Risotto?
The most popular worldwide is Arborio, but any Italian short-grain rice will work. Carnaroli, Vialone, Nano, and Baldo all work as well.
The reason behind this is that these types of short-grain rice types have high starch content which becomes nice and sticky which is what you want for a deliciously creamy risotto.
How To Make Risotto In The Instant Pot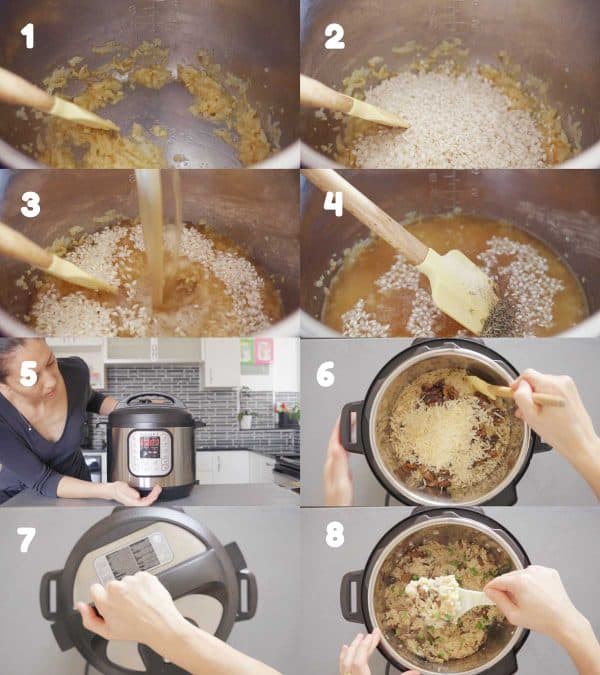 It's so incredibly easy I'm never making risotto on the stove ever again.
Preheat the Instant Pot by pressing the saute button and once the display says "hot". This takes approximately 3-5 minutes. Add 1 Tbsp of butter and let it melt before you add about 1/2 cup chopped onion and 2-3 cloves of crushed or chopped garlic. Sauté everything until lightly brown. This takes approximately 4-5 minutes.
Add 1.5 cups of arborio rice (remember, the kind of rice is very important!). You can leave the Instant Pot on at this point or turn it off. Either way works.
Add 3 cups of homemade chicken bone broth or any other stock or broth you prefer. If you want to cook more risotto in your instant pot the only thing you have to remember is the rice to broth ratio. It's a 1:2 ratio of rice to broth.
Now it's time to add seasoning and the exact amount will depend a lot on how seasoned your broth is. If you are using low-sodium broth you might have to add quite a bit of salt to ensure the risotto doesn't taste bland at the end. Rice absorbs a lot of the salt. If you made your broth at home and seasoned it generously you might need a little less. A good way to find the right balance is to season your broth in a separate bowl. Add sea salt, pepper, and dried thyme right into your broth if it's one you don't know well. Try the broth with a small spoon before adding to the instant pot. You want the broth to be slightly too salty.
Put the lid onto the pressure cooker and turn the valve to the sealing position before setting the high-pressure cooking time to 7 minutes. Now you don't have to do anything but wait. The pot will come to pressure in about 10 minutes, then cook on high pressure for 7 minutes and then automatically switch to the keep-warm function. Don't touch the instant pot. Just let it release pressure naturally. This will take approximately 15-20 minutes.
The risotto cooking time in the instant pot gives you enough free time to prepare whatever vegetables and/or protein you want to add to your risotto. You have full creative freedom here. My favorite add-ons are:

Sauteed mushrooms and green peas
Lightly roasted asparagus and pan-fried garlic shrimps
Arugula and baked chicken

Once the safety pin dropped because all pressure is out it's time to add 5oz of freshly grated Parmesan cheese. At this point, you can also add any and all other add-ons you decided to make for your risotto. Give it all a quick stir to mix well.
Put the lid on again without having to seal it or anything, just to trap the remaining heat for about 1 minute, so the Parmesan cheese can melt and make the risotto nice and creamy.
And it's already time to serve!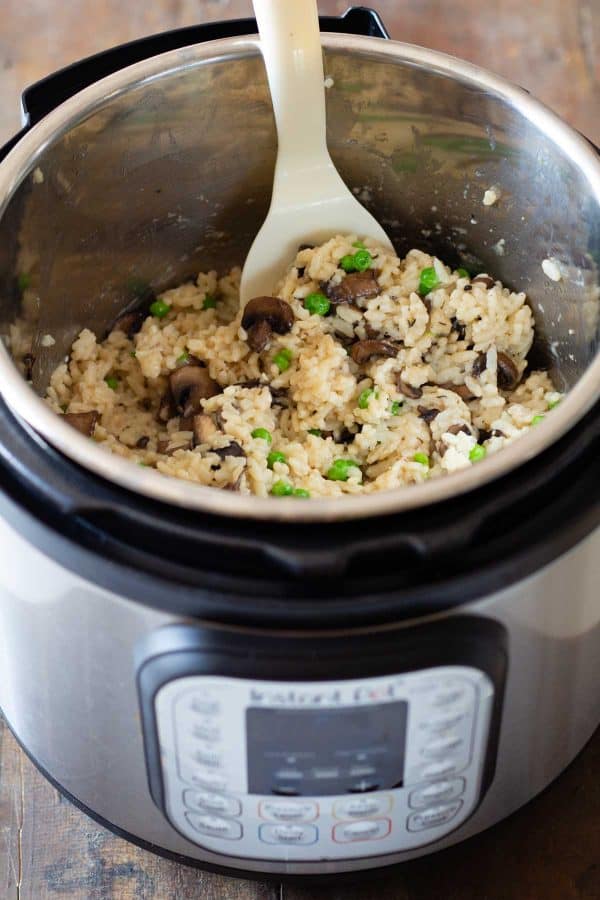 What Goes Well With Risotto
With my Instant Pot Mushroom Risotto shown here, a simple arugula tomato salad is my favorite. You know, with a simple olive oil, balsamic vinegar, sea salt, and pepper dressing.
You can, however, go the fancy route and make a full fletched summer salad. Add all the colors of the rainbow to your salad and make it special.
With an asparagus and shrimp risotto, or arugula and chicken risotto, I'd rather serve it alone without extra salad.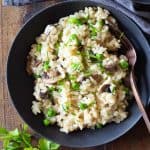 Instant Pot Risotto
The easiest Instant Pot Risotto you'll ever make. It is a delicious Italian rice dish that takes only 30 mins start to finish in the pressure cooker.
Print Recipe
Pin Recipe
Ingredients
1/2

cup

chopped onion

3

cloves garlic

1

Tbsp

butter

1.5

cups

Arborio rice

3

cups

chicken bone broth

-

vegetable broth to make vegetarian

sea salt

pepper

1

tsp

dried thyme

8

oz

mushrooms

1

Tbsp

butter

3/4

cup

frozen peas

5

oz

grated Parmesan cheese

parsley
Instructions
Peel and finely chop onion and garlic.

Preheat Instant Pot by pressing the saute button. Then add butter, chopped onion, and garlic and sauté until lightly brown.

Add Arborio rice, broth, sea salt, pepper, and thyme, and give it a quick stir.

Put on the lid and turn the valve to the sealing position, then set the instant pot to 7 minutes on high pressure. Let pressure release naturally after that (NPR).

In the meantime, clean mushrooms with a dry paper towel (do not wash with water), slice into about 1/4" thick slices and add with 1 Tbsp butter to a large preheated pan over medium heat. Stir-fry until cooked to your liking. (I like mine very brown so I stir-fry them for at least 15 mins).

Once the safety pin the Instant Pot dropped naturally, add the grated Parmesan, mushrooms, and frozen peas. Give a quick stir, then immediately put on the lid again. No need to seal the lid. Let the Parmesan melt with the remaining heat for about 1 minute.

Serve and sprinkle with freshly chopped parsley.
Nutrition
Calories:
544
kcal
|
Carbohydrates:
71
g
|
Protein:
26
g
|
Fat:
18
g
|
Saturated Fat:
10
g
|
Cholesterol:
46
mg
|
Sodium:
651
mg
|
Potassium:
529
mg
|
Fiber:
4
g
|
Sugar:
4
g
|
Vitamin A:
689
IU
|
Vitamin C:
14
mg
|
Calcium:
416
mg
|
Iron:
5
mg
What's your clean eating vibe?
Take this fun QUIZZ and find out in 10 seconds!