Roasted red pepper sauce is quick to prepare and can be used to jazz up any number of meals like sandwiches, wraps, eggs, meat, and pasta. This is a fantastic meal prep recipe!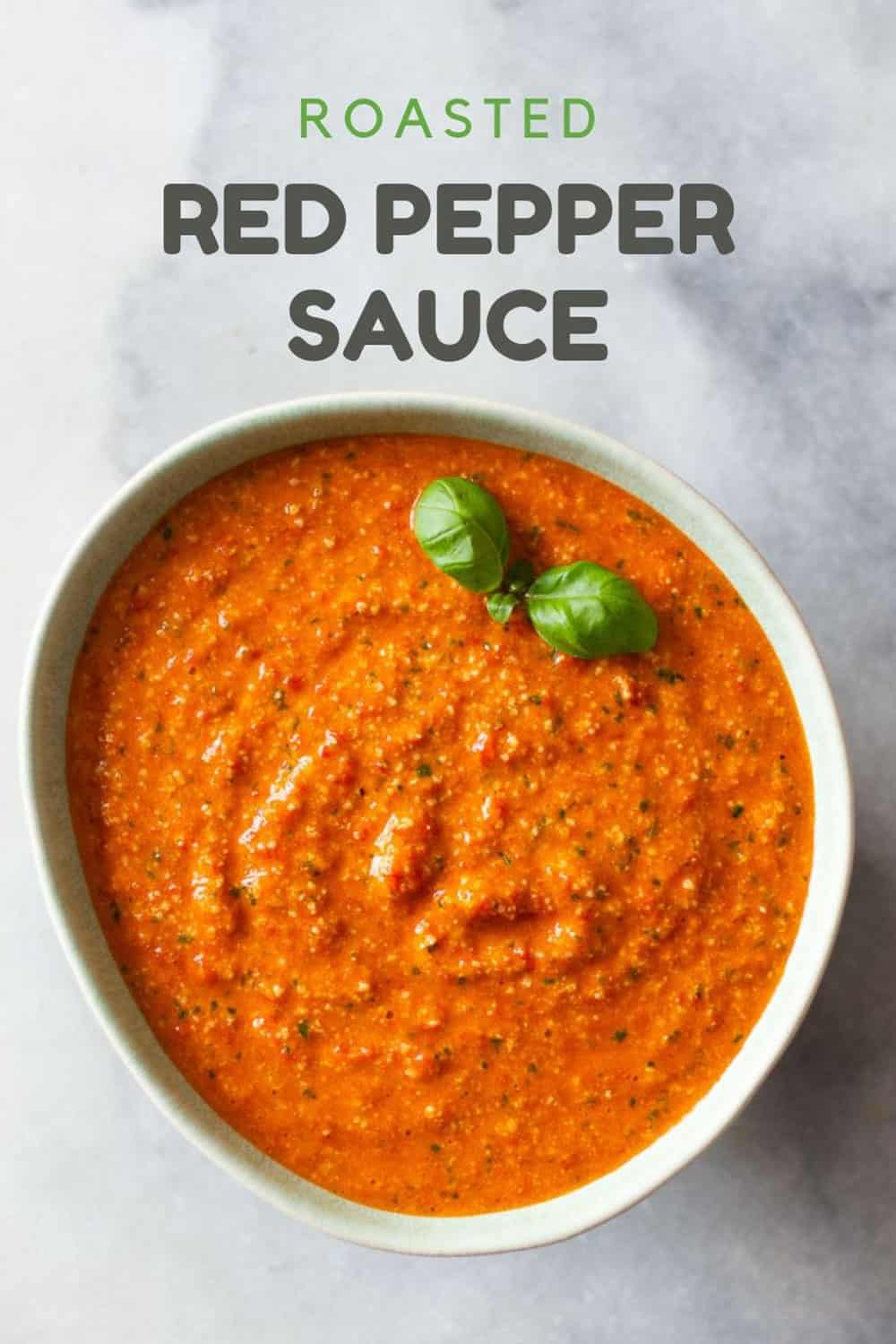 Uses for Roasted Red Pepper Sauce
This simple but delicious sauce will last for two weeks in your refrigerator. Make a big batch to use as a topping for breakfasts, lunches, and dinners. Here are a few ideas.
It's a delicious sauce for chicken, fish, and seafood, especially shrimp!
Drizzle roasted red pepper sauce over scrambled eggs or in an omelet.
Use it as a flavorful, healthy sauce for pasta. It would be fantastic over spinach and ricotta stuffed shells.
Potatoes
Try it as a condiment on sandwiches, burgers, and wraps
Roasted red pepper sauce not only looks lovely on a dish, but it also offers a whole new dimension of flavor.
The sauce is a great way to add more veggies to a meal, too. Red peppers are packed with vitamins A and C, potassium, beta-carotene and fiber.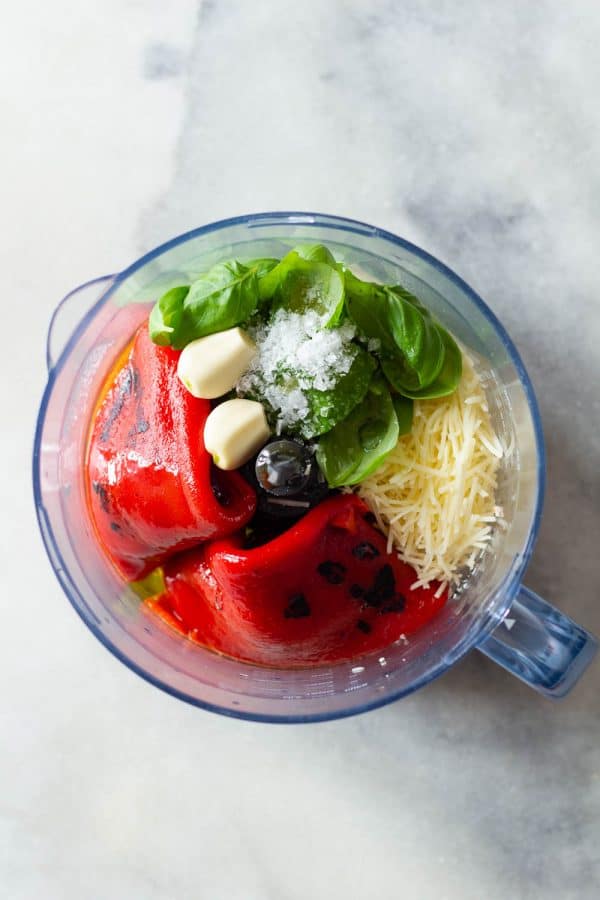 Can I use roasted red peppers from a jar?
Need to make dinner in a hurry? Use jarred roasted red peppers! So that you don't water down your sauce, be sure to drain as much of the liquid from the jar as possible.
If you enjoy making things from scratch, you can make roasted red peppers yourself. It can be done under a broiler, over a gas flame burner, or even on a grill.
How to Roast Peppers
Cut the peppers in half and remove the seeds, stems and membranes. Lay them cut side down on a foil-lined baking sheet.
If using an oven, roast the peppers under the broiler for about 10 minutes. Watch them carefully so they don't catch fire.
When peppers are completely roasted, their skin should be darker in color and the peppers will collapse in on itself.
Seal the peppers inside a paper bag until they are cool. When the peppers are cool, the skins will slip right off.
If you would rather roast whole peppers, use the same technique. However, do not cut into the peppers at all. After roasting, you will remove the stem, membrane, and seeds.

What if I don't have a food processor?
If you don't have a food processor, you can use any appliance that purees food. For example, puree the sauce in a high-speed blender or with an immersion stick blender.
Can I freeze roasted red pepper sauce?
Absolutely! Roasted red pepper sauce can be frozen in any freezer-safe airtight container. It will last in the freezer for three to four months.
To make freezing the sauce easier:
Pour cool or cold sauce into a freezer bag. Close the bag, removing as much air as possible.
Lay the bag flat on a tray so it freezes into a flat shape. As a result, it will take less time to thaw the frozen sauce out.
To thaw out the frozen sauce, place the bag into a bowl of lukewarm water for about 30 minutes. You may notice some separation of the thawed sauce. This is perfectly normal; it will combine again as it warms up.
NOTE: Some people prefer not to freeze cheese. If this applies to you, simply wait to add the Parmesan cheese until after you thaw the sauce.
You can also freeze or refrigerate the roasted red peppers themselves. This way, you can make the sauce fresh each time you want to use it!
Roasted Red Pepper Sauce
Roasted red pepper sauce is quick to prepare and can be used to jazz up sandwiches, wraps, eggs, meat, and pasta. This is a fantastic meal prep recipe!
Print Recipe
Pin Recipe
Ingredients
3

large roasted red peppers

1/2-1

cup

freshly grated Parmesan

1

cup

fresh basil leaves

2

cloves garlic

sea salt

1/2

lemon (juice of)

1/2

cup

olive oil
Instructions
Add all ingredients to a food processor and process until smooth.
Notes
Serve with chicken, fish, chickpeas, or eggs as well as any grain or pasta. Lasts in the fridge for up to 2 weeks.
Nutrition
Calories:
148
kcal
|
Carbohydrates:
1
g
|
Protein:
2
g
|
Fat:
15
g
|
Saturated Fat:
3
g
|
Cholesterol:
4
mg
|
Sodium:
291
mg
|
Potassium:
35
mg
|
Fiber:
1
g
|
Sugar:
1
g
|
Vitamin A:
280
IU
|
Vitamin C:
7.3
mg
|
Calcium:
86
mg
|
Iron:
0.3
mg
What's your clean eating vibe?
Take this fun QUIZZ and find out in 10 seconds!