Too much leftover rice? No problem! This delicious recipe will show you what to make with your leftover rice using just 4 ingredients, so it is all eaten the same day.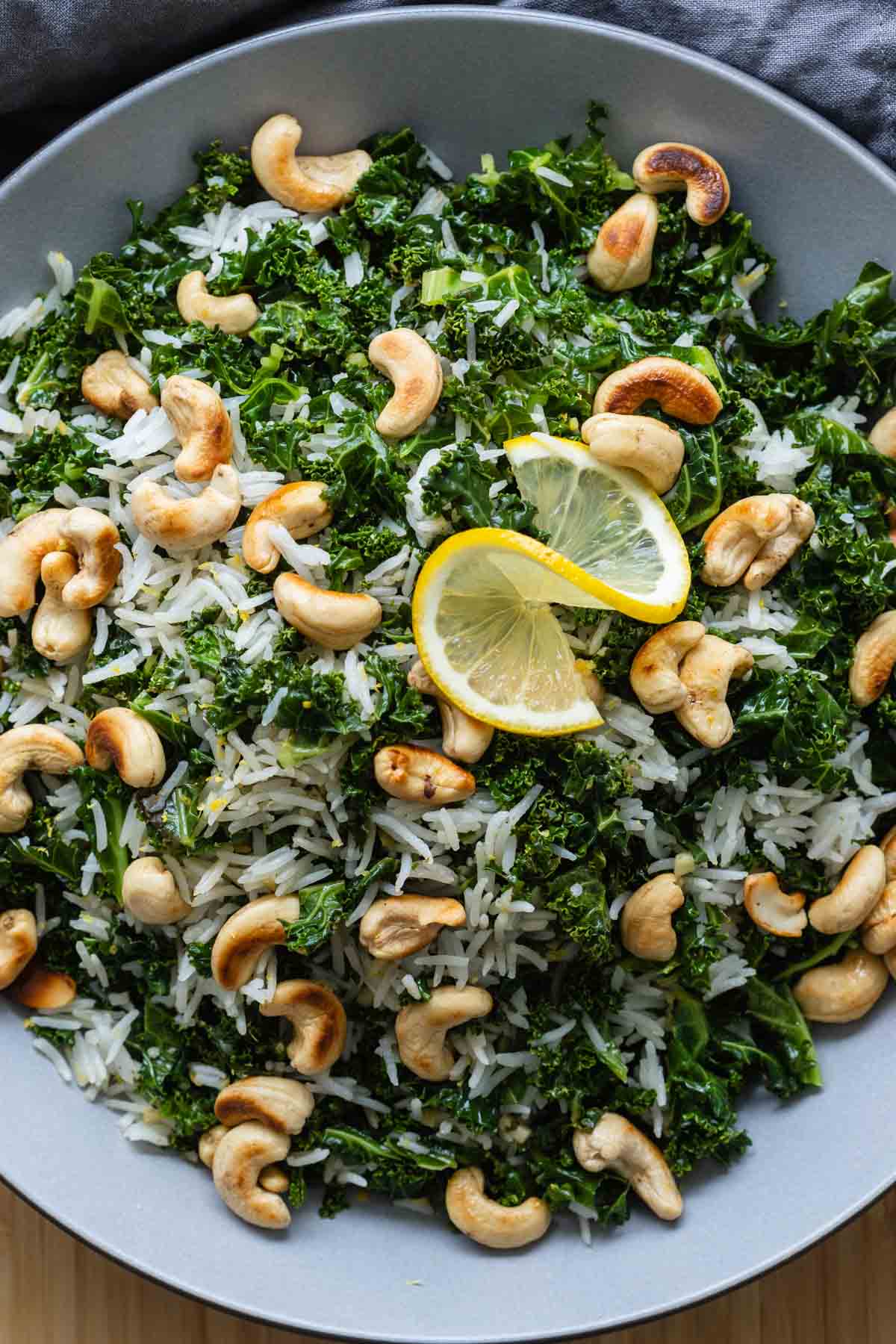 My absolute favorite way to cook rice is in the Instant Pot. Instant Pot Rice makes for the most perfect texture. If you are like me and always make too much rice thinking it's not enough, then you end up having like 2 or 3 cups of cooked leftover rice.
It is important to note that it is perfectly safe to store rice in the refrigerator. The key to avoiding bacteria growth is to store the rice soon after it has finished cooking. Let it cool down for 10-15 minutes, then place it in an airtight container and put it in the fridge.
Ingredients and Substitutions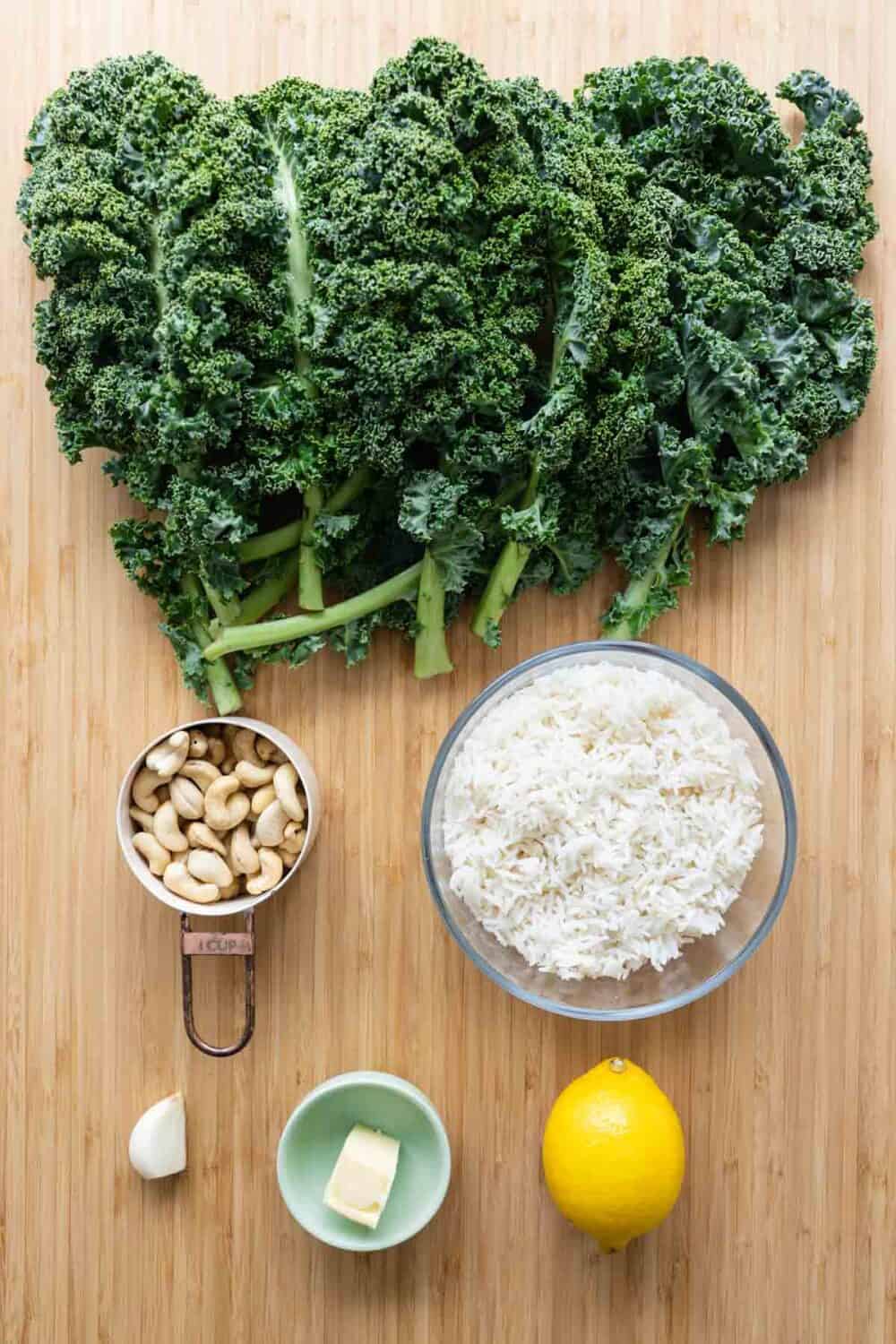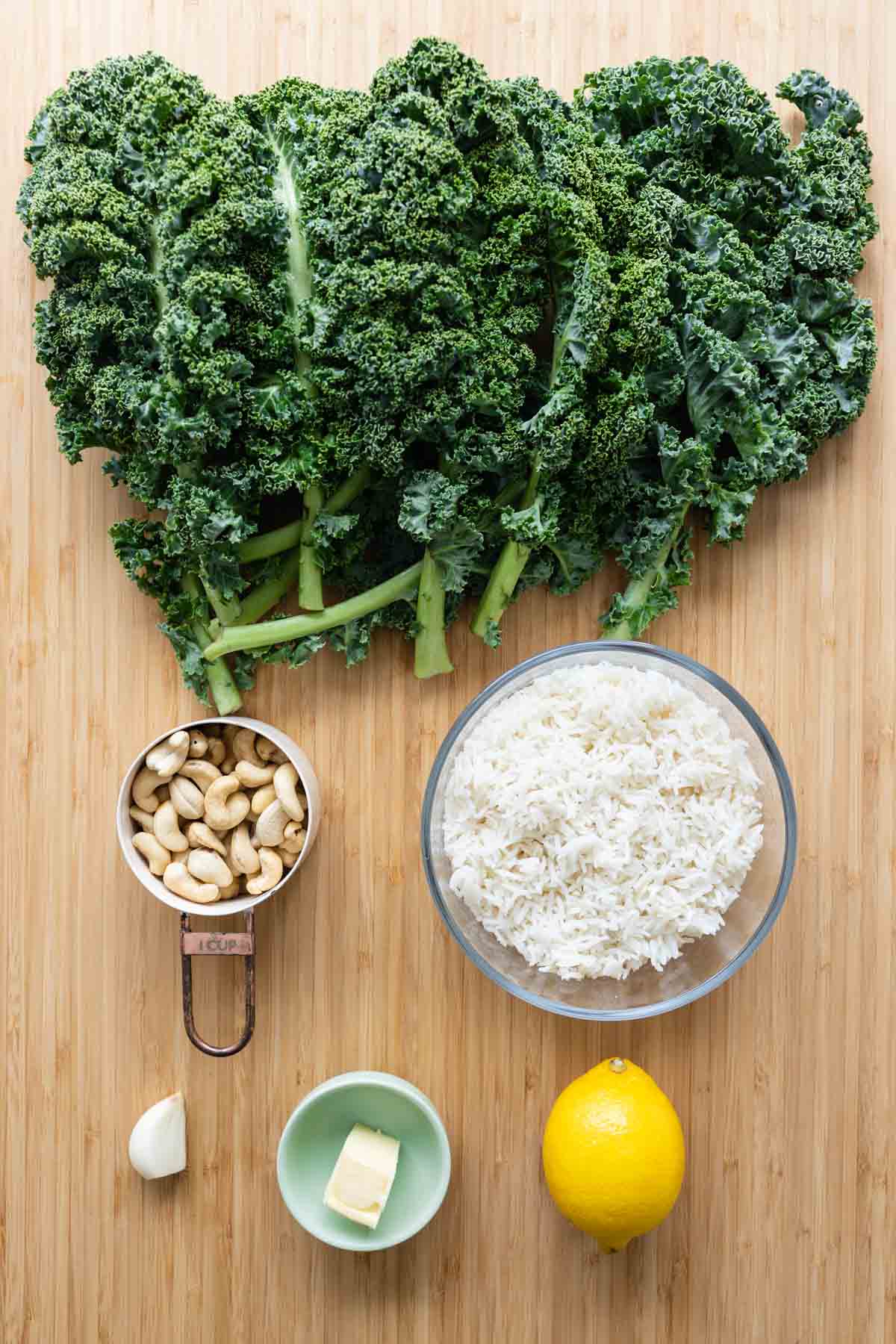 Cooked rice – of course this is your main ingredient, however this recipe works with any type of leftover grains. The sky is the limit!
Kale – my favourite green to spice leftover rice is kale, but spinach or chard are great choices too.
Raw cashews – I like how cashews and kale taste together, but feel free to us your favorite nut for this recipe.
Fresh lemon – this is my secret ingredient to really bring your leftover rice alive. You will use the zest and the juice of one lemon.
Garlic – you will need one clove of garlic.
Butter – butter is great for browning the cashews and cooking the kale. But you can replace it with ghee or some avocado oil if needed.
How to Make Leftover Rice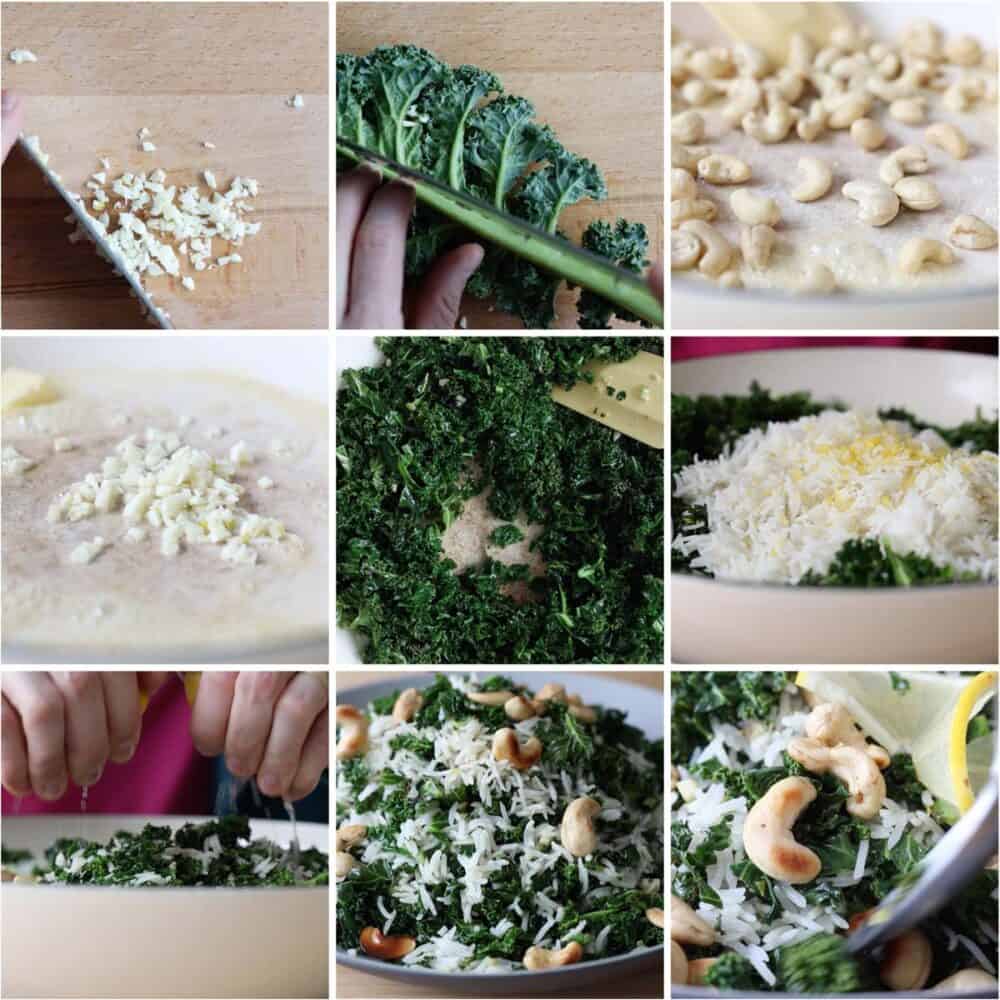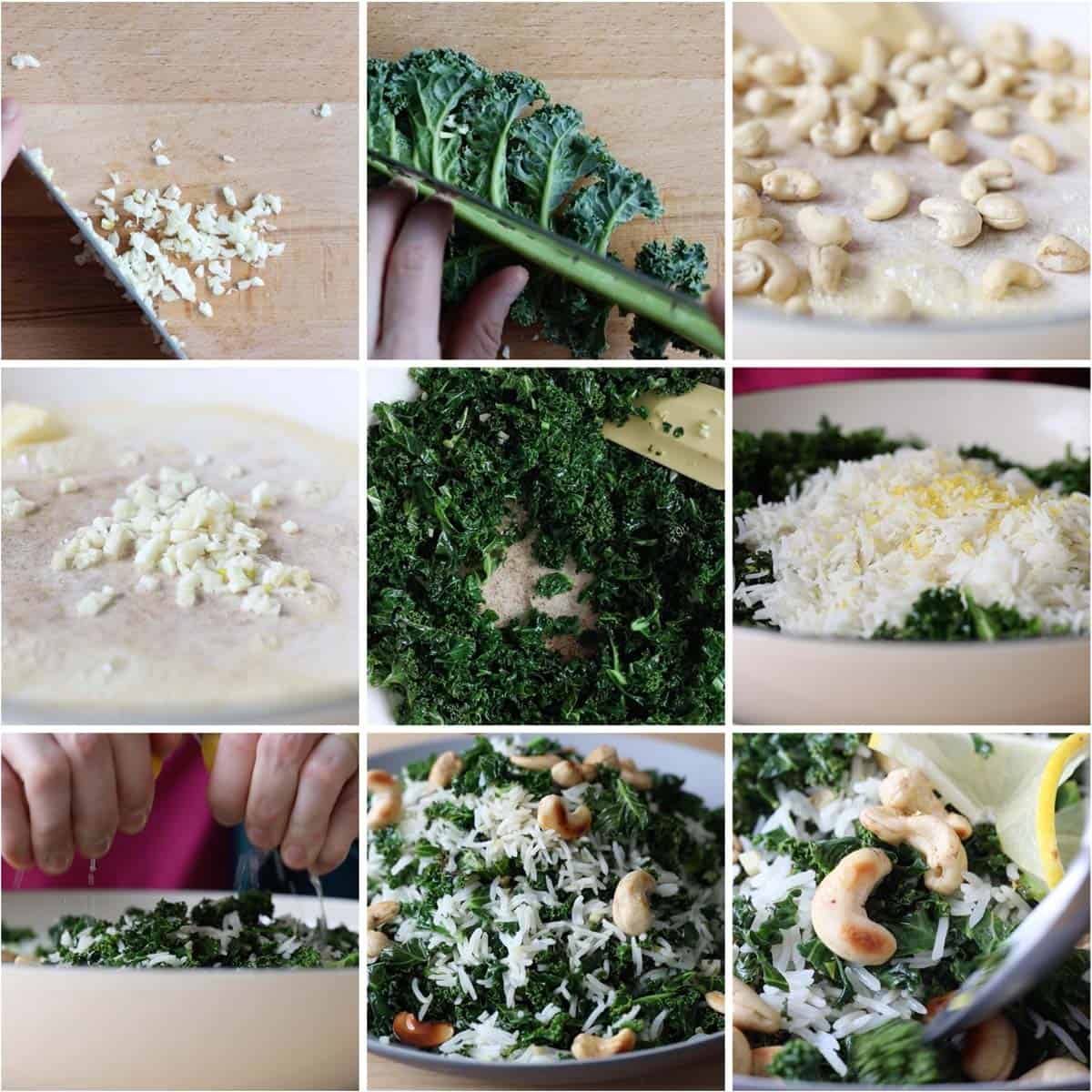 Grab a chopping board and finely chop one clove of garlic.
Then grab a bunch of kale, destalk it and cut in fine strips. Set aside.
Preheat a large pan over medium-low heat. Once hot add 1/2 Tbsp of butter and 3/4 cup of raw cashew nuts. Stir constantly until they roast a nice golden color. Keep an eye on them so they don't burn! Remove from pan and set them aside.
Add another 1/2 Tbsp of butter, then add the chopped garlic and sauté for 15-20 seconds.
Add the kale to the hot pan and stir until it wilts a little and mixes well with the garlic.
When the greens are cooked to your liking, add the leftover rice to the pan as well as the zest of one lemon. Stir everything well in the pan and add some sea salt if needed.
Once the rice is warm, remove the pan from heat and squeeze the juice of the lemon you got the zest from.
Serve the rice in a serving bowl and top it off with the browned cashews. Grab a fork and enjoy!
Need more ideas to spice up your leftover rice? Check out these Pomegranate Rice Salad, Chinese-inspired Fried Rice and Stuffed Grape Leaves (Dolmas).
How long can leftover rice stay in the fridge?
Anywhere from 4-6 days as long as properly cooked and properly stored. This means you have to store it in an air-tight container soon after cooking it.
Don't cook rice, serve some on your plate and leave the leftovers on the kitchen counter for hours and then store. That's a big no no.
Also, it is not recommended to reheat the same batch of rice many times. Once you store it and then reheat it, that batch has to be eaten and should not be stored again.
Can you freeze leftover rice?
YES!! You can absolutely freeze it. My favorite way to freeze it is in these reusable silicone freezer bags (this is an affiliate link and I may earn a commission if you buy through the link at no extra cost to you.
Not only can you freeze your leftover rice straight out of the pot. You can also freeze my spiced-up rice with cashews and kale and all.
To defrost, just place back in the fridge about 12 hours prior to consumption and reheat in a pan over medium heat.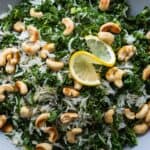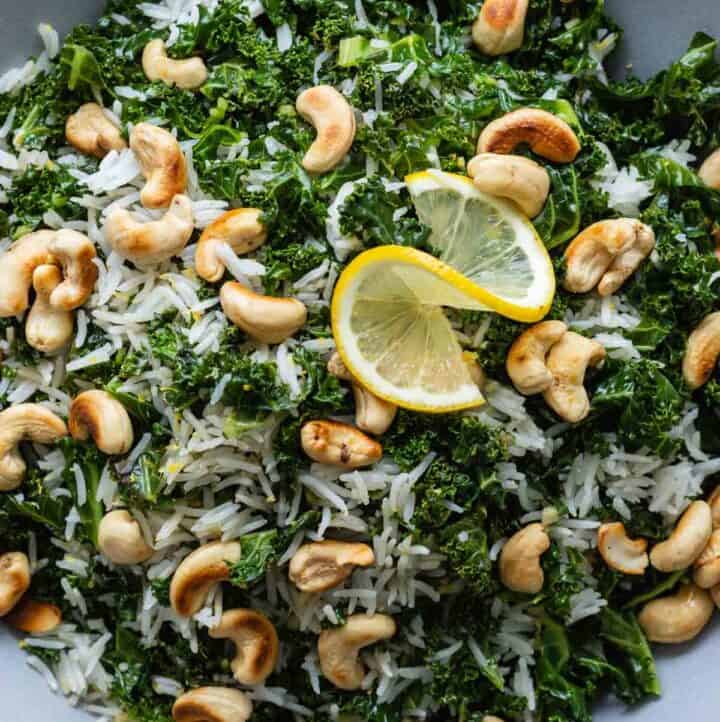 What to make with Leftover Rice
Too much leftover rice? No problem! This delicious recipe will show you what to make with your leftover rice using just 4 ingredients.
Print Recipe
Pin Recipe
Ingredients
2

cups

cooked rice

1

bunch

dinosaur kale

1

clove

garlic

-

(crushed)

1/3

cup

cashews

1

Tbsp

butter

1

lemon
Instructions
Wash and destalk kale and cut into thin stripes. Finely chop garlic.

Heat a large pan over medium-low heat, once hot melt 1/2 Tbsp butter in it and add cashews. Stir constantly to avoid burning and keep the temperature low. Toast for about 2-3 minutes until golden. Set aside.

Keep the pan on the cooktop, add 1/2 Tbsp butter and sauté garlic in it for approximately 20 seconds, then add chopped kale and crushed garlic. Fry until soft (about 3-5 minutes).

Add rice and lemon zest and stir until rice is reheated and well combined with kale. Add salt if needed.

Turn off heat, squeeze the juice of the lemon over it, top with the buttered cashews and serve immediately.
Nutrition
Calories:
229
kcal
|
Carbohydrates:
34
g
|
Protein:
7
g
|
Fat:
8
g
|
Saturated Fat:
3
g
|
Polyunsaturated Fat:
1
g
|
Monounsaturated Fat:
3
g
|
Trans Fat:
1
g
|
Cholesterol:
8
mg
|
Sodium:
53
mg
|
Potassium:
471
mg
|
Fiber:
1
g
|
Sugar:
1
g
|
Vitamin A:
6837
IU
|
Vitamin C:
96
mg
|
Calcium:
122
mg
|
Iron:
2
mg
What's your clean eating vibe?
Take this fun QUIZZ and find out in 10 seconds!