Don't let your leftover rice go to waste. Spice it up and make it a new meal with this easy recipe for leftover rice. Works great with any grains really.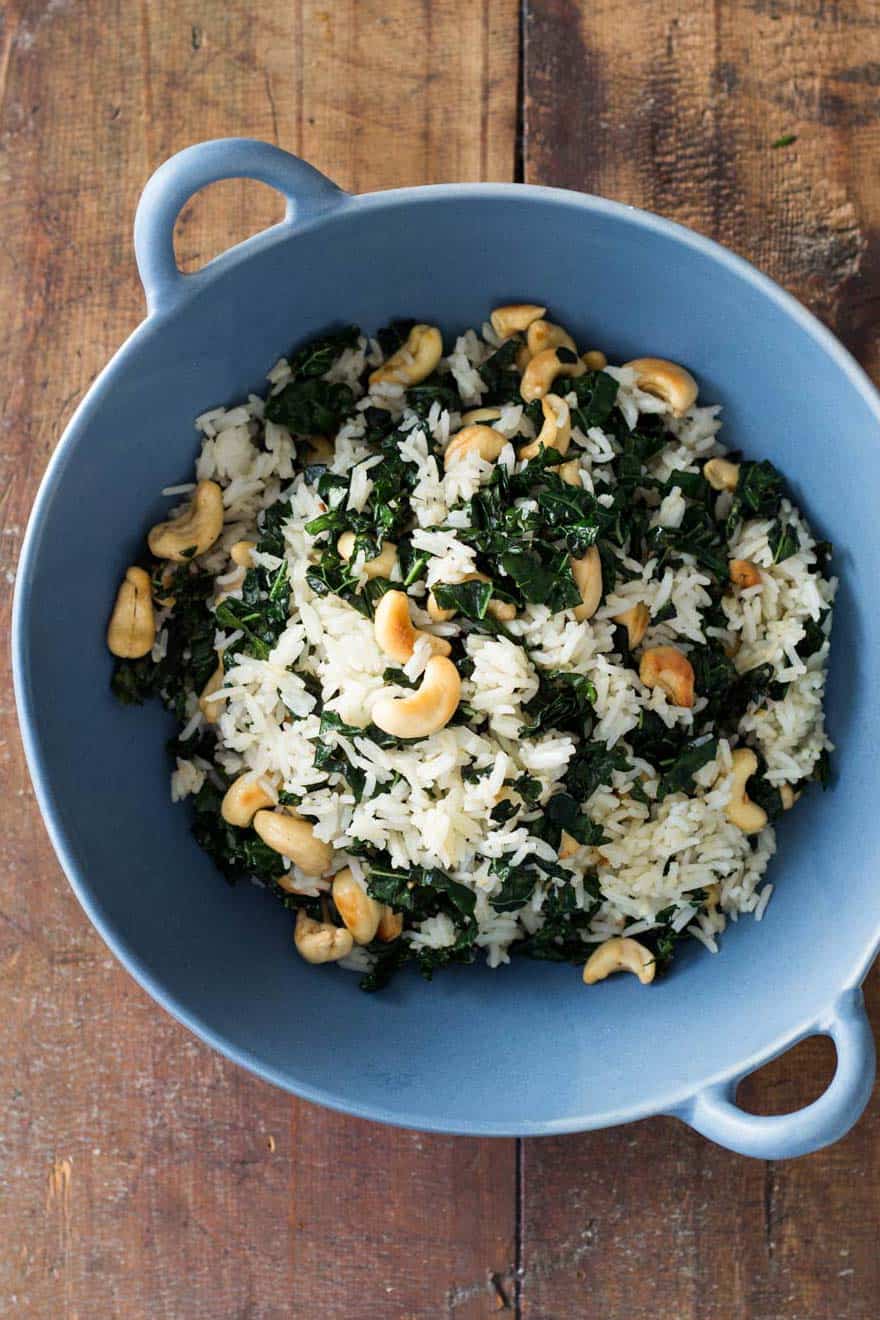 So to begin with, my absolute favorite way to cook rice is in the Instant Pot! Instant Pot Rice makes for the most perfect texture.
6-quart pressure cookers need at least 1 cup of liquid though so we have to cook a whole cup of rice. Or with an 8-quart we even have to cook 2 cups of rice. Which always end up being double once cooked.
That's a lot of rice and leftovers are meant to happen. I used to not like that because rice becomes kind of dry if stored. This is why I came up with this yummy recipe, to spice up that leftover rice and make it exciting again.
The best way to spice up your leftover rice
Add some butter-toasted nuts, such as cashews of pecans. Add some stir-fried kale or spinach. And lastly but most importantly add lemon zest and lemon juice to get rid of the rice's dryness.
Now this on its own is already super delicious as a side dish to pretty much any meat or fish. If you don't feel like really cooking you can also just fry an egg and call that dinner!
It's a complete meal of carbs, protein, fat, and veggies.
How long can leftover rice stay in the fridge?
Anywhere from 4-6 days as long as properly cooked and properly stored. This means you have to store it in an air-tight container soon after cooking it.
Don't cook rice, serve some on your plate leaving leftovers on the kitchen counter for hours and then store. No, no, no.
Serve your rice, immediately store the leftovers in an airtight container and as soon as slightly cooled (we're talking 20 mins max after cooking), store in the refrigerator and leave it there until you're ready to eat the rest.
Can you freeze leftover rice?
YES!! You can absolutely freeze it. My favorite way to freeze it is in these reusable silicone freezer bags (this is an affiliate link and I may earn a commission if you buy through the link at no extra cost to you.
Not only can you freeze your leftover rice straight out of the pot. You can also freeze my spiced up rice with cashews and kale and all.
To defrost, just place back in the fridge about 12 hours prior to consumption and reheat in a pan over medium heat.
How to Spice Up Your Leftover Rice
Don't let your leftover rice go to waste. Spice it up and make it a new meal with this easy recipe for leftover rice. Works great with any grains really.
Print Recipe
Ingredients
1

cup

cooked rice

1

bunch

dinosaur kale

1

clove

garlic

-

(crushed)

1/2

cup

cashews

1

Tbsp

butter

1

lemon
Instructions
Wash and destalk kale and cut into thin stripes.

Heat a large pan over medium-low heat, once hot melt 1/2 Tbsp butter in it and add cashews. Stir constantly to avoid burning and keep the temperature low. Toast for about 2-3 minutes until golden. Set aside.

Keep the pan on the cooktop, add the another 1/2 Tbsp butter and once hot add chopped kale and crushed garlic. Fry until soft (about 3-5 minutes).

Add rice and lemon zest and stir until rice is reheated and well combined with kale.

Remove from heat, squeeze juice of half a lemon over it, salt if necessary, stir in the buttered cashews and serve immediately.
Nutrition
Calories:
415
kcal
|
Carbohydrates:
49
g
|
Protein:
14
g
|
Fat:
21
g
|
Saturated Fat:
6
g
|
Cholesterol:
15
mg
|
Sodium:
107
mg
|
Potassium:
977
mg
|
Fiber:
2
g
|
Sugar:
3
g
|
Vitamin A:
13665
IU
|
Vitamin C:
191.1
mg
|
Calcium:
236
mg
|
Iron:
4.6
mg
Have you tried this recipe?
Take a picture and tag @greenhealthycooking Can't wait to see your version!