Garlic herb butter is a delicious compound butter made with fresh herbs and roasted garlic. This homemade condiment recipe makes the perfect topping for baked or mashed potatoes, garlic bread, or pasta.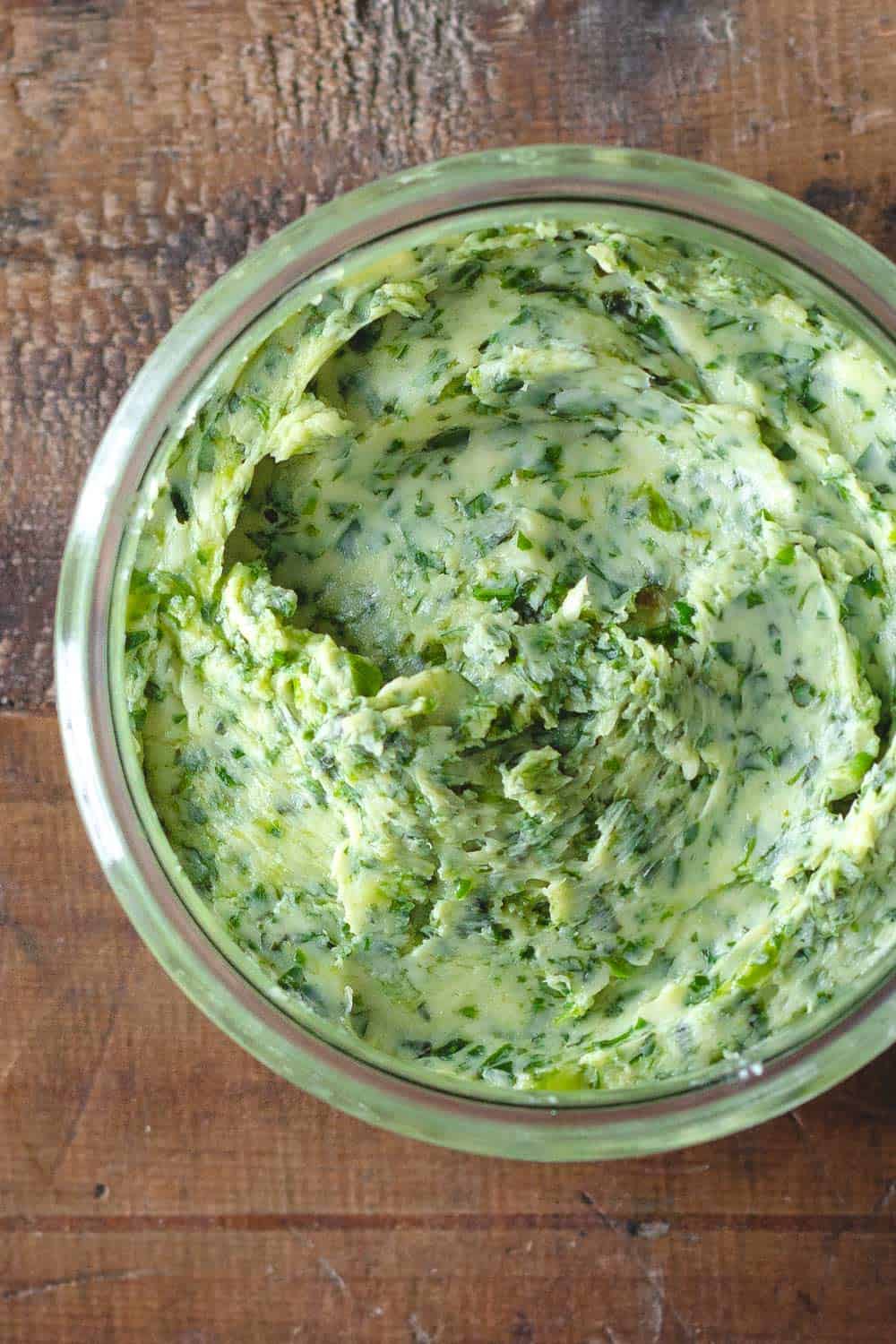 What's in garlic herb butter?
A blend of fresh herbs, roasted garlic, and creamy butter are in this homemade condiment. It's also known as compound butter.
This herb butter recipe uses several fresh herbs, which are chopped and mixed into the butter:
In addition to the fresh herbs, we add roasted garlic cloves, made by roasting heads of garlic in a cocotte (coquette).
The beautiful thing about making homemade compound butter is that any blend of fresh herbs can be used. If you don't care for parsley, basil, or chives, feel free to swap them out for something you enjoy. Common herbs found in garlic herb butter are dill, oregano, rosemary, and thyme.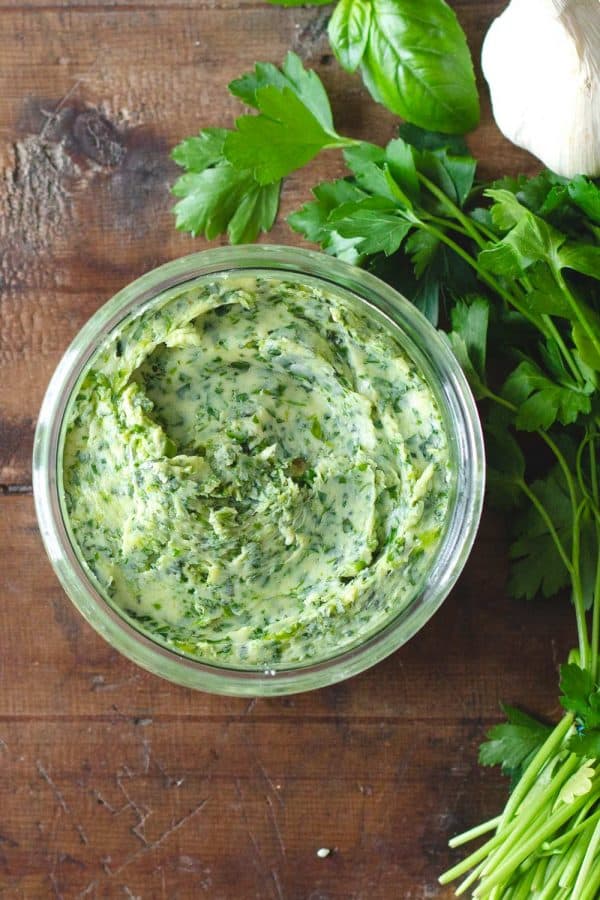 Can you freeze garlic herb butter?
Flavored butter freezes beautifully, keeping well for up to 6 months when it's wrapped tightly in plastic wrap. For the freshest flavor and to reduce the chance of freezer burn, I also place it in a silicone freezer bag.
Similar to plain butter, your compound butter will stay fresh in the refrigerator for several weeks. Because fresh herbs hold up better under refrigeration, it's best not to store the butter at room temperature.

What are uses for a garlic herb butter recipe?
You can add flavored butter to so many things! Basically, any dish that needs a punch of flavor is the perfect reason to use it. You can add roasted garlic herb butter to vegetables, meats, and even breakfast recipes. Here are a few ideas to get you started:
Use it as a topping on baked sweet potatoes, mashed potatoes, or Instant Pot rice.
Add a tablespoon of garlic herb butter to a hot skillet before making scrambled eggs.
Spread it onto toast
Add some compound butter to steamed vegetables. It's delicious on Brussels sprouts and green beans!
Lemon and dill herb butter is fantastic on grilled fish!
Add a teaspoon of the butter on top of grilled steak, then grab a napkin, because there may be some drool involved!. Haha!
How to make garlic herb butter
The recipe below will explain exactly how to make this recipe, but here the simple steps involved.
Bring 250 grams of salted butter to room temperature.
Set your oven to 400 degrees F. and roast a full head or single bulb of garlic in a cocotte.
Remove the fresh herbs from their stalks and chop them very finely. You will need a total of 1 cup of chopped fresh herbs for this recipe.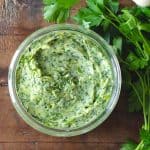 Garlic Herb Butter
Garlic herb butter is a delicious compound butter made with fresh herbs and roasted garlic. This homemade condiment recipe makes the perfect topping for baked or mashed potatoes, garlic bread, or pasta.
Print Recipe
Ingredients
1

bulb

garlic

1

cup

chopped soft herbs (or 1/4 cup harder more aromatic herbs)

-

see notes

250

g

(salted) butter

-

2 sticks
Instructions
Preheat oven to 400F (200C) and take the butter out of the fridge to soften at room temperature.

Remove paper-like coat of bulb of garlic and cut about 1/3 of the top part off to expose all cloves, make sure to leave the bulb intact. Drizzle a couple of drops of oil over each clove, place bulb into a cocotte and place the lid on top or wrap in aluminum foil. Roast it for 40-50 minutes or until soft and golden. (see video)

In the meantime, wash and spin dry herbs and then de-stalk them. Chop herbs finely until you have about 1 cup of chopped herbs.

Add chopped herbs, roasted soft garlic and softened butter to a bowl and mash and mix with a fork until very well combined. Make sure to mash the roasted garlic nicely into the butter.

Store in an air-tight container in the fridge.
Notes
Use either
1 cup soft herbs like parsley, chives, basil, cilantro, dill, etc.
Or 1/4 cup aromatic herbs like thyme, rosemary, sage, oregano, etc.
You can also mix and match just make sure you use little of the aromatic herbs and you can use a lot of the soft herbs
Nutrition
Calories:
1452
kcal
|
Carbohydrates:
3
g
|
Protein:
3
g
|
Fat:
162
g
|
Saturated Fat:
102
g
|
Cholesterol:
430
mg
|
Sodium:
1455
mg
|
Potassium:
313
mg
|
Fiber:
1
g
|
Vitamin A:
9040
IU
|
Vitamin C:
63.9
mg
|
Calcium:
114
mg
|
Iron:
3
mg
What's your clean eating vibe?
Take this fun QUIZZ and find out in 10 seconds!