Spinach and Ricotta Stuffed Shells are the perfect date night dinner all year round. Super easy to make, absolutely delicious, healthy and gorgeous! A vegetarian pasta dish to print and save forever!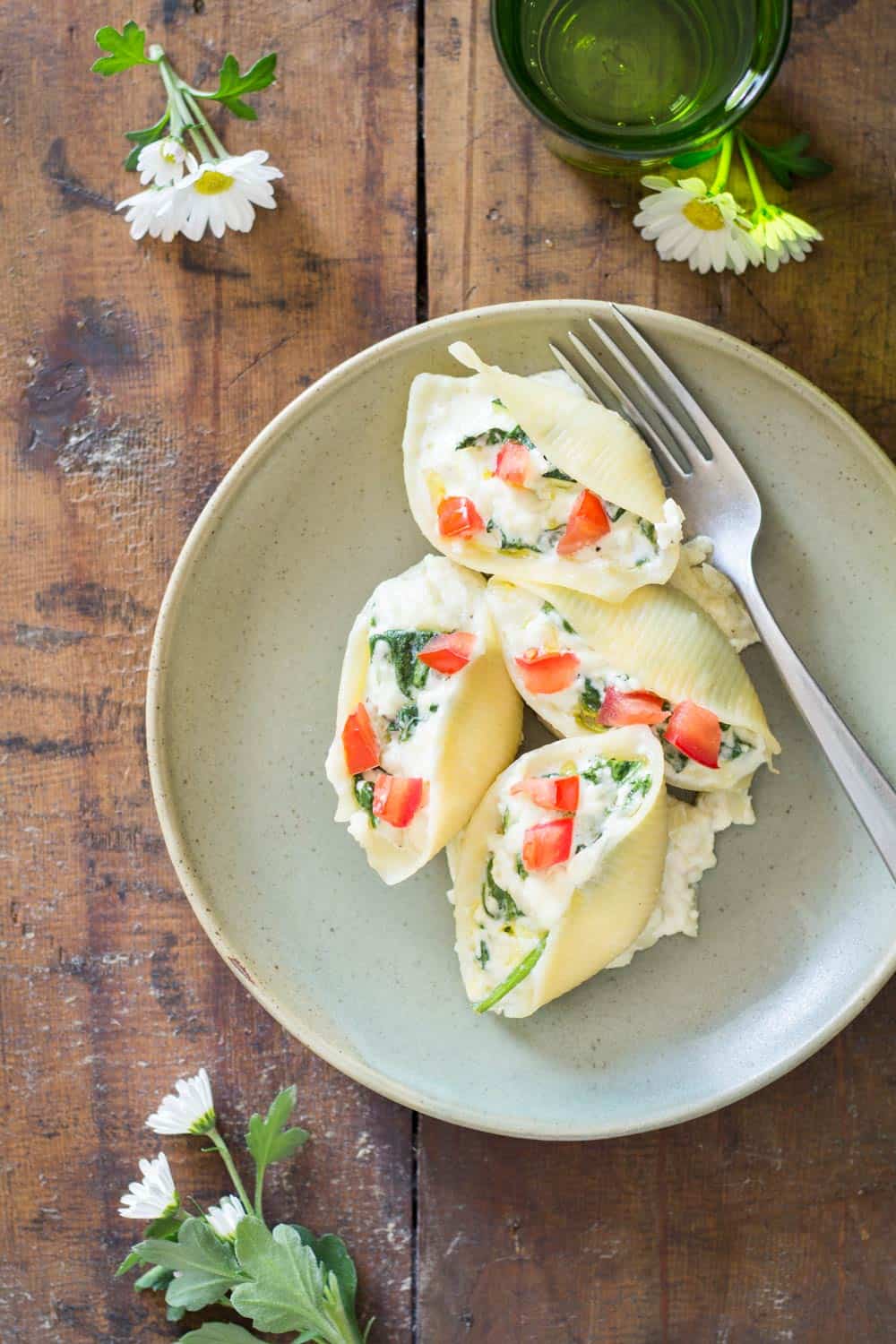 This is an absolutely delicious vegetarian pasta dish! The stuffing is prepared as fast as it takes to preheat the oven and bring water to the boil to cook the pasta shells. It's both a quick weekday dinner and a fancy date night dinner in one. Yesss!
How many stuffed shells with spinach and ricotta should I make per person?
This will obviously depend a lot on who is eating. However, considering the stuffing is "rich" you won't need as many as you think. Between 4 and 6 should be enough per person.
It might not look like it but the 4 shells served on that small plate were more than enough for me, and the kids could hardly finish 3. That being said, it's always good to make a few extra so nobody goes hungry. You can store leftovers in the fridge or freeze them and eat another day ;)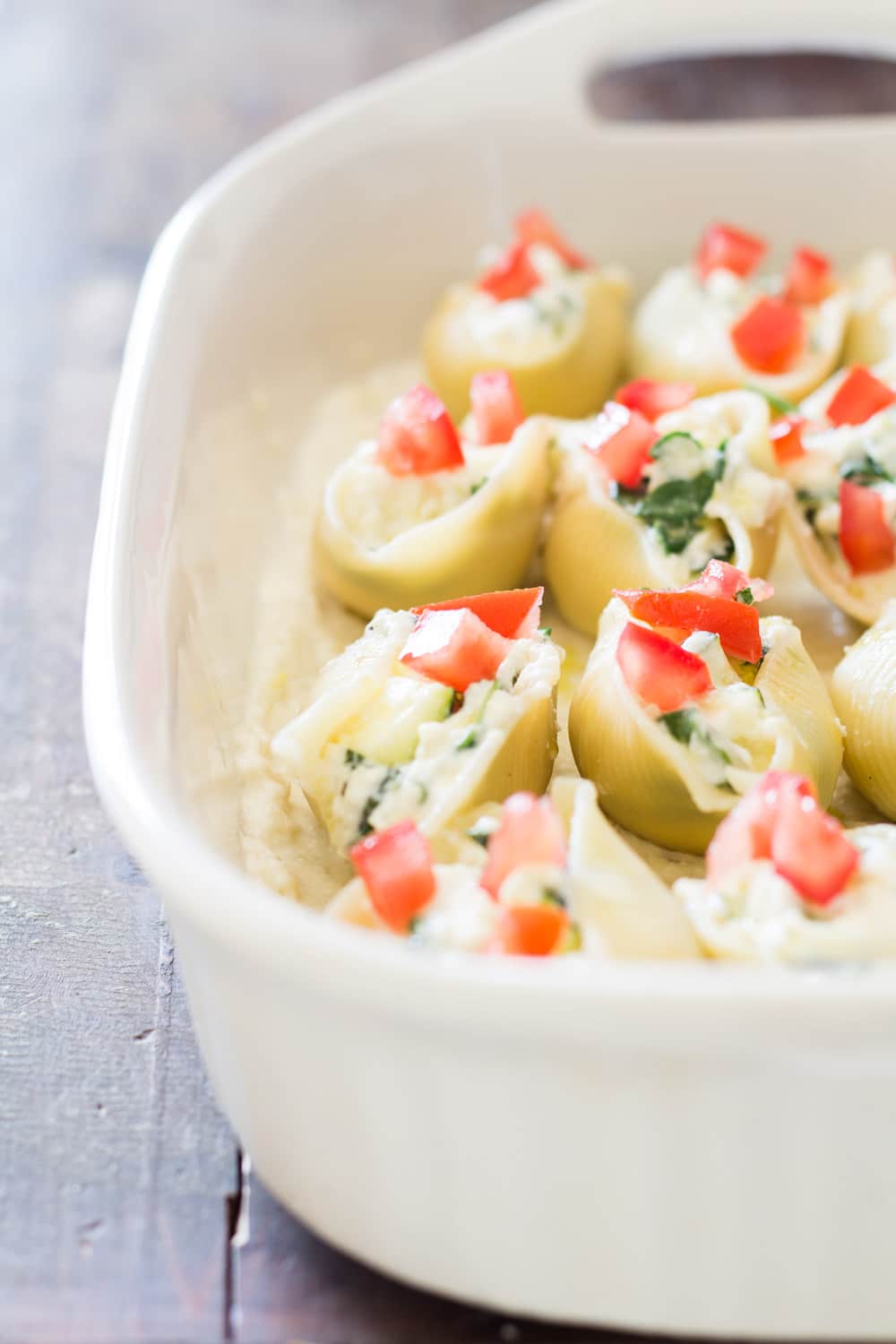 Can I store Spinach and Ricotta Stuffed Shells in the fridge or freezer?
You can store them in an airtight container for up to two days in the fridge I would say but you're better off eating them quickly.
You can freeze a portion if you want to as well. If you want to make them ahead of time for a dinner invitation for example. Prepare everything and exclude the 15 minutes baking time at the end. Use an ovenproof dish and cover airtight with clingfilm if you don't have a lid for it and freeze in the ovenproof dish.
The night before the invitation transfer the Spinach and Ricotta Stuffed Shells into the fridge so it can thaw slowly for 12-24 hours.
Then also take the cold oven proof dish out of the fridge while preheating the oven to 350F. This is to avoid putting a cold glass or ceramic dish into the oven. There is a risk in it breaking because of the shock in temperature.
Then bake for approximately 30 minutes. It requires a longer baking time because the food is still colder, not warm like when you just prepared the pasta and filling.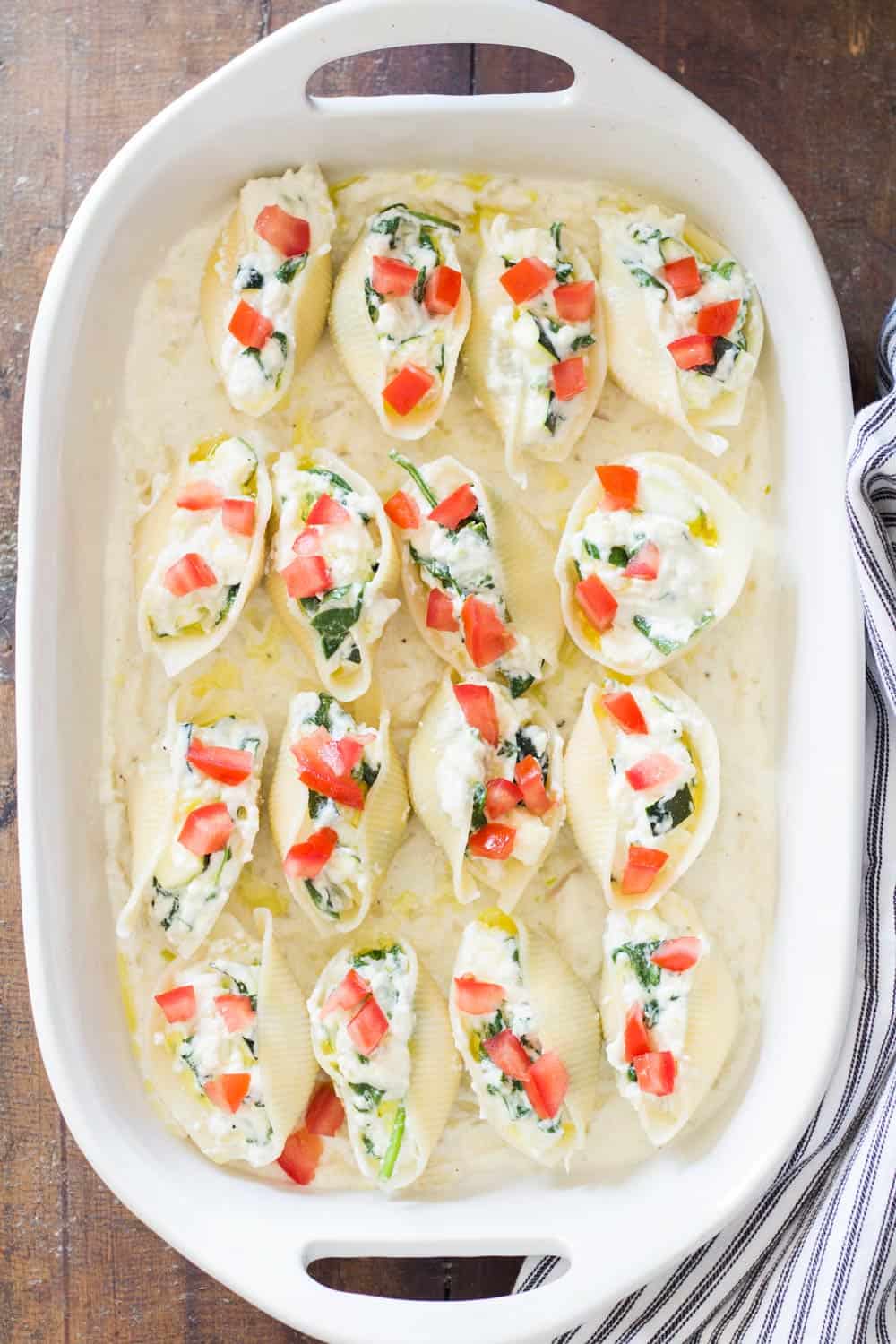 If you are a pasta lover you might want to check out this Mexican-Style Shrimp Capellini Pasta, too. Delightful!! I don't have many pasta recipes on the blog but the few I have are suuuuuuper delicious! Promise ;)
Spinach and Ricotta Stuffed Shells Recipe Video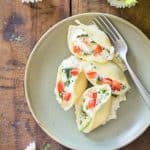 Spinach and Ricotta Stuffed Shells
In search of a super filling, healthy, quick and easy to prepare dish perfect for any time of the year? How about Spinach and Ricotta Stuffed Shells! A pasta recipe to print and save forever!
Print Recipe
Ingredients
16

large

shells

3

small

shallots

4

cloves

garlic

2

cups

ricotta

1

cup

freshly grated Parmesan

1/2

cup

heavy cream

4

cups

fresh baby spinach

1

large

zucchini

1

large

tomato

1 1/4

tsp

sea salt

Pepper
Instructions
Preheat oven to 350 F.

Bring about 3 liters of water to the boil in a big pot.

Heat a large pan over medium heat.

Peel and finely chop shallots and garlic. Set aside.

Wash and deseed zucchini by using a spoon and spooning out the seeds, then dice into pinky finger nail small pieces.

Add a dollop of olive oil to pan and then add chopped shallots and garlic. Sauté until translucent.

The water should now be boiling, add shells to boiling water and stir every once in a while to avoid sticking together. Cook as long as instructed on package (usually 10 minutes).

Add ricotta, parmesan, cream, salt and pepper to pan mix well and bring to the boil. Once boiling remove one cup of the sauce and pour onto the bottom of a ovenproof dish.

Add zucchini and spinach to pan and cook for about 2 minutes, then remove from heat.

Drain shells and immediately rinse with cold water to avoid from sticking together.

Fill shells with filling by holding in one hand and filling with a spoon and then place on the ricotta sauce layer in the ovenproof dish.

Bake for 15 minutes.

While shells are baking, deseed tomato and cut into small cubes.

Decorate shells with cubes and serve immediately.
Nutrition
Calories:
456
kcal
|
Carbohydrates:
13
g
|
Protein:
26
g
|
Fat:
33
g
|
Saturated Fat:
21
g
|
Cholesterol:
120
mg
|
Sodium:
1273
mg
|
Potassium:
589
mg
|
Fiber:
1
g
|
Sugar:
3
g
|
Vitamin A:
4210
IU
|
Vitamin C:
24.8
mg
|
Calcium:
618
mg
|
Iron:
1.9
mg
What's your clean eating vibe?
Take this fun QUIZZ and find out in 10 seconds!