On Sunday, my husband and I were invited to a friend's house to go see the Academy Awards Ceremony with 23 other people and take part in a competition over who guessed which Oscars were going to whom. We were both really excited to go see the live broadcast with friends and participate in the competition but as always when we both want to go out as a couple, there is none of us left to watch the kids. It was a Sunday, so taking them with us was not an option, they had to be in bed early because they had to go to school the next day, hence we needed a babysitter….When you are far away from family you don't have one you may automatically trust and hiring a stranger we both kind of don't feel to comfortable with. Our only option really is to ask a close friend and offer a babysitting exchange arrangement and that we did. She came over to our place to watch my sleeping kids and her husband stayed home with theirs and whenever they need a babysitter for their kids, I will watch their kids while my husband watches ours. This is a wonderful way of going out because you feel so relieved to have someone you trust completely watch your kids. As a little thank you for agreeing to this arrangement and giving us the chance to go see the Academy Awards with our friends I cooked my friend a very special stew. She is a busy mom and doesn't usually have time to cook time consuming stews so I figured this Tender Lamb Stew with Homemade Potato Mash would be a gift for her. I enjoyed cooking this so so much and I am glad it turned out so flavorful and tender because I really wanted this to be a special sign of gratefulness.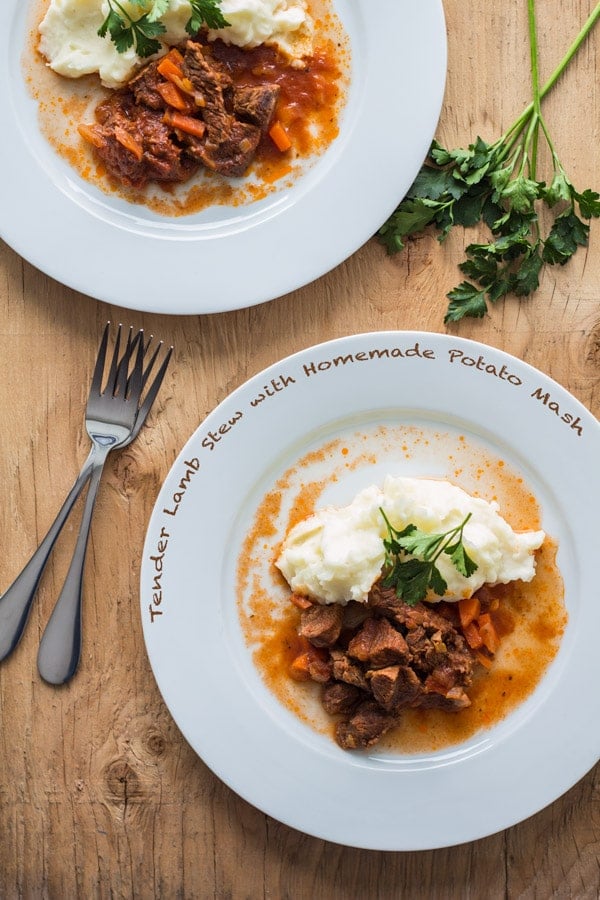 The lamb simmers for two and a half hours to be extra tender and homemade potato mash will ALWAYS win over boxed, there is no room for discussion. The combination of both, the lamb stew and the homemade potato mash are a glorious symphony of taste and texture and SO worth the invested time for cooking. This is the perfect dish to impress your dinner guests with your cooking skills or to feed your partner's and kids' love for you :)
As acknowledgement of my gratitude, this is for you Monika!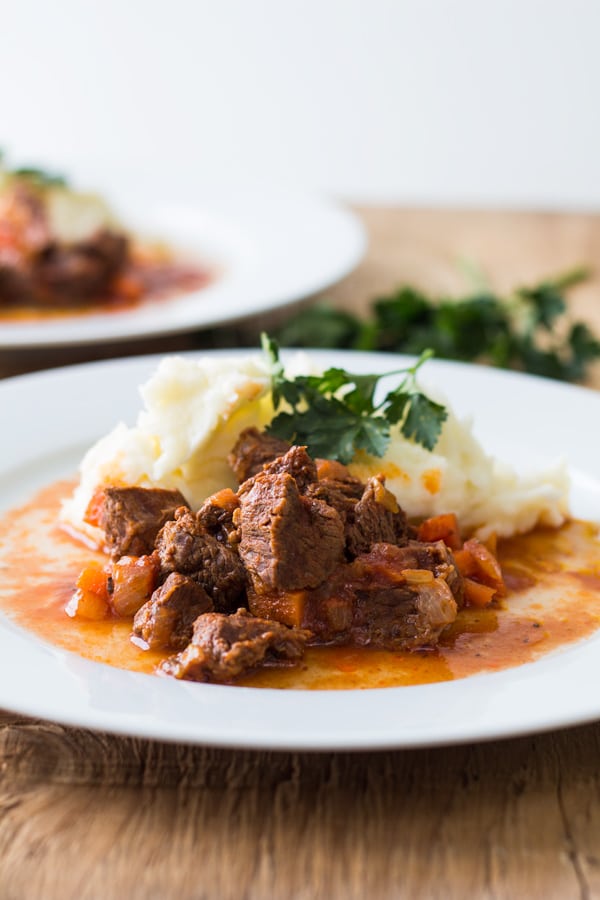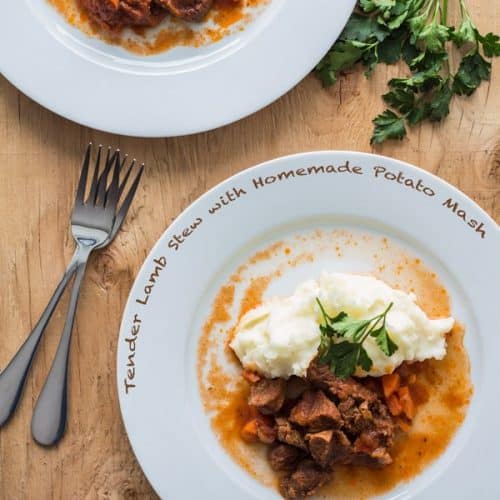 Tender Lamb Stew with Homemade Potato Mash
Print Recipe
Ingredients
1

lbs

cubed lamb

-

500g

400

ml

tomato sauce

400

ml

water

1

Tbsp

tomato paste

1

large

onion

2

cloves

garlic

1

large

carrot

1/2

tsp

thyme

-

(dried)

1/2

tsp

basil

-

(dried)

salt

pepper

3

lbs

white potatoes

-

(1400g)

1

cup

35% cream

1/2

cup

whole milk

1

Tbsp

butter

salt
Instructions
Peel and chop onion.

Peel and crush garlic.

Peel and finely chop carrot.

Heat a little olive oil over medium heat and once hot fry onion and garlic in it until translucent.

Add tomato paste and carrots and mix well.

Add tomato sauce and water and bring to the boil, once boiling add lamb cubes, thyme, basil, salt and pepper and reduce heat to simmer.

Simmer for a total of 2.5 hours.

After 1 hour 45 minutes wash, peel and quarter potatoes and put in a large pot with water covering the potato quarters completely.

Boil potatoes until tender (approx. 20 minutes once water is boiling). Use a wooden pick to proof if they are tender.

Drain potato quarters in a colander and then transfer back into the pot, add cream, milk, butter and salt and using an electric hand mixer (not a blender, a mixer, or if you don't have one a potato masher) and mix all ingredients together.

Season both potato mash and stew to taste with salt and pepper and serve hot.
What's your clean eating vibe?
Take this fun QUIZZ and find out in 10 seconds!
P.D. For those of you wondering if we won in the competition….we were one of three winners and then had to pick a card to prove our luck….bad luck then, only second highest card :( Next time though! Next time we WILL win!!!