Two friends mentioned they were out of ideas for their kids' and their own snacks and if I couldn't offer some Inspiration for Healthy Snacks in a blog post. I thought this was a wonderful topic because I had fallen into the rut of giving my kids fruit after fruit after fruit. (I myself rarely snack). While it definitely is healthier to eat fruit than eating processed foods like chips or cookies or most crackers I don't believe it is advisable to eat fruit excessively. Blood sugar levels spike every time you eat fruit and if choosing mainly very sweet fruits like bananas, your risk for dental decay rises. Another problem with excessive fruit intake is that since we tend to eat fruit raw they give our digestive tract kind of a hard time with all that fiber and loosen up stool more than desired (not true for all of us but certainly many of us). Fruit should, in my opinion, absolutely be part of a healthy diet BUT it should be consumed in moderation. Lately, I try to limit my kids' fruit intake to maximum 3 fruit servings a day, preferably 2. I believe it is always better to get most your vitamins from vegetables. Many, many vegetables. I won't give a list of all vegetables known to mankind here though as snack ideas. I'm sure there are enough blog posts out there with an extensive list like that. I won't show you pictures of my fruit basket either. We all know raw fruits and vegetables are a handy, easy, healthy snack option. I will give you some inspiration for some a little more special snacks to get out of that rut of simply snacking what one already snacks day after day after day. (All suggestions but the last one are suitable for vegans).
1. Sweet Potato Fries
Inspiration for Healthy Snacks - Sweet Potato Fries
Ingredients
1

large sweet potato

1

tsp

tapioca starch

(or corn starch)

1

tsp

nutritional yeast

1/2

Tbsp

olive oil
Instructions
Preheat oven to 400 F (200 C).

Line a baking sheet with parchment paper.

Peel sweet potato and slice thinly as seen in picture above)

Put sweet potato sticks into a sealable plastic bag and add starch. Shake well. Toss into a sieve to remove excess starch. Return sticks into bag.

Add nutrional yeast and salt and shake well.

Add olive oil and shake well.

Place sticks on lined baking sheet spreading out evenly and with a lot of space in between. It is better to bake one potato at a time because a crowded sheet will result in mushy fries not crunchy fries.

Bake for 10-12 minutes then take out and turn each individual stick and bake for another 10-12 minutes.

Keep an eye on them to prevent from burning.
2. Apple Slices with Almond Butter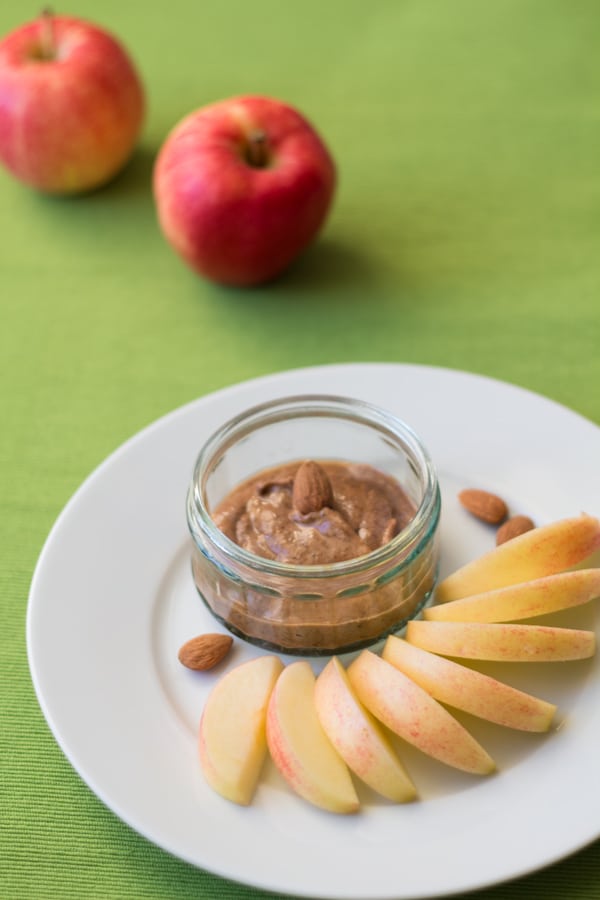 Apples taste delicious, yes! But dipped into almond butter they are IRRESISTIBLE!!! Seriously, I am addicted to this combination and so are my kids and anybody else I introduce to this. You can make almond butter yourself by simply tossing some almonds into your food processor and let it do its work until the butter becomes very very smooth (may require some scraping down the walls), or you can find it in any health food store. Make sure you find a brand that only states "almonds" under "ingredients". Almonds are high in protein and contain considerable amounts of magnesium, calcium and iron and as butter around an apple slice you will eat a lot of almonds. Believe me!
3. Seeds
Many of us think of nuts when thinking of healthy snacks and tend to forget their beloved friends the seeds. Pumpkin and Sunflower seeds have higher amounts of Iron and Magnesium than the Queen of nuts the almond. For children they are very fun to eat.
4. Plain Unsweetened Yogurt
Most store sold yogurts contain insane amounts of sugar or worse, all the low fat and no fat options tend to contain artificial sweeteners. Stay away from anything low and no fat, especially yogurts. Either make your own yogurt at home or try and find a brand that sells full fat plain unsweetened yogurt. Under "ingredients" you shouldn't find more than: whole milk and live bacterial cultures. Until now, in all countries I've lived the yogurts with best quality ingredients have always been sold in glass containers. Watch out for a brand that sells its products in glass containers. If you are not used to the taste of tart yogurt, mix some honey into it and add some seeds or fruit and reduce the amount of honey over time. You will at some point love the taste of yogurt. Yogurt is a rich source of calcium and its culturing increases the absorption of it, too.
Get all recipes straight into your inbox!