These healthy snacks are perfect for late at night or at any other time of day. Vegan, gluten-free, clean-eating, paleo, yes, healthy snack ideas galore!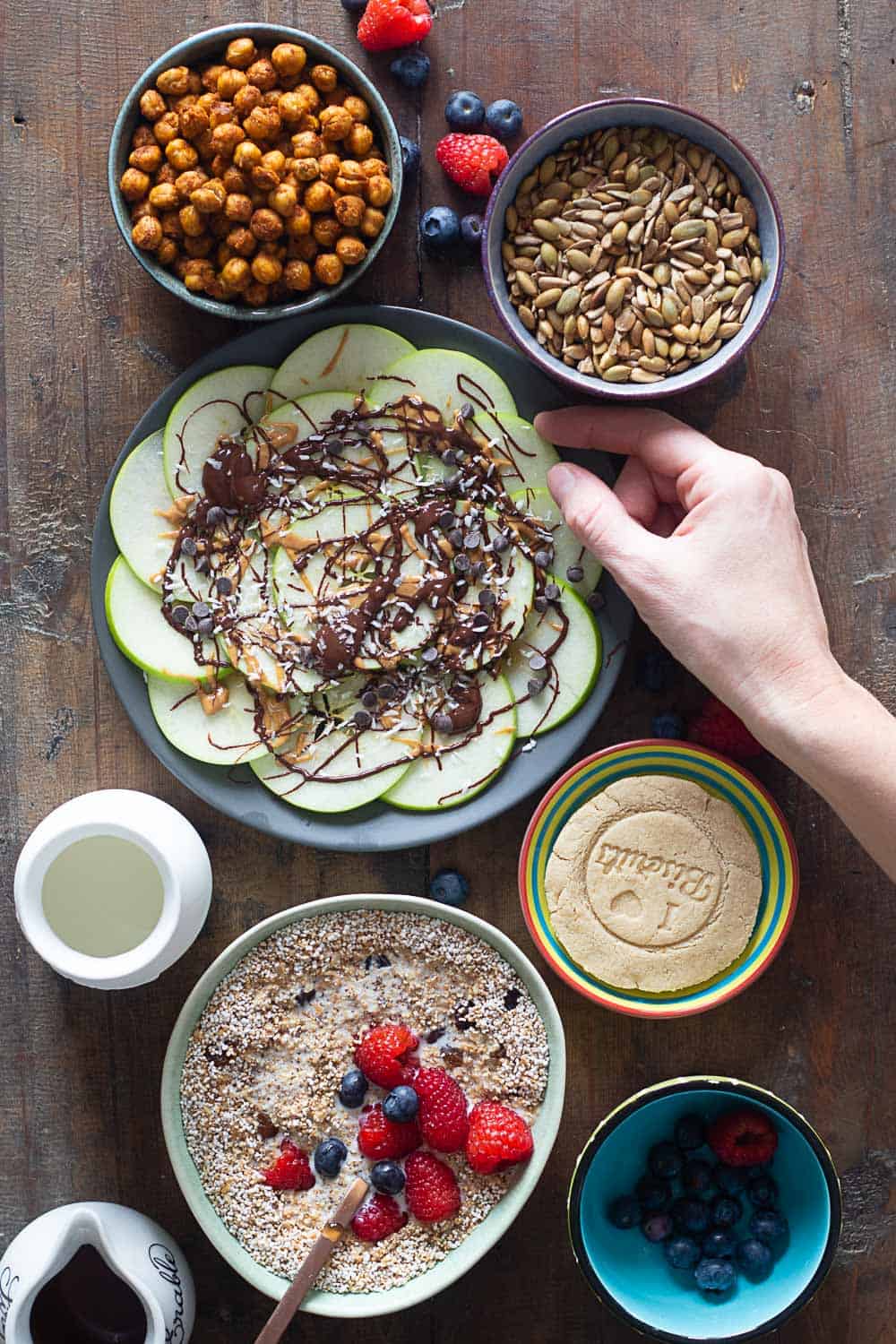 It's 10:30 pm and you're kind of hungry, kind of craving something and look in the fridge and pantry and all you see are….ingredients. Ugh!
Last time you went to the grocery store the junk food literally JUMPED in your face so obviously you want to avoid going there now. You find yourself browsing the internet for healthy snack ideas and tadaaaa, you made it to the best place ever!
I've got 5 recipes for healthy snacks for you! Bonus point: you can make most, if not all, with things you probably already have in your fridge or pantry! Oh, and yes, they are MEGA delicious!
Crispy Roasted Chickpeas
For the salty or spicy chips lovers amongst you, I've got some roasted chickpeas! They are so much more nutritious and just as if not more delicious than chips!
The trick for suuuper crispy chickpeas lies in making sure they are very dry before you add oil and seasoning. Drain the chickpeas really well and then put them in a clean kitchen towel and rub and tab until they are completely dry. Once completely dry drizzle some oil (whichever you like best, my favorite is avocado oil) and season with whichever seasoning is your favorite. Great options:
salt & pepper
cajun seasoning
Chinese 5 spice mix
bbq
salt & chili
sugar & cinnamon (yes, you can even make them sweet, not my favorite though)
Then you have two options, either add them very spread out on a large baking sheet and bake for 20-25 minutes at 400F. OR, add them to your air-fryer for about 15 mins at 400F.
For EXTRA EXTRA crispy chickpeas, bake them at 400F for 20 mins and then turn off the oven but leave the chickpeas in there without opening the oven for an extra 15 mins with the residual heat. That way they don't burn but crisp up amazingly.
Crispy chickpeas aren't just a healthy snack, they also serve as a protein in your lunch or dinner! This Cucumber Avocado Salad has chickpeas in it and this Zucchini Noodles Recipe, too!
Toasted Seeds
The easiest and quickest healthy snack is a bowl of toasted seeds. All you need for this a hand-full of your favorite seeds (I usually have pumpkin and sunflower in my pantry) and just add them with a bit of sea salt to a dry hot pan.
Toast for 5-8 minutes while constantly stirring and that's it. Be careful not to burn your hands. Remember they're hot at first but make sure to eat them nice and warm. So yummy!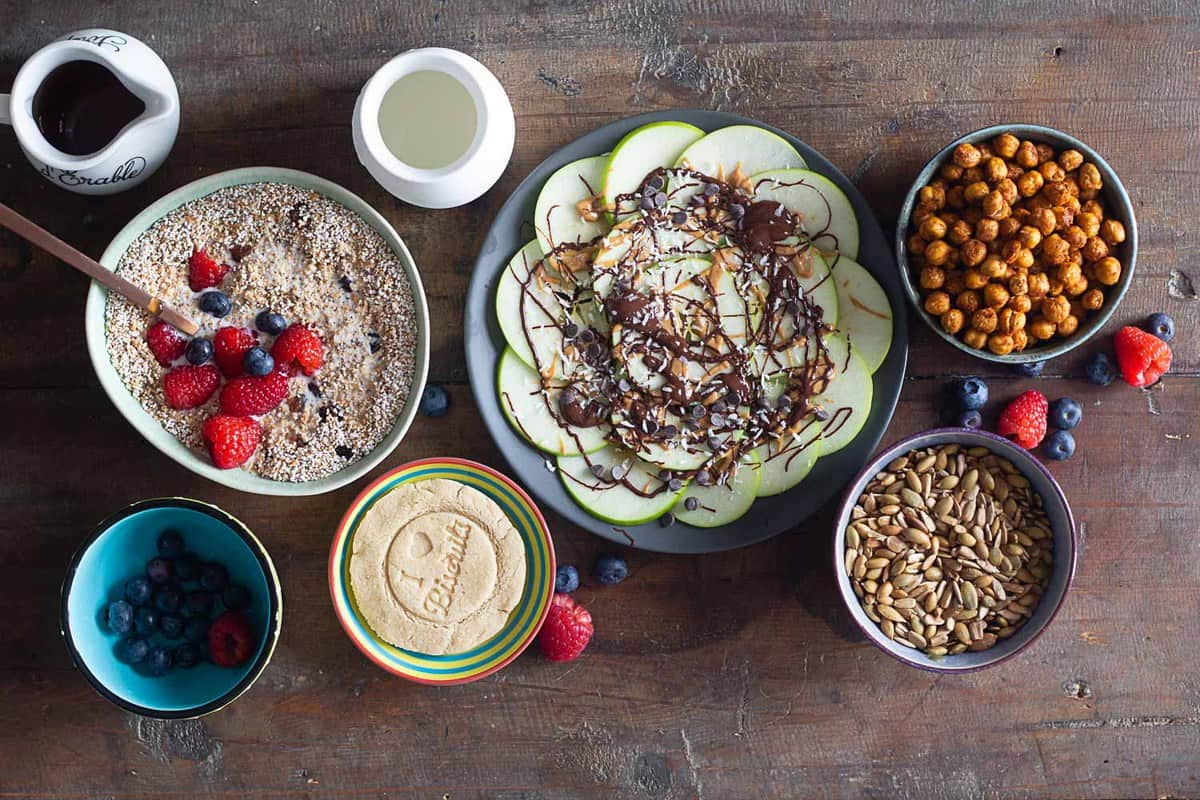 Apple Nachos
The snack idea I'm probably the fondest of are apple nachos. That sounds so fancy yet it's so easy to make, I make it super often. All you need is an apple. Any apple really. I use green apples though because they are lower in sugar and I'm adding dark chocolate.
Slice the apple thinly and arrange on a plate. Then melt some peanut butter (or any other nut butter) and some chocolate chips in separate bowls. You can use either the microwave or a water bath. I don't have a microwave so I put some water in the kettle, add the boiling water to a pot and then place my glass jars in them. It takes like 5 minutes to melt the chocolate. Make sure to stir often.
Drizzle the liquid nut butter and the liquid chocolate over the apples, sprinkle with unsweetened desiccated coconut and extra chocolate chips or nuts and tadaaa. Not only delicious but also a PRETTY late-night snack for in front of the TV.
Single-Serve Almond Cookie
My almond cookies recipe went viral on social media because it's so simple people first don't believe me it's possible. Then they try it and then they looooove it! I couldn't believe it myself when I was in the test kitchen with my witch hat on. It's magic. I promise!
You mix only two ingredients! Yes, you read that right. TWO! Almond flour and maple syrup and you form a dough and then dehydrate it a little and that's it. It's witch craft. I'm telling you.
The only complaint people have is that they can't eat just a few. They are so delicious I myself tend to eat half a batch all by myself whenever I make them. Ugh. Guilty!
The best solution: make a single-serve cookie as a healthy snack. Because maple syrup is totally fine in a healthy diet…..as long as enjoyed in moderation….of course.
You want a 4:1 ratio "approximately". The exact ratio depends on the almond flour grind but start with 4 Tablespoons almond flour and 1 Tablespoon maple syrup and then try and get a soft playdough-like consistency (see video). Then chill the dough and then form it into a cookie whichever shape you like.
Bake it at only 250F so the almond flour doesn't burn and for little time 15-25 minutes depending on how thick or thin your cookie is. It's meant to be VERY soft when you take it out. Place it on a wire rack to cool completely, that's when it hardens on the outside but stays super soft and chewy on the inside. Remember these ingredients are safe to eat raw. No need to overbake and risk hard to chew mega chewy cookies.
Puffed Amaranth Cereal
The last but definitely not the least of my healthy snack ideas is puffed amaranth as a replacement for cereal. Who doesn't love a bowl of cereal at midnight? Or am I the only one?
Whenever I go to the grocery store though I go in with my list and my meal plan and buy ONLY what I planned. So midnight comes around and I could punch myself for my self-discipline. Ha!
That's when puffed amaranth comes in very handy. I make it about once a month and have a large jar in my pantry at all times. Here is: how to make puffed amaranth. Easy peasy, promise!
For your cereal all you have to do is toast some unsweetened coconut (if you want), mix it with puffed amaranth and dried fruit and nuts if you like, sweeten it all with honey or maple syrup and then put it into your yogurt or pour some milk over it.
Tadaaaa! Healthy late-night snack you'll want again and again and again.
Healthy Snacks
These healthy snacks are perfect for late at night or at any other time of day. Vegan, gluten-free, clean-eating, paleo, yes, healthy snack ideas galore!
Print Recipe
Pin Recipe
Ingredients
1/2

cup

seeds

-

any that you like

sea salt

4

Tbsp

almond flour

1

Tbsp

maple syrup

1

green apple

1

Tbsp

chocolate chips

1

Tbsp

nut butter

1

tsp

unsweetened desiccated coconut

1

Tbsp

chocolate chips

1/4

cup

unsweetened desiccated coconut

1

cup

puffed amaranth

1

Tbsp

raisins

1/2

cup

berries

1

cup

milk

1/2

Tbsp

maple syrup

1.5

cups

canned chickpeas

-

or homecooked

1/2

Tbsp

avocado oil

1

Tbsp

cajun seasoning
Instructions
Toasted Seeds: Preheat a large pan over medium heat and once hot add seeds and sea salt to the dry pan and stir the seeds until golden and fragrant. Serve in a bowl and enjoy.

Almond Cookie: Add almond flour and maple syrup (4/1 ratio) in a bowl and mix until you reach a soft playdough-like consistency (see video). Store air-tight in the freezer for 10-15 mins or fridge for 30 mins. Place in between two sheets of parchment paper and roll out or press into a large cookie cutter to form a round cookie and bake in 250F preheated oven for 20-25 minutes depending on thickness. Place on a wire rack to cook. The cookie will be very soft when you take it out of the oven and harden (like marzipan), it will harden on the outside and stay chewy on the inside while cooling down.

Apple Nachos: Add chocolate chips into a heat-proof container, add nut butter to a heat-proof container and then microwave or place in a water bath to melt. In the meantime, finely slice the green apple and arrange on a plate. Drizzle the melted nut butter and chocolate on top, sprinkle with coconut and extra chocolate chips.

Crispy Roasted Chickpeas: Drain and rinse cooked chickpeas, then place on an absorbent kitchen towel and tap and rub until chickpeas are dry. Remove the skins of the chickpeas if desired. The drier the chickpeas, the crispier they will be. Add dry cooked chickpeas to a baking sheet, drizzel with avocado oil, sprinkle with cajun seasoning. Use your hands to distribute the oil and seasoning, then give the baking sheet a shake to ensure the chickpeas are well spread out (the further spread out the crispier) and place in the 400F preheated oven for 20-25 minutes.
Notes
Nutritional information in the form for chickpea recipe. 
Crispy chickpeas: 298 calories, 13g fat, 37 carbohydrates,13g protein, 13g fiber, 1g sugar 
Toasted seeds: 420 calories, 34g fat, 6g carbohydrates, 16g protein, 7 g fiber, 1g sugar
Almond cookie: 212 calories, 14g fat, 19g carbohydrates, 6g protein, 3g fiber, 13g sugar
Apple nachos: 376 calories, 19g fat, 50g carbohydrates, 6g protein, 8g fiber, 39g sugar
Cereal (with 2% milk): 633 calories, 24g fat, 91g carbohydrates, 19g protein, 12g fiber, 26g sugar
Nutrition
Calories:
298
kcal
|
Carbohydrates:
37
g
|
Protein:
13
g
|
Fat:
13
g
|
Saturated Fat:
1
g
|
Sodium:
689
mg
|
Potassium:
514
mg
|
Fiber:
13
g
|
Sugar:
1
g
|
Vitamin A:
3448
IU
|
Calcium:
102
mg
|
Iron:
5
mg
Have you tried this recipe?
Take a picture and tag @greenhealthycooking Can't wait to see your version!