Most seven layer dip recipes call for packaged taco seasoning and jarred salsa. The first time I wanted to try this recipe I went to the supermarket to look for those "ingredients" and when reading the package's ingredients list I almost fainted. Why do I always have to do this?! I just cannot help it. I a.l.w.a.y.s  read the ingredients list and if clean then I look for mineral and vitamin content in the nutritional information section. I don't care about calories at all. But I DO believe it is important to look for nutrient density as long as it is real food. Of course there can be a granola bar with 1798456% iron but if it is 80% sugar, 10% oats and 10% iron supplement, that is not really real food. Do I get my point here? The most important when buying something processed at the store, read the ingredients list. If there is something on it you cannot pronounce it probably isn't food, so leave it where it belongs: on the shelve…forever…until it rots….Oh! Wait a minute! Usually those "unclean" products don't ever ever ever rot. Scary. Don't you think? Well, so the Taco Seasoning Package I had in my hand contained Partially Hydrogenated Soybean Oil and two unpronounceable ingredients. *sigh* I'm sure there are better versions of packaged taco seasoning but to be honest, seasoning your seven layer dip's main layer is so so easy it won't be worth it to go out and search for one. And the salsa is absolutely not necessary. You can put in the heat (or leave it out completely if this dish is intended for children as well) when preparing you main layer. The moisture and creaminess are already offered by the sour cream and refried pinto beans.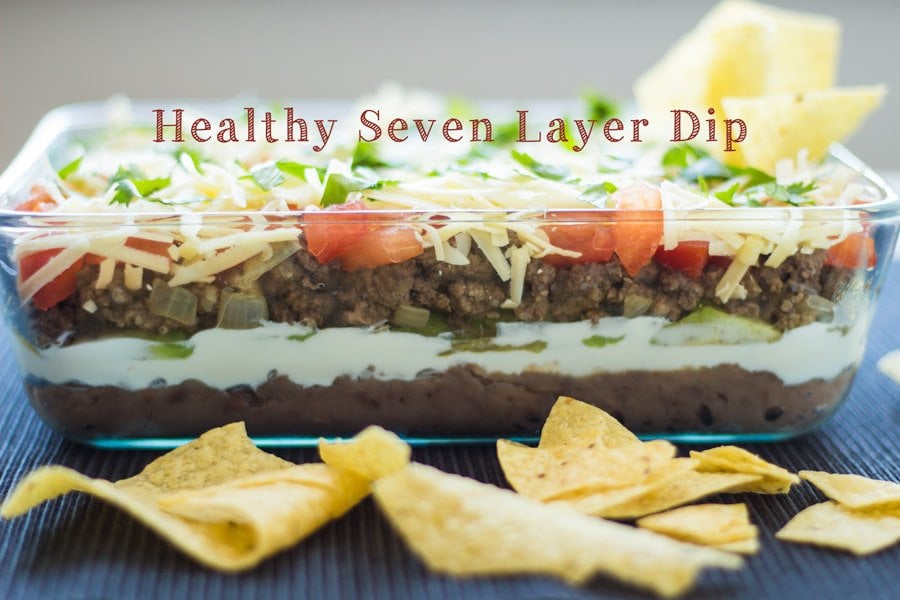 Healthy Seven Layer Dip
Print Recipe
Ingredients
2

cups

cooked pinto beans

-

or 1 can pinto beans

200

ml

sour cream

1-2

ripe avocados

1

small onion

1

clove

garlic

300

g

ground beef

1

tsp

cumin

1/2

tsp

coriander

cayenne pepper and/or jalapeño pepper/s

-

(optional)

salt

pepper

2

large ripe tomatoes

200

g

Gouda or Cheddar cheese

fresh coriander
Instructions
Heat a little olive oil in a pan and once hot fry your pinto beans and mash them with a potato masher. Add a little water if necessary. (I cook my beans with onion, garlic and salt so they are already seasoned. If yours are not or if you used canned, make sure they are tasty by adding salt and maybe some garlic powder)

Once mashed lay out in a 7" by 9" (19x23cm) glass dish (or bigger) and wait for the beans to cool down a little.

Add sour cream on top of beans.

Peel avocado and cut in about 1/4" (0.5cm) slices and lay out on top of sour cream. Salt and Pepper a little.

Peel and chop onion and peel and crush garlic (wash, deseed and chop jalapeño pepper, if using).

Heat a little olive oil over medium heat in a pan and once hot fry onions and garlic (and jalapeño pepper if using) until translucent. Then add ground beef and take apart with wooden spoon or rubber spatula so it cooks evenly. Season with cumin, dried coriander (and cayenne if using). Keep moving while the meat fries. Once the meat is cooked lay on top of avocados.

Wash, cut and deseed tomatoes. (Deseeding is important otherwise the liquid will drip down to the sour cream and together with the meat juice liquify it too much). Cut into 1/2" (1cm) dice and lay on top of meat.

Grate cheese and lay on top of tomatoes.

Wash and chop fresh coriander and sprinkle on top of cheese.

Enjoy with Tortilla Chips or Corn Tortillas.
What's your clean eating vibe?
Take this fun QUIZZ and find out in 10 seconds!