Shrimp, avocado, tomato, arugula and grapefruit with cilantro dressing. Imagine the flavor explosion when you take a bite of this Shrimp Avocado Salad!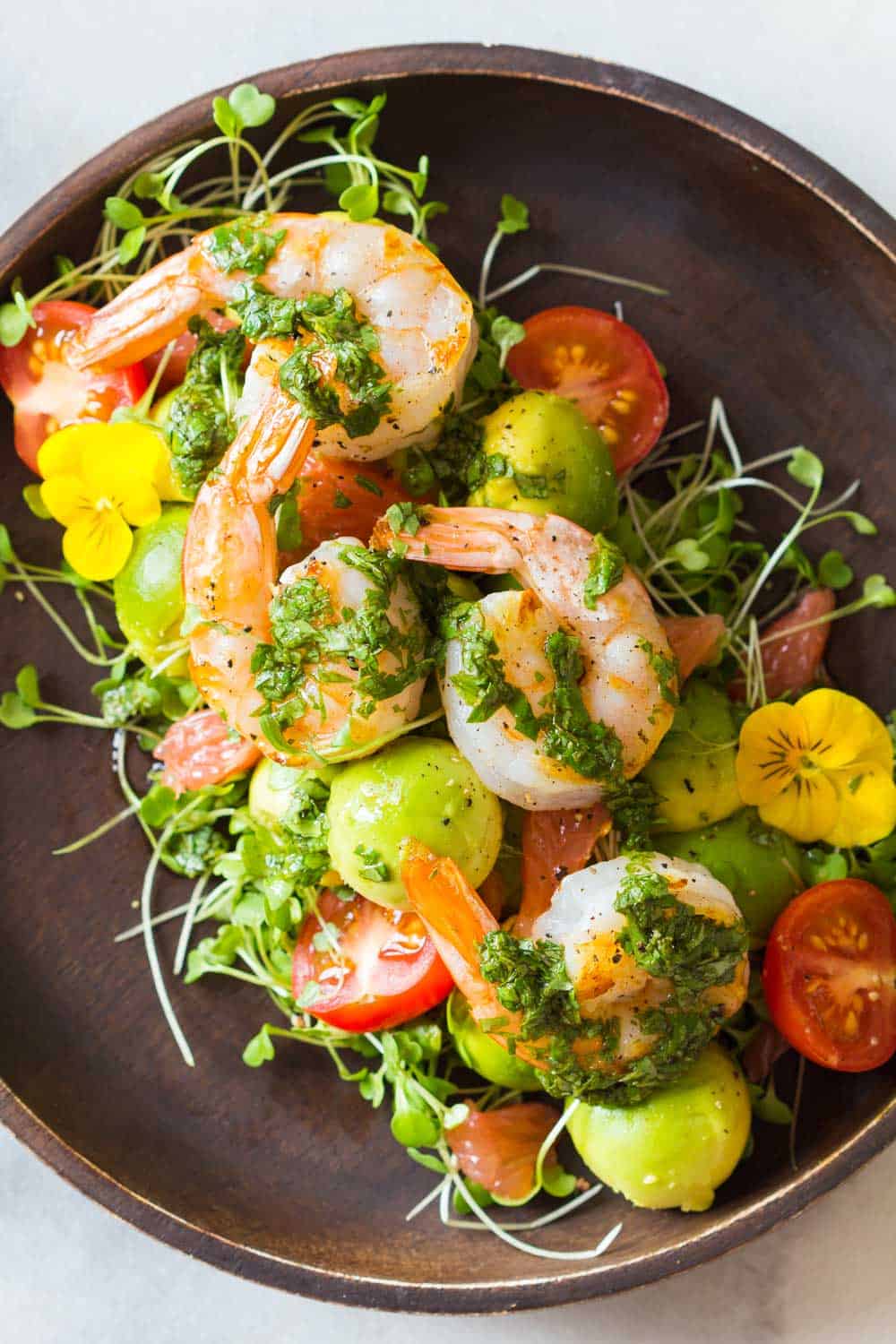 I had a similar salad once in a seafood restaurant in Montreal and I think my eyeballs went all the way to the back of my head when I took the first bite. Yes, I'm serious! It's THAT good! I couldn't speak anymore. I had to close my eyes and enjoy the flavor explosion first.
Shrimp Avocado Grapefruit Salad
I would never have come up with this flavor combo myself. All credit goes to Lucille's Oyster Dive in Montreal. The grapefruit is what gives the Shrimp Avocado Salad the crazy amazing flavor boost. I'm not even particularly fond of grapefruit. I mean, I like them but I hardly ever bother peeling them to eat. For this Shrimp Avocado Salad I went as far as peeling the flesh out of the skin, not only the peel (<– very important!).
I don't know what it is but the bitterness of the grapefruit makes the shrimp and avocado taste 20 times better than they already do anyways. It's the weirdest thing ever. Don't skip the grapefruit in this salad folks. Don't do it. It's an essential part of its awesomeness.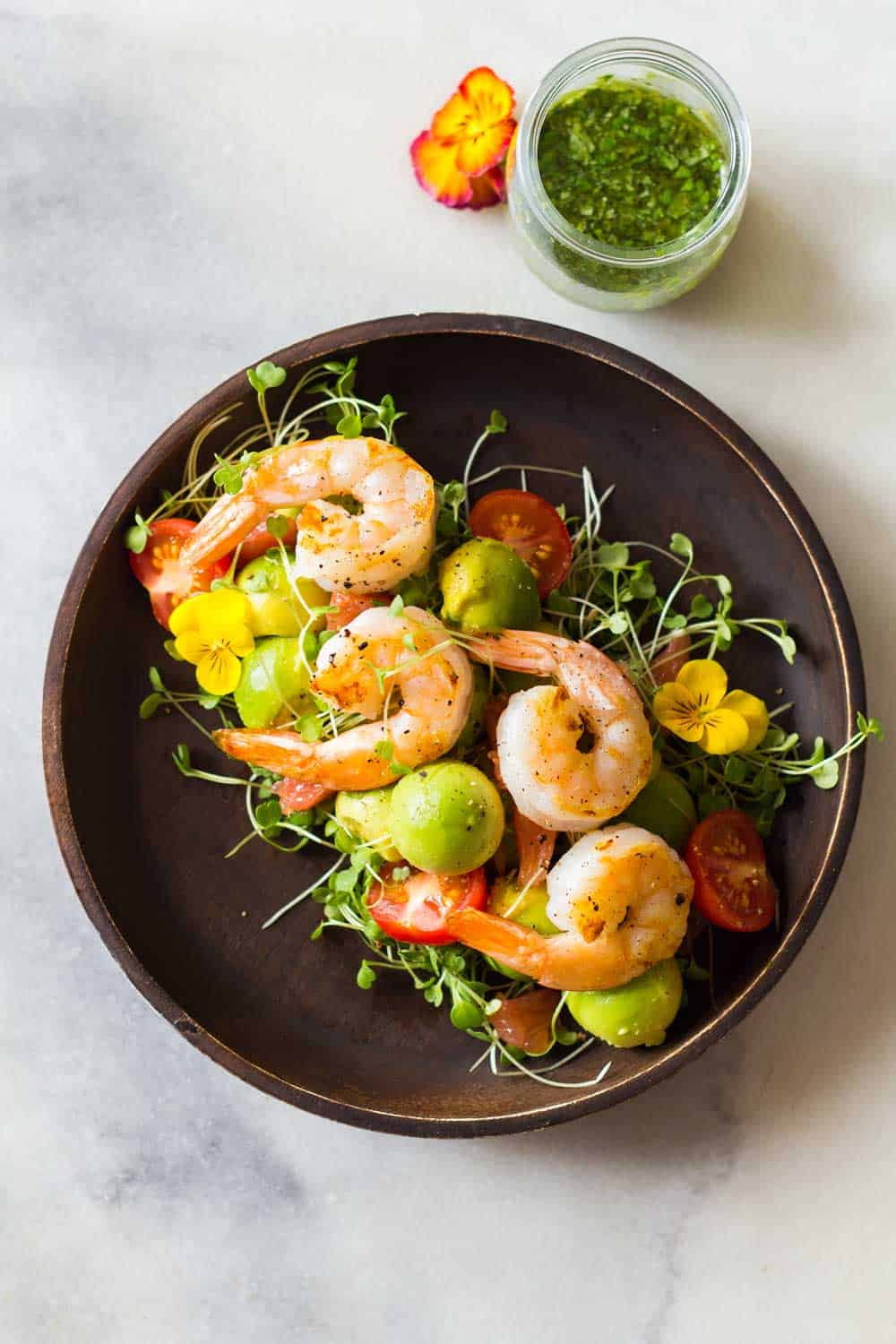 Shrimp Avocado Salad with Cilantro Dressing
It wouldn't be a Mexican-Style Shrimp Avocado Salad without a delicious Cilantro Dressing with tons of cilantro and lime, right? I kept the dressing very simple so the shrimp, avocado and grapefruit remain the dominant flavors. The cilantro is the perfect complement for all the ingredients. Oh and lime is essential of course. Any sort of seafood tastes even better with lime or lemon.
Use a flavorless oil such as avocado oil for the dressing. Olive oil is very strong and a little bitter and might be too dominant in combination with the mild tasting avocado. Let the grapefruit be the only bitter ingredient.
Also, make sure you chop up the cilantro really well. You might as well blend the dressing with an immersion blender to make it a smooth dressing without cilantro bits.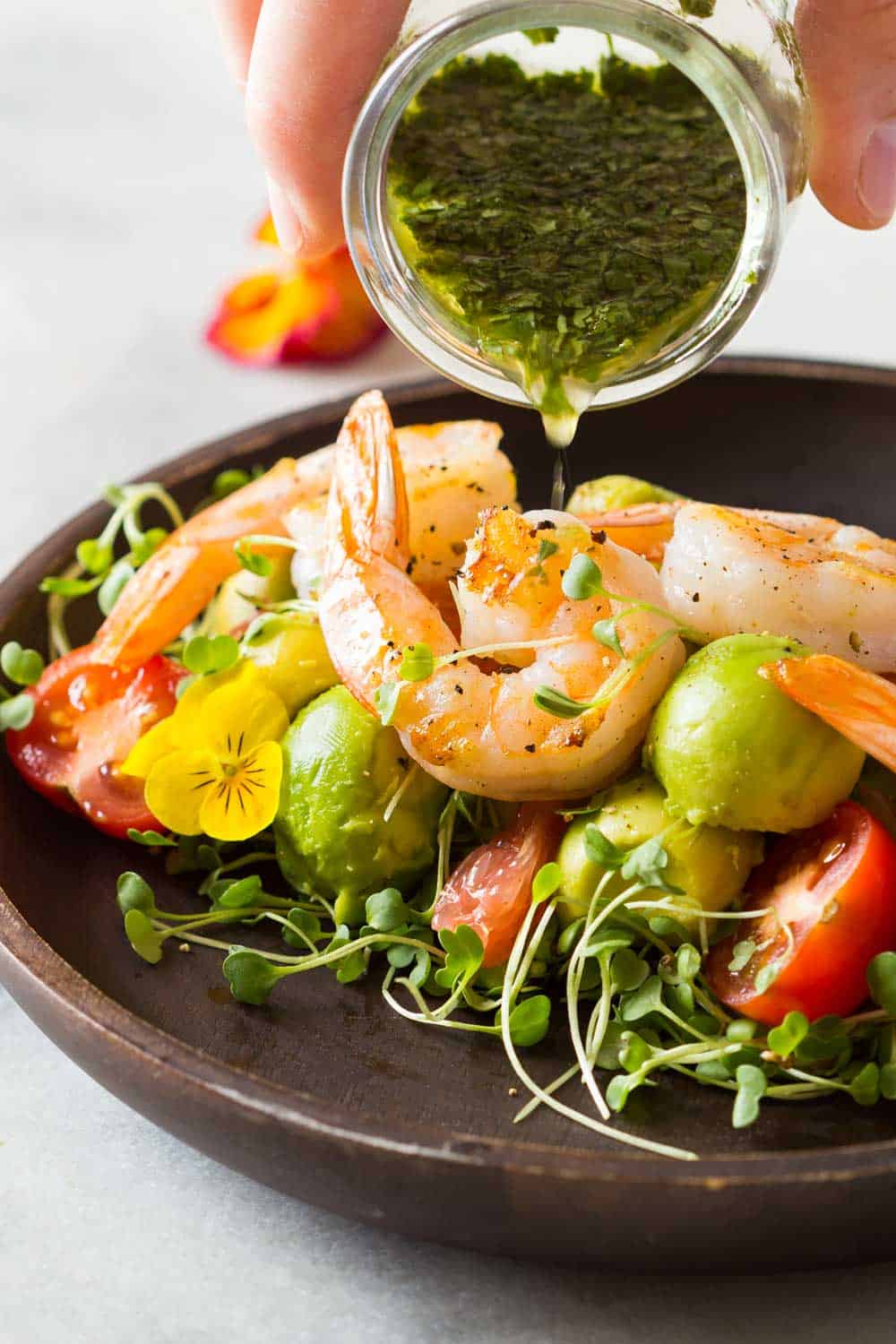 How to choose the perfect avocado
A crucial part for success in this recipe is choosing the perfect avocado. You can either go to the store and look for the perfect avocado or you can buy an unripe avocado and wait for the perfect ripeness to make your Shrimp Avocado Salad.
Look out for an avocado that is firm to the touch but turning brown on the outside. A bright green and rock hard avocado is not ripe and will taste gross. A completely brown or worse black avocado is probably party rotten inside.
Remove the little knob at the top to get a peek of the inside of the avocado. If it reveals bright green, it's not ripe enough, if it's dark brown it's too ripe, if it's beige it's JUST RIGHT!
Here is a great picture showing exactly what it should look like under the little knob. If the avocado is a lot riper it will be close to impossible to form nice avocado balls. If it's riper it's better for mashing, so basically guacamole and you don't want a shrimp guacamole but a shrimp avocado salad, right?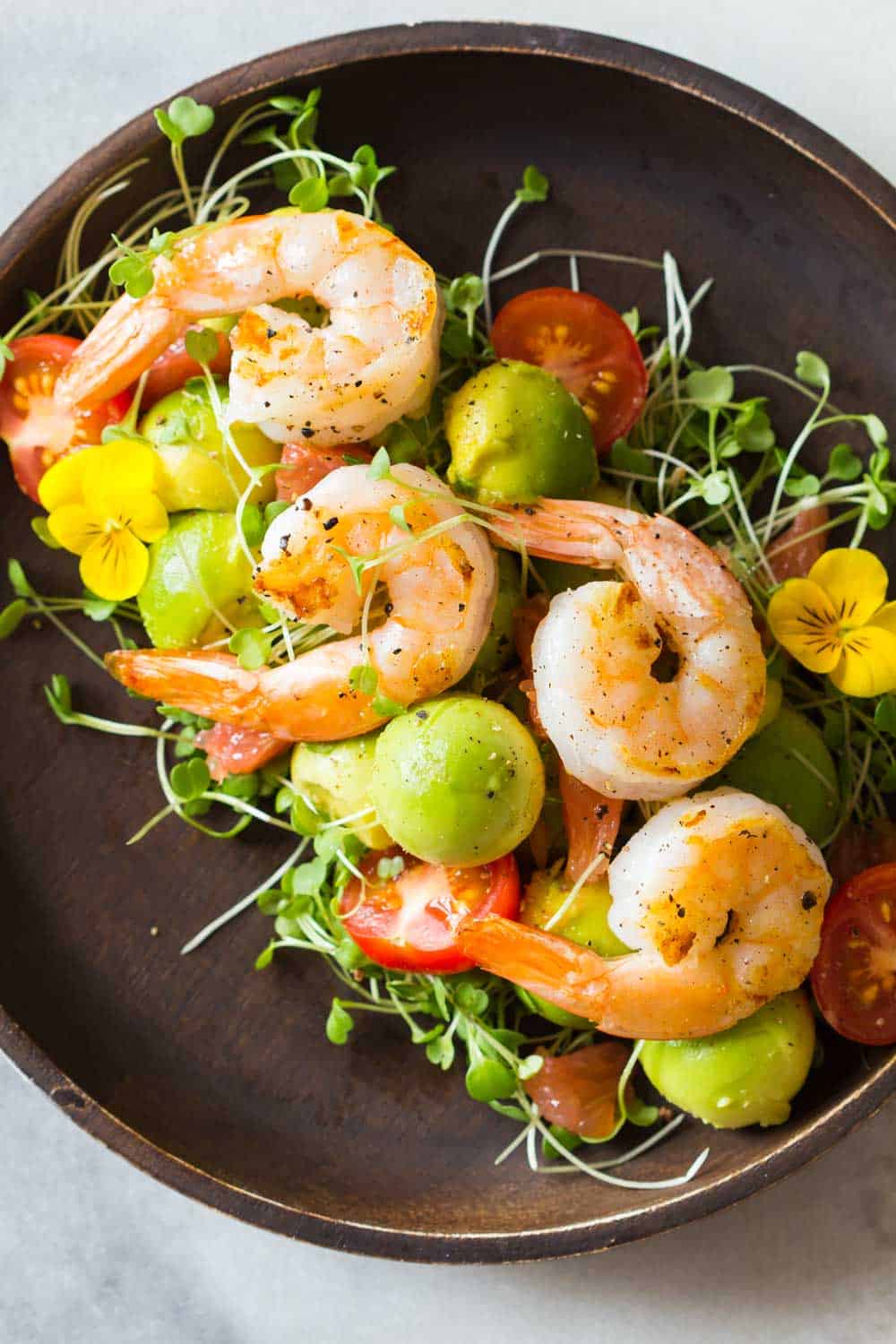 How to make avocado balls
To make these gorgeous avocado balls all you need is a melon baller *. (<– that's the one I have and I love it!). I swear avocado tastes even better when in ball form. I don't know what it is but ever since making these beautiful avocado balls I make them all.the.time. It's true when they say with also eat with the eyes. It makes such a difference.
I recommend choosing the biggest avocado you can find. The bigger the avocado, the easier it is to cut balls out of them. Cut the avocado in half, remove the stone and start balling. Don't scoop out a ball like you would ice cream but rather please the melon baller on top of the flesh and then twist and turn until you get a ball of avocado out of there.
Scroll all the way down to the video on my avocado toast post, there you can see what I mean with don't scoop but rather twist and turn.
* the links above are affiliate links and I earn a couple cents commission if you buy the products through the links. All earnings go towards buying coffee and keep my brain running to create more blog posts for you :P.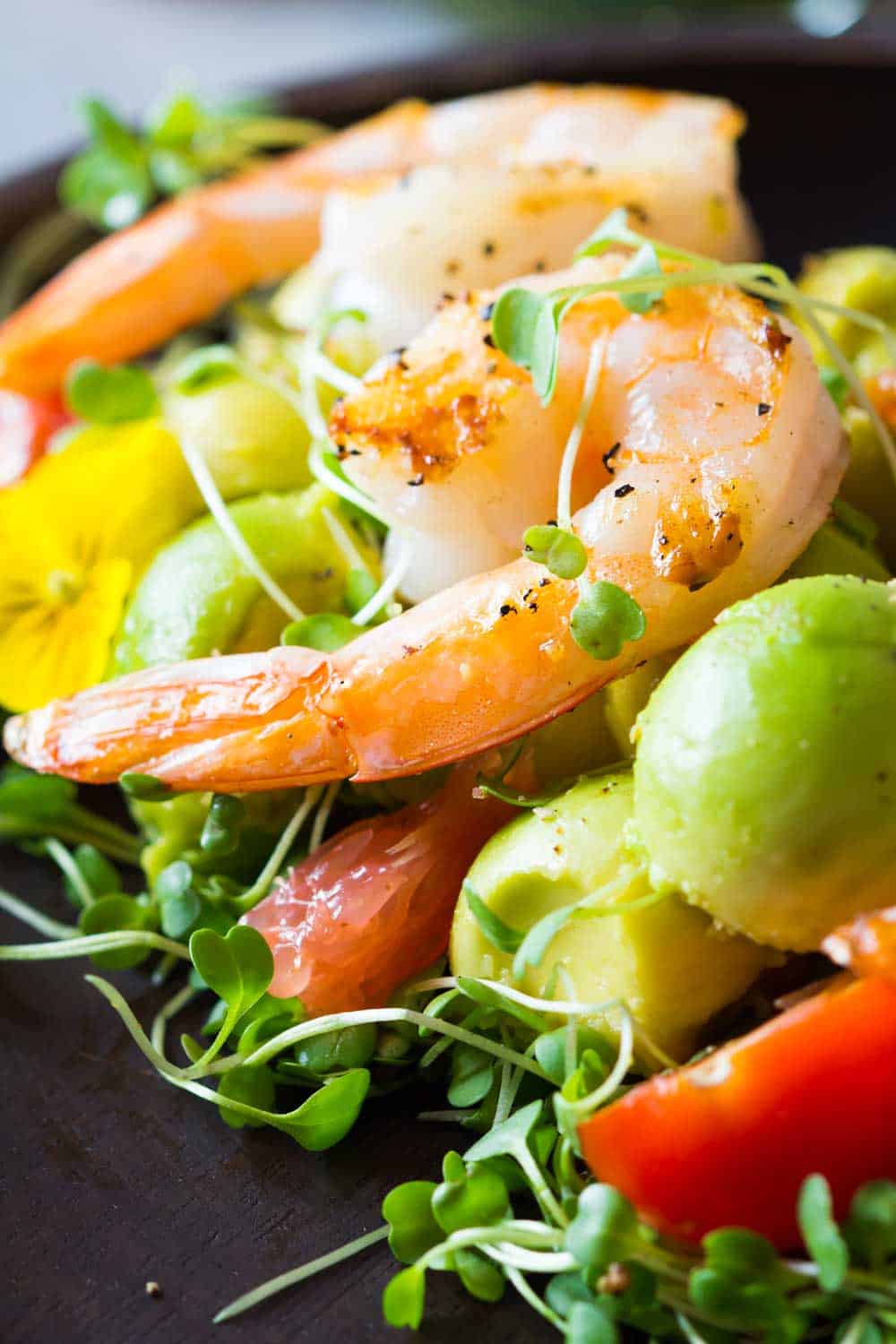 How to cook perfect shrimp
Ever eaten rubbery fishy shrimp? It's GROSS! When people tell me they don't like shrimp I'd say 90% of the cases they have tasted the worst prepared shrimps ever.
There is quite a bit that can go wrong but it's easy to avoid the mistakes and it's easy to get great results when you follow these simple tips:
always heat the pan over medium heat and wait for the pan to be really hot!
never add cold shrimps to a hot pan. Take shrimp out of fridge about 30 minutes before planning to cook.
never add wet shrimp to a pan. They start steaming and that's what makes them rubbery.
always rinse your shrimps after defrosting or when bringing home fresh. This is to remove the "fishy" smell and taste.
lay out shrimp on absorbent paper towel and pat dry with another one so they are really, really dry.
don't crowd the pan. All shrimp should be lying flat in the pan with some space in between each other.
cook for only about 1 minute per side. You can tell by shrimps curling up. Once they start curling up you need to pay close attention. Too long and they completely curl up and become rubbery. When they curled up like in the photos shown in this post they're ready and should immediately be removed from the pan.
So in short: rinse and drain shrimp, bring to room temperature, tap completely dry, preheat pan really well over medium heat, don't crowd pan and cook only for short time.
Mexican-Style Shrimp Avocado Salad
Shrimp, avocado, tomato, arugula and grapefruit with cilantro dressing. Imagine the flavor explosion when you take a bite of this Shrimp Avocado Salad!
Print Recipe
Ingredients
2

hands full

arugula sprouts

-

(or regular arugula)

2

large

avocados

8-12

cherry tomatoes

1

grapefruit

8-12

large

shrimps peeled and deveined but tails on

1

hand full

cilantro

1

lime

1

Tbsp

avocado oil

Salt

Pepper
Instructions
Rinse and drain shrimps and bring to room temperature. Then pat completely dry with a paper towel.

Cut avocados in half and remove stone, then cut out avocado balls with a melon baller.

Wash and slice cherry tomatoes in half.

Wash and spin dry arugula sprouts .

Peel grapefruit out of peel AND skin! Cut up a couple pieces of grapefruit flesh only, no white peel.

Preheat pan over medium heat.

Chop cilantro leaves and mix with lemon juice, avocado oil, 1/4 tsp salt and pepper to taste.

Once pan is hot, add a dollop of oil and cook the shrimp in the pan for about 1 minute per side. Add salt and pepper to each side while cooking. When shrimp starts to curl up and become orange they're ready and should be removed from the pan immediately.

Assemble salad and drizzle cilantro dressing over it. Enjoy!
Nutrition
Calories:
141
kcal
|
Carbohydrates:
19
g
|
Protein:
2
g
|
Fat:
7
g
|
Cholesterol:
10
mg
|
Sodium:
39
mg
|
Potassium:
348
mg
|
Fiber:
3
g
|
Sugar:
10
g
|
Vitamin A:
1780
IU
|
Vitamin C:
63.6
mg
|
Calcium:
51
mg
|
Iron:
0.8
mg
What's your clean eating vibe?
Take this fun QUIZZ and find out in 10 seconds!