I've been wanting to post a burger recipe FOREVER now but I just couldn't and couldn't and couldn't find healthy burger bread, I didn't want to use portobellos as "bread" because there is already a Portobello Burger recipe on the blog, I didn't want lettuce to replace the bread and I tried making my own burger bread at home and it simply never turned out well. It was always too dense, too hard, too big, too unburgerish! So I kept postponing and postponing my burger recipe ideas until the day I bumped into that inewa brand organic Kamut burger bread!!! I HAD to give them a try and they absolutely knocked me off my feet. (No, they are not paying me to say that, they have never even contacted me. ineva and I are complete strangers). The bread does contain raw cane sugar but only little of it (4g) so I was ok with that, it is only one teaspoon per bread and I was full after eating one burger. Its main ingredient is unbleached kamut wheat flour and it is a sourdough bread so it has that amazing sourdough taste that I love so much. I hope you can find this brand or a similar one where you live. It will make such a difference for you salmon burger with garlic herb mayonnaise, promise!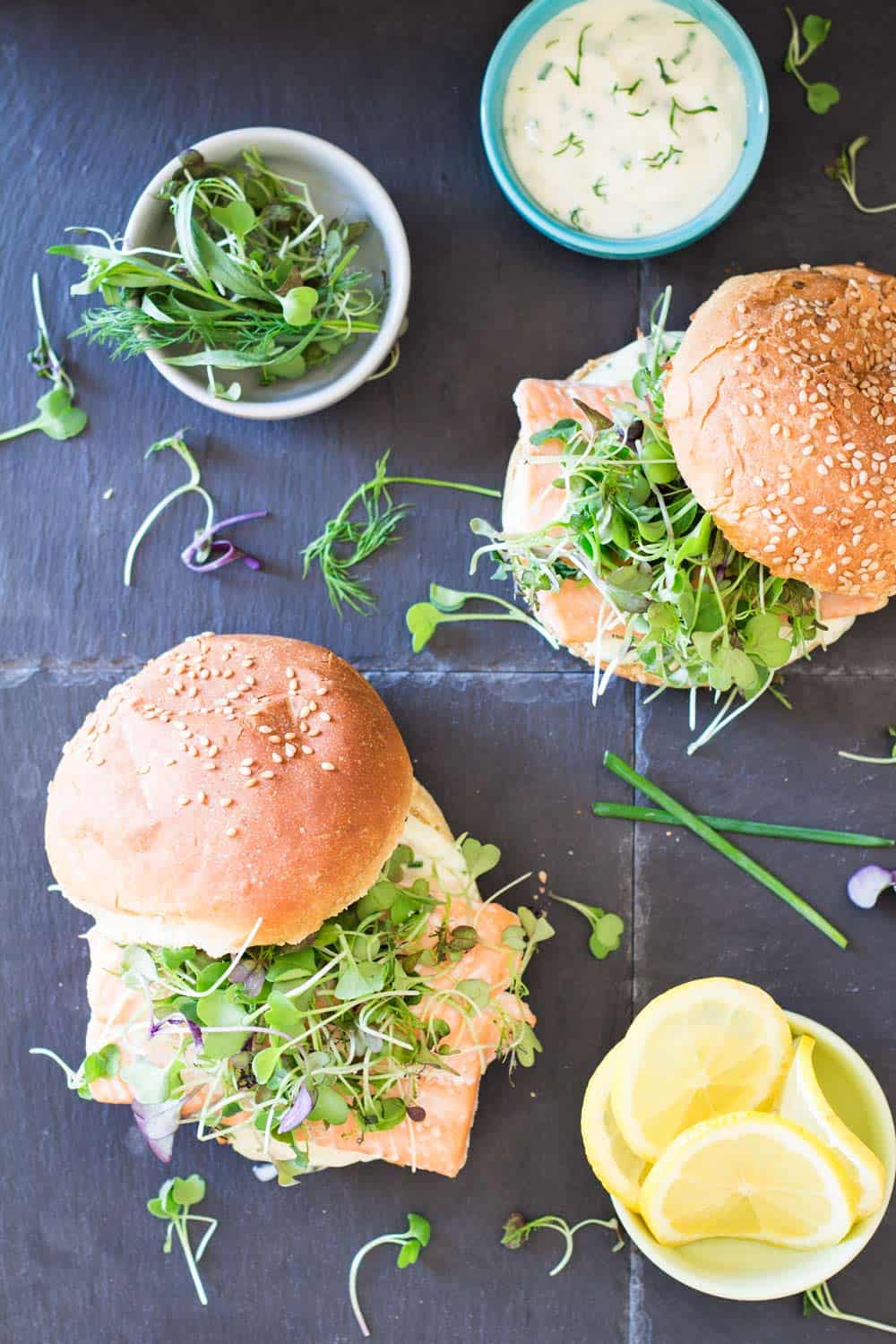 The mayonnaise I made in my NEW VITAMIX!!! Can I have a collective angelical *ahhhhhhhhh* please? I've been wanting one for an eternity but man are they expensive. I kept thinking about it and thinking about it and thinking about it, just like I do with the robotic vacuum cleaners because I loath vacuuming and the Roombas are apparently so good you could basically eat off the floor because it's clean and it's gonna get automatically cleaned again. Do any of you have one? What are your thoughts? Worth the investment?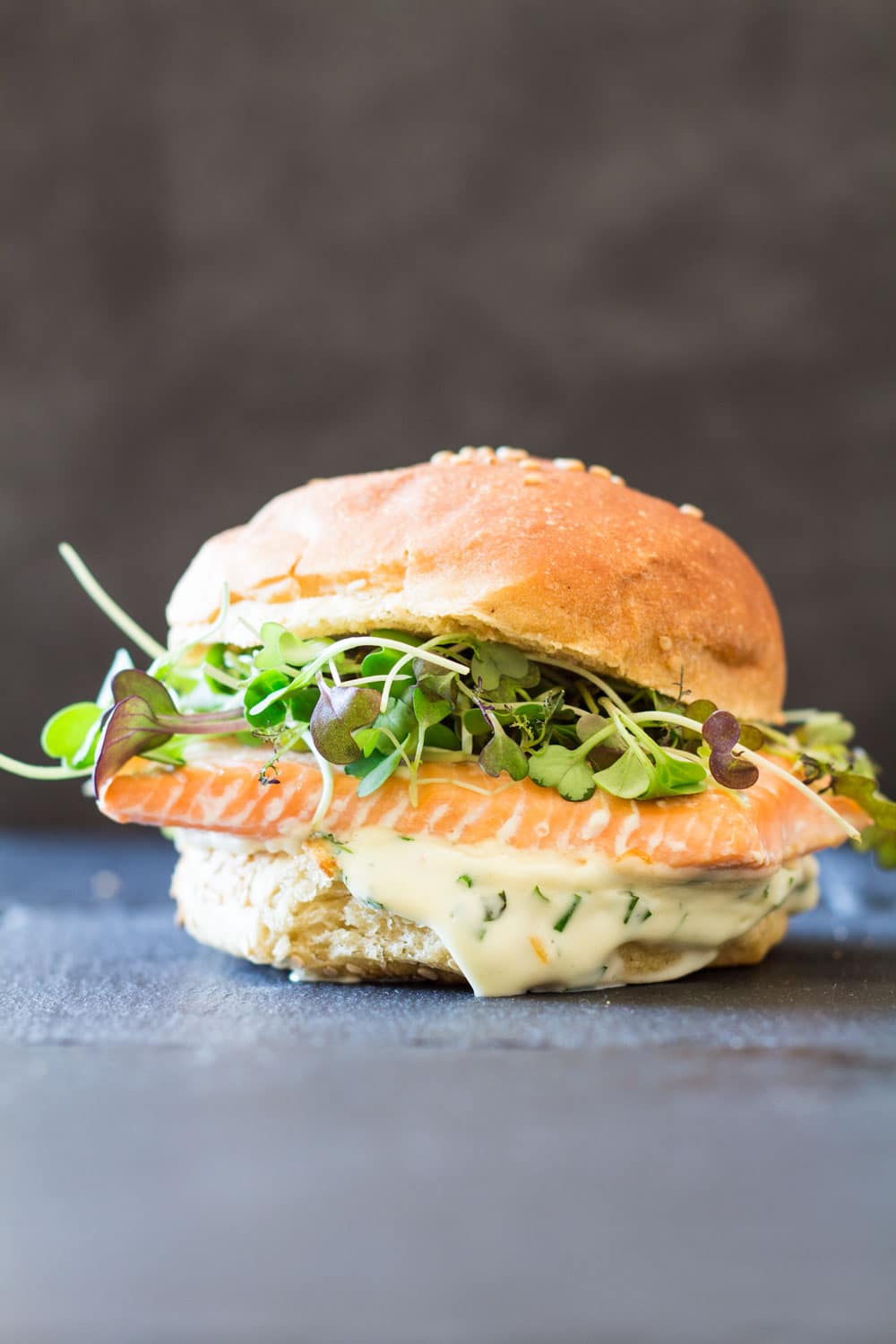 The Vitamix I can tell you now after trying it for several different things, is toooootally worth the investment! Those machines are worth every penny they cost. They stand up to their task and go beyond it. Seriously!! I've got to say that my old blender died the other day :( It started smoking and then stopped turning all together. R.I.P. my old love! And welcome into my kitchen Vitamix, I love you already. In case you've been wanting to buy one, too, I have extraordinary news for you, I am hosting a group giveaway on Sunday and it will run for 2 weeks in order to pick a winner on mother's day and guess what the prize is: A VITAMIX!!! Try and win it :D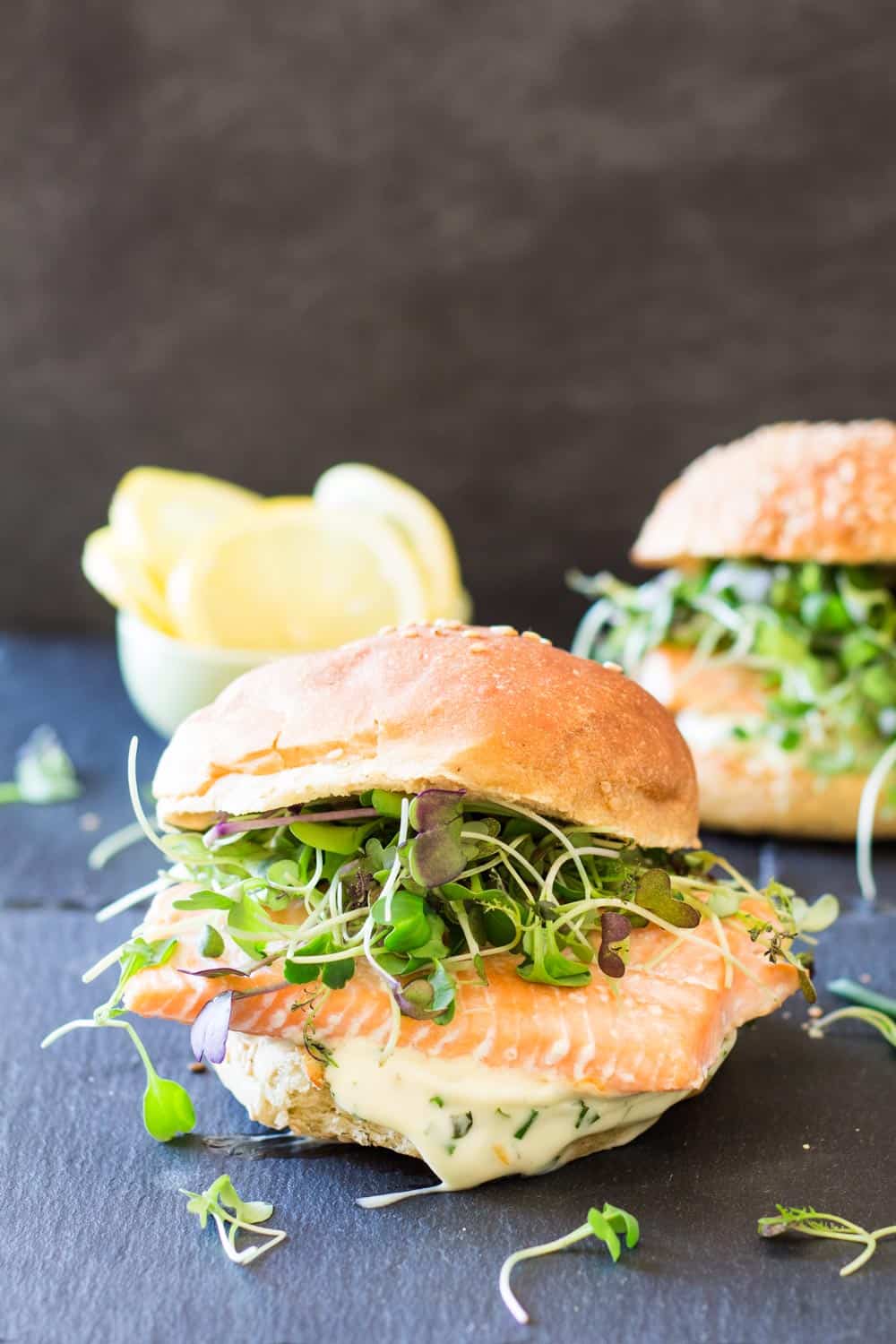 While waiting for the group giveaway to start on Sunday you can indulge in healthy "junk food" such as this salmon burger. It was eye-rolling good!!!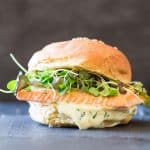 Salmon Burger With Garlic Herb Mayonnaise
Ingredients
4

salmon filets

4

burger buns

(gluten-free if you wish)

spicy micro-greens

1

egg

1

Tbsp

dijon mustard

1

Tbsp

fresh lemon juice

2

cloves

garlic

1

Tbsp

finely chopped dill

1

Tbsp

finely chopped tarragon

1

Tbsp

finely chopped chives

abundant flavorless vegetable oil

(such as avocado oil or sunflower oil)
Instructions
Preheat oven to 450 F (230C).

Wash and dry salmon filets, then salt and pepper generously.

Place salmon filets on a parchment paper lined (!) baking sheet.

Once oven is hot place salmon in the oven and bake for 15-20 minutes depending on thickness. (Mine were a thumb thick and I baked them for 15 minutes.)

In the meantime, prepare the mayonnaise by washing and chopping the herbs.

Add egg, mustard, lemon juice, crushed garlic and some salt into the blender (about 1/2 tsp) into the blender and start the blender on low, now slowly, very slowly pour in the oil in one continues thin string into the blender while it's running. Add as much oil as necessary until the mayonnaise thickens to desired consistency.

By now the salmon should be baked through.

Generously spread mayonnaise on the bottom of the burger bun, place a salmon filet on top, top with spicy microgreens and top all that with the upper part of the burger bun.

Take a biiiig bite!
If this Salmon Burger With Garlic Herb Mayonnaise caught your attention for it looks like an amazing burger but you're not really that much into fish, you might want to check out this Easy Grilled Chicken Burger instead ;)
Get Green Healthy Cooking's NOURISHING NEWS straight to your inbox!