Good morning/afternoon/evening (depending on where you live in the world) lovely readers! Today I have a Mexican Black Bean Soup for you because here in Montreal it is STILL freeeeeezing cold and we need something bone-warming to slurp on. This soup is perfect as a main dish because it is packed full of bean protein. Beans, or legumes in general, are pretty much the very best vegan food you can eat to fill up your body's protein and iron tank. Now I understand that many people stay away from legumes because of its "secondary effects" to give it a more flatulent name ;) Those secondary effects can easily be avoided though if paying attention to preparation. If you're using canned legumes, well, I really can't help you. Canned will maybe taste similar but will be SO HARD on your stomach. Better properly prepare your legumes at home. It's a once a week thing, if you eat a lot of legumes, and a once every other week thing if you eat little.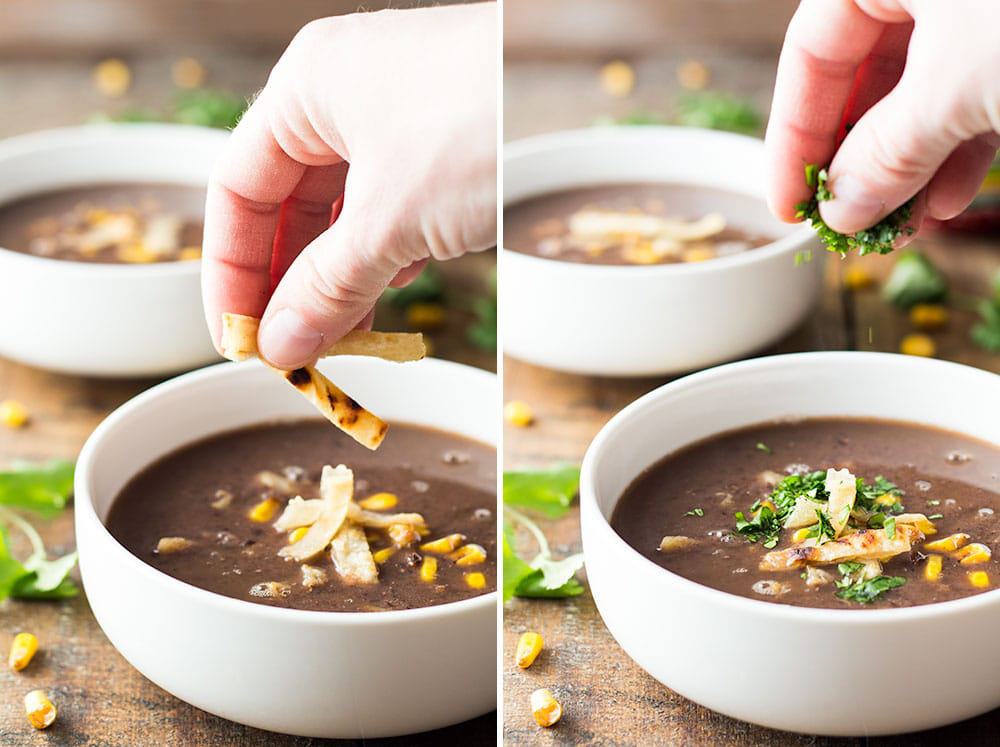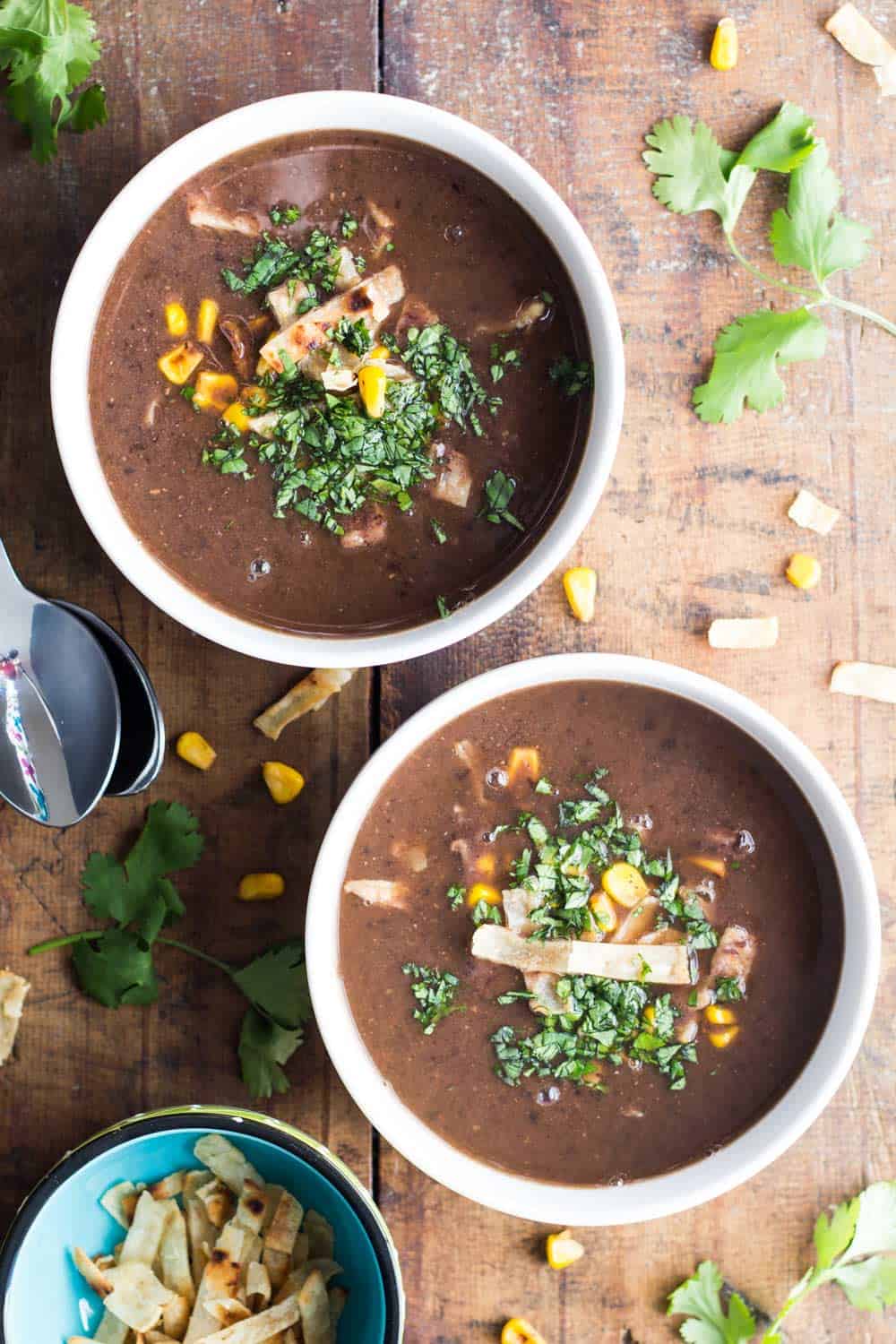 Here is how to cook dried black beans:
Soak the beans in abundant water for AT LEAST 12 hours. This step is crucial! Soaking is essential to get rid of anti nutrients and the number 1 cause of those secondary effects I was talking about further up. This step takes literally 1 minute, so why fuss about having to soak?? Put your beans in a big bowl, fill the bowl up with abundant water (at least a fist above the beans), cover with a clean cloth and let sit on the kitchen counter. I do this the night before I plan on cooking beans. If you worry to forget this step you should really, really, really check out this 

Meal Planning Guide

 (not available anymore) because it'll teach you how to meal plan your whole week and this way you WILL remember to do everything.
Rinse beans really really well under cold water once finished soaking or if soaking for more than 12 hours because you didn't get to cooking them right away. This step is required to rinse away all those anti nutrients and gunk that causes you to pass wiiiiindddd.
Put soaked and thoroughly rinsed beans in a big pot, fill with water to about 1″ above the beans and bring to the boil. While bringing to the boil, peel and chop an onion and peel and crush 1-2 cloves garlic and add to the pot. Add 1-2 teaspoons salt (depending on how many beans you are cooking, I cook 3 initially dried cups and add 2 teaspoons).
Once boiling there should have builded some foam on the top. Remove that foam with a spoon, that's also one of the causes of stomach upset.
When all the foam is spooned out, reduce heat to low, put on lid and let simmer for 3-4 hours. Choose a day you know you'll just be hanging around at home. You don't have to watch your beans. The stove will do all the work but you should obviously never leave a burning stove unattended, as in "alone" at home. OR much easier, use a crockpot. Because then you CAN leave the house and go about your day without having to worry about the beans on the stove ;)
After the 3-4 hours, turn off the heat and either eat right away, make your soup or just let sit at room temperature until cooled down so you can store it in freezer safe containers. I freeze 2 cups at a time because about 2 cups with liquid and all makes about the same amount as a can of beans and this way I have about 5 "cans" of beans in the freezer for whenever I need them.
Enjoy enormous amounts of beans without any stomach upset and take advantage of their nutrient density :)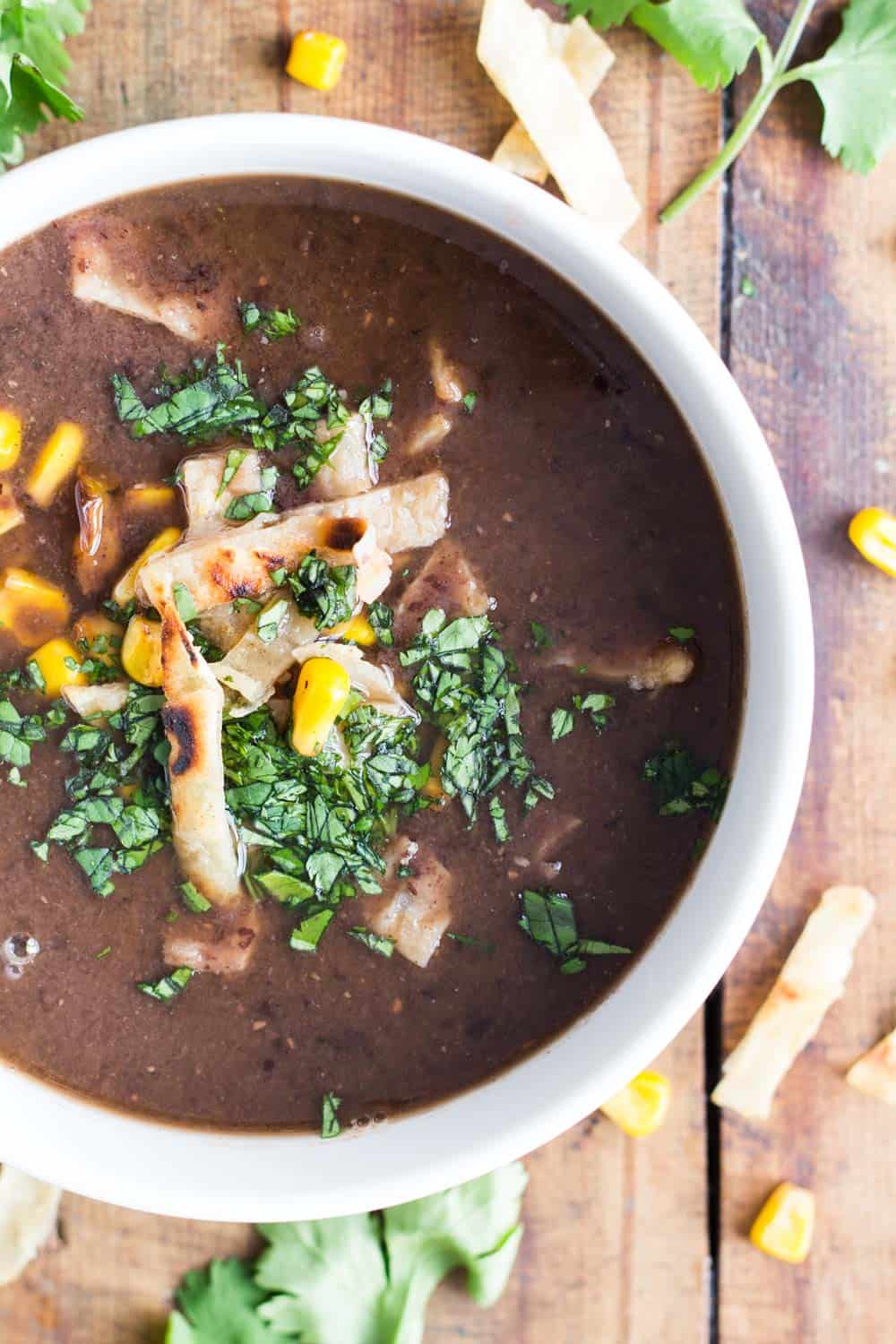 Oh and by the way, hello from the reflection of the spoon in the first picture. Yes you can see me in my super sexy butterfly pants pyjamas a.k.a. my official work outfit. Now that's what I call taking a job serious! My day starts by feeding the kids and getting them ready for daddy to take them to school, then I jump on the computer to write a blog post, answer e-mails or connect with my readers, then start cooking and photographing and by 11:42 I'm usually in the position you see in the spoon, standing on the dining table with my tripod in my pyjamas because I haven't had the time to get dressed yet. That, of course, wouldn't really be a problem if it wasn't for the fact that I have to be OUT THE DOOR by 11:45 the very latest to make it in time to go pick up the kids from school. Ahhhhhhhhhh!!!! I must be Flash's granddaughter or something because yes, I always make it to school by 12:01 or 12:02. Thank goodness it's winter and I can hide that I'm still wearing my pyjama top under my winter jacket, no socks in my winter boots, my unwashed hair and the sweat due to the sprinting to school under my jacket's hood. Phew!
Mexican Black Bean Soup
Ingredients
1

small

onion

1

clove

garlic

3

cups

cooked black beans

(preferably soaked and home-cooked)

4

cups

beef broth

(vegetable stock for vegan/vegetarian)

pepper

4

corn tortillas

1

cup

corn kernels

olive oil

fresh coriander
Instructions
Heat a large pot over medium heat.

Peel and finely chop onion, peel and crush garlic.

Once pot is hot, add a dollop of olive oil, then add onion and garlic and fry until translucent.

Add 3 cups of black beans with its cooking liquid and all.

Add 4 cups of broth.

Add salt and pepper and bring to the boil. Once boiling, reduce heat to low, cover and let simmer for about 15 minutes

In the meantime, heat a small pan over medium heat.

Put about 1/8 tsp of oil on a tortilla and spread it with your hands, then turn and do the same thing. You can also use a brush and brush on the oil on both sides.

Cut tortilla into fine stripes.

Once pan is hot, add tortilla strips in batches and toast until crisp. Set aside.

Add corn kernels to same pan and toast until starting to turn black. Set aside.

Now blend the beans and broth with an immersion blender or pour it in batches into a stand mixer to blend into a creamy soup.

Pour soup into bowls, add a 1/4 cup corn kernels to each bowl, top with toasted tortilla strips and sprinkle with coriander.
P.S. Stay tuned for today the winner of the Valentine's Amazon Giveaway will be drawn. I'm so excited to find out who wins!!! :D
If you like this recipe and want more the like, make sure to subscribe to my blog, receive a free one week breakfast/lunch/dinner e-mealplan and lots of healthy recipes directly into your inbox:
[mailchimpsf_form]
Disclosure: This post may contains affiliate links, which means that if you click on one of the product links and end up buying it, I'll receive a small commission. The price is the same for you, though! Thank you for your support.
Get Green Healthy Cooking's NOURISHING NEWS straight to your inbox!