The easiest and most delicious one-sheetpan lemon chicken asparagus recipe ever! Lemon chicken with asparagus is the perfect dish for when you need dinner fast without making a mess!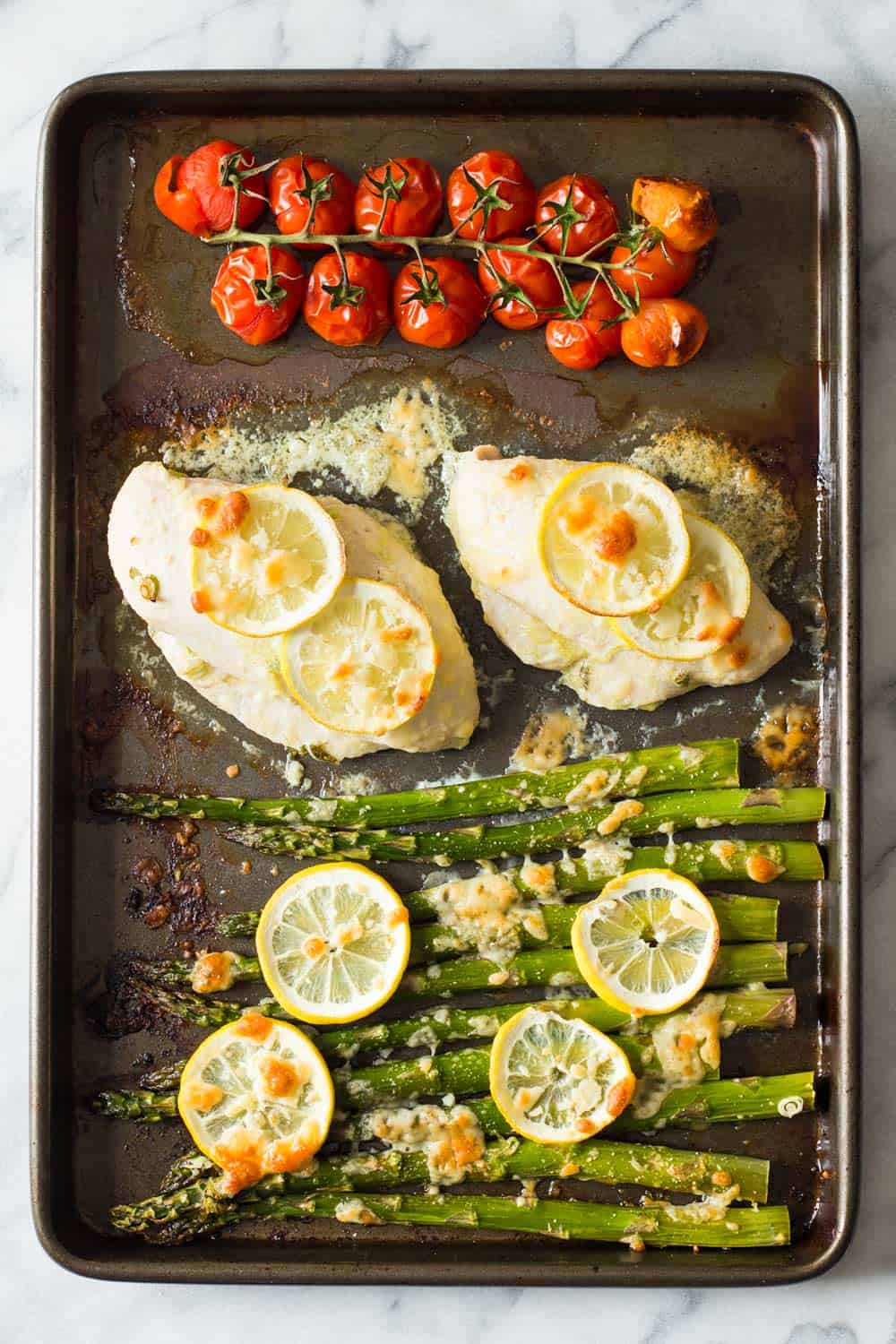 It's almost spring in Montreal! It's ALMOST spring! I can sense it, I can feel it, I can smell it! I almost can't believe it. The anticipation is so exciting. You may imagine what it feels like when people that live in the world of eternal brutal winter get positive degree days and warm rays of sunshine that melt away the snow. It's the most satisfying feeling you can think of.
With warmer days come cravings for "spring food": Smoked Salmon Asparagus Quiche , Strawberry Bacon Spring Salad. Now we can add this Lemon Chicken Asparagus to the list of spring celebrations.
I made it a quick and easy dish. A ONE PAN dinner! It's time to cook dinner fast to then either go outside or at least hang out your head through an open window. Can you tell I'm excited for spring?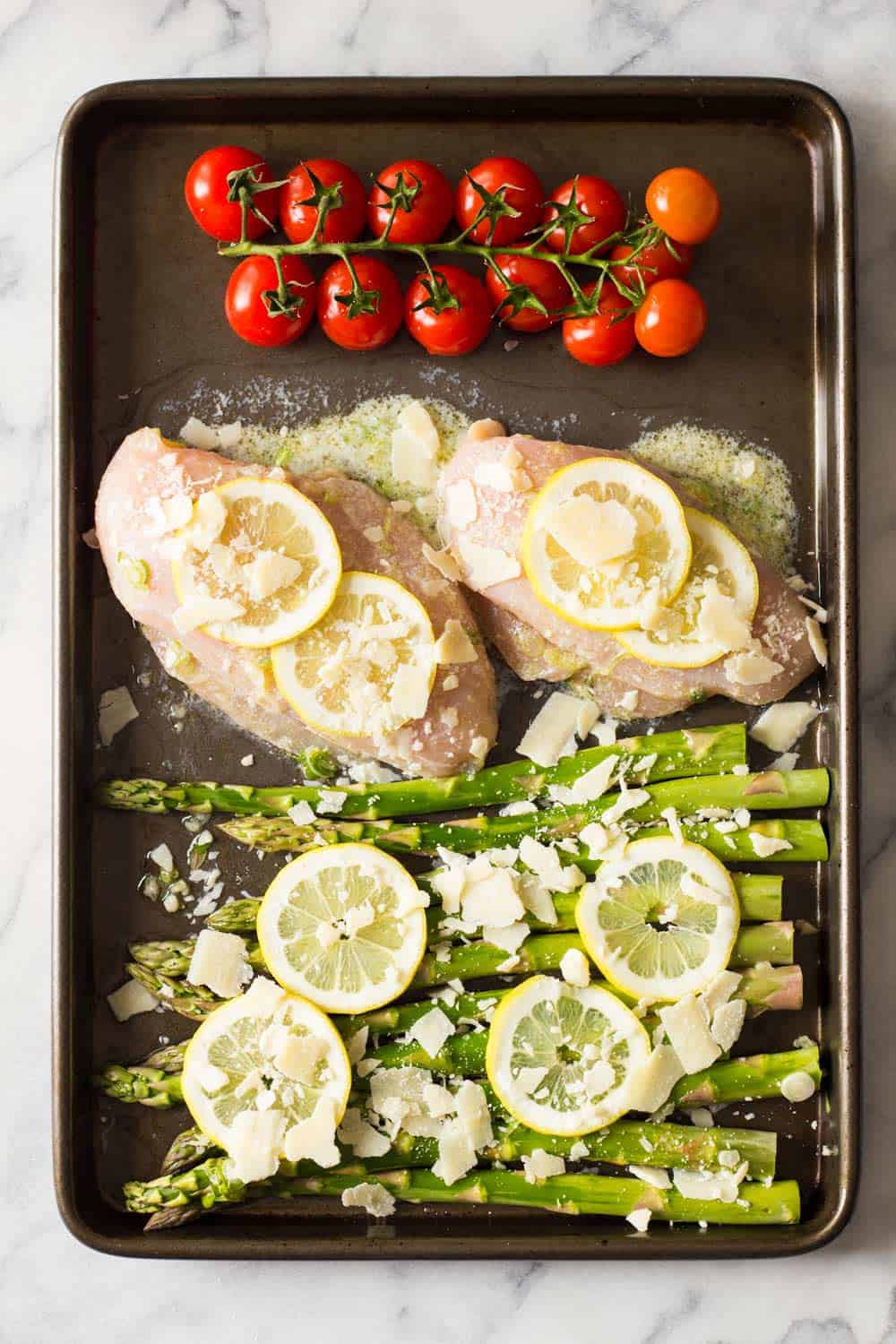 How to bake lemon chicken asparagus
Chicken and Asparagus are a great combination because they take exactly the same time to bake in the oven! Add some cherry tomatoes for color and juiciness and you've got the most amazing one pan chicken and asparagus in the whole wide world! There is only 5 important points to keep in mind for a PEREFECT Lemon Chicken Asparagus dinner:
Number 1: marinate the chicken. The longer you marinate it, the more flavor it will absorb. If you happen to remember in the morning, prepare the marinate and place the chicken in it for a couple hours in the fridge. If you are like me and planning isn't your strength make that 10-15 minutes :P
Number 2: cut off a generous amount of the dry ends of the asparagus. About 1 inch. OR peel them with a vegetable peeler to get rid of the tough parts of the asparagus. AND lay out asparagus in one layer.
Number 3: cut the lemon slices very thinly so they soften up in the short baking time and release their juicy goodness. Everything tastes better with lemon! And the aroma is just ….. ahhhhhh
Number 4: don't overdo it with the Parmesan cheese. I know it'll look like it's little and we all love Parmesan, however, if you add a lot you won't taste the lemon or the chicken or asparagus or anything really. The amazingness of this dish is the favor combination! We have to keep the flavors balanced to really enjoy that :)
Number 5: Once you plated the dish use a fork to press the juice of the lemon into your food and discard the rind. Don't eat the rind unless you already know you looove that bitter flavor. It's very bitter though. I'm not a huge fan or big chunks of lemon rind, only a little zest maybe.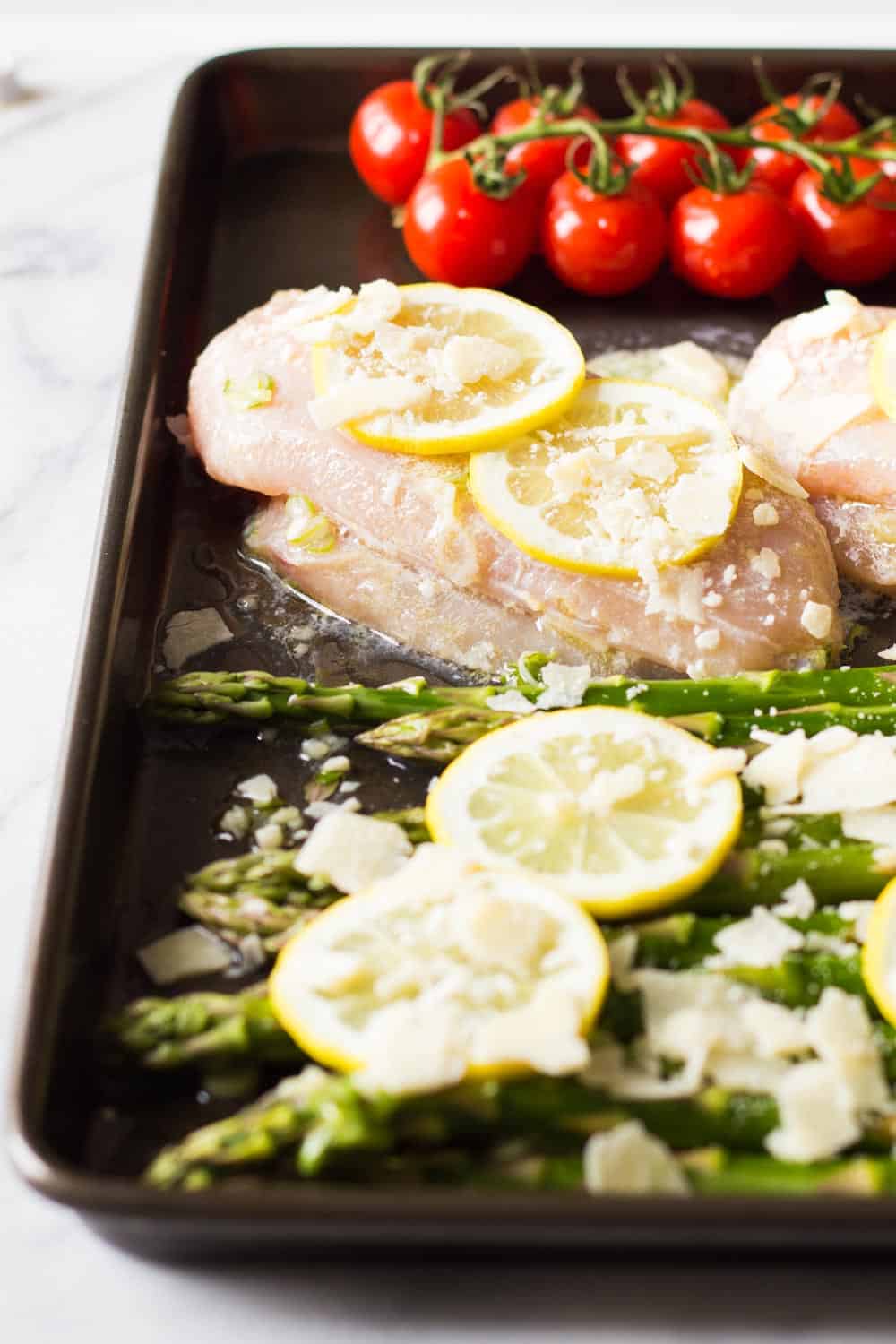 Easy chicken asparagus dinner for the win
There really isn't much science to this recipe. It's so simple and so easy to prepare and yet tastes like the most amazing restaurant dish!
This is a fantastic date-night dinner or double or triple the recipe and invite over some friends. You can prepare everything ahead and put the baking sheet covered with clingfilm in the fridge. Clean up your kitchen (which won't be much work anyway). And once your guest(s) arrive(s) you preheat the oven while you have an aperitif.
Add the chicken to the hot oven for 15 minutes, plate and voila happy guest(s)! Isn't that amazing?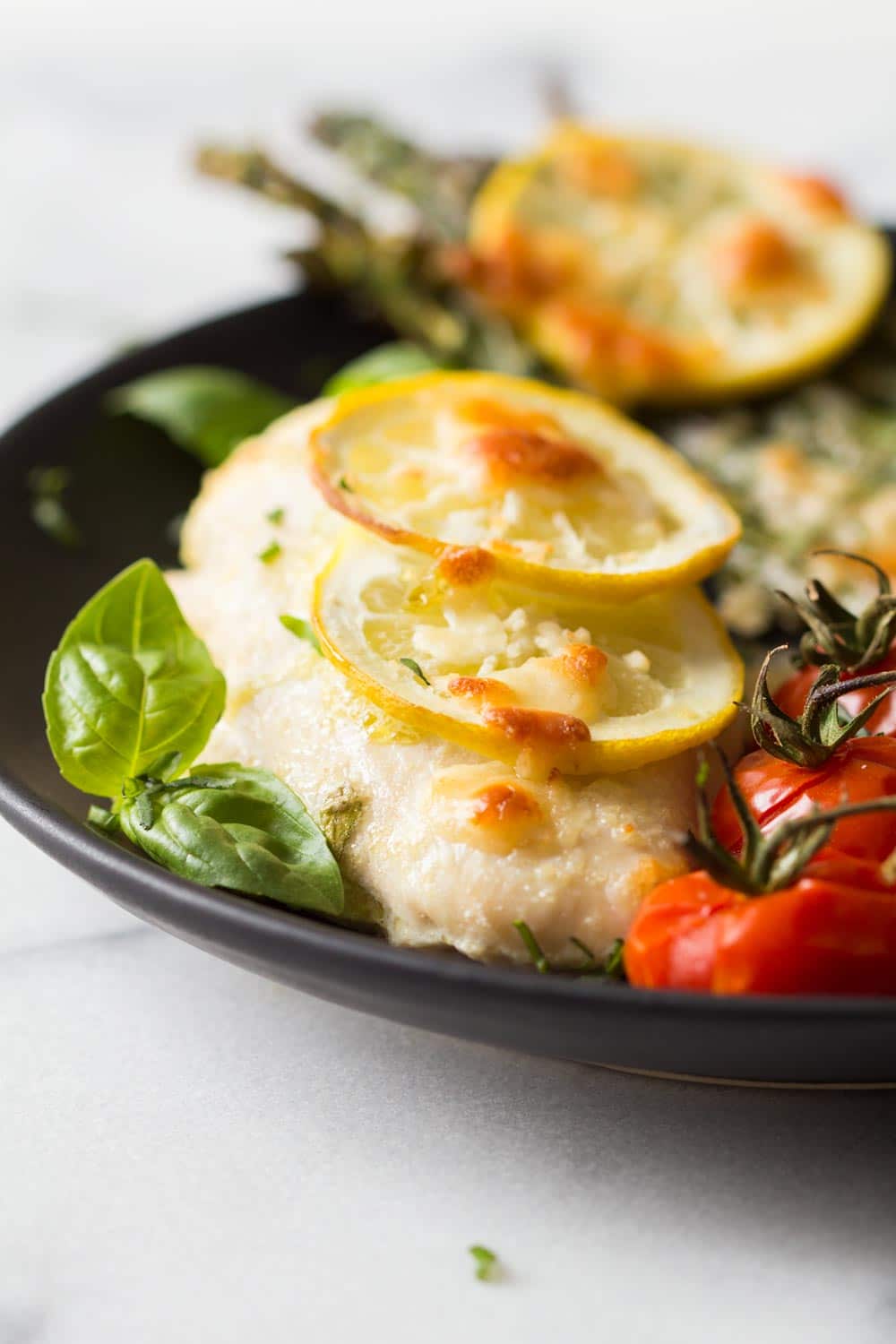 Just to show you how easy this recipe really is, I've made a video for it, too. I know how much you love those short instructional videos. You can watch it on Green Healthy Cooking's Facebook Page.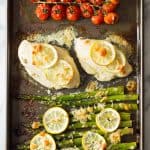 Lemon Chicken Asparagus
The easiest and most delicious one-sheetpan lemon chicken asparagus recipe ever! Lemon chicken with asparagus is the perfect dish for when you need dinner fast without making a mess!
Print Recipe
Ingredients
2

chicken breasts

10-12

green asparagus

-

depending on thickness, more if you want more

12-14

cherry tomatoes

-

depending on size, more if you want more

4

Tbsp

white wine

2

Tbsp

olive oil

1

white part of green onion

-

finely sliced

1

tsp

dried basil

1/2

tsp

sea salt

2

tsp

honey

1

clove

garlic

-

crushed

1/3

cup

shaved Parmesan

1

lemon

-

thinly sliced

fresh basil for sprinkling
Instructions
Preheat oven to 450F (230C).

Prepare the marinate: add white wine, olive oil, very finely sliced white part of green onion, dried basil, sea salt, honey and crushed garlic to a small bowl and whisk.

Add chicken breasts to a large bowl and pour about 1/2 of the marinate over the chicken and let marinate for 10-15 minutes. Set the other half of the marinate aside.

Wash asparagus and tomatoes and cut off about 1" of the dry ends of the asparagus.

Place chicken, asparagus and tomatoes on a large baking sheet in one layer. Pour the marinate the chicken has been sitting in over the chicken and the leftover marinate we kept aside over the asparagus and run your hand along them to make sure they are covered in marinate.

Add thin slices of lemon on top of the chicken breasts and asparagus and then sprinkle shaved Parmesan onto them, too.

Bake for 15-18 minutes depending on the thickness of the chicken breasts. Mine were 5 oz (150g) each and took only 15 minutes. Use a meat thermometer if needed. (165F / 75C is the safe internal temperature)

Remove from the oven, serve on plates and sprinkle with chopped fresh basil.
Nutrition
Calories:
435
kcal
|
Carbohydrates:
31
g
|
Protein:
37
g
|
Fat:
19
g
|
Saturated Fat:
5
g
|
Polyunsaturated Fat:
2
g
|
Monounsaturated Fat:
10
g
|
Trans Fat:
0.02
g
|
Cholesterol:
86
mg
|
Sodium:
1120
mg
|
Potassium:
812
mg
|
Fiber:
4
g
|
Sugar:
22
g
|
Vitamin A:
1950
IU
|
Vitamin C:
61.9
mg
|
Calcium:
310
mg
|
Iron:
3.6
mg
What's your clean eating vibe?
Take this fun QUIZZ and find out in 10 seconds!