Today is a WONDERFUL day!!! We currently have positive 3°C (37°F) and my phone tells me we'll have up to 11°C (52°F) this afternoon. I was able to send the kids to school in only rain boots not snow boots and a fleece and rain jacket not a snow suit and this may all sound kind of trivial to human happiness if you live anywhere that doesn't have winters like the ones we get in Montreal, for us though….this is a REALLY BIG DEAL! Seriously! The first day of warm sunny weather after winter opens up the heart, it makes you smile from ear to ear, it makes you walk on the street like a kid singing "skip, skip, skip to my lou, skip to my lou, my darlin'!" It almost makes you love winter for it makes you appreciate spring and summer and for it turns the first day of spring into something so very special. My man and I both took the kids to school by foot today and on the way we were talking about taking the bicycles out for the weekend. This is exciting talk folks, this is like planning a vacation! This is HUGE! Did I express my happiness enough to you? Can you feel what I feel? Butterflies in your tummy, warmness around your heart, beautiful pictures of parks with birds and squirrels and flowers in your mind? Now add a picnic blanket and a Strawberry Bacon Spring Salad to it….perfection I'm telling you. Absolute perfection!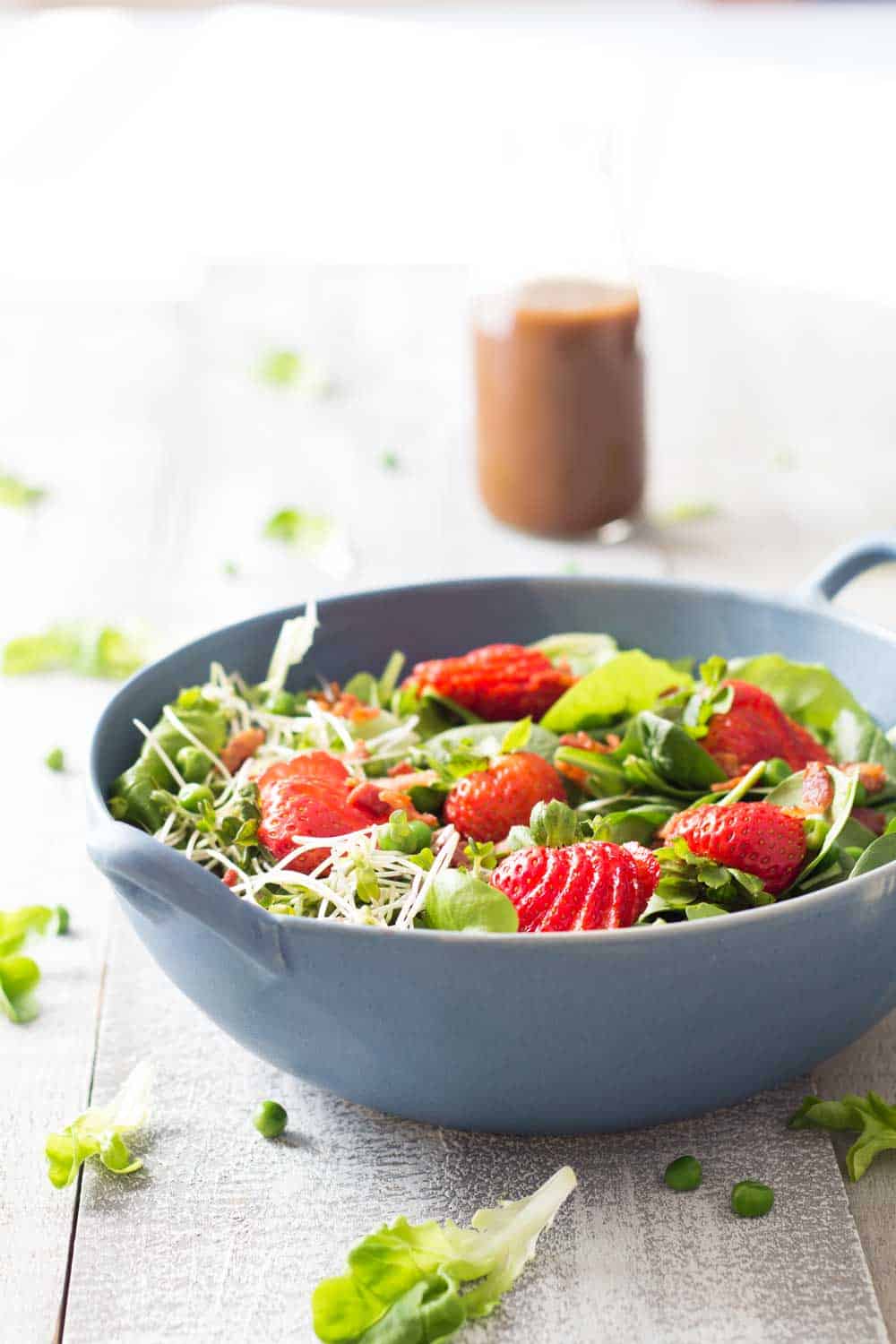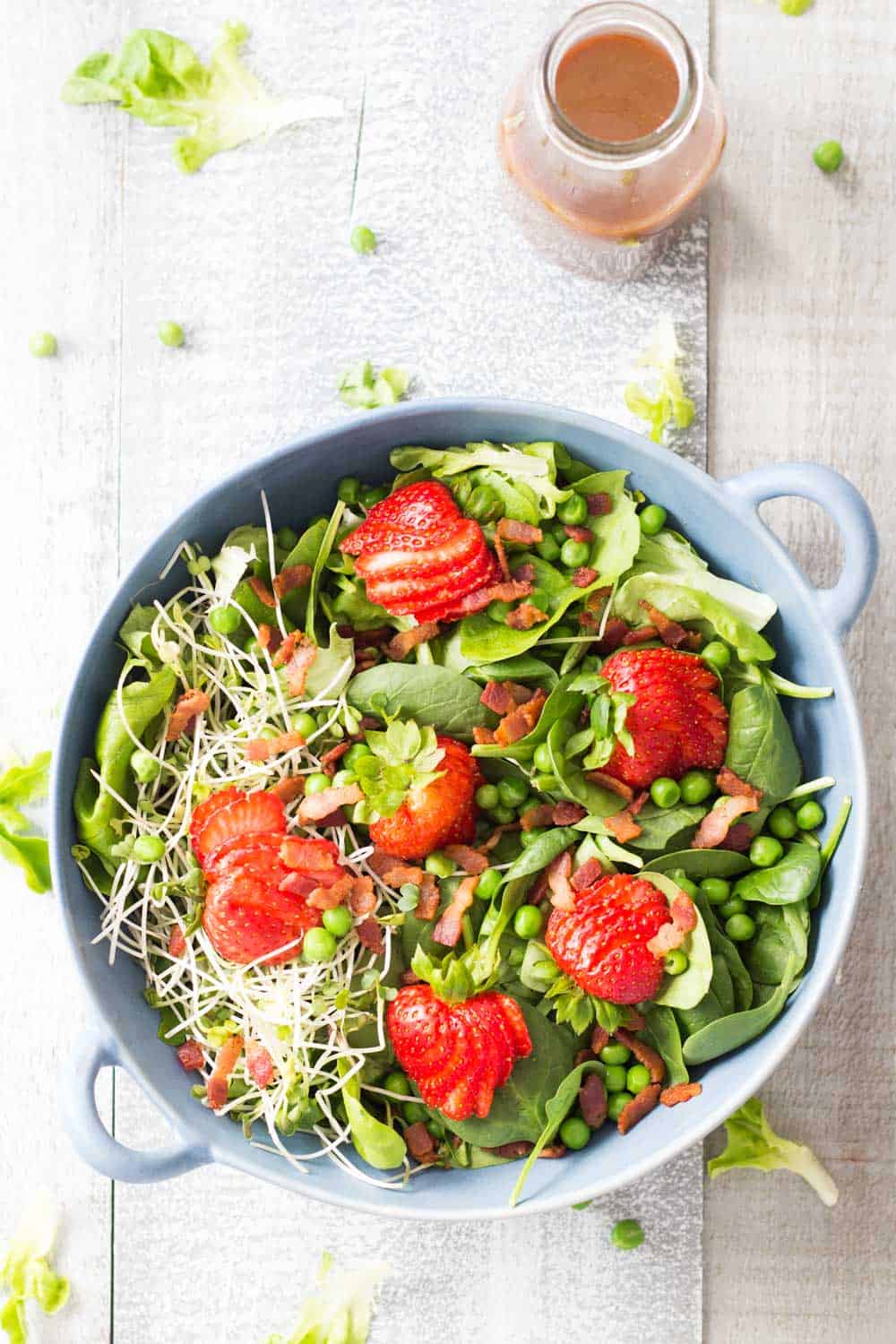 How a Strawberry Bacon Spring Salad can transform your day:
it contains crisp bacon and bacon in general transforms pretty much anybody's day into a perfect day but crisp and sprinkled on a salad….don't even get me started.
strawberries are not $100 dollars and totally tasteless anymore!! The pack of strawberries I bought for this salad were the first ones that talked to me at the store. They were saying "buy us, buy us, we taste delicious, promise, and we are cheap and we are red and juicy and sweet and soft and gorgeous" or something along the line ;) whose day isn't transformed when they eat delicious strawberries for the first time in the year?
crunchy salad leaves taste about 10 times better when the sun is shining than on gloomy cold days. I mean I love lettuce always but crunchy baby lettuce out in the park on a bench in the sun makes me be aware of how lucky we are to be able to eat FRESH vegetables.
peas are a fun way to add extra plant protein and they scream "spring, spring, spring".
the required

Maple Mustard Balsamic Dressing

gives the salad that final touch needed to turn it into a salad capable of transforming anybody's day into a WONDERFUL one.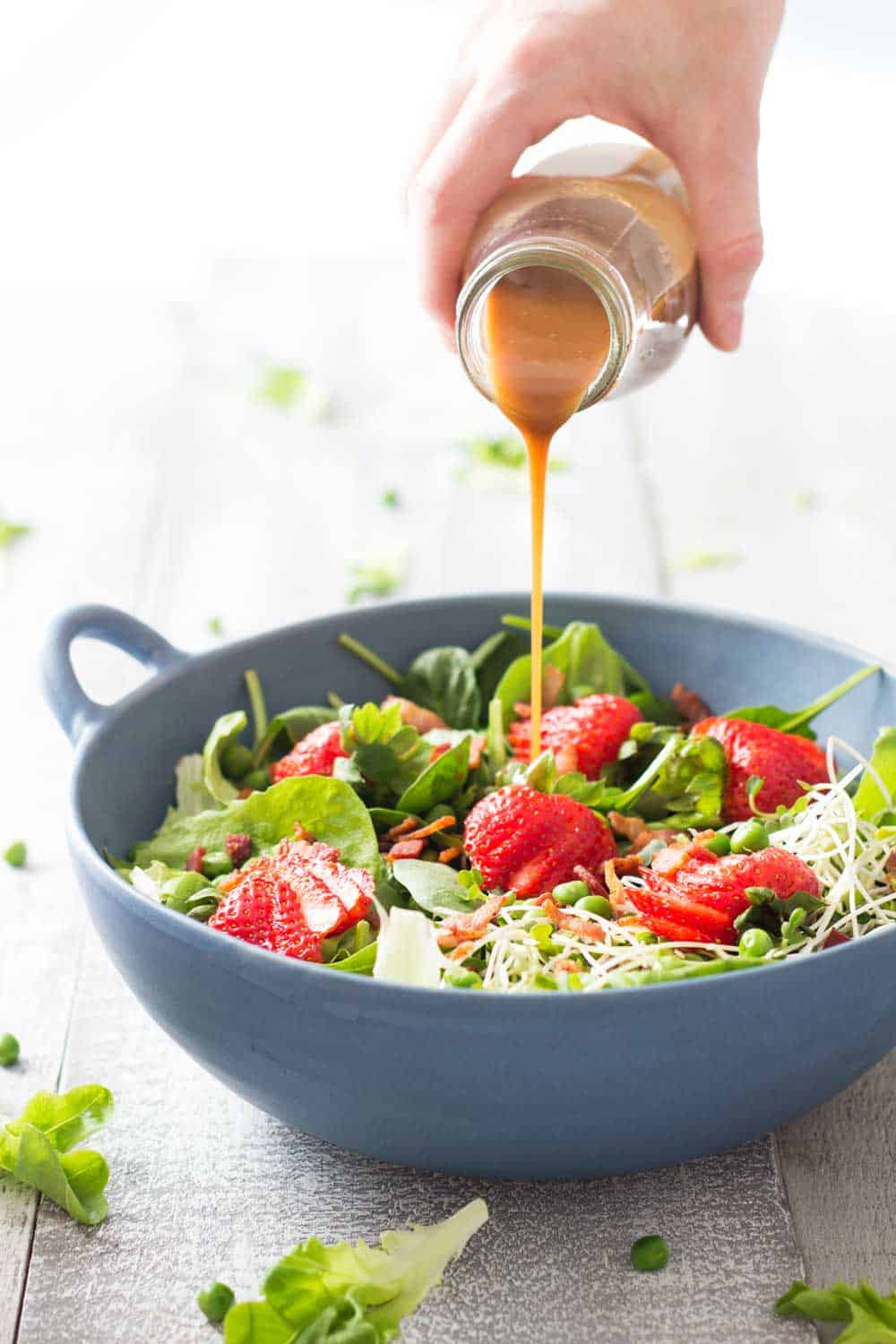 The Maple Mustard Balsamic Dressing by the way I was finally able to reshoot, I never really liked the pictures I took a year ago but since this is pretty much our number 1 salad dressing I figured I couldn't just not post it because I reckoned the photos weren't pretty, right? I will make a fancier dressing every once in a while if I make a salad as a main dish but for our daily side dish salads I may have to admit that we ALWAYS use this dressing. You guys all know that I'm not a person who likes to repeat meals/flavors too often. I like having a wide, and I mean WIDE, variety of foods and dishes, not only in my week or month, but in my year! When it comes to salad dressing though I keep going back to this one. What I like best about it is that my kids absolutely love it and I yet have to meet a kid their age that eats as much salad as they do. If I use a regular Italian style vinaigrette they'll just poke in the leaves and eat maybe two and they say they are "full" and can't eat even one more leaf. Yeah, right!? With the Maple Mustard Balsamic Dressing though I tend to have them fighting over who gets to eat the last leaves not on their plate but on MINE! So go check out the recipe and the new photos and tell me what you think :)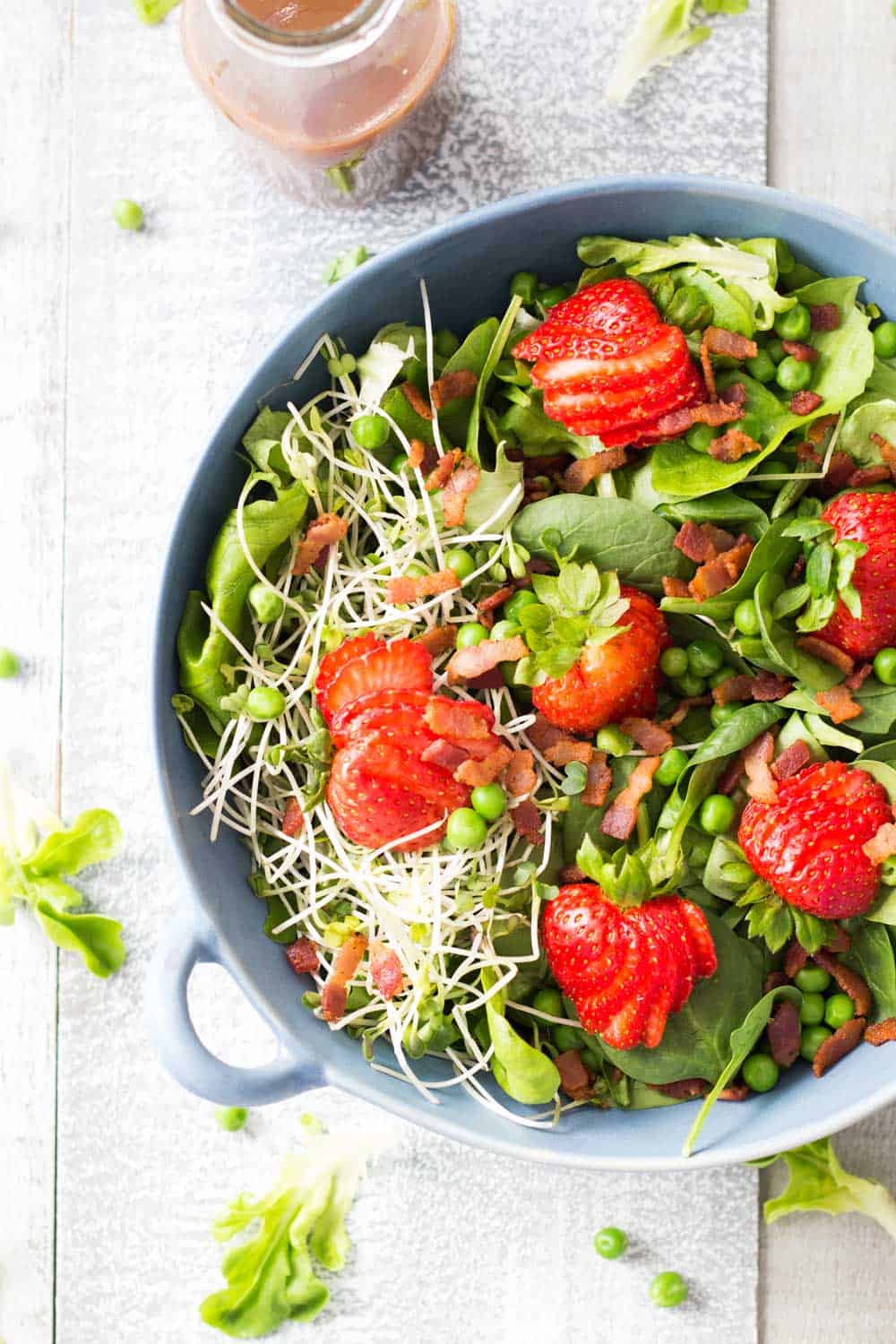 Now prepare your Strawberry Bacon Spring Salad with Maple Mustard Balsamic Dressing and dig into the best spring day ever!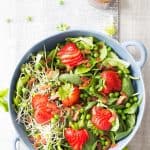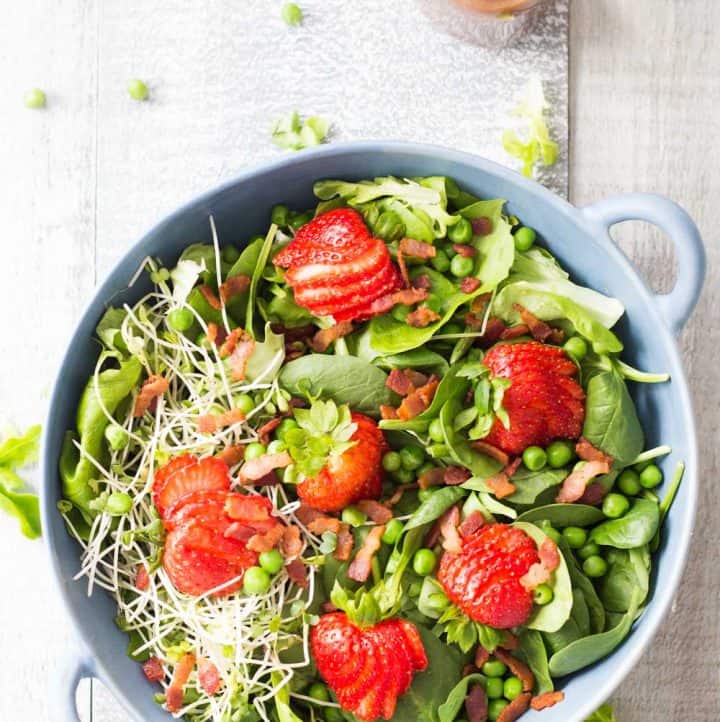 Strawberry Bacon Spring Salad
Print Recipe
Ingredients
5

oz

baby leaf lettuce

-

(140g)

1

hand full

daikon radish sprouts

-

(or any other sprouts)

1/2

cup

frozen peas

6-8

strawberries

4-6

stripes

bacon

Maple Mustard Balsamic Dressing
Instructions
Heat a heavy bottomed pan such as a cast iron skillet over medium high heat.

In the meantime, wash lettuce, sprouts and strawberries and hull and/or slice strawberries if desired, they can also just be added whole. Add to a salad bowl.

Rince peas in hot water from the tab for about one minute and let drain. This should be enough to defrost them.

The skillet should be hot by now. Add bacon and fry on both sides until crisp. Place on a paper towel lined plate to absorb excess fat, then crumble and sprinkle on top of salad.

Pour dressing over salad only seconds before serving.
What's your clean eating vibe?
Take this fun QUIZZ and find out in 10 seconds!