The perfect healthy side dish for any BBQ: Turmeric Quinoa Salad. Beautifully yellow-stained and fragrant turmeric quinoa, fresh and crunchy cucumber and romaine lettuce, sweet tomato and a delicious honey mustard dressing that will knock you off your feet.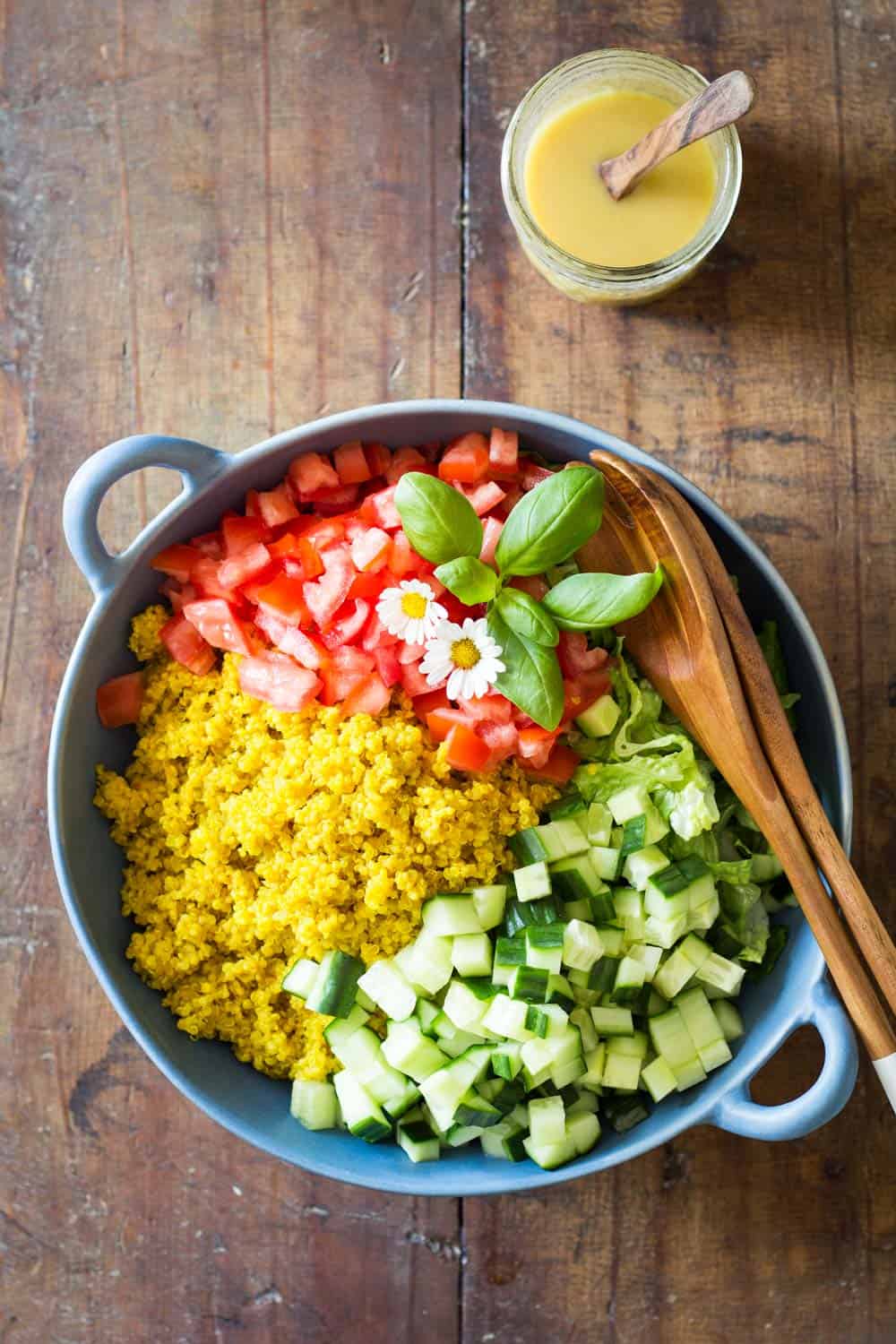 Turmeric is a powerful anti-inflamatory and with all those BBQs and fatty foods we put into our bodies lately – because who want's to cook in this humid hot weather – is exactly what we need for better digestion. For more information on all the incredible health benefits of turmeric check out this amazing post.
Quinoa…..oh quinoa, I love thee! Quinoa is, in my honest opinion, the most amazing "suuuuuper" food on the planet. Not only because it's Peruvian and I grew up with it but also because of aaaaall its health benefits. If you want to read all about quinoa and 27 science-backed health benefits, check out this amazing post. You will love it. It is the most extensive article you can find about quinoa and therefore an absolute must-read.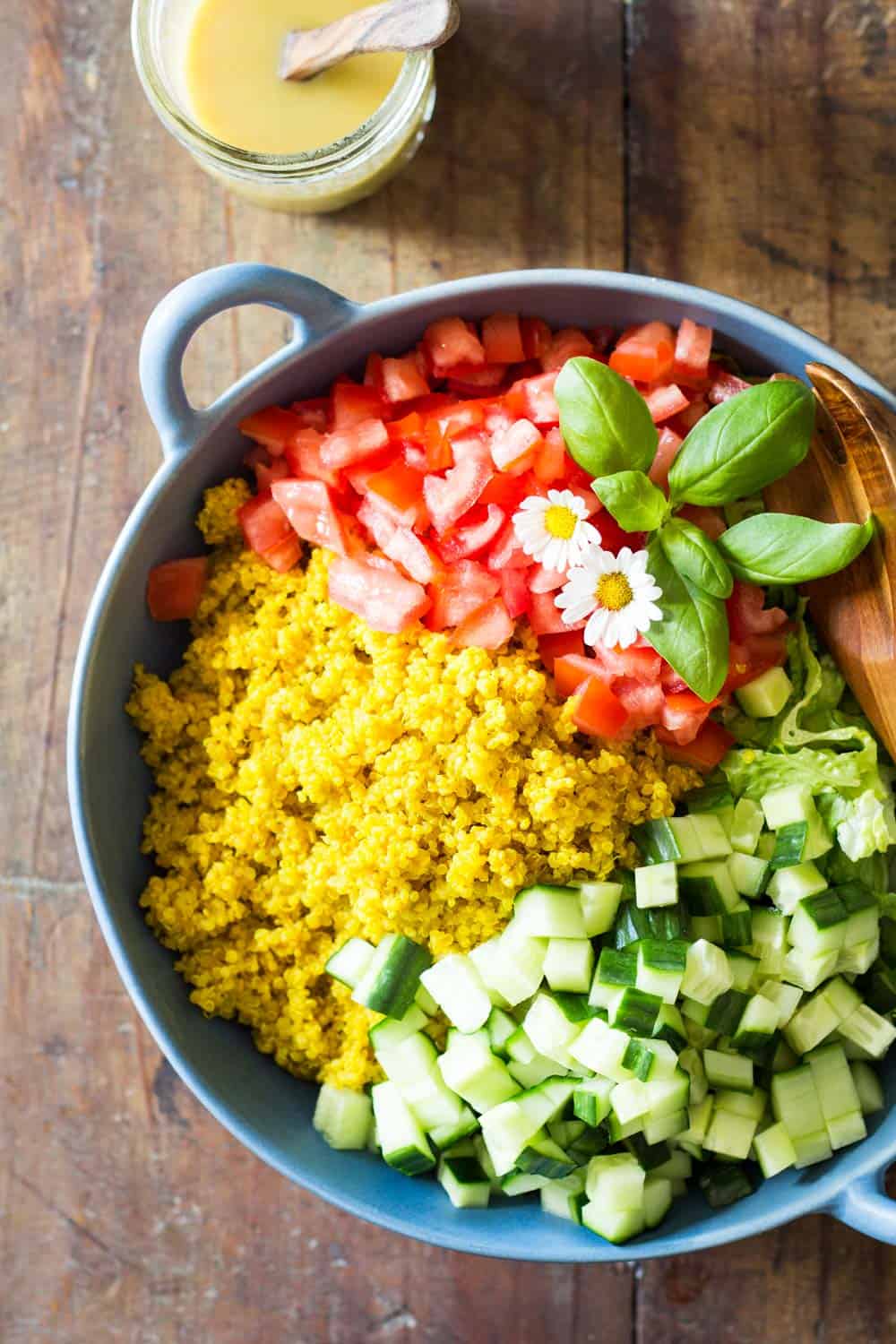 What I love most about taking Turmeric Quinoa Salad to a BBQ is that even if I put in the dressing hours before serving, it doesn't get all mushy like leafy salads do. There is some romaine lettuce in this salad but romaine lettuce is fairly crunchy anyway so it doesn't ruin the texture of the salad. No need to take 2 separate containers with you to the BBQ. One big salad bowl or tupperware is more than enough.
Not only that, whatever is left over, you can easily store in the fridge and take to work as lunch the next day. How awesome is that for a salad? Sometimes life needs to be easy. And this salad is easy to prepare, easy to take with you, easy to eat and digest and easy to store. I'd say this is a win win win win situation here.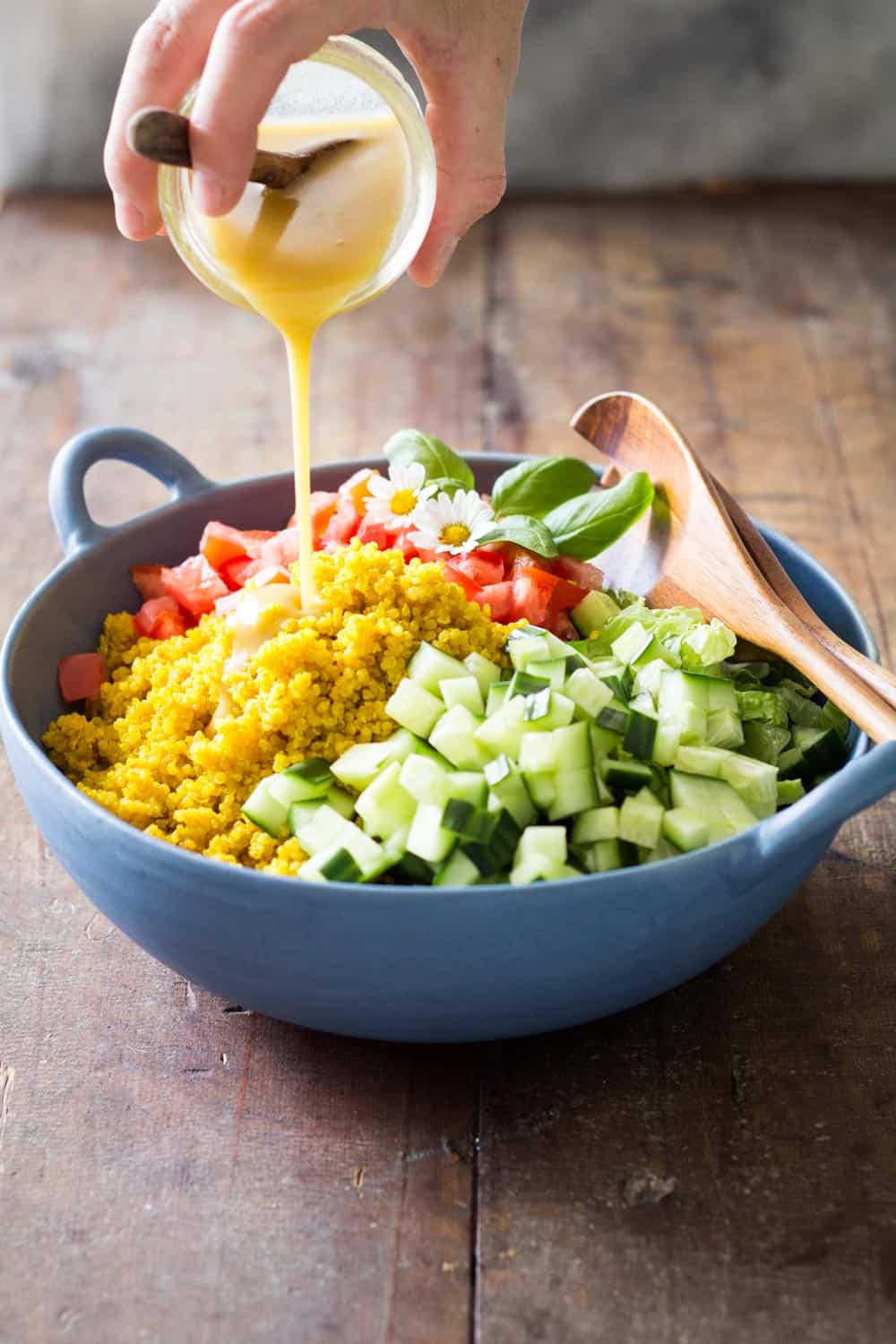 Today I'm in a bit of a hurry I must admit. I have been so so busy with the blog behind the scenes that I have completely and utterly neglected our apartment and I'm starting to feel uncomfortable living here. Ewwww!!!
Besides, my desk is probably the messiest in the world. Blog expense receipts piling up to the roof, my camera and lenses all spread out everywhere, cables, external hard drives, papers, notepads and of course one or the other toy my kids have brought me over the past couple of weeks and left there to collect dust.
Oh and did I mention I haven't removed dust from this table any other way but by blowing really hard on the surface?
My desk simply doesn't reflect who I want to be. I am an organized, tidy and fairly clean person and my office desk seems to show all my hidden personality traits: messiness times 10. Uh oh!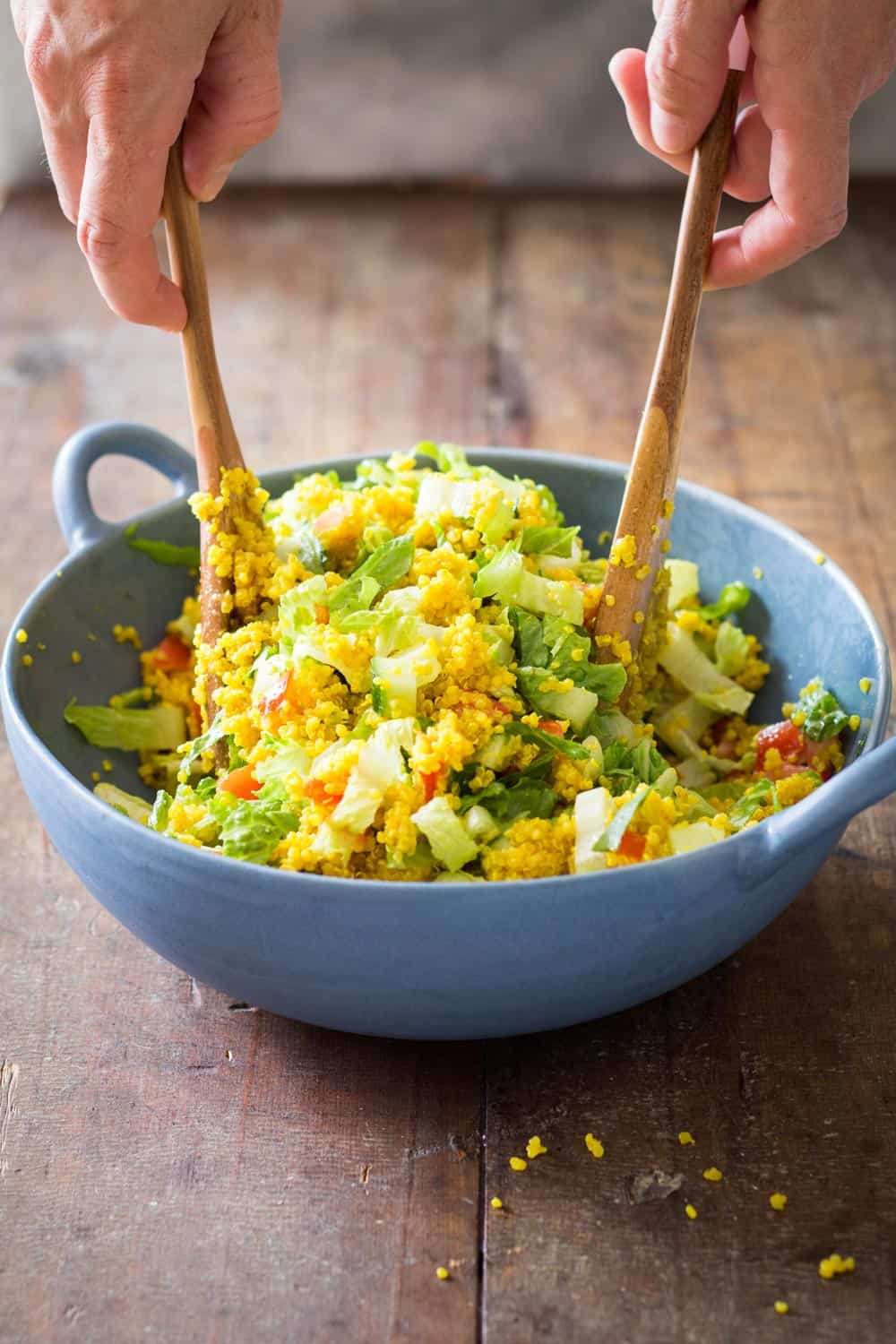 So, excuse me, for not writing a novel about this delicious Turmeric Quinoa Salad and instead head out the door to buy some sort of storage solution for those millions of receipts I have. Taking care of accounting would be smarter but sooo boring.
I'd rather push that ahead of me a little longer and buy a pretty box where I can "hide" those receipts :P Please tell me you would do the exact same thing. I'm not supposed to do accounting until late March with some curse words blown into the air, right?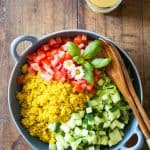 Turmeric Quinoa Salad
Print Recipe
Ingredients
1

cup

quinoa

2

cups

water

1/2

tsp

coriander

1/2

tsp

cumin

3/4

tsp

salt

1

tsp

turmeric

1/2

cucumber

2

tomatoes

1/2

romaine lettuce

1

Tbsp

mustard

1

Tbsp

honey

-

(agave for vegan)

1

Tbsp

lemon juice

4

Tbsp

olive oil
Instructions
Add quinoa, coriander, cumin, salt, turmeric and water to a large pot, bring to a boil, cover with tight sitting lid and reduce heat immediately to low. Let simmer until all water is absorbed (approximately 15 minutes).

In the meantime, wash and dice cucumber, wash and deseed and dice tomatoes and slice and wash and dry romaine lettuce.

Add mustard, honey, lemon juice and olive oil to a mason jar or other sealable container and shake until well combined.

Once quinoa is cooked, spoon into a salad bowl and fluff up with a fork so it cools a little faster.

Once the quinoa is only luke warm you can add the cut up vegetables and pour dressing over it.

Mix well and serve.
What's your clean eating vibe?
Take this fun QUIZZ and find out in 10 seconds!
For another delicious quinoa salad check out this awesome Mexican version. And for more recipes using turmeric you'll have to use google because this is the first one on the blog, hehe :P