This Haddock with Black Quinoa Risotto made me feel incredibly light and great after lunch! For those of you unfamiliar to back quinoa, no shame, I am half Peruvian and still I had never eaten black quinoa. Not only that, I hadn't even heard about black quinoa before. I know white quinoa ever since I was a baby and red quinoa ever since I moved to London back in 2011 but black quinoa?? I just discovered it the other day in the health food store around the corner and obviously HAD to buy it to try. I can tell you one thing about it, it tastes better than red quinoa, better than white quinoa and better than ANY other seed I've ever tried. Holy cow! I love it!! My white quinoa staple will from now on be replaced by her sister. Sorry white quinoa, I still love you and I will still eat you, but…..welcome black quinoa I'll have you around for ever and ever….and eeeveeeer!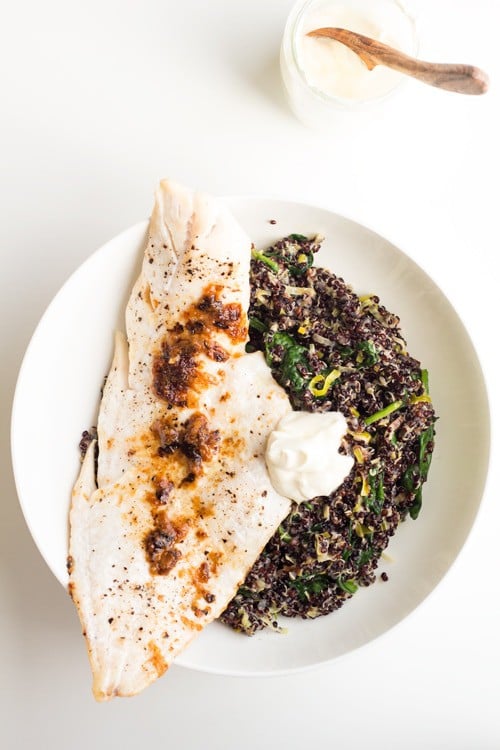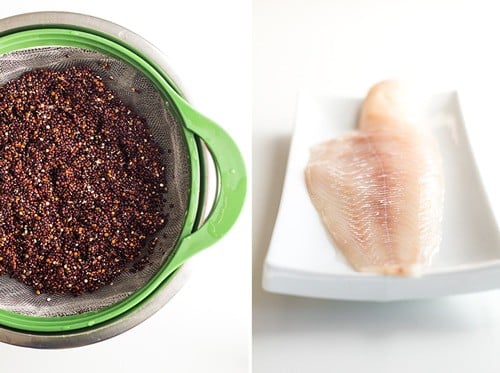 Prepare yourself for some awesome black quinoa recipes here on Green Healthy Cooking. I hope you can find it around where you live. Make an effort. Maybe order online? For the time being let's focus on this butter baked haddock, in mushroom broth cooked black quinoa, caramelized leek, suuuper fresh baby spinach and hmmm creme fraiche that I named: Haddock with Black Quinoa Risotto. I guess risotto is not quite the best name because quinoa has just about nothing to do with rice but by cooking it in broth, adding caramelized leek and spinach and creme fraiche it simply looked and felt more like risotto than salad and therefore the weird name.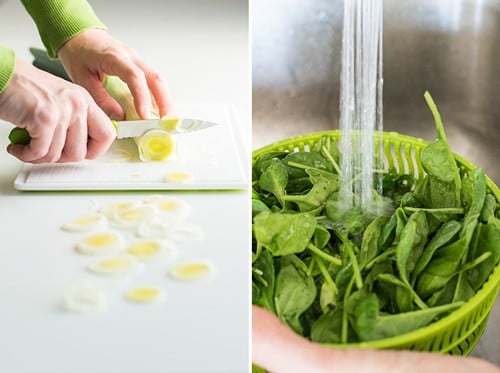 The best part about this dish, it's made in just a little over half an hour which makes it an amazing I'm-in-a-hurry-to-eat kind of lunch or dinner. The worst part: it requires a pot, a pan AND an ovenproof dish to prepare. Why do I not care? Because as I mentioned in my The New Kitchen post, I have a diiiiishwaaasher (*jumping up and down with a smile from ear to ear*) and I put absolutely everything in it. Yep, absolutely everything. Sometimes I wish I could stick my but-I-don't-want-to-take-a-shower-or-bath-EVER kid in it, too *sigh* If you have ANY tips on how to get a 3-year old to get clean without fussing over it, please let me know in the comments. I can't handle stinky kids but I also can't handle fights about such essential things in life as cleanliness….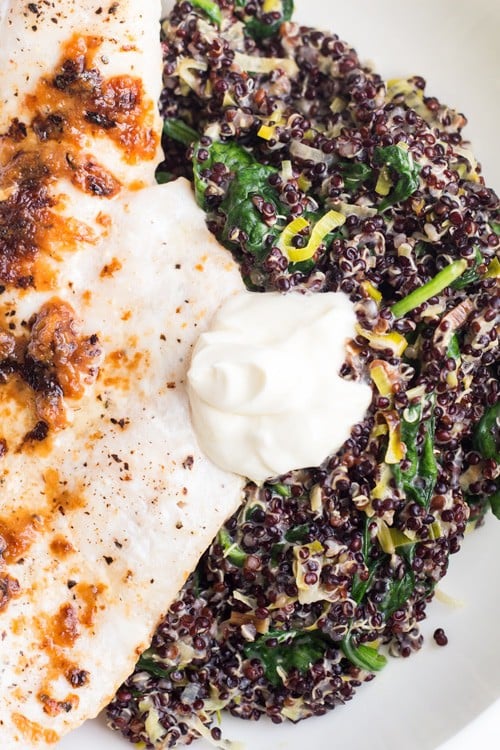 Here a little close-up to stimulate salivation and the urge to run out the door to the shop to get your ingredients for lunch or dinner later today. Did it work? I am drooling here. Had this for lunch yesterday and wish there were leftovers. It was so good though that of course there isn't left even one little quinoa seed anymore. Next time I'll have to make MORE.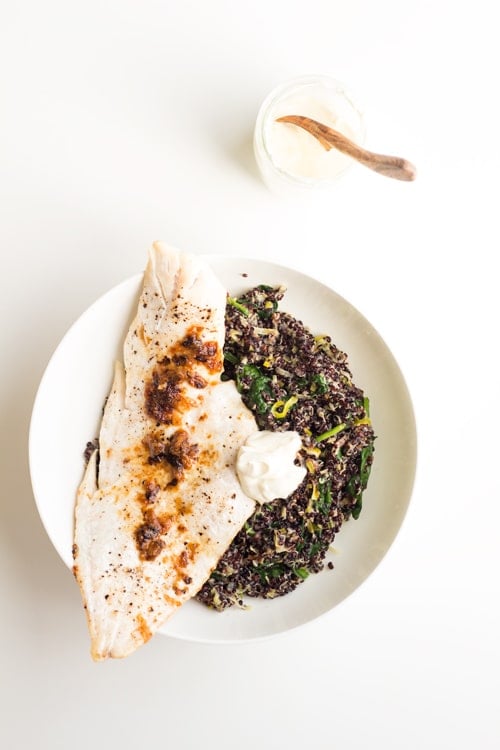 One last thing I wanted to mention to you all is that as of today I reached 40,000 pagviews in the last 30 days. FORTY THOUSAND pages of Green Healthy Cooking have been looked at in one month. 40k!!! And all of this thanks to YOU! Thanks to you coming back all the time, thanks to you sharing my content with you friends and family, thanks to you searching and finding me! I'm so happy my heart feels all butterflyie. It's like when you are in love and you love approaches you to talk to you and you are about to faint. You know that feeling?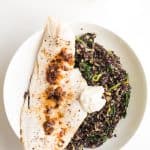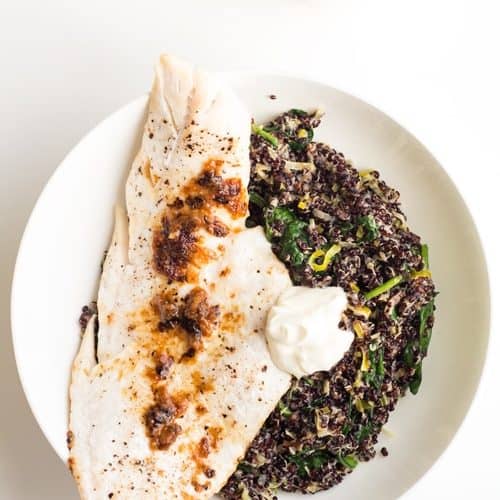 Haddock with Black Quinoa Risotto
Print Recipe
Ingredients
2

haddock filets

2

Tbsp

butter

1

cups

black quinoa

1 3/4

cups

chicken or mushroom stock

1

Tbsp

butter

1

large

leek

3.5

oz

baby spinach

-

(100g)

4

Tbsp

creme fraiche

salt

pepper
Instructions
Soak quinoa in cold water for approximately 10 minutes.

In the meantime, preheat oven to 400 F (200 °C).

Wash and finely slice leek from the bottom to the beginning of the rough green part. Discard green dark green part.

Bring 2 cups of mushroom broth to a boil in a large pot. Make sure the lid sits on tight otherwise too much liquid will evaporate.

Heat a pan over medium heat.

Once pan is hot, add 1 Tbsp butter and once melted add leek and reduce heat to medium-low and caramelize leeks (about 20 minutes). Toss often.

Once mushroom stock is boiling, drain and rinse quinoa in sink then add to mushroom stock, wait for liquid to boil again, then reduce heat to simmer and cover. Cook quinoa until all liquid is absorbed (15-20 minutes).

Once oven is preheated, add 2 Tbsp butter to an oven proof dish and place in oven for about 3 minutes for it to melt and slightly brown.

Take dish out of the oven and add haddock filets. Salt and pepper generously and return to oven for 12-15 minutes depending on thickness.

Wash and spin dry baby spinach.

Once quinoa is cooked, remove from heat, add caramelized leek, baby spinach, and creme fraiche and generously salt and pepper, then mix well.

Serve black quinoa risotto in a bowl and top with baked haddock and its browned butter and add another dollop of creme fraiche if desired.
Nutrition
Calories:
692
kcal
|
Carbohydrates:
59
g
|
Protein:
48
g
|
Fat:
29
g
|
Saturated Fat:
14
g
|
Cholesterol:
157
mg
|
Sodium:
668
mg
|
Potassium:
1493
mg
|
Fiber:
7
g
|
Sugar:
1
g
|
Vitamin A:
5385
IU
|
Vitamin C:
13.9
mg
|
Calcium:
144
mg
|
Iron:
5.9
mg
What's your clean eating vibe?
Take this fun QUIZZ and find out in 10 seconds!
Bon appetit!