Vietnamese Sticky Chicken Bowl, oh man, I had to change the name of this dish like 5 times because the original name hardly fit in my title field but I really wanted to include all the recipe parts because they are all equally important *sigh* The name doesn't give the recipe enough credit. It is really, really, really important you make this one because it was extraordinary! You will love it! Promise. It only takes a little over half an hour to wrap up so it's perfect for busy weeknight dinners. Just think about this silky and sweet and salty sticky sauce wrapped around that tender chicken meat, crunchy vegetables and steaming hot soft rice in your mouth. See how important it is you make this chicken? Once you made it you won't be able live without it anymore. This one's a keeper!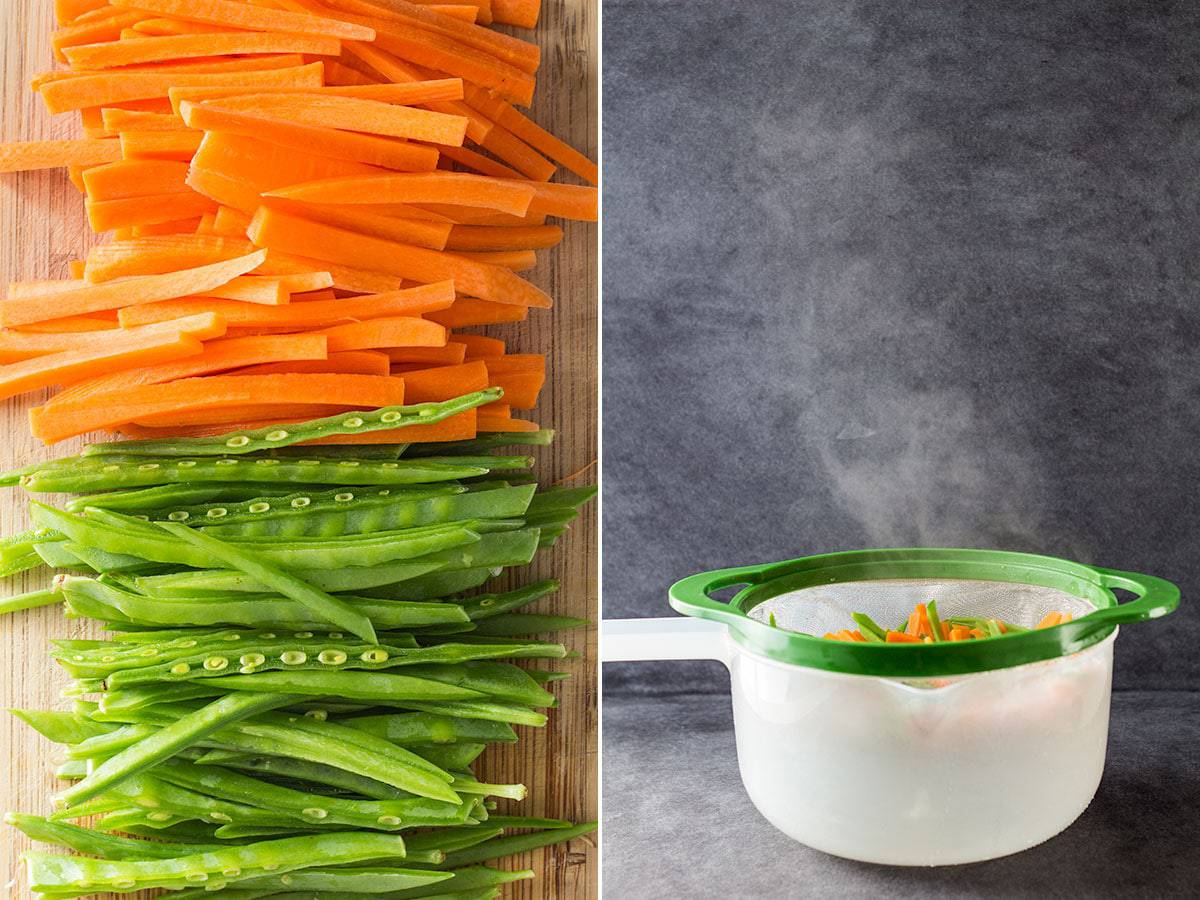 The most time-consuming is pretty much peeling and cutting vegetables but if you have a chopping buddy you'll cut down prep time to maybe 20 minutes total? Don't know, never have one around unfortunately. I'll have to train my kids soon so I can give you more accurate times.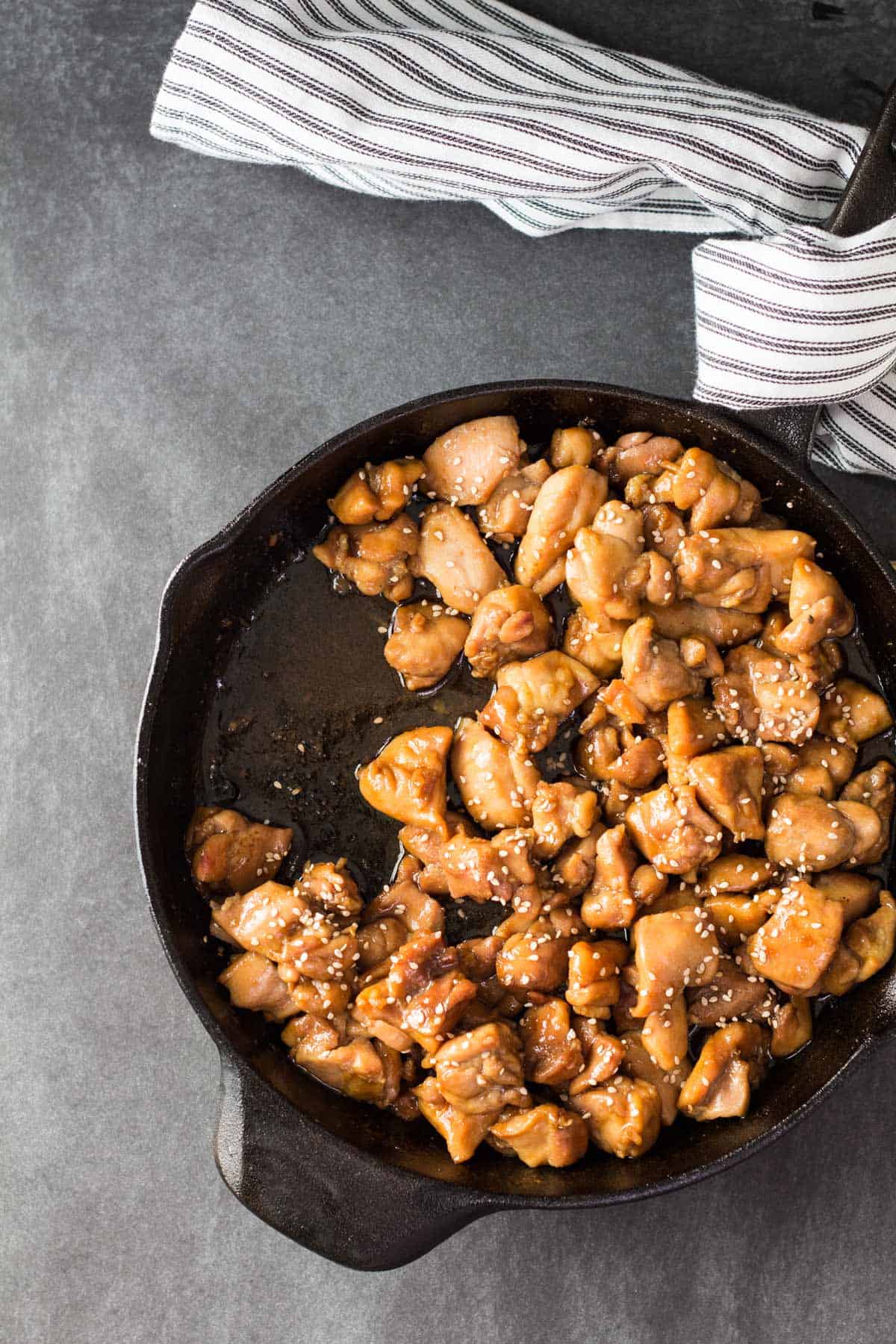 The sticky sauce was amazing. I remember eating a lot of Vietnamese food when I was living in Australia for a while when I was 16 years old and I remember loving the Vietnamese flavors but ever since then I've had Vietnamese food maybe 3 times and I really, really don't understand WHY?!? It's so delicious it should be on the menu at the very least monthly! I'll have to include more of these (to me) foreign flavors this year to remember them and to find some new ones. Vietnamese Sticky Chicken Bowl you are (for now?) my absolute number ONE!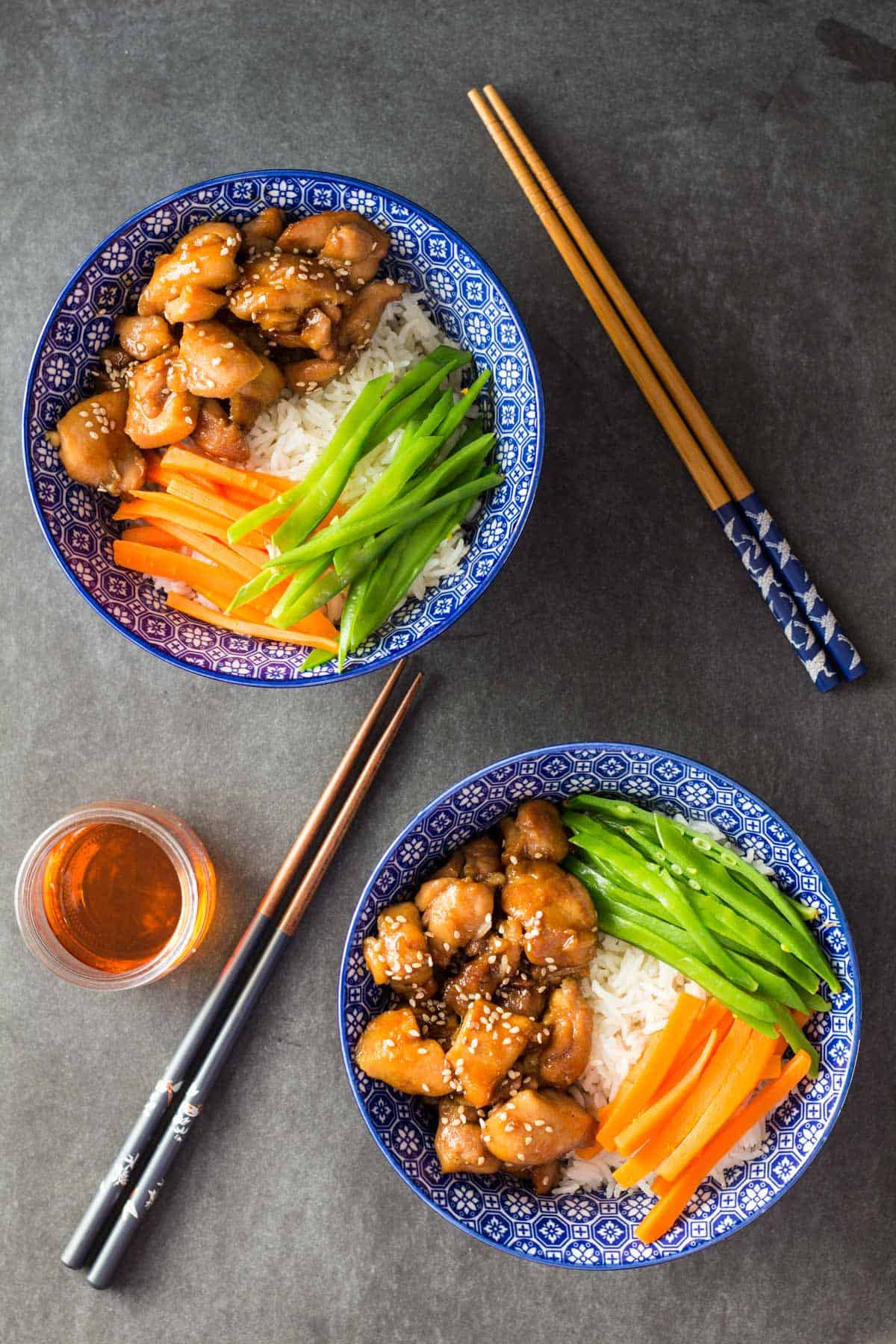 I also added some chilli oil at some point to see how that would taste and I loved it. I am a chilli addict though I have to admit. If there is one "spice" I cannot not live without it's chilli, wait, no that would probably be salt, but second most important is definitely chilli, or maybe pepper? Or coriander? Hm, life without cumin would be pretty bland as well, ummmmm….let's just settle that life without spices is not worth living ;)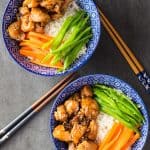 Vietnamese-Style Sticky Chicken with Rice and Vegetables
Ingredients
850

g

boneless skinless chicken thighs

2

Tbsp

honey

1

Tbsp

fish sauce

1

Tbsp

soy sauce

1

clove

garlic

2

Tbsp

honey

1

Tbsp

fish sauce

2

Tbsp

soy sauce

2

Tbsp

rice vinegar

2

cups

white rice

4

medium

carrots

2

hands full

snap peas
Instructions
Wash and dry chicken with a paper towel and cut into 1" (2.5cm) cubes and put in a bowl.

In a small bowl whisk together 2 Tbsp honey, 1 Tbsp fish sauce and 1 Tbsp soy sauce. This is the chicken's marinade.

Pour marinade over chicken and mix well with your hands to cover all cubes from all sides. Set aside.

Peel and cut carrots into 1/4" (0.5cm) thick pinky finger long stripes.

Wash and drain snap peas and slice in 1/4" (0.5cm) thick stripes.

In a small pot bring about 2 liters of water to the boil.

In another pot cook rice as instructed on the package.

Heat a large heavy-bottomed pan over medium heat.

Once hot, add a dollop of flavorless oil (e.g. avocado oil) and once hot add chicken cubes in two batches and fry until cooked through.

Remove chicken from pan, leaving in it's juices (use a slotted spoon to remove chicken).

Add 1 minced clove of garlic, 2 Tbsp honey, 1 Tbsp fish sauce, 2 Tbsp soy sauce and 2 Tbsp rice vinegar and bring to the boil. Once boiling reduce heat to simmer and let simmer moving occasionally until sauce thickens to honey-like consistency.

Once water in small pot is boiling add vegetables and cook for only a couple of minutes until slightly tender, then drain.

Once sauce has thickened, add chicken back in pan and move to coat all cubes and cook for maybe 30 seconds to heat up the chicken again.

Serve white rice with sticky chicken and vegetables and pour some sticky sauce over all of it.

Garnish chicken with sesame seeds.
Get Green Healthy Cooking's NOURISHING NEWS straight to your inbox!