The holidays should be all about delicious, extraordinary, delightful, out-of-this-world, lazy, long, belly-warming, lovely BREAKFASTS! What I love the most on the weekends that we don't have any engagements is exactly that. Not get up until the kids seriously don' let us lie in bed anymore by either poking our eyes, sticking their fingers up our nose or worse, start messing in the kitchen all by themselves because they are sooooo hungry. Get up, give them anything to keep happy and content until you are ready to prepare the real deal, have a cup of piping hot coffee while sitting on the sofa and do absolutely nothing. THEN, get up from the sofa and prepare a super special and scrumptious breakfast better than what a royal family would get served on coronation day and have that more like for brunch than breakfast really because on weekends there is no need for lunch. Today and next week will be all about breakfasts to make during the holidays. I have three recipes to share with you that will make your holidays a culinary delight. One of them is this Mexican Breakfast Chilaquiles con Camarones.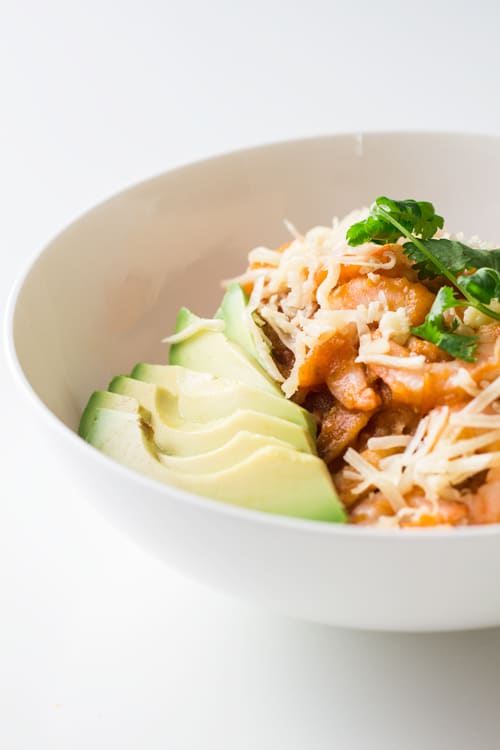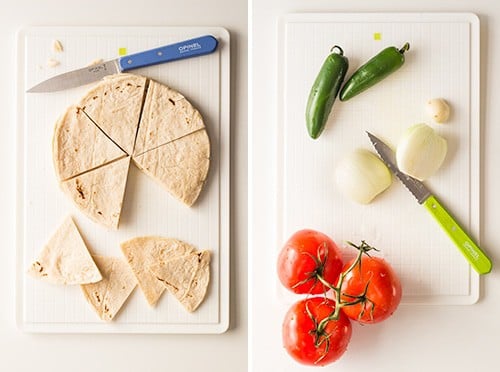 This typically Mexican Breakfast HAS to be on the breakfast menu during the holidays. It just HAS to. Chilaquiles con Camarones is one of our favorite breakfasts and serves wonderfully as brunch/lunch, too. I prefer to lightly oil my tortillas and then bake them as opposed to frying them. Not so much because I'm afraid of the extra fat but rather because I never know really how to best dispose of all that leftover oil. What I end up doing if ever I have to deep fry something is put the oil in a glass container and then through it in the garbage but I feel horrible for not recycling the glass container. The best is to just avoid frying in the first place I believe. Especially when getting almost the same results by brushing with oil and then baking.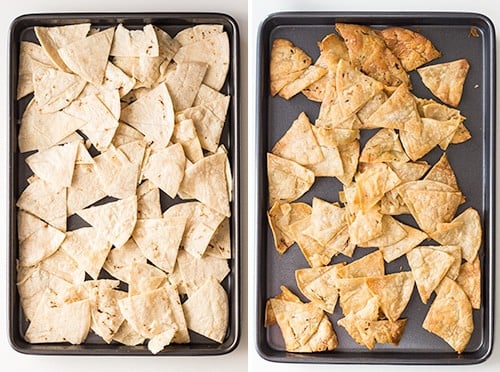 The salsa is easy peasy. The most important is to keep the temperature low in order to prevent from burning and to simmer it long enough for the tomatoes to practically melt away. The longer you cook it, the tastier it becomes. I prefer to use serrano chillies as opposed to jalapeños because I love salsas with heat, however, if you have children at least tasting this you might want to stick to jalapeños or maybe even just half a green bell pepper to make sure it isn't spicy at all. My kids won't eat a whole dish of this with a salsa made with jalapeños but they will eat a few bites until they say "uhhh picy". If it's only adults eating, by all means use serranos.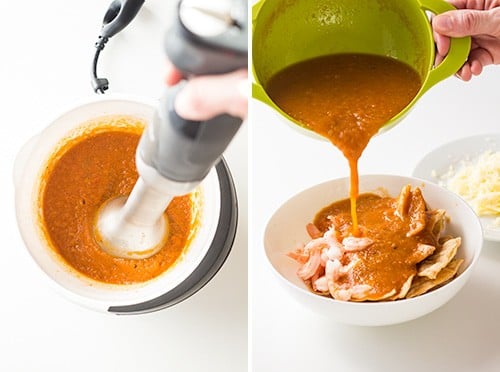 In many restaurants in Mexico this dish is served in a way more liquid salsa. The dish is almost like a soup. I prefer it drier and  with a salsa that has more of a creamy consistency. Usually the cheese on top melts if you don't take the time to photograph the whole process of making the dish, haha. If you put your hot salsa on top of the ingredients and then immediately top with cheese the cheese should melt away beautifully.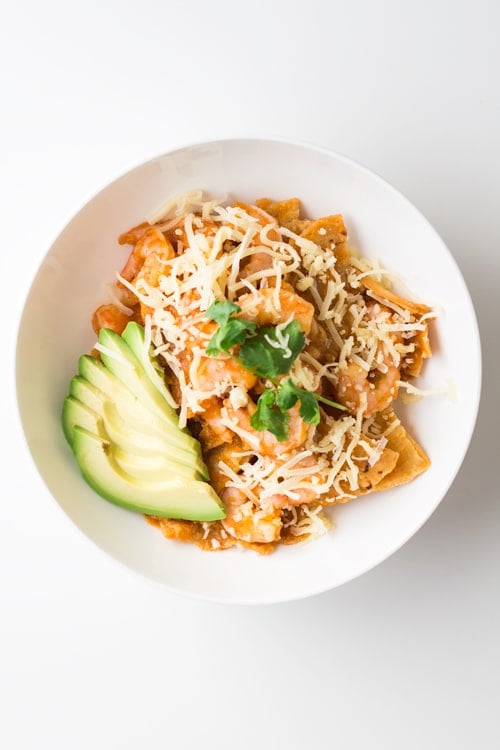 Try this recipe and tell me if the Mexican Breakfast Chilaquiles con Camarones makes you want to MOVE to Mexico for its extraordinary food. It sure makes me nostalgic for the 4 years I spent there getting to know their amazing cuisine amongst many other amazing things.
Mexican Breakfast - Chilaquiles con Camarones
Print Recipe
Ingredients
10

corn tortillas

3

large

tomatoes on the vine

2

Tbsp

avocado oil

-

(or other high smoke point oil)

2

jalapeño chillies

-

(or serrano chilies for more heat)

1

small

onion

1

clove

garlic

1/2

cup

chicken stock

salt

pepper

2

hands full

cooked shrimps

1

hand full

melty cheese

-

(such as Swiss or Cheddar)

1

avocado

coriander for garnish
Instructions
Take out cooked shrimps of fridge so they can get to room temperature.

Preheat oven to 350 F (180℃).

Cut tortillas in 6 pieces (as shown on picture) and add to a bowl.

Add 1 tbsp avocado oil to bowl and mix tortilla pieces with your hands to ensure all pieces are well covered in the oil.

Spread tortilla pieces on a large baking sheet as evenly as possible.

Heat a heavy bottomed pan that has a tight sitting lid over medium (!) heat.

Peel onion and garlic and chop finely.

Wash tomatoes and dice.

Wash and deseed chillies and chop finely.

Add 1 Tbsp avocado oil to hot pan and once hot add onions, garlic and chilli and toss around until onions are translucent.

Add diced tomatoes, a little salt and pepper to pan, reduce heat to low and cover. Simmer for 20-25 minutes.

Place sheet with tortillas in oven and set a timer for 20 minutes.

Once tortilla timer goes off, take sheet out of the oven, turn the pieces over and place back in oven for a further 5-10 minutes or until golden and crispy.

Add 1/2 cup chicken stock to tomato salsa and bring to the boil. Once boiling remove from heat and either blend in blender or use an immersion blender to blend the salsa.

Season salsa with more salt and pepper if necessary.

Add tortillas and shrimps to a plate, cover with salsa, sprinkle with cheese and coriander and add a couple of stripes of avocado on the side.

Enjoy right away.
What's your clean eating vibe?
Take this fun QUIZZ and find out in 10 seconds!
Besides breaksfast recipes watch out for a post next week with Christmas Table Setting Ideas so you can decorate your table in a beautiful way and enjoy your Christmas meal even MORE, if that's possible. Only 6 more days until Christmas! *shriek*