I've told you already that my sister and her boyfriend came to visit us here in Montreal, but I am going to tell you again: my sister and her boyfriend came to visit us! YIPPY!!! The second day in Canada was my sister's Birthday and she asked for a typical Mexican breakfast which is pinto beans, fried eggs, bread and salsa and of course she got that for her Birthday. I made a huge pot of pinto beans though so I had to create some other meal with it to enjoy up to the last bean and I came up with this delicious Pinto Bean Taco with Salsa Verde. I hope you like them as much as we did. We gulped them down standing in the kitchen leaning over the kitchen sink. That's how good they were.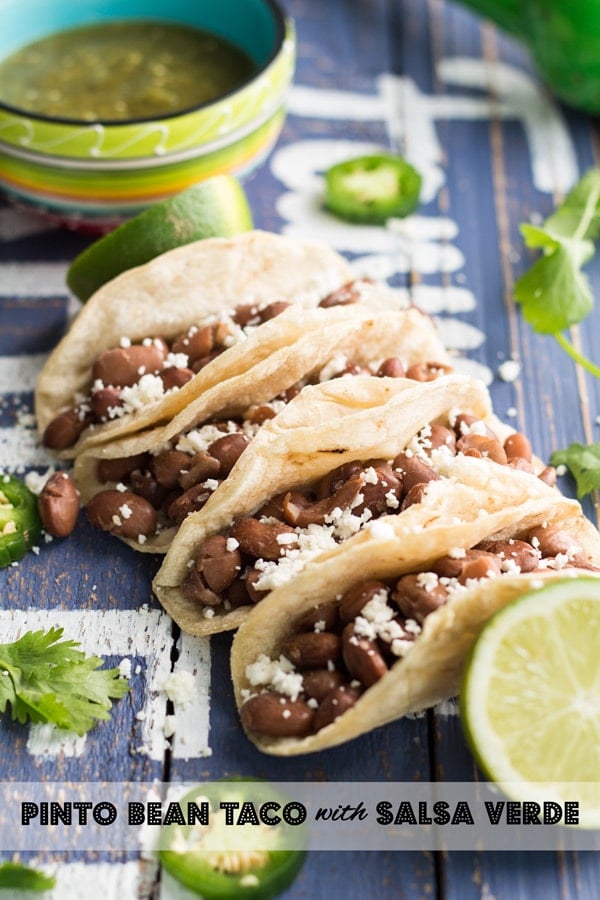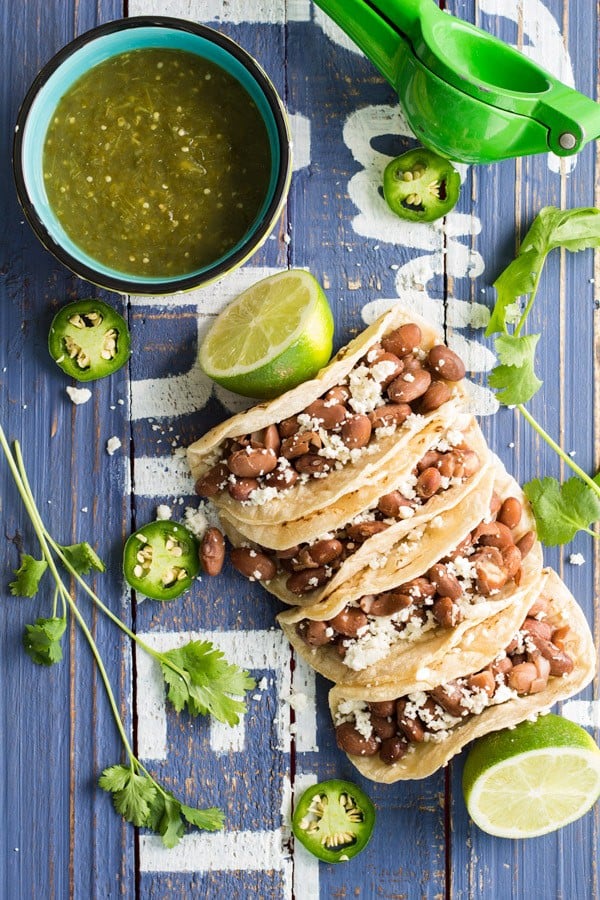 For those of you unfamiliar with Tomatillos, this is what you have to look for: They are a sort of tomato that is green when ripe, so, no, they are not unripe red tomatoes. They are mostly sold at either Latin American Stores or at large markets. If you can't find them fresh you may want to to look for them canned. The salsa won't be as delicious but the tacos will definitely taste better with canned salsa ingredients than without salsa. They are sold with the green leave wrapped around the tomato. In the picture I am showing you how the fruit that you will use in the salsa will look like.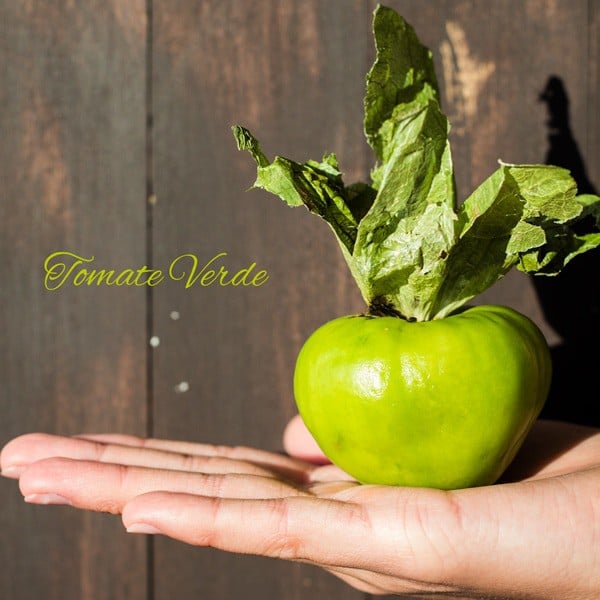 "Queso Fresco" is a typical Latin American cheese that has the consistency of Feta cheese not the taste though. Feta is usually made of sheep's milk or sometimes goat's milk which have a very strong taste. Queso fresco is made of cow's milk and has a very mild taste. This cheese is most easily found in either Latin American or Turkish stores under other names. Ask the sales rep to help you out. I was lucky to find Feta cheese made of cow's and goat's milk in equal parts in my deli store around the corner.
For the beans, remember they have to be soaked for about 12 hours, so make sure you don't forget to put them in water the day before in the morning. Again, canned can be an option but it just won't taste as yummy! Homemade is pretty much always tastier than anything canned or packed. Right? Don't be scared to make this because of it's long preparation time. Most of the time you don't have to be doing anything. While you soak the beans you go about your day and while you cook them you can watch TV or do whatever else you usually do in the evening. The actual work is done in about 45 minutes. And it is SO WORTH IT!!! Apart from that, homemade beans that have been soaked for at least 12 hours and then cooked for at least 4 hours are like a thousand times easier to digest. The after effects of eating improperly prepared legumes are not worth the time saving in my opinion. Being bloated for hours and having heart burn are not my favorite states after eating Mexican. I'd rather feel light and fresh and happy and flatulence-free ;P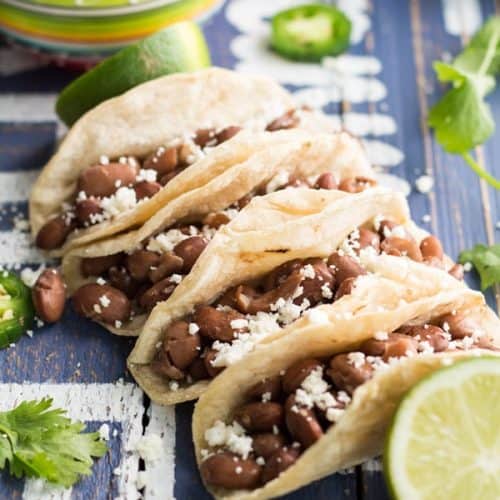 Pinto Bean Tacos with Salsa Verde
Print Recipe
Ingredients
3

cups

dry pinto beans

1

large

yellow onion

2

cloves

garlic

Salt

6

large

tomatillos

2-4

jalapeño chiles

1

clove

garlic

1

bunch

cilantro

Salt

corn tortillas

4

limes

queso fresco

-

(omit for vegan version)
Instructions
The day before:

In the morning: put beans in a large bowl and cover beans with abundant water. It's better to soak them in too much than too little water. The beans will absorb a lot and you want to make sure they are submerged in water the entire time they are soaking.

In the evening: Peel and finely chop the onion and peel and crush the garlic.

Drain and rinse beans very well and then put in a large pot. Fill up with fresh water until about 2 inches above the beans. Add chopped onion and crushed garlic and about a teaspoon of salt. Bring to the boil and once boiling reduce to simmer and cook beans for about 4 hours. Add salt if necessary. Store in fridge.

The next day:

For the salsa:

Peel and wash tomatillos, leave as whole but cut out the hard top middle white section like you would with a strawberry. Be careful because the white part is very hard but the tomatillo's flesh is soft and the knife slips easily.

Peel garlic and wash and deseed jalapeño chiles.

Place tomatillos, garlic and chiles in a pan with lid and add about an inch of water.

Bring water to the boil and once boiling reduce heat to simmer and cover the pan.

Cook until tomatillos are very soft (about 30 minutes).

Wash cilantro and cut off bottom part of stalks.

Add cooked tomatillos, garlic, chiles and about half a teaspoon of salt to a blender and blend for about 30 seconds, then and add washed cilantro and blend until no big bits are left and the salsa is pourable.

For the tacos:

Reheat beans and season with salt again if necessary.

Heat a non-stick pan over medium heat, once hot warm up tortillas (about 1 minute per side). Add beans to taco and serve with queso fresco on top (omit for vegan version) and freshly squeezed lime juice and salsa verde.
What's your clean eating vibe?
Take this fun QUIZZ and find out in 10 seconds!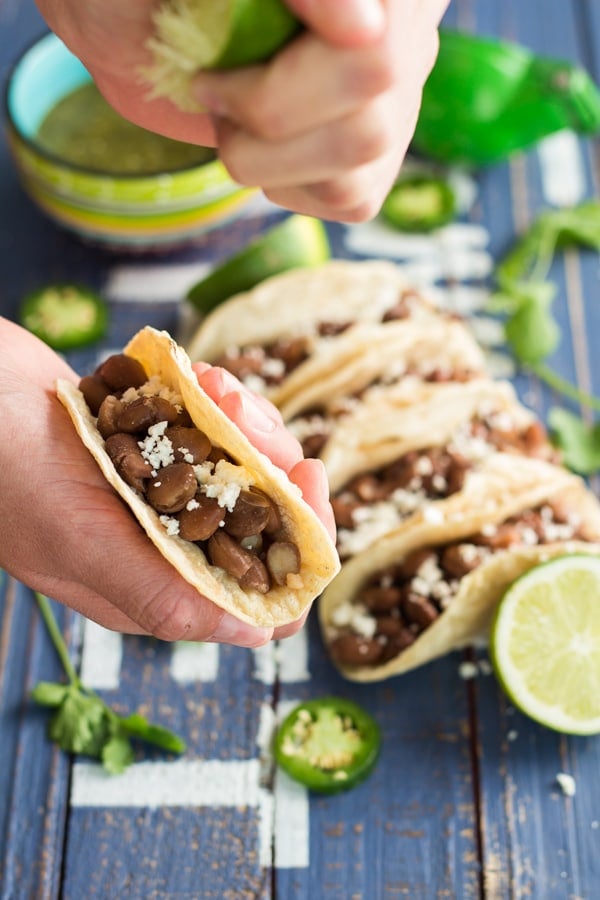 Special thanks to my hand model ;)