Today's post is all about my favorite holiday of the year: Mother's Day! It stirs up so many feeling, causes the sensation of butterflies in my belly, contracts my heart tightly and gets my central nervous system to shoot endorphins like they were fireworks. Raising children is hard work and it's exhausting sometimes, who am I kidding? However, I cannot and will not imagine a life without my son and my daughter. They are my soul, my purpose in life, my oxygen!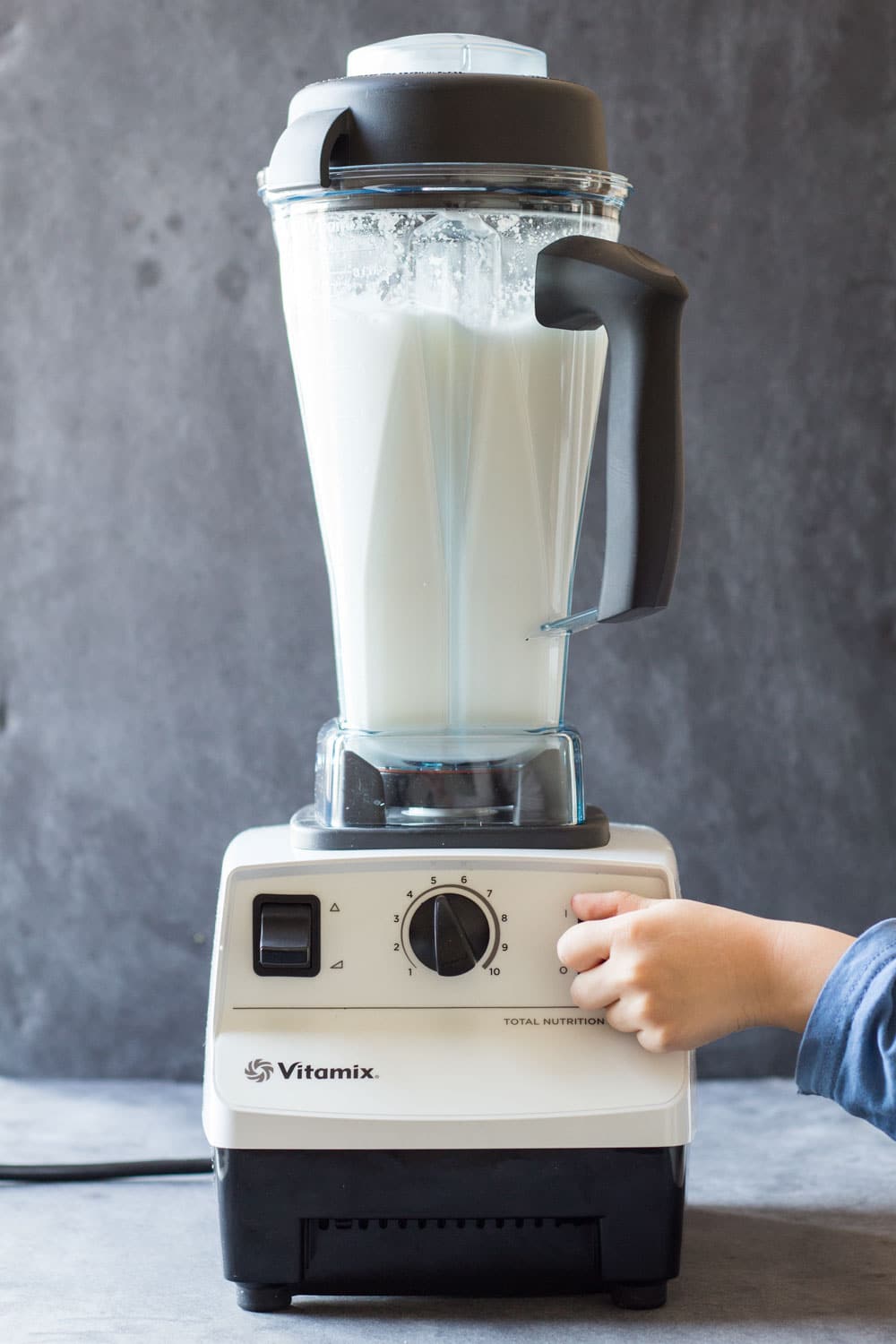 For Mother's Day this year I want to pass down a recipe that is not from my cultures but from their father's, Agua de Horchata, because it requires aaaaaalll of their favorite things: maple syrup, milk, vanilla, measuring, pouring, pressing and turning buttons and drinking out of straws. Their obsession with pressing and turning buttons has become a daily struggle. Whose turn is it to press the elevator button? Whose turn is it to turn the door lock? Whose turn is it to press the stop button in the bus? Whose turn is it to pour the salad dressing over the salad? Luckily this recipe, despite being easy peasy, requires enough of all these tasks so that everyone gets a turn….Phew!
For Mother's Day we want happy kids because happy kids make a happy mama. Stepping into the kitchen with them to prepare a delicious drink is the absolute best way to spend some quality time with them. I don't like cooking, cooking, with them because I have to constantly keep an eye on them when they are too close to the stove while I also have to be doing a million other things in the kitchen. I DO want them to be involved in the kitchen though. How else will they learn to cook and feed themselves once they move out (….when they are like 58).
They are still little, so there is time but I want to take advantage of the curiosity they've been showing towards food preparation and include them as much as possible in the kitchen. This Agua de Horchata recipe was an absolute success. Pushing and turning the Vitamix's buttons was obviously the absolute highlight of the process and caused quite a bit of excitement for them.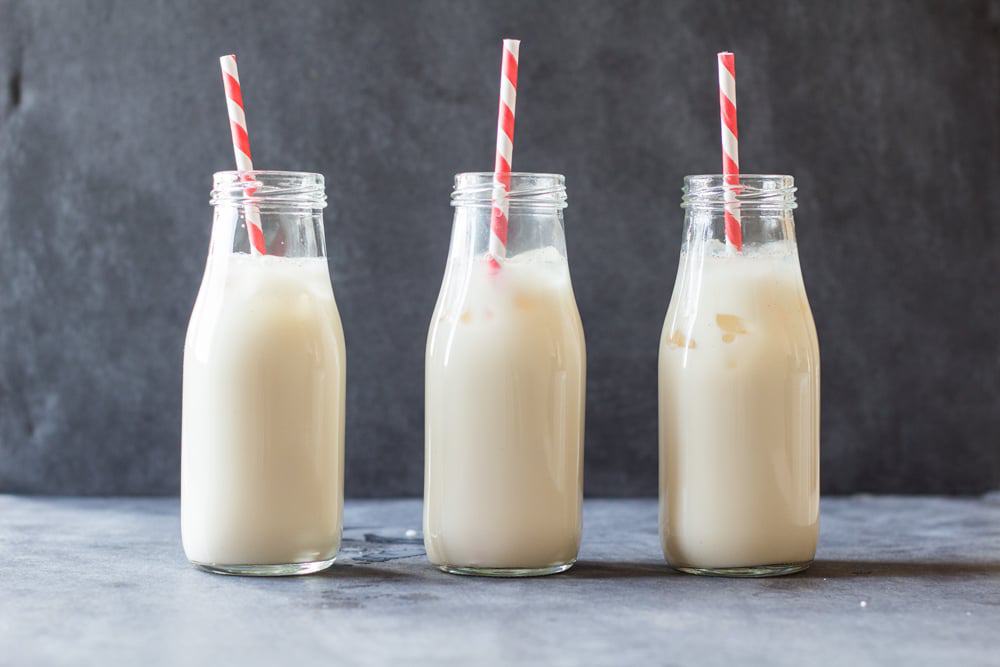 The result was even better. Two happy kids drinking a healthy rice milk beverage with their biodegradable paper straws (important!) and a lucky mama enjoying a glass of it, too, in silence and little hearts in her eyes for these two precious babies are mine!!
Agua de Horchata + Vitamix Giveaway
Prep Time
2
hours
10
minutes
Total Time
2
hours
10
minutes
Ingredients
1

cup

uncooked white basmati or jasmine rice

5

cups

water

1

cup

milk of choice

(cow's, almond, even coconut but coconut will change the flavor much more)

1/2

Tbsp

ground cinnamon

1/2

Tbsp

vanilla extract

1/2

cup

maple syrup

ice cubes
Instructions
Add rice and water to a blender (preferably high-speed blender) and blend for several minutes until no more whole grain of rice can be spotted.

Let sit for 2-4 hours.

Add second milk, cinnamon, vanilla and maple syrup and give it a quick blend to mix well.

Strain the milk through a tripe cheesecloth lined fine mesh sieve and press out the pulp in the cheesecloth.

Discard the rice pupl and serve the milk with ice.
Now, let's get to the group giveaway because that's your prize after having read so many words and having scrolled through so many pictures. We are a group of healthy-ish food bloggers that decided to work together and make one of our readers very, very, very happy by giving away our favorite kitchen gadget. I contacted Vitamix to see if they were interested in collaborating with us and you know what?!? Vitamix's generosity has gone above and beyond because they did not only offer to sponsor the Vitamix for this giveaway but also the Vitamix for this Agua de Horchata recipe!!!! Can you believe it? I know EXACTLY what the lucky winner of this powerful machine will feel like, I've just gone through the same excitement myself and it is indescribable. Now, after a couple of days with my "new baby" the only thing I can say is: "how did I ever live without it?!?!"
This is the Vitamix you can win by entering the giveaway below and juuuust in case, here is a mother's day gift guide you can leave open on your loved ones' browsers as a very, very broad hint about what would make you happy for Mother's Day :P Oh, and by the way, you don't have to be a mother to wish for the things on the gift guide of course, having a mother is enough of a requirement to enter the giveaway or put the gift guide on your wish list for Mother's Day ;)
This giveaway is a group project by the following lovely bloggers. Please be sure to pay them a visit as well:
greenhealthycooking.com | leelalicious.com
simplyfreshdinners.com | bbritnell.com
theblenderist.com | mycaliforniaroots.com
rhubarbarians.com | seductionmeals.com | foodfashionandfun.com
wholesomelicious.com | platingsandpairings.com
veggiebalance.com | avocadopesto.com
"This giveaway is open to residents of the continental United States and Canada (void in Quebec) who have reached the age of majority at the time of the contest in the state, province or territory in which they reside. No purchase necessary to enter.
Giveaway will run from Sunday, April 24, 2016 at 12:01am to end on Sunday, May 07, 2016 at 11:59pm. Winner is chosen at random via Rafflecopter. Winner will be contacted via email and given 48 hours to respond. If not, a new winner will be chosen. Winner's name will be displayed on Rafflecopter widget. Email address will never be given out to any third party or anyone for that matter."
Get Green Healthy Cooking's NOURISHING NEWS straight to your inbox!