Am I the only one in the world who doesn't have a slow cooker? How on earth did people make pulled pork BEFORE the invention of the crock pot? Or did they not know pulled pork back then? I mean that's like 1970, back in the old days when there were still dinosaurs walking around…I still kind of had that feeling that people must have known pulled pork from much earlier and since I didn't want to experiment cooking pork over an open fire I gave the oven a try and it turned out AMAZING!!! This is a recipe for pulled pork made in the oven alone, no searing before, no grilling, no mess.
Yes, it does take an eternity and I get why people would prefer cooking it in a slow cooker which they can leave unattended but come on, let's do this old school for once because…ummm…I don't have a slow cooker and for now I don't intend to buy one. You know, it's not like I don't want one. I'd LOVE to have one but that would probably be kitchen gadget number 593293 on my kitchen counter and I really need space for chopping vegetables way more urgently than yet another gadget. Besides, it's so much cooler to make pulled pork in the oven. Only the cool cooks use the oven for everything instead of fancy slow cookers and microwaves and all that modern stuff. Tssss.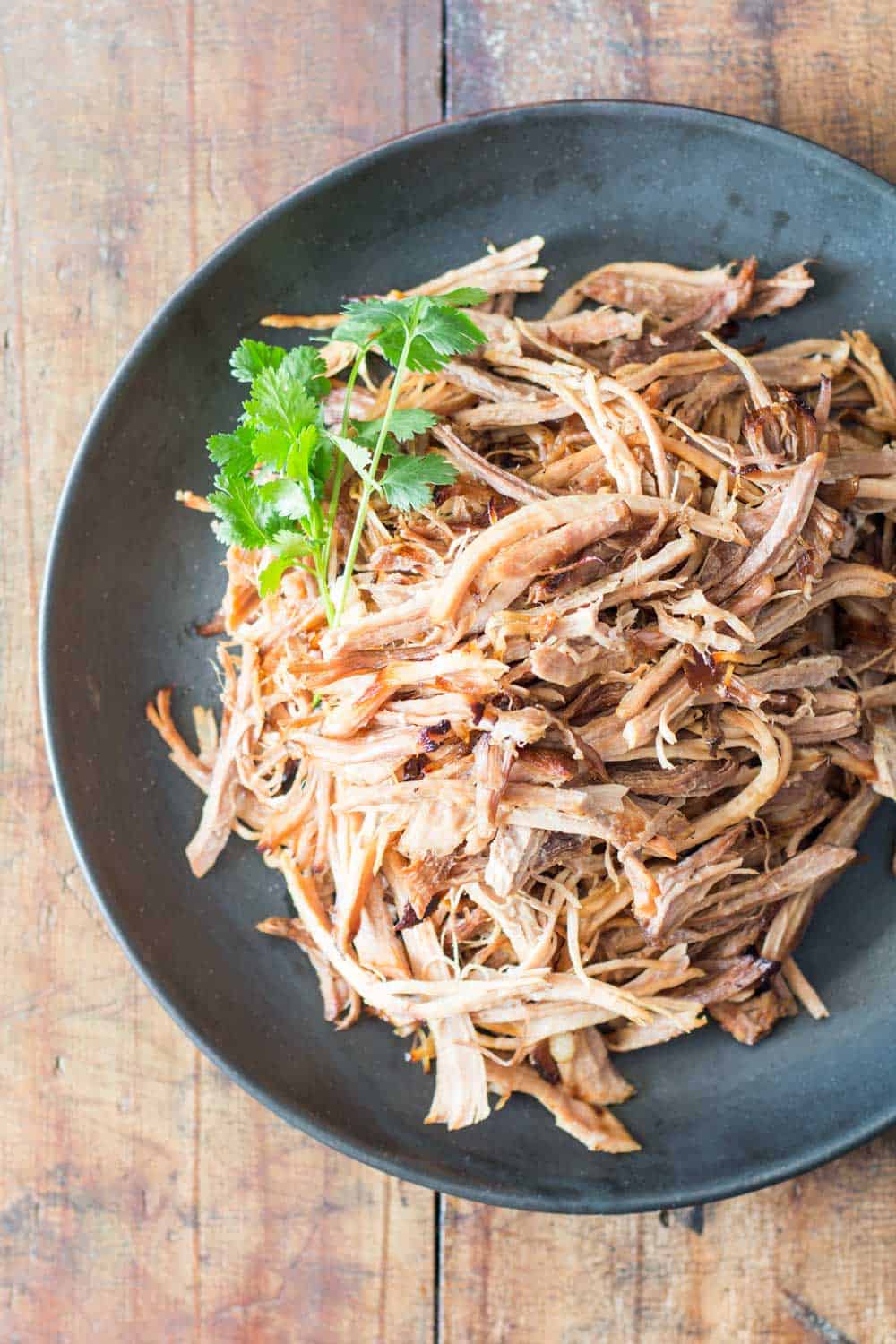 Pulled pork made in the oven requires frequent basting to become super soft but I can assure you, you don't even need a timer to remember the basting. The smell in the house becomes more and more and moooore amazing every half an hour and makes you happily jump to the roast and baste it even more often. I have to admit it was more fun than I had thought it would be to slow roast the pork shoulder like that. It created an atmosphere of suspense. Will it turn out? Will it pull apart? Will it be soft? Will it taste as amazing as it smells? YES!!! All capitals YES to all those questions.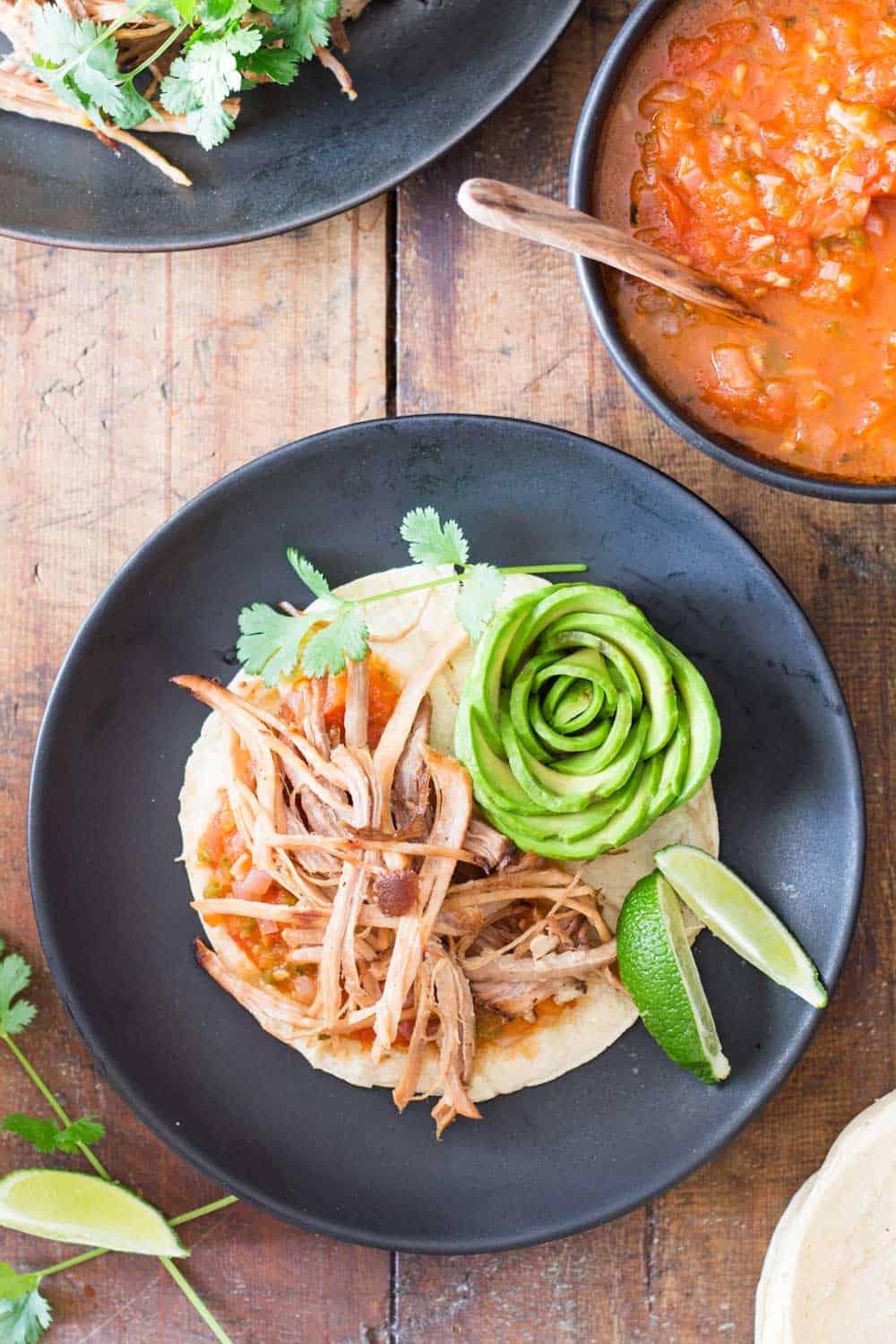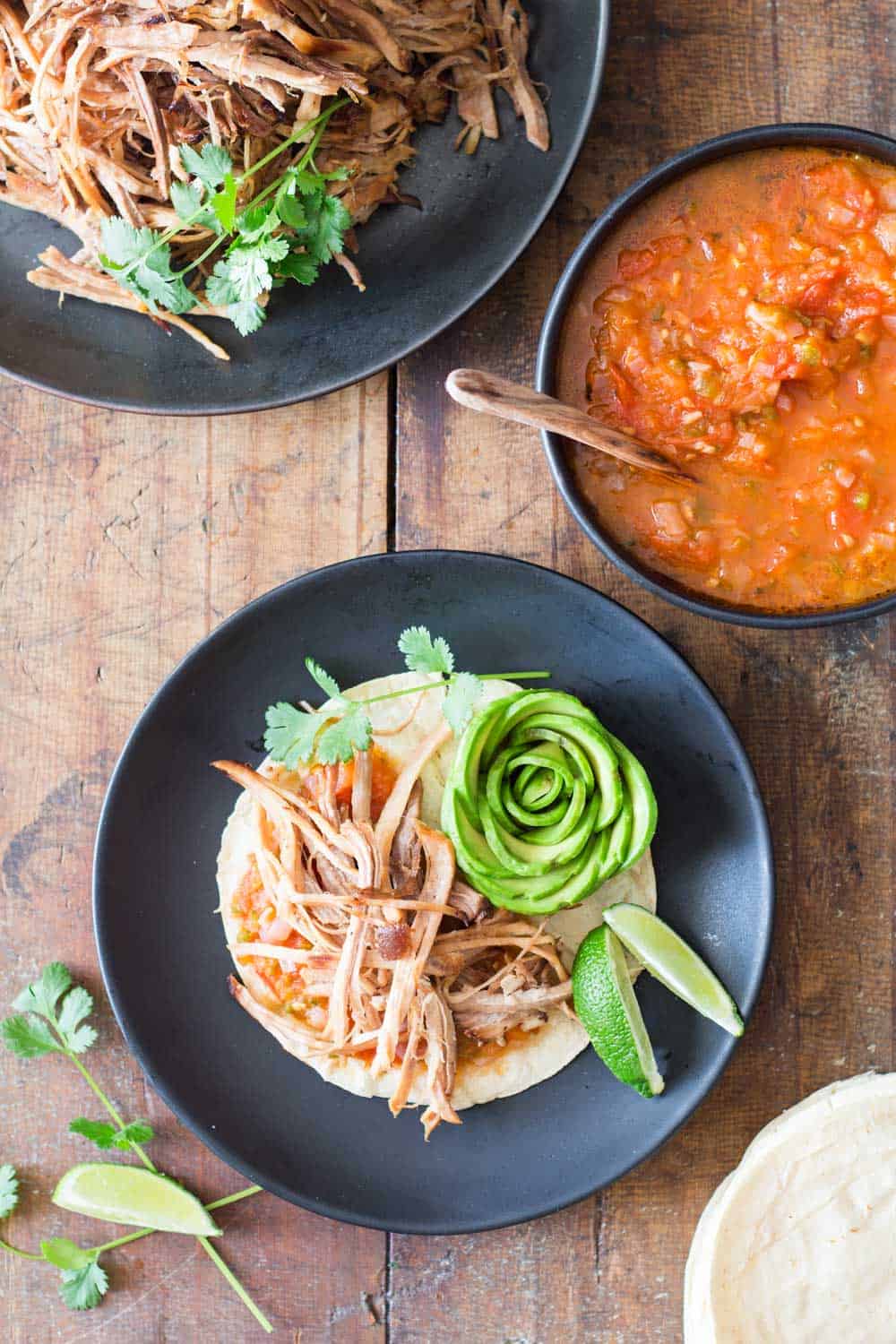 Make sure you have abundant corn tortillas at home and make some Homemade Mexican Salsa to smother on your pulled pork tacos, drizzle fresh lime juice over it all and accompany with deliciously ripe salted avocado. I ate so many "tacos de carnitas" I almost exploded this afternoon. My kids devoured them and my man is the lucky one who still gets to eat them once he's home from work…..if I can contain myself and not finish it all up before he walks through the door. Uh oh!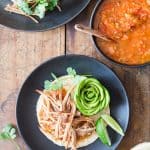 Pulled Pork Made In The Oven
Print Recipe
Ingredients
2.5

lbs

higher welfare pork shoulder

-

(1.2 kg, out of fridge for at least 1 hour prior to roasting)

1/2

Tbsp

avocado oil

-

(or other high smoke point oil)

1/2

tsp

cumin

1/2

tsp

coriander

salt

200

ml

freshly squeezed orange juice
Instructions
Preheat oven to 500 F (260 C).

Mix oil with cumin, coriander and salt.

Score pork skin with a sharp knife and rub in cumin, coriander, salt and oil mix until the whole shoulder is evenly covered.

Place pork shoulder in oven proof dish and add 1/2 of the orange juice to the bottom of the pan.

Put in the oven and immediately reduce heat to 300F (150C).

Roast for 4.5 hours basting with remaining orange juice and juices collecting in the oven proof dish every 20-30 minutes.

Take out of the oven, cover loosely and let rest for at least 15 minutes.

Take two forks and pull apart.
What's your clean eating vibe?
Take this fun QUIZZ and find out in 10 seconds!