What do you get when you blend together sweet frozen bananas, deliciously nutty almond milk, super fresh baby spinach, a splash of golden brown real maple syrup and top all that with your favorite fruit and some granola? Yes, you get this gorgeous-looking Green Smoothie Bowl that smells like summer. Summer in a bowl. Fresh and cool and energizing and basically almost like ice cream for breakfast.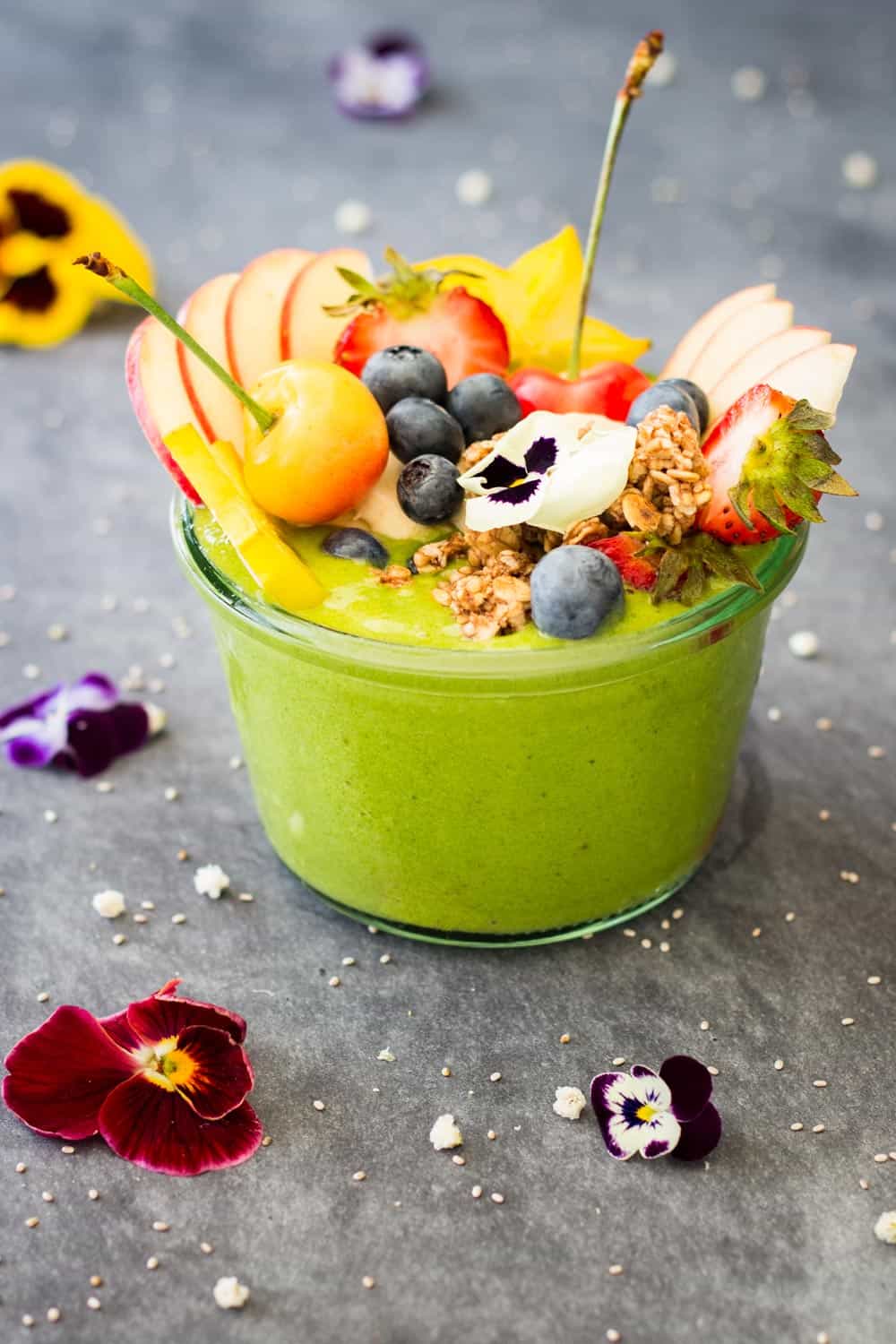 I had never heard about smoothie bowls until this summer. Can you imagine? I've heard about smoothies before of course and I have a delicious Greek Yogurt Green Smoothie on the blog already. I didn't know though that by making them less liquid and more dense and by topping them with fruit and granola they become spoonable delights.
My first attempt on a smoothie bowl was this Chocolate Smoothie Bowl, which tasted great was way too liquid though to hold the fruit afloat. The second time around I got it just right with this Acai Bowl. The texture was perfect and the fruit sat beautifully on it without sinking. As much as I loved both of those smoothie bowls I figured I simply cannot close the smoothie bowl chapter this summer without having made a Green Smoothie Bowl for GREEN healthy cooking. Right?!?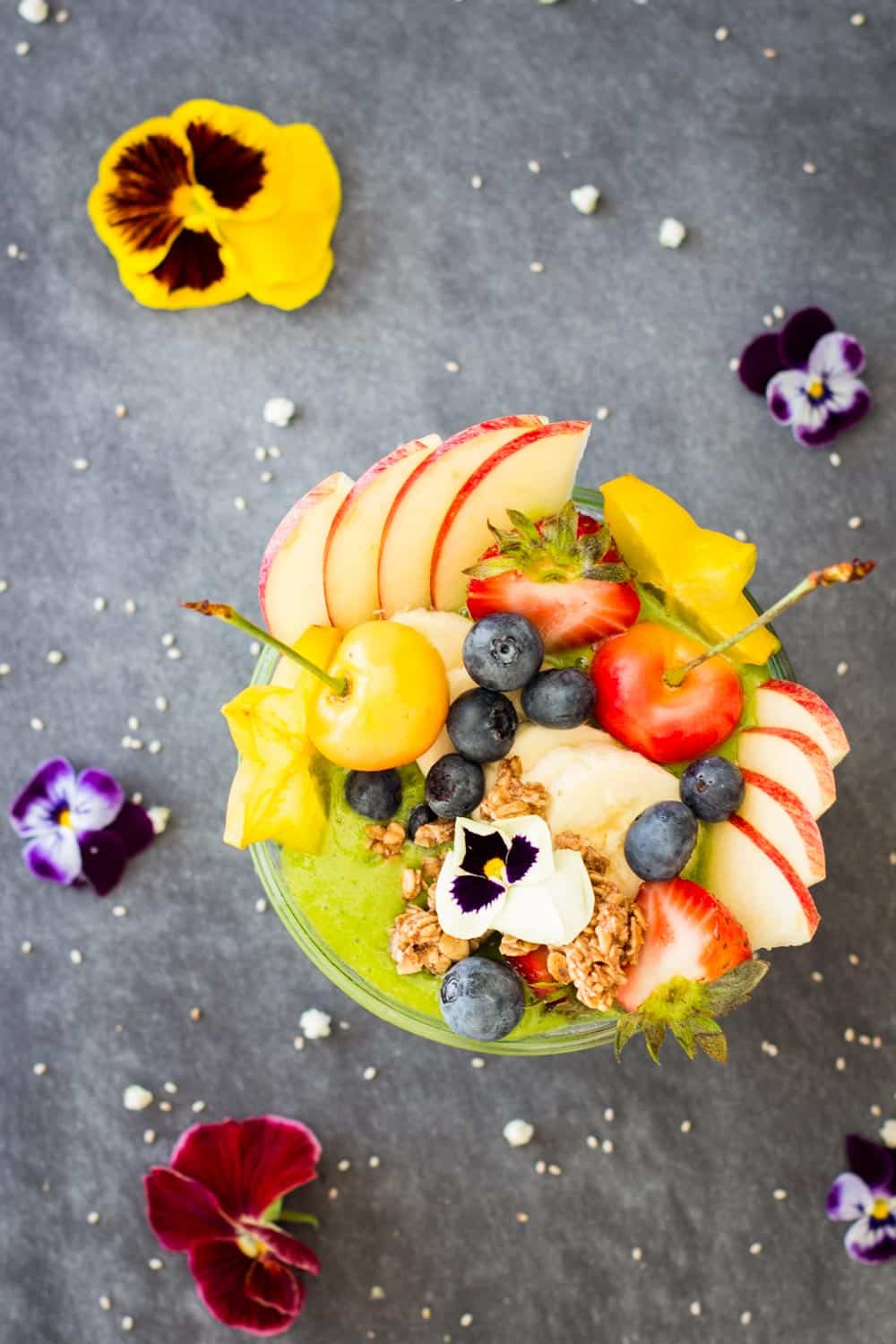 Here is what I learned from previous attempts on
How to thicken a smoothie bowl
The reason you want your smoothie to be super thick is so it is spoonable as opposed to drinkable and because otherwise your toppings will just sink. I noticed that I need to keep liquids to the bare minimum and use frozen fruit to get the perfect creamy consistency. For this Green Smoothie Bowl I used 1 cup of fresh baby spinach (which contains quite a bit of water) so I had to use 2 frozen bananas and only 1/4 cup of almond milk to keep it creamy.
As a rule of thumb I recommend adding the main ingredients to the blender and blend those alone and only then add desired milk a tablespoon at a time until the smoothie becomes pourable but still very very thick.
One thing to consider. The warmer your smoothie gets, the more likely the fruit will sink of course. It's like putting a cherry on ice cream. Once the ice cream melts the cherry slips of course.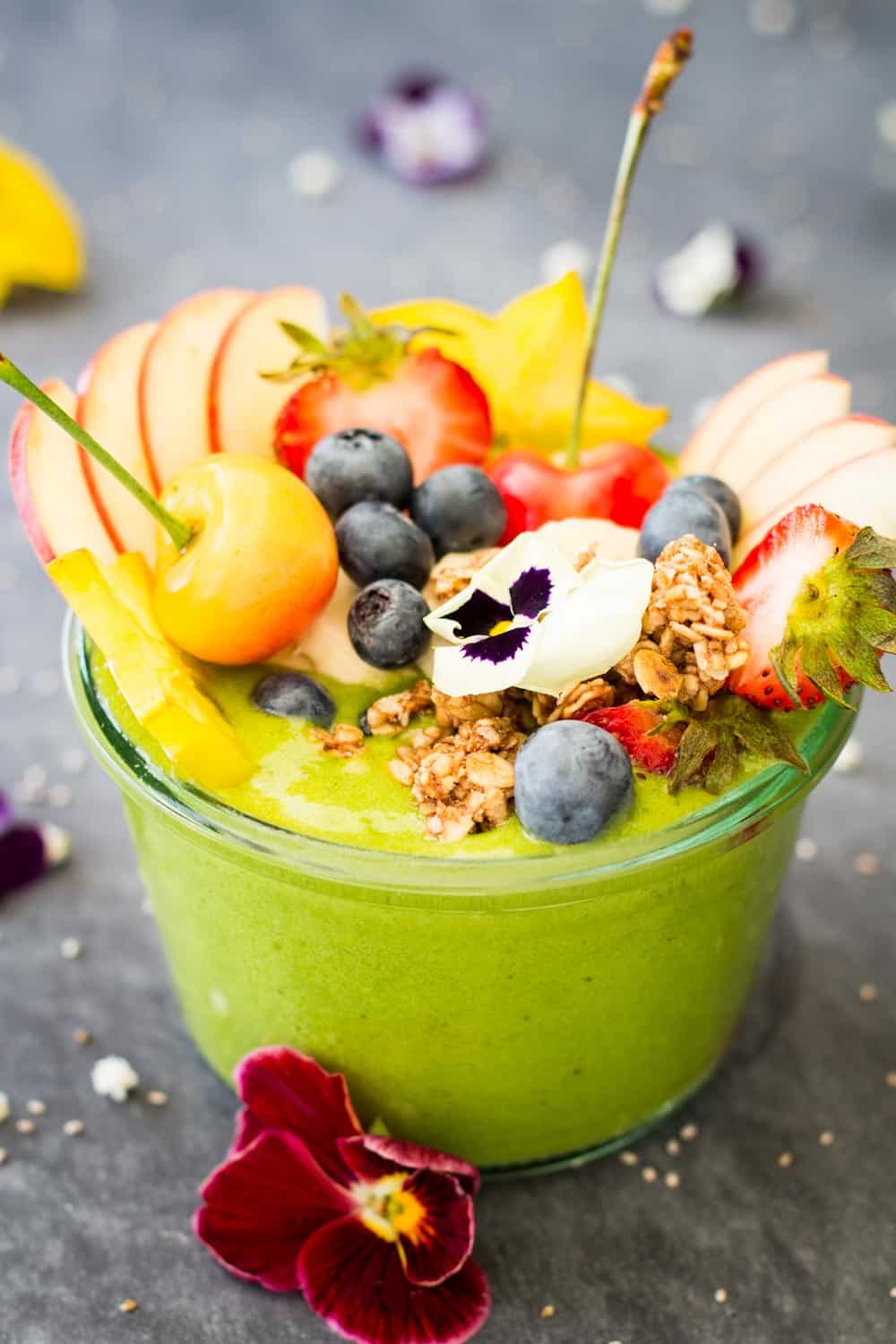 Green Smoothie vs Green Smoothie Bowl
now here is a comparison basically of smoothies vs smoothie bowls because I didn't have a clear concept of the differences at first as you can tell from my first smoothie bowl recipe which was as liquid as a smoothie should be.
Basically, the difference is in consistency. A smoothie is drinkable and a smoothie bowl is spoonable. The benefit of a smoothie is that it is a grab and go snack or breakfast full of nutrients, easy to drink when you are on the go, even driving, ummm, should I even write this? Don't take this as advice. I don't want you to have an accident while you take a sip of your smoothie. If you've got coffee drinking and driving down, I'm confident you can do this as well ;)
The smoothie bowl has to be enjoyed at home at the table. It also takes longer to prepare than a smoothie because of the fruit that has to be washed and maybe sliced or deseeded etc. However, you get to enjoy your smoothie with all these delicious toppings! It gives the smoothie all these different flavors and textures that make it so special. It is also a lot more filling in my opinion and keeps me fuller longer.
No matter which one of both you choose to make more often, rest assured you'll nourish your body equally well with either. There is probably no healthier breakfast than a green smoothie or green smoothie bowl. YUM!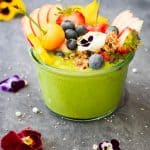 Green Smoothie Bowl
Print Recipe
Ingredients
2

frozen bananas

1

packed cup

baby spinach

-

(washed and thoroughly dried)

1/4

cup

almond milk

1

Tbsp

maple syrup

fresh fruit of choice and granola for topping

-

(I used: banana, apple, cherry, blueberry, strawberry, star fruit, Peanut Butter Granola)
Instructions
Add all ingredients except toppings to blender and blend on high until smooth.

Pour into a bowl and top with fresh fruit and granola.

Spoon out and enjoy :)
What's your clean eating vibe?
Take this fun QUIZZ and find out in 10 seconds!