Smoked salmon dip is a richly flavored appetizer that is sure to be a hit of any holiday party. It's easy to make and versatile when paired with a variety of dippers.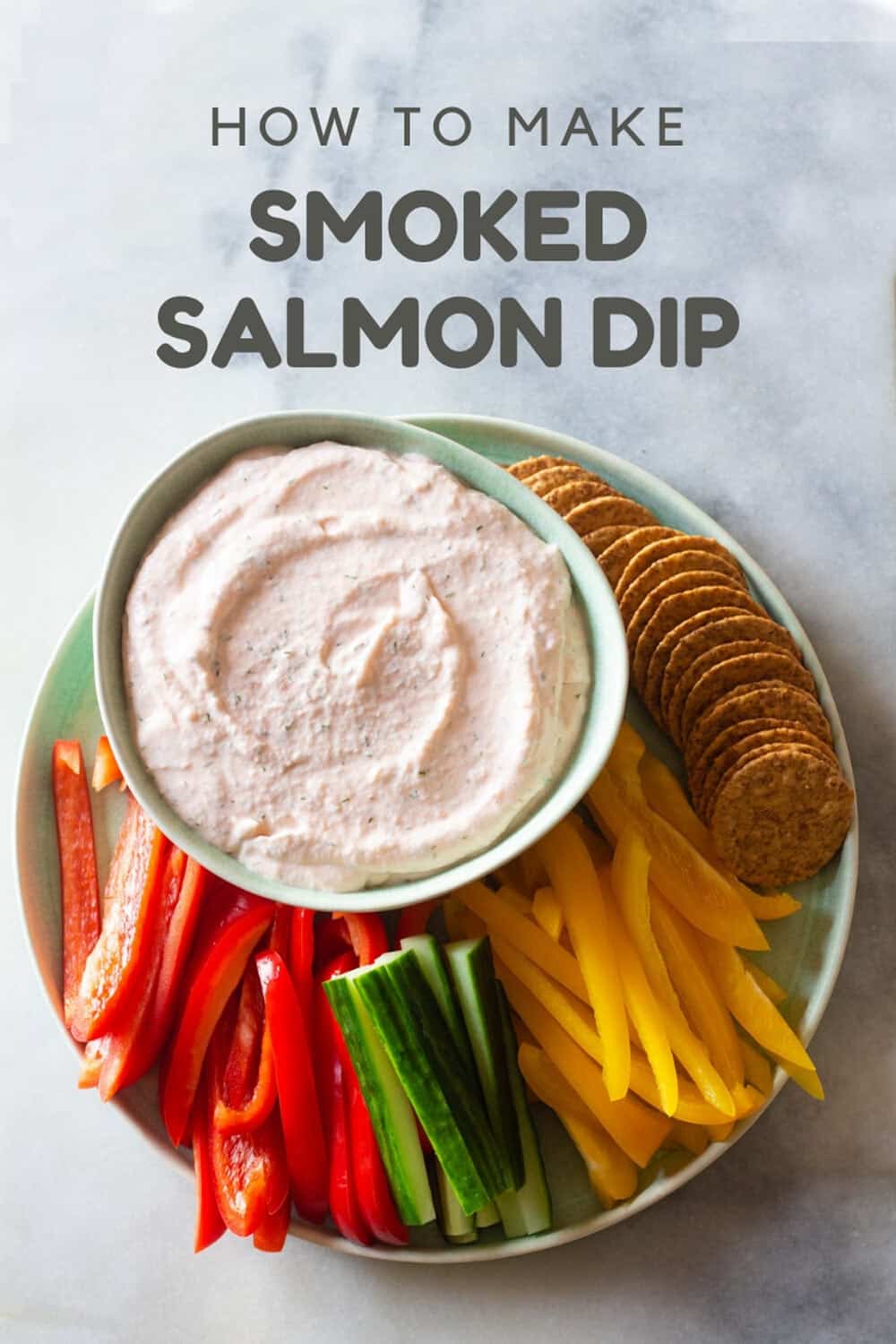 All you need to make this fabulous dip is a food processor. Throw everything in and let the machine work its magic. Offer lots of unique options for dipping and you will have an elegant appetizer that will please guests on any type of eating plan.
The salmon delivers lots of protein and omega-3 fatty acids. Goat cheese and yogurt along with fresh herbs give the appetizer a bright flavor.
How is smoked salmon made?
In ancient times, smoking meat was a necessity. Without refrigeration, this was the best way to preserve animal products.
More recently, smoking has become popular as a way to ensure that meat stays fresh while being transported over long distances.
Salmon is either cold smoked or hot smoked. Cold smoking is done under 90F. It is cured in salt first to create a smooth texture, then smoked over several days. Cold smoking gives the salmon a smokey flavor, but the fish is still raw.
Hot smoked salmon is prepared at more than 120F after being brined in salt water. Other flavors are often infused into the salmon during the brining. Hot smoked salmon is usually purchased a large fillet.
Lox is often advertised as smoked salmon, but really it is made only from the fatty belly meat of the salmon. It is brined or cured, but never smoked.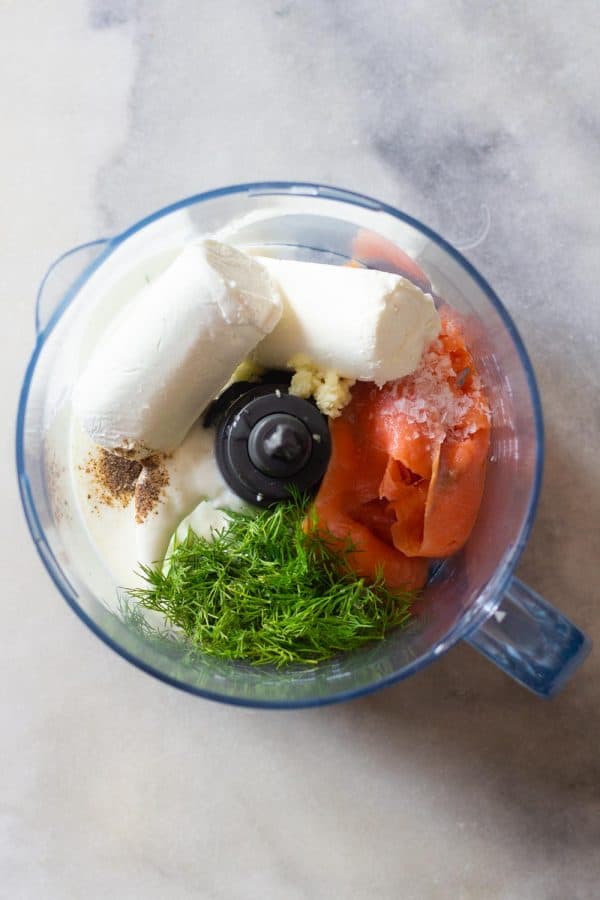 What kinds of cheese are goat cheese?
Goat cheese is made from 100% goat milk. It is often labeled chevre, which is the French word for goat.
There are a lot of varieties of goat cheese, but they all have the tart flavor that gives a unique taste to this dip. Goat cheese is a soft cheese that gets even soften when exposed to heat. It never melts or gets stringy the way cow's milk cheese does.
Kunik and Humbodlt Fog are common goat's milk cheese produced in the United States.
What do you eat with smoked salmon dip?
I like to serve this smoked salmon dip with crackers and fresh veggies. Some ideas are:
Crostini or baguette chips
Cucumber slices
Bell peppers
Breadsticks
(Gluten-free) crackers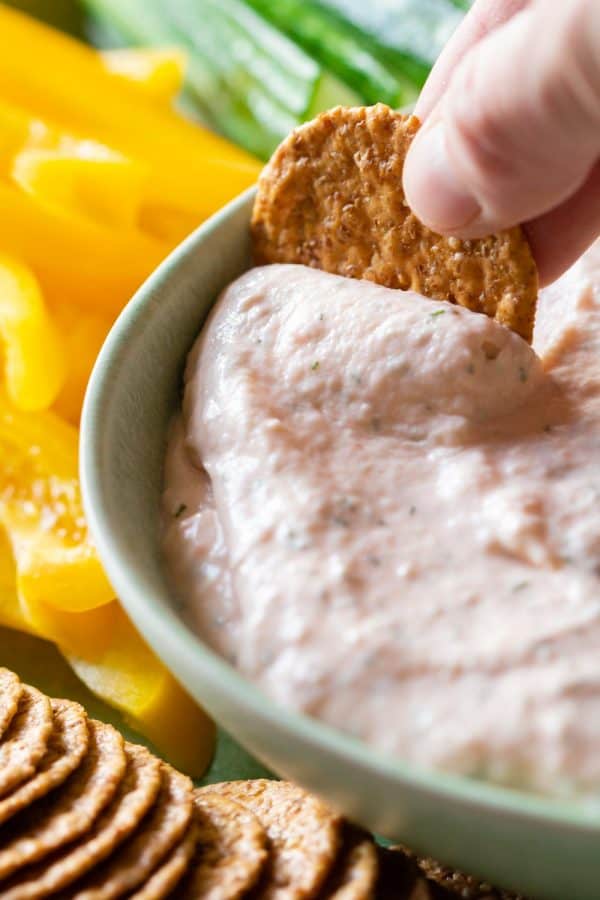 How long does the dip last?
You can keep this dip in your refrigerator for up to one week. Ensure that there is an airtight seal by storing in one of those containers that have a rubber band in the lid.
This means that you can make this dip in advance and simply put it on the table the day of the party. It's a great dish to take to a potluck because it travels well. This will be a must-have for your holiday parties.
Can you freeze smoked salmon dip?
Smoked salmon dip would still be safe if frozen and thawed. Just keep in mind that cheese does not always freeze well. The salmon will probably be fine because it is smoked.
The texture may be altered slightly, but it is safe to freeze this dip if you made too much.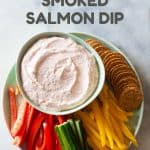 Smoked Salmon Dip
Smoked salmon dip is a richly flavored appetizer that is sure to be a hit of any holiday party. It's easy to make and versatile when paired with a variety of dippers.
Print Recipe
Pin Recipe
Ingredients
9

oz

smoked salmon

-

250g

5

oz

soft goat's cheese

-

150g

1/2

cup

plain unsweetened yogurt

1/4

cup

dill

1

Tbsp

lemon juice

1

small clove garlic

sea salt

pepper
Instructions
Wash, dry, and destalk dill. Peel and crush garlic.

Add all ingredients to a food processor and process until smooth.

Serve with crackers and raw veggies.
Nutrition
Calories:
97
kcal
|
Carbohydrates:
1
g
|
Protein:
10
g
|
Fat:
6
g
|
Saturated Fat:
3
g
|
Cholesterol:
17
mg
|
Sodium:
326
mg
|
Potassium:
106
mg
|
Sugar:
1
g
|
Vitamin A:
342
IU
|
Vitamin C:
2
mg
|
Calcium:
61
mg
|
Iron:
1
mg
What's your clean eating vibe?
Take this fun QUIZZ and find out in 10 seconds!