With Cinco de Mayo coming up I wanted to explain all my readers that didn't know this yet, that the 5th of May means pretty much nothing to Mexicans in Mexico. It is not (as many foreigners believe) an official holiday or the Mexican Day of Independence. Independence Day is celebrated on the 16th of September. So why do so many people believe it is an important Mexican holiday? Does it really not have anything to do with Mexico? Yes it does, in Puebla, a small city a little over 100 km South East of Mexico City, the Mexican army fought and unlike what was expected WON a battle against the French forces on May 5, 1862. The Mexicans call this day El Día de la Batalla de Puebla (the day of the battle in Puebla). So in the state of Puebla, the 5th of May IS celebrated to some extend, not like in the US though. Cinco de Mayo is primarily celebrated there. Why exactly, I don't know, but any reason to celebrate is awesome in my opinion! So we, here at our Mexican-German-Peruvian home in the French-Canadian Montreal (wow!) are absolutely going to have at least one typically Mexican indulgence on Cinco de Mayo: Cafe de Olla! Coffee made in a pot with amazing spices and the most delicious sweet smell on the planet. This makes being woken at 5ish by those strange critters in my bed only 90% as hard. I should probably start making this a daily routine (I usually like my coffee without sweetness though, so I'll have to think about that). Maybe, some day, in a million years, I can embrace mornings and be happy and joyful upon waking……mmmm……mmmayybeee. Maybe not!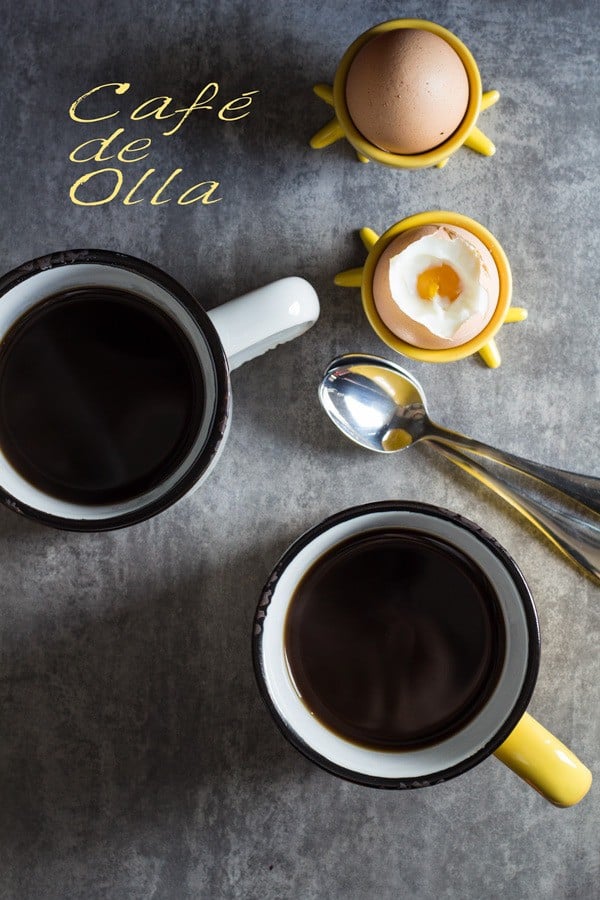 If you can get your hands on some clay cups you absolutely HAVE to buy them and serve your coffee in them. It adds to the feeling and flair. Unfortunately, I couldn't get my hands on any (*sad-eyes*). The coffee still tasted authentic and amazing! Make this first thing in the morning and enjoy with soft boiled eggs if possible outside on the balcony, porch, garden, park nearby. Hot spiced coffee with cold air around your face tastes even more awesome than it does standing in your kitchen already.
All you need is GOOD QUALITY coffee. Please folks, no spice in the world can cover the taste of bad coffee, so don't go cheap on this one. Two anis stars, two cloves, two cinnamon sticks and "piloncillo". Piloncillo is unrefined whole cane sugar, derived from the boiling and evaporation of sugarcane juice and also known under the names "panela", "chancaca", "rapadura" and "raspadura" in Latin America and "gur" (in India). You will most likely find it in Latin American Stores, Indian Stores or online. I've found it on amazon.com (piloncillo, panela), amazon.ca (panela-rapadura) and amazon.de (Rohrzuckerblock or rapadura). It has a very distinct flavor because it is unrefined and the Molasses has not been separated from the sugar. It gives the coffee a special sweet taste that is beyond comparison.
If you usually drink your coffee with milk or cream, resist putting any in this one. I usually drink my coffee with milk but this coffee tastes weird with milk and I assure you, you will like it despite it not having milk. Now go find your ingredients and indulge in real Mexican flavors for Cinco de Mayo wherever you are in the world.
Cafe de Olla
Print Recipe
Ingredients
6

cups

water

2

small

anis stars

2

small

cinnamon sticks

2

cloves

4.2

oz

piloncillo

-

(120g)

6

Tbsp

ground coffee
Instructions
Bring 6 cups of water to the boil over medium high heat.

Once boiling add piloncillo, anis, cinnamon and cloves and stir until piloncillo is fully dissolved.

Add coffee and immediately turn off heat and cover pot with lid to avoid further evaporation of water.

Let sit for 3-5 minutes then filter coffee through a fine sieve lined with cheese cloth or a coffee filter.

Serve hot.
What's your clean eating vibe?
Take this fun QUIZZ and find out in 10 seconds!